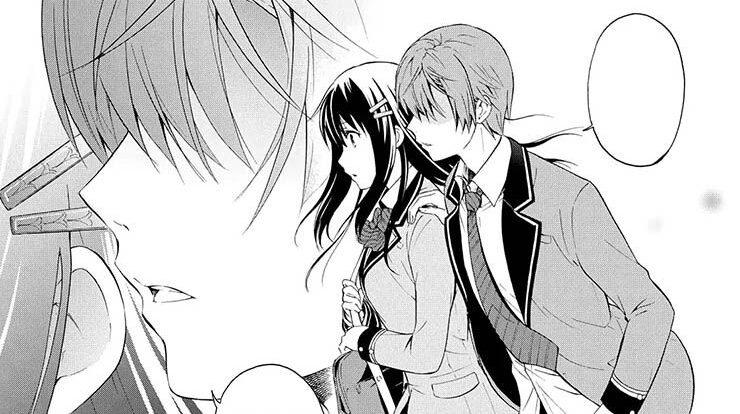 Top 10 Best Romcom Manga You Have to Read – Hey guys!. In this post, I'll be discussing a list of Top 10 Best Romcom Manga You Have to Read. These are great romance comedy manga you have to read!! Well, let's go to the list.
10. Bakapple
They are baka! They are a couple! They are a baka duo, so that makes them… a Bakapple! What a great pun and title haha… The story about two embarassing couple, who shows their affection in a silly way. Truly a cute and silly couple.
9. Otonari Voice Chat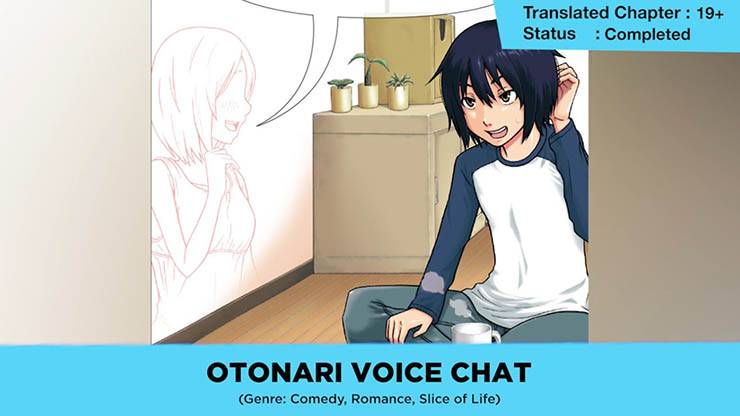 Osamu Tajikara, has just entered the university, but he got into an accident that causes him to be hospitalised for quite some time. That made him unable to find any companion. Luckily he met wall-chan, his female next-door neighbor Hinako Okami and talk to her through the wall.
Even though they never see each other faces, they began to grow closer. It says it's completed but it hasn't been fully translated.
8. A High School Girl and A Private Teacher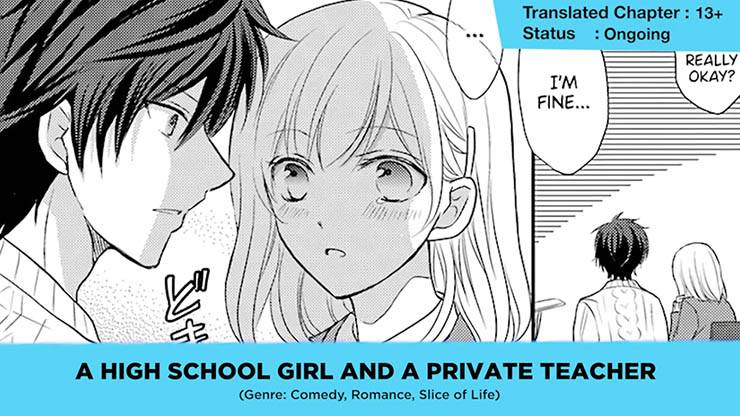 Kizaki begins a private tutor as a part-time job. He teaches a female high school student named Sudou. Kizaki, has a delusion of her as an angel who is too precious. While Sudou has a little crush on him. They pass each other's thoughts, even though they actually like each other!
7. Urushiha Sarara wa Koi nado shinai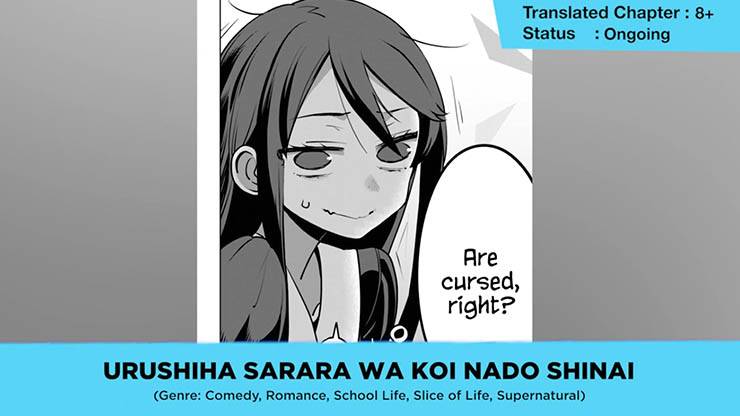 Urushiha Sarara gets confessed to by a lot of boys who have no good reason to confess to her and reject all of them. While she is indeed beautiful, her impression is that they may be doing it out of superficial reasons, But one day a boy named Kokoroishi tells her that she is cursed. What does it means "she is cursed"? Is there something more to it?
6. The Cute Girl Sitting Next to Me Is Trying to Make Me Fall in Love With Her as a Way to Ridicule Me, but the Tables Were Turned on Her Before She Knew It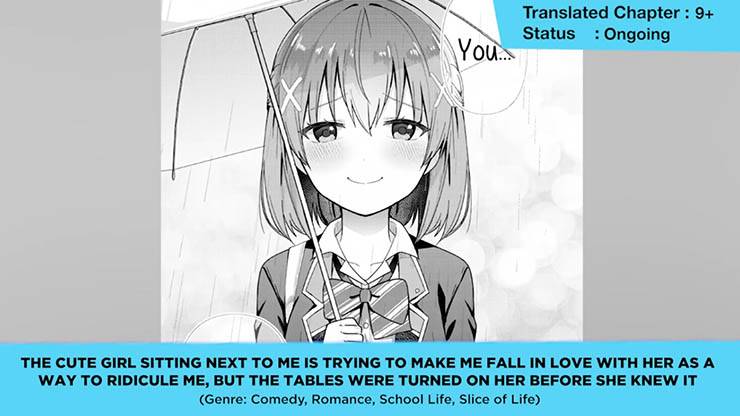 The story about Takatsuki Yui, with the nickname "Seatmate Killer", and also one of the prettiest girl in the school. She wants to get close to her new seatmate, Narito Yuuki. A boy who has a poker face and a heart of steel.
5. Akuyaku Ouji wa Koi ga Dekinai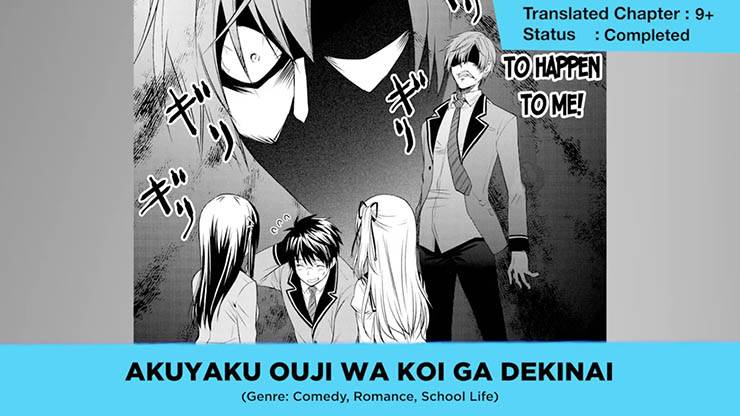 One of the rare shounen romcom manga where the main character is handsome and a popular guy. Because of his past and his family, he wants to be a "main character" and gets the perfect girlfriend. He sets his eyes on a beautiful girl named Wakana.
But he always falls short and becomes a side character instead, poor guy. It also says it's completed but it hasn't been fully translated.
4. Giri-Giri Saegiru Katagirisan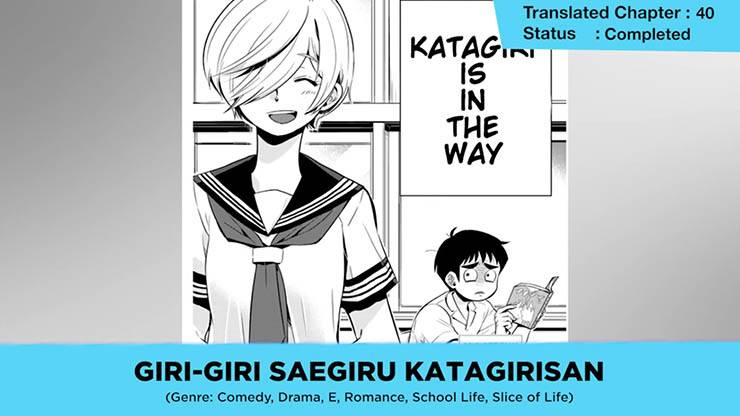 Okada-kun is a boy who's at the bottom of the school caste. He only has one mission in his life, that is to see his classmate's ehem ehem. However, whenever he so makes an attempt, Katagiri, is delighted to block his view, relishing in his look of despair. Thus begin the battle between them. I have to say this manga is really absurd and hilarious.
3. Omoi ga Omoi Omoi-san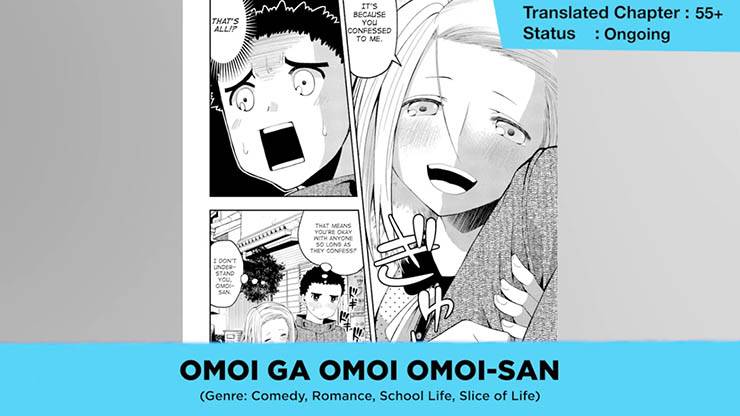 Karuizawa made a confession to a talented and beautiful girl named Omoi after having a crush for three years. He was delighted to receive an OK reply from her, but the feelings of Omoi-san are a bit heavy… Follow their romantic love comedy as Omoi-san seems to be an overly attached girlfriend. Sounds like a win to me!!
2. Enami-kun wa Ikiru no ga tsurai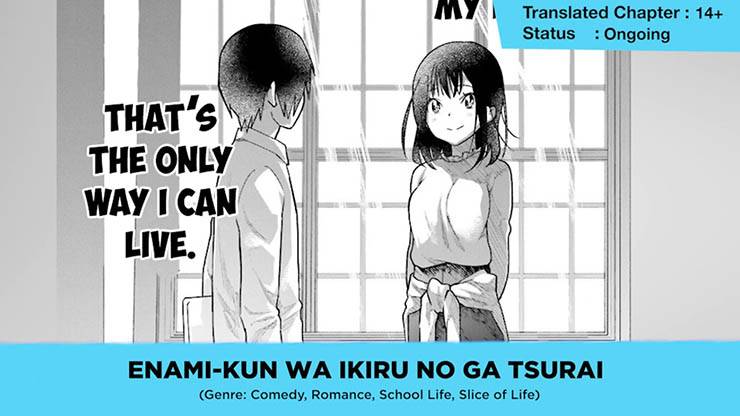 Enami is an aspiring young writer, who realized that he is lonely. He wants has a novel-like romantic encounter, where he meets his fateful heroine. Follow Enami daily life where he's having a delusion with the girls surrounding him.
1. Nega-kun and Posi-chan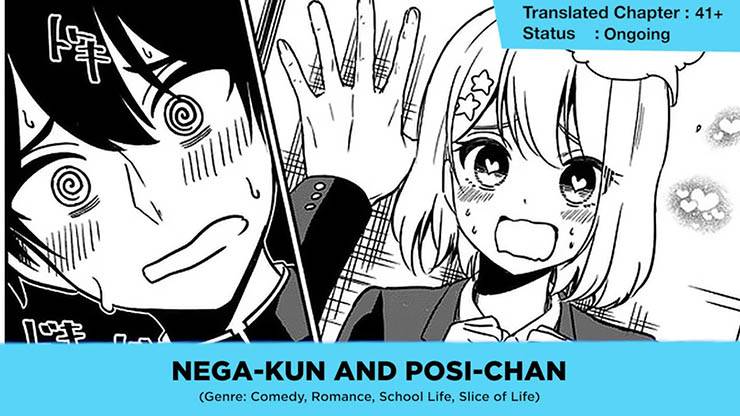 The romantic comedy story about two opposites, a negative and tremendously pessimistic guy, Nega Shouya. And a positive and optimistic girl, Hoshi Sayaka. They happen to be deeply in love with each other, but they completely misread each other's cues. What can I say, the opposites really do attract each other.
That is it from today's post on Top 10 Best Romcom Manga You Have to Read. If you do not agree with the points in the post and have some of your own opinions, share them with us in the comments section down below. Keep visiting Animesoulking for more information about Anime and Manga.
Also, Read:
Chandan is the writer of "Top 10 Best Romcom Manga You Have to Read". Also, Connect with me on YouTube and Facebook.