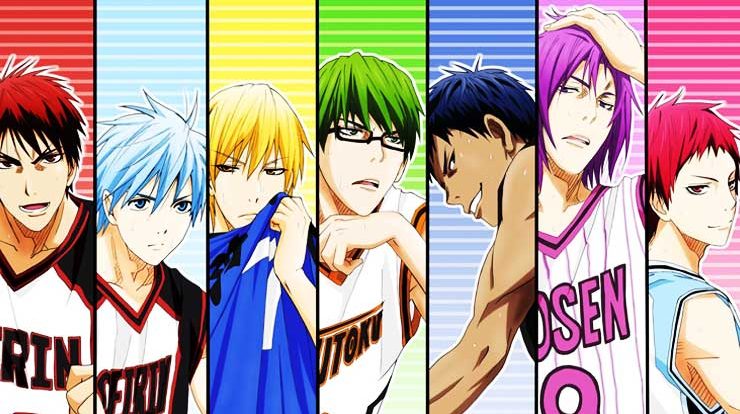 Top 10 Sports Anime of All Time – Hey guys!. In this post, I'll be discussing a list of Top 10 Sports Anime of All Time. This genre is so popular among the anime fans and people love to watch sports anime. So let us count down the list from good to best.
10. Cross Game [TV]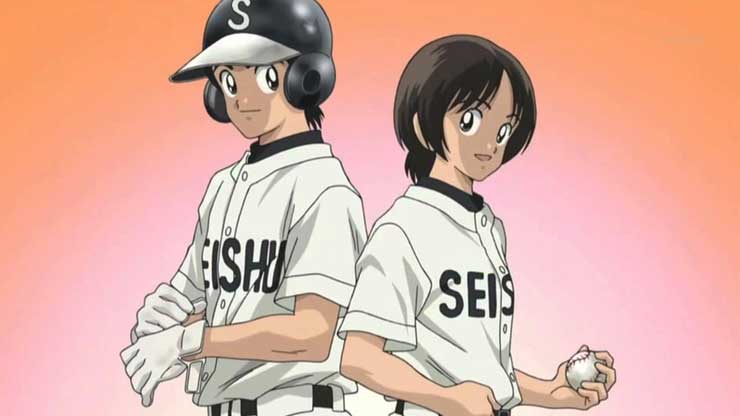 The main character is Kou Kitamura, son of the owner of Kitamura Sports. In the same neighborhood is a batting center run by the Tsukishima Family. Due to their proximity and the relationship between their business, The Kitamura and Tsukishima Families have been close for many years, with their children going back and forth between the two homes like extended family. Because Kou and Wakaba were the same age and always together, Aoba was jealous of all the time Kou spent with her older sister. Aoba is a natural pitcher with excellent form and Kou secretly trains to become as good as she was, even while publicly showing little interest in baseball.
9. Chihayafuru [TV]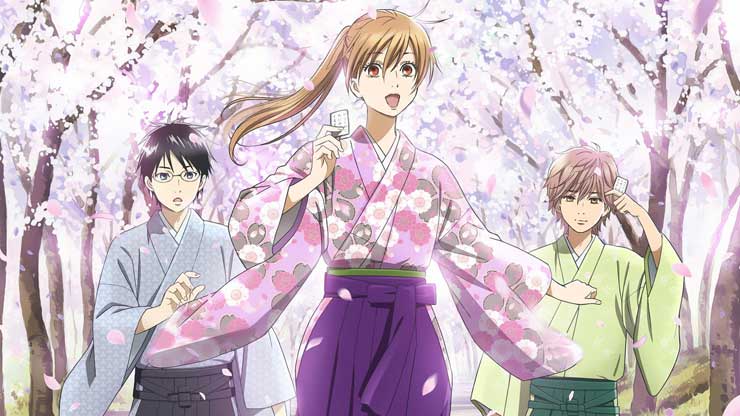 Chihaya Ayase is a frank and ebullient girl who becomes fascinated by the obscure world of competitive Karuta, a card game based on japanese poetry. Introduced to the aggressive style of the game by a quiet and thoughtful elementary school classmate named Arata Wataya, the two quickly become close friends. They start playing as a group with Taichi Mashima, Chihaya's smart and athletic childhood friend, until they have to part ways during their middle school years due to several circumstances. As their high school life begins, they meet once again.
8. Diamond No Ace [TV]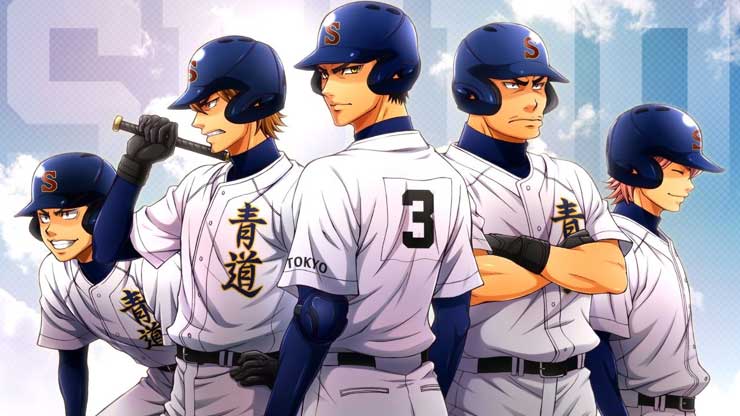 The series follows one Euun Sawamura, a baseball pitcher with a very unusual change of pitch that has occured naturally. Sawamura plans to go with his friends to a local high school and play baseball to the best of their abilities. However one scout from the Prestigious Seidou High approaches him and offers him a scholarship and a chance to make it to nationals. Sawamura decides to pay a visit to the school and it changes his entire outlook on the future. The first season follows Seidou and their main rivals
as they attempt to help the upperclassmen make it to nationals during the summer tournament. Once the summer tournament ends, the upperclassmen will be forced to retire, nut how far can Sawamura help them go when he currently doesn't have any control ?
7. Kuroko No Basket [TV]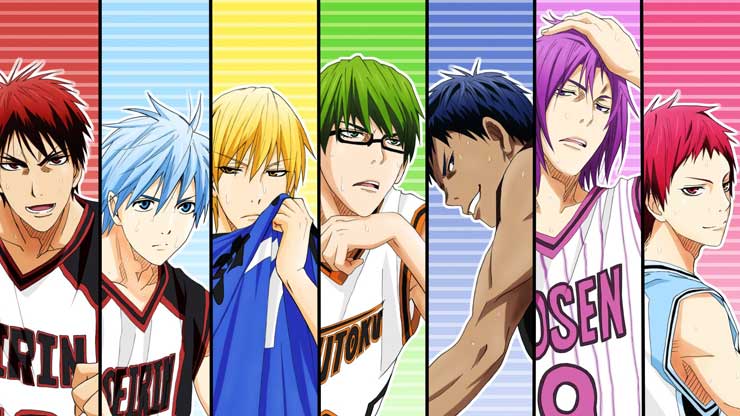 The Teiko Middle School Basketball Team. The school that produced three perfect seasons in a row, with five once-in-a generation players, called "The Generation of Miracles." There was another player who all of them respected… A legendary 6th player. An up-and-coming power player, Taiga Kagami, is just back from America. When he comes to Seirin High School, he meets the super-ordinary boy, Tetsuya Kuroko. Kagami is shocked to find that Kuroko isn't good at basketball, in fact, he's bad! And he's so plain that he's impossible to see. But Kuroko's plainness lets him pass the ball around without the other team noticing him, and he's none other than the sixth member of the Miracle Generation. Kuroko makes a pact with Kagami to defeat the other members of the Miracle Generation, who have all played basketball at other schools. A battle of light (Kagami) and shadow (Kuroko) begins!
6. Major [TV]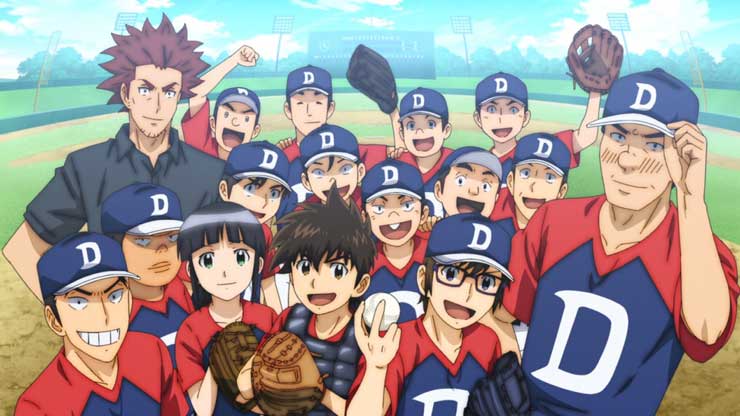 Honda Shigeharu is a major league batter on the rise. His son Gorou is a little league pitcher who one day hopes to follow in his father's footsteps. Hoshino Momoko is Gorou's school teacher and the first woman Shigeharu has been interested in since the death of Gorou's mother. The destines of these three individuals will become intertwined as father and son experience both heartbreak and triumph on the baseball diamond. But when an unspeakable tragedy visits the family, it will take everything they
have to pick up the pieces and reclaim their dreams.
5. Ping Pong The Animation [TV]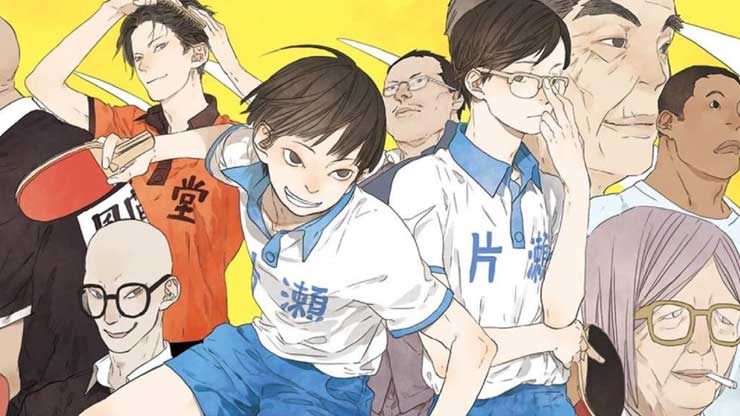 Childhood friends Makoto "Smile" Tsukimoto (Ironically He Seldom Smiles) and Yukata "Peco" Hoshino are capable and aspiring table tennis players of katase high school. Coach Jo "Butterfly" Koizumi has high expectation to both of them, but when Peco gets decisively defeated by a chinese student he becomes so devastated and stops practicing. Meanwhile, Koizumi discovers Smile's potential and tries to motivate him to overcome his psychological obstacle.
4. Ashita No Joe [TV]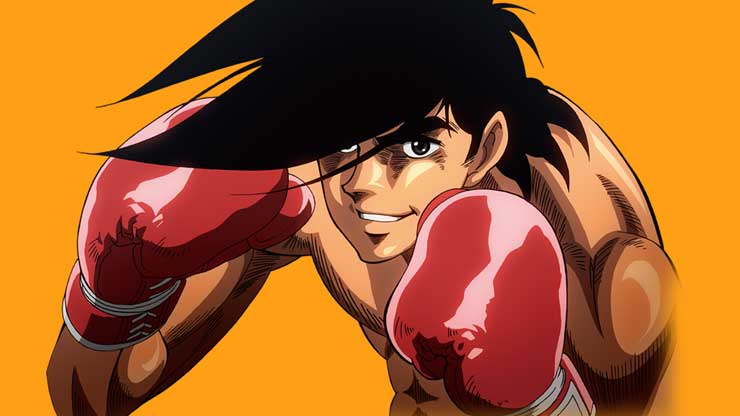 Joe, a teenage orpan in the slums of the Doya Streets, meets Danpei, A Homeless, Alcoholic Ex-Boxing Coach. Danpei, seeing Joe's boxing talent, decides to train him. When Joe is sent to a terrible juvenile home for petty crimes, he meets Rikiishi who becomes his boxing rival. Danpei arrives at the home to help Joe to train in order to defeat Rikiishi. When Joe decided to seriously pursue boxing, Danpei cannot get a coaching license because of his reputation as a drunk.
3. Slam Dunk [TV]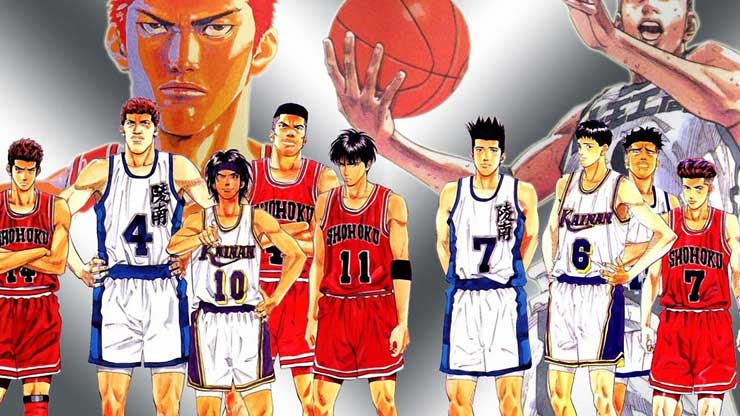 Sakuragi Hanamichi is a junior high punk used to getting into fights and being rejected by girls but upon entering high school he meets the girl of his dreams, Haruko Akagi. He will do anything in order to win her heart including joining the school basketball team that is aiming to conquer the nation lead by Haruko's brother. The problem is that Sakuragi has never played basketball before and a freshman sensation is stealing the spotlight and Haruko's affection from him.
2. Haikyuu!! [TV]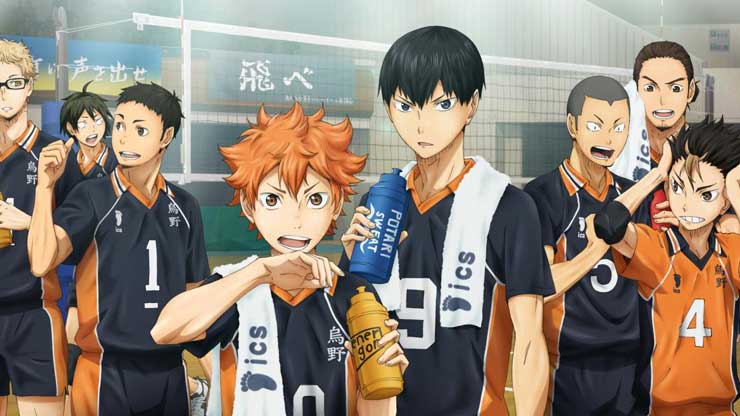 Hinata Shouyou began playing volleyball after seeing the "Small Giants" who played the sport when he was in elementary school. He suffers a crushing defeat in his first and last tournament in middle school at the hands of his rival Tobio Kageyama. So, Hinata joins Kurasuno High School's Volleyball Team, Kageyama is also on Kurasuno's team. The former rivals from a legendary combo with Hinata's mobility and Kageyama's precision Ball-Handling. Together, they take on the local tournaments and vow to meet Kurasuno's fated rival school in the nationals.
1. Hajime No Ippo [TV]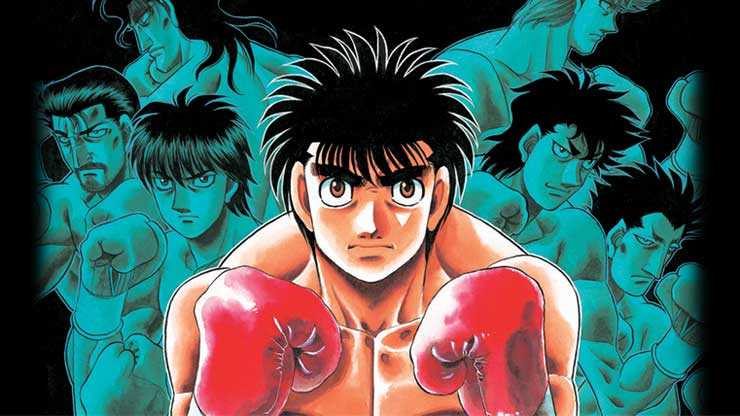 Makunouchi Ippo is an ordinary high school student in Japan. Since he spends most of his time away from school helping his mother run the family business, he doesn't get to enjoy his younger years like most teenagers. Always a target for bullying at school (the family fishing business grants him a distinct odor), Ippo's life is one of hardship. One of these after-school bullying sessions turns Ippo's life around for the better, as he is saved by a boxer named Takamura. He decides to follow in Takamura's footsteps and train to become a boxer, giving his life direction and purpose. Ippo's path to perfecting his pugilistic prowess is just beginning.
That is it from today's post on Top 10 Sports Anime of All Time. If you do not agree with the points in the post and have some of your own opinions, share them with us in the comments section down below. Keep visiting Animesoulking for more information about Anime and Manga.
Also, Read:
Chandan is the writer of "Top 10 Sports Anime of All Time". Also, Connect with me on youtube.