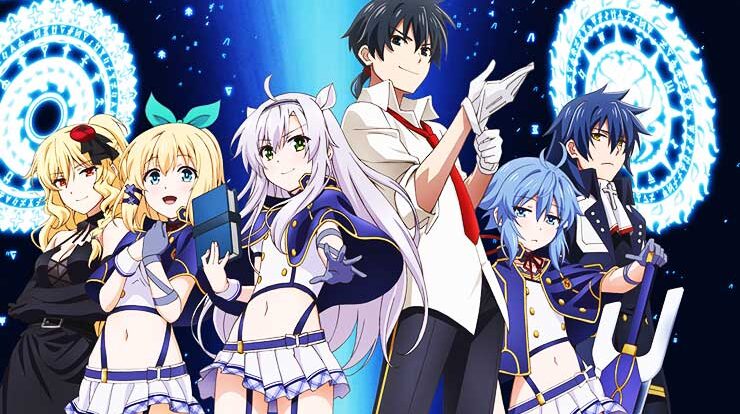 Top 10 Best Magic School Anime 2021 – Hey guys!. In this post, I'll be discussing a list of Top 10 Best Magic School Anime 2021. So let us count down the list from good to best.
10. Hagure Yuusha no Estetica [TV]
Known as a rogue hero in the fantasy world arezard, Akatsuki decided to take upon the request of the defeated demon king to take his daughter with him. After bringing her back to the world he came from, Akatsuki brought her to join Babel, an academy-like organization that specializes in training those who came from the other world.
9. Ichiban Ushiro no Daimao [TV]
The story of "Love, Magic and Battles" revolves around akuto sai, a boy who aims to become part of his country's highest order of magicians and contribute to society as one of its clergy. On the day he is admitted into the constan magical academy, his aptitude test predicts the following "Future Occupation – Demon King". Thus begins his difficult school life in which he resented by his studious female class head, desired by a girl with mysterious powers and guarded by a beautiful female android.
8. Rokudenashi Majutsu Koushi to Akashic Records [TV]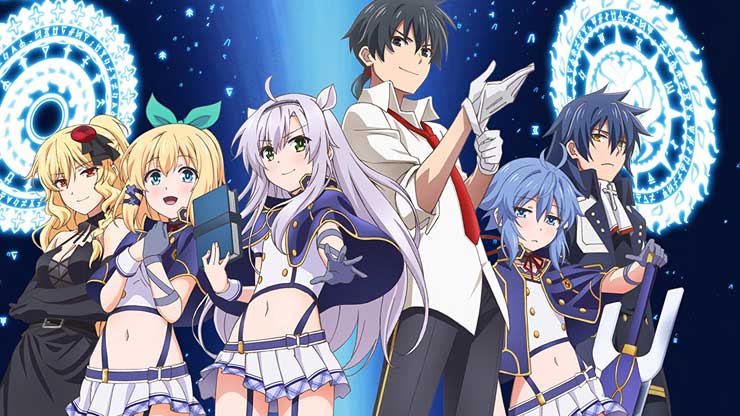 Sistina attends a magical academy to hone her skill in the magical arts, hoping to solve the mystery of the enigmatic sky castle. After the retirement of her favorite teacher, the replacement, Glen, turns out to be a tardy, lazy and seemingly incompetent bastard of an instructor. How is it that glen was hand-picked by the best magician in the academy ?
7. Trinity Seven [TV]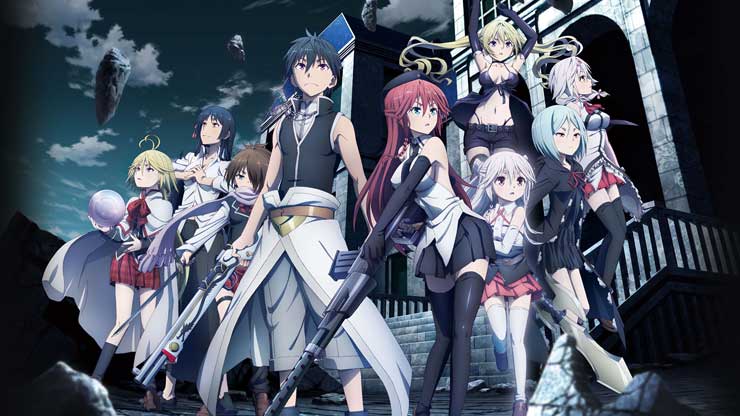 "Awaken Now, Kasuga Arata". With those words, Arata's uneventful, carefree life ends forever. A black shadow covers the sun and arata's entire town is reduced to rubble, all the people in it spirited away by the blackness of the sun in an event called a "Breakdown Phenomenon". As arata's memories come flooding back , he realizes he's been living an illusion created by a powerful book of spells. Lilith Asami, a mage dispatched to investigate the phenomenon, gives arata two choices: Hand over the Book or Die. Arata chooses the third option: Enrolling in the Top Secret magical school Royal Biblia Academy. Waiting for him at the academy are seven beautiful magic users, The Trinity Seven, each with her own power and skill.
6. Machine-Doll wa Kizutsukanai [TV]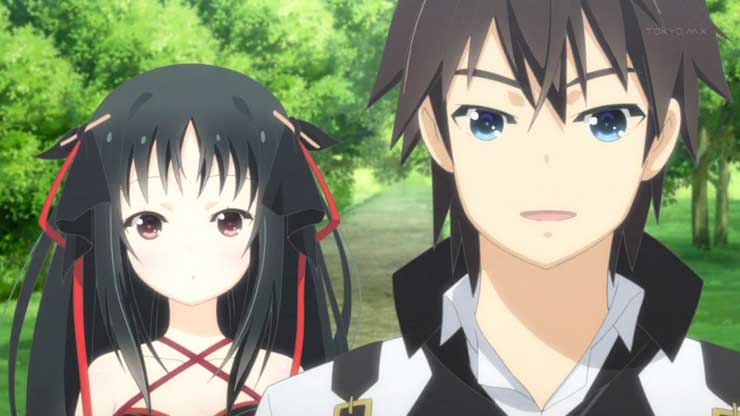 It is the early 20th Century, Raishin Akabane is a student puppeteer from japan, who has come to the walpurgis royal academy of machine arts in england to study the emerging field of Machinart: A combination of magic and technology with military applications. He is accompanied by a girl named yaya, who is actually his Automation: A living machine doll powered by magical circuits specialized in hand-to-hand combat. In the academy, there is a combat tournament exclusive to Top 100 students and their automata, to decide who shall be bestowed with the title of "Wiseman", the greatest puppeteer.
5. Zero no Tsukaima [TV]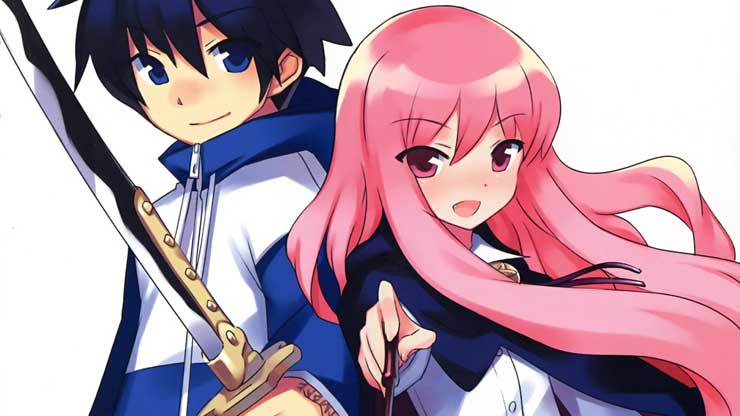 Louise Francoise Le Blanc De La Valliere is a self- absorbed mage in a world of wands, cloaks and royalty. Although she studies at Tristain Academy, a prestigious school for magicians, she has a major problem: Louise is unable to cast magic properly, earning her the nickname of "Louise The Zero" from her classmates. When the first year students are required to perform a summoning ritual, Louise's summoning results in a boy named Saito Hiraga being summoned. Now Louise's familiar, Saito is treated as a slave, forced to clean her clothes and eat off the grounds. But when an unfamiliar brand is found etched on saito's hand form he summoning ritual, it is believed to be the mark of a powerful familiar named Gandalfr.
4. Little Witch Academia [TV]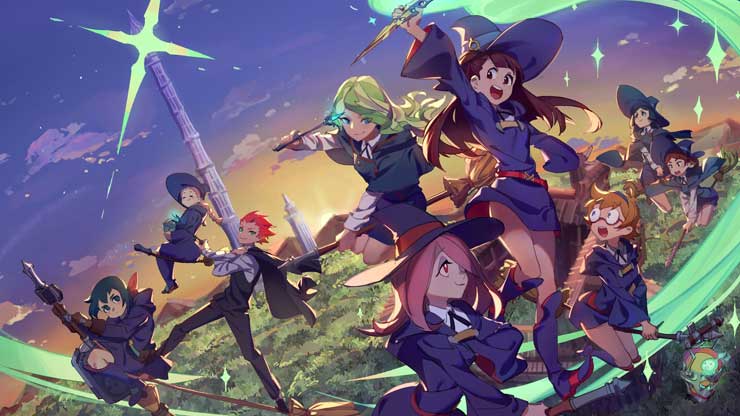 Akko Kagari is an ordinary girl who joins the renowned witch academy for witch girls, Luna Nova Academy. When she was younger, she went to magic festa, magic show hosted by a witch named shiny chariot. Akko was so mesmerized and inspired by shiny chariot's performance that she dreamed to someday be a "Cool" witch like her. This young and impressionable Akko takes shiny chariot's words as her motto: "Never Forget, A Believing Heart In your Magic". As a part of a class, Akko and her classmates go into a labyrinth under the tower of luna nova. There, a sealed ancient dragon was unleashed by one of her classmates. Akko tries to stop the dragon, But…
3. Tokyo Ravens [TV]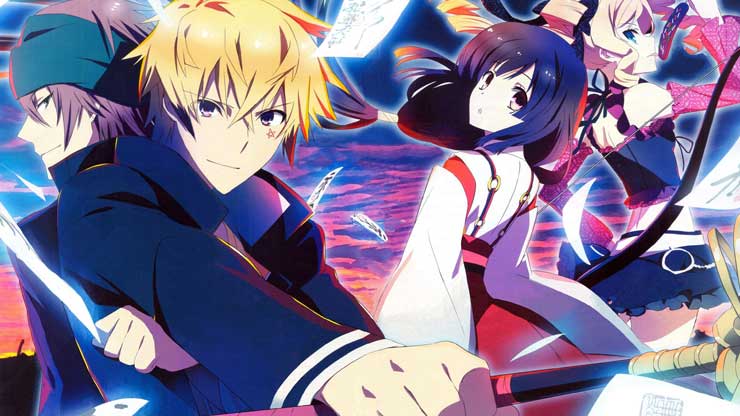 Onmyoudou magic was once a powerful technique used by the japanese during the second world war in order for them to gain upper hand and establish their nation as a formidable force. But japan was quickly defeated after the revered onmouji yakou tsuchimikado caused the "Great Spiritual Disaster", an event which plagues tokyo to this very day. As a result, the onmyou agency was established in order to exorcise further spiritual disasters. Tsuchimikado Harutora was born into a prestigious onmyoji family, but he can't see "Spirit Energy". Therefore, he's been enjoying a peaceful daily life with his friends at an onmyo branch school. One day, his childhood friend , Tsuchimikado Natsume, heir to the head family, suddenly appears. Will this cause his destiny spring into motion ?
2. Rakudai Kishi no Cavalry [TV]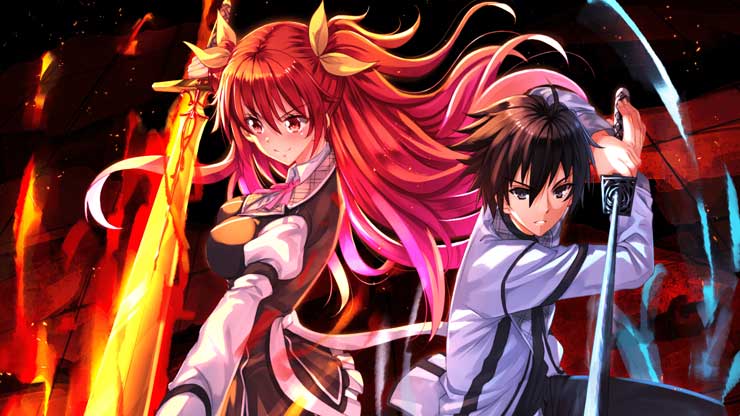 There are some humans capable of using magical power to manifest their souls as weapons and control forces beyond normal comprehension. These people are known as Blazers and those who recognized as such can undergo training at academies to become Mage-Knights. Ikke Kurogane is an aspiring Mage-Knight, Despite being considered the worst student at Hagun Academy as a F-Ranked Blazer- The Lowest rank possible. One morning , he accidentally stumbles upon Stella Vermillion, A visiting princess and A- Ranked Blazer who has just enrolled at hagun, in a state of undress. As a result, she challenges him to a duel where the loser will be the winner's slave. It seems like a surefire win for stella, But could there be more to Ikki that meets the eye ?
1. Mahouka Koukou no Rettousei [TV]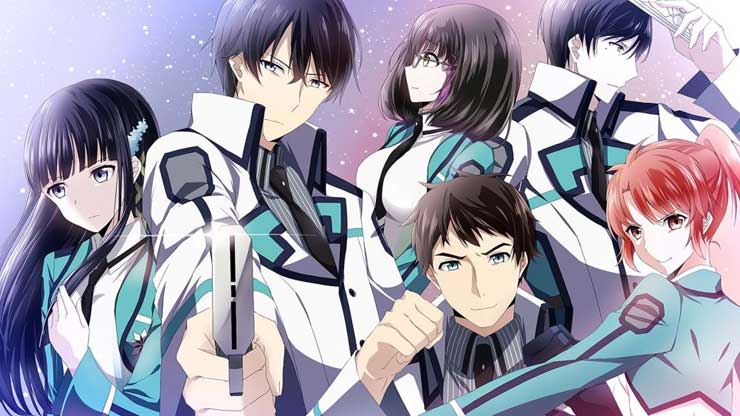 In the dawn of the 21st Century, Magic has become a systematized technology and is taught as a technical skill. In first high school, The institution for magicians, Students are segregated into two groups based on their entrance exams scores: "Blooms" Those who receive high scores are assigned to the first course, while "Weeds" are reserve students assigned to the second course. Tatsuya and Miyuki Shiba, are enrolled in the first high school. Upon taking the exam, the prodigious miyuki is placed in the first course, while Tatsuya is relegated to the second course. Though he is magically inept, He possesses extraordinary technical knowledge, physical combat capabilities and unique magic techniques – Making Tatsuya the irregular at a magical high school.
That is it from today's post on Top 10 Best Magic School Anime 2021. If you do not agree with the points in the post and have some of your own opinions, share them with us in the comments section down below. Keep visiting Animesoulking for more information about Anime and Manga.
Also, Read:
Chandan is the writer of "Top 10 Best Magic School Anime 2021". Also, Connect with me on youtube.