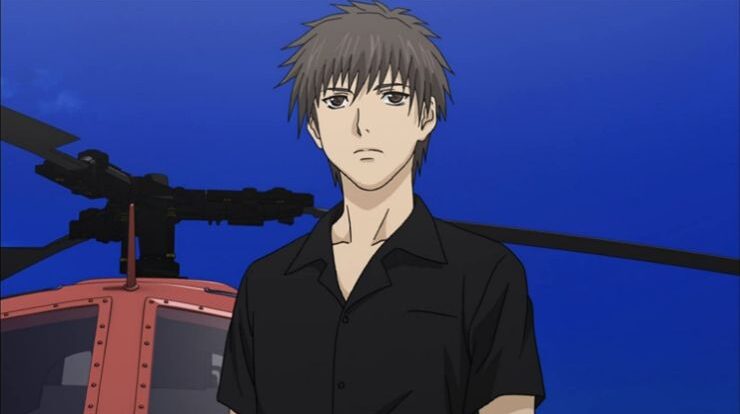 Top 10 Best Survival Anime To Watch List – Hey guys!. In this post, I'll be discussing a list of Top 10 Best Survival Anime To Watch List. A great anime plot will surely have something important to risk, whether it's work, self-esteem or even money. But different with survival anime, they are required to defend their life. Most of them are dragged away and unable to get out in the terrifying situation, which they haven't faced before. They have to use their brains and powers to live in any situation. Today I've picked up the best survival anime to watch list. So, let's get started.
10. Rainbow: Nisha Rokubou no Shichinin
It is an anime adapted from a Japanese manga series written by George Abe and illustrated by Masasumi Kakizaki. It was serialized in Shogakukan's Weekly Young Sunday manga magazine from December 2002 to July 2008, when the magazine stopped its publication. It was later moved to Big Comic Spirits, published from June 2009 to January 2010. The anime adaptation itself aired from spring 2010 with 26 episodes in total. The story is set in the 1950s and focuses on some delinquents aged sixteen to seventeen who are sent to the Shonan Special Reform School. They learn to deal with the cruelty and injustice they encounter there. Starting with a teenager named Mario Minakami, who has just arrived at Shounan Special Reform School along with other teenagers that have been arrested on serious criminal charges. This anime series follows the journey of cellmates as they struggle against the brutal suffering and humiliation inflicted upon them.
9. Phantom: Requiem for the Phantom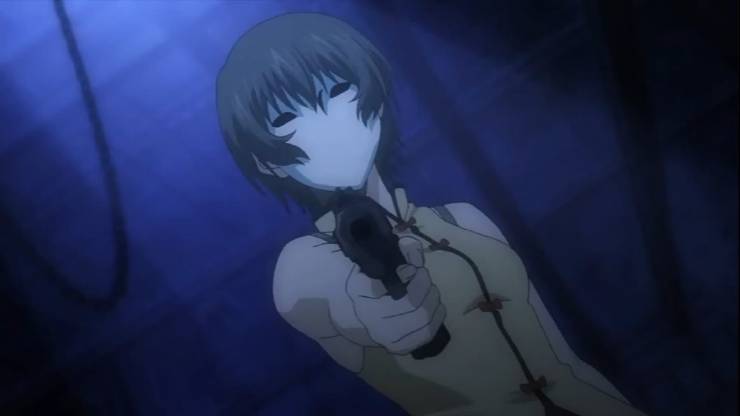 Phantom: Requiem for the Phantom aired in spring 2009 on TV Tokyo with 26 episodes in total. This anime is a Japanese anime series animated by Bee Train and directed by Koichi Mashimo under the Project Phantom group. This anime itself is based on a game called Phantom of Inferno, on the Playstation 2 and Xbox consoles in Japan. It tells the story of a Japanese citizen who gets kidnapped by an assassin syndicate called Inferno after personally witnessing an assassination while visiting the United States. Inferno itself is a criminal organization trying to unite all known underworld mafia gangs into one conglomerate. To achieve their goal, Inferno deploys its assassin operation codenamed Phantom. Among them is an amnesiac girl named Ein and a Japanese citizen who was given the name Zwei as his codename after he was brainwashed from his previous memories. Besides the adaptation of a television series totalling 26 episodes, this series has also adapted several OVA series.
8. Alice in Borderland
If in America there is Alice in Wonderland, then in Japan there is Alice in Borderland. The animated series itself is an anime adaptation of the Japanese suspense manga series written and illustrated by Haro Aso, which was in Shogakukan's Shōnen Sunday S magazine from November 2010 to March 2015, and then moved to Weekly Shonen Sunday in April 2015 and finished in March 2016. Alice in Borderland was adapted into a 3-episode OVA, released from October 2014 to February 2015. A live-action series produced by Netflix and directed by Shinsuke Satō premiered worldwide in December 2020. Arisu, Karube and Chouta are high school students, who one day get bored with their current life. During a firework celebration, Arisu wishes to live in another world that will be more fun for him. Thus, his wish was granted, and the three of them were transported to a seemingly post-apocalyptic-like parallel world. After stepping into a seemingly empty festival, they are greeted by a woman who informs them that they have "entered their game".
7. Jyu-Oh-Sei: Planet of the Beast King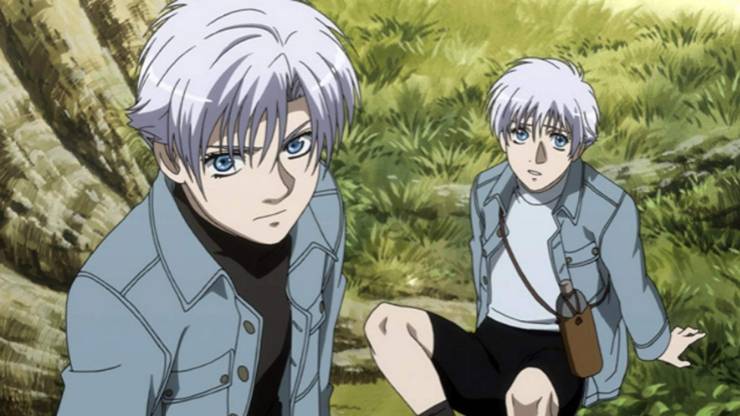 Jyu-Oh-Sei itself is a Japanese manga series written and illustrated by Natsumi Itsuki. This anime adaptation with 11 episodes in total was animated by Studio Bones and premiered in spring 2006 in Japan as part of Fuji TV's Noitamina programming block. The story begins about 350 years ago, since humans first occupied the Balkan star system, located approximately 150 light years from Earth, where a number of planets have been terraformed to resemble Earth. It tells the story of 2 twins named Thor and Rai, who live in the space colony of Juno until they come home and find their parents have been killed.
6. Bokurano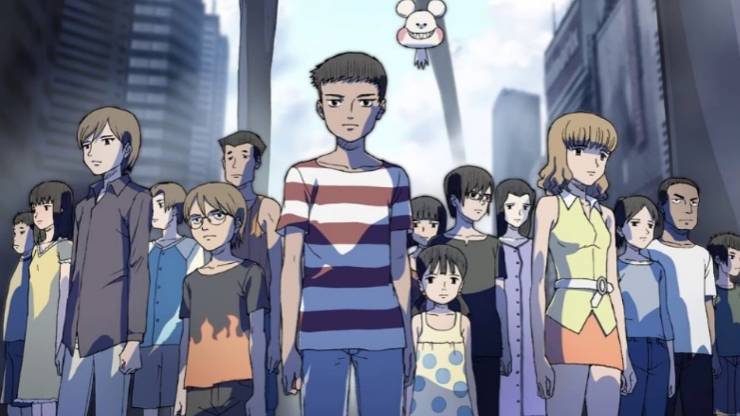 The anime series Bokurano is an adaptation of the Japanese science fiction manga series written by Mohiro Kitoh, which was serialized in the monthly manga magazine Monthly Ikki from 2003 to 2009 with a total of 11 tankobon volumes published by Shogakukan. This manga series began to be adapted into an anime in spring 2007 with 24 episodes in total. In addition, the light novel series titled Bokura no: Alternative with an alternative stories by Renji Ōki and character designs by Kitoh himself. The story is about a group of high school students who reluctantly carry out the task of piloting a giant robot named Zearth in a series of battles against robot from parallel world, where Earth's life sustainability depends on them continuing to win by giving the pilot's life at stake in each battle. Each part of Bokurano's story is more likely to focus exclusively on one character or the next pilot. It begins with some background information about the characters and their underlying motivations to start their battles.
5. Terror in Resonance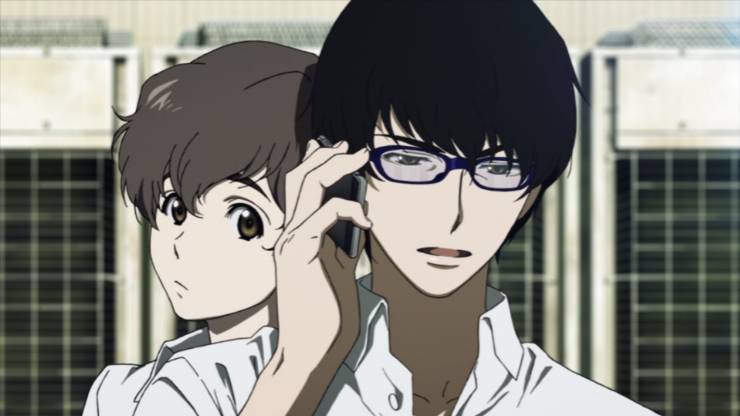 Terror in Resonance or commonly known as Terror in Tokyo, is a Japanese anime television series produced by MAPPA, directed by Shinichiro Watanabe with character design by Kazuto Nakazawa. The anime began airing on Fuji TV's Noitamina block on July 10, 2014, and the final episode aired on September 25, 2014. In total, it consists of 11 episodes. Painted in red, the word "VON" is all what is left after a terrorist attack on a nuclear facility in Japan. The government is devastated by their inability to act, and the police are left frantically looking for ways to crack down on the perpetrators. In today's alternative iteration, two teenage boys named Nine and Twelve steal an atomic bomb prototype, and call themselves the "Sphinx". Then, they even upload a video to the Internet and threaten to destroy Tokyo city unless a secret puzzle can be solved. They shouldn't exist, yet they stand firm in the world of deception and temporary secrets that make the city crumble around them, all in the hope of burying their own tragic truth.
4. Mujin Wakusei Survive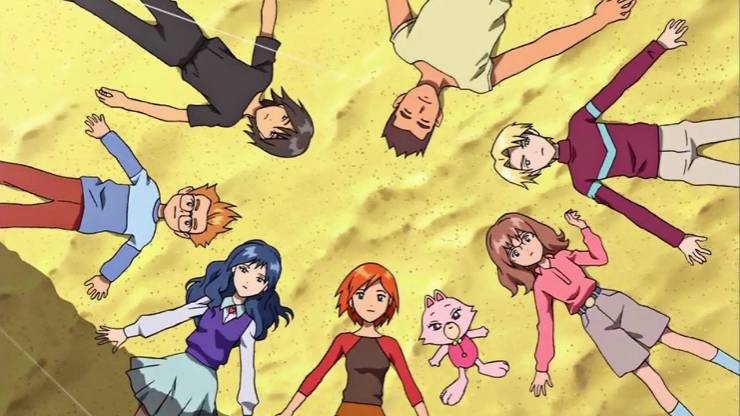 Mujin Wakusei Survive is a science fantasy and action/adventure anime series that aired in Japan on NHK from October 2003 to October 2004, consisting of 52 episodes produced by Telecom Animation Film and Madhouse. The story is set in the 22nd century where space travel, planet colonization, and anti-gravity basketball are practically everyday things. And at that time planet Earth has become an uninhabitable place, so people live in colonies on the surrounding planets. Starting with a school field trip, a mistake causes the protagonist, a young transfer student named Luna, her pet robot, and six of her classmates to be thrown through a gravity storm and crash land on a seemingly uninhabited planet. There, with Luna as their leader, the robot cat Chako, the teenager Kaoru, the spoiled rich boy Howard, the shy Sharla, the obedient Bell, the prideful musician Menori and the young genius Shingo, they all have to fight for their survival.
3. BLAME!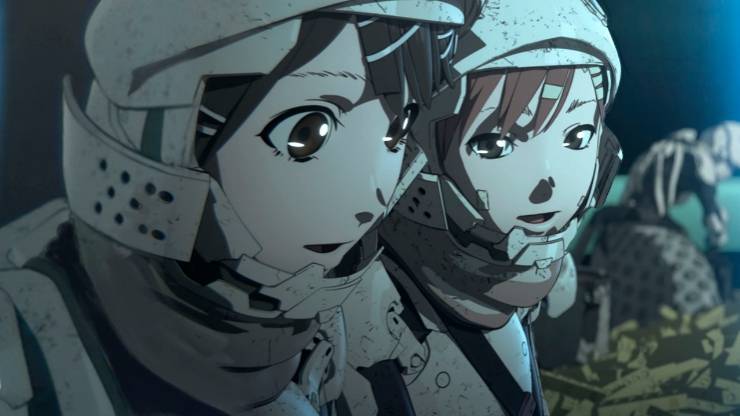 Blame is a CGI anime science fiction action movie, aired in 2017. The movie itself was adapted from the Blame manga series written and illustrated by Tsutomu Nihei. It all start from the future with advanced technology, the civilization has reached its ultimate internet-based form. An "infection" in the past caused the automated system to spiral out of control, resulting in a multi-levelled city structure that replicates itself infinitely in all directions. Now humanity has lost access to the city's control and is hunted down to be sanitized by the defense system known as the Safeguard. In a village, a group known as Electro-Fishers faces eventual extinction, caught between the threat of the Safeguard and the diminishing food supply. Zuru, a girl who travels with her friends only to find food for the villagers. But calamity arrives, and one by one of her friends are dead and the escape routes are blocked.
2. The Island of Giant Insects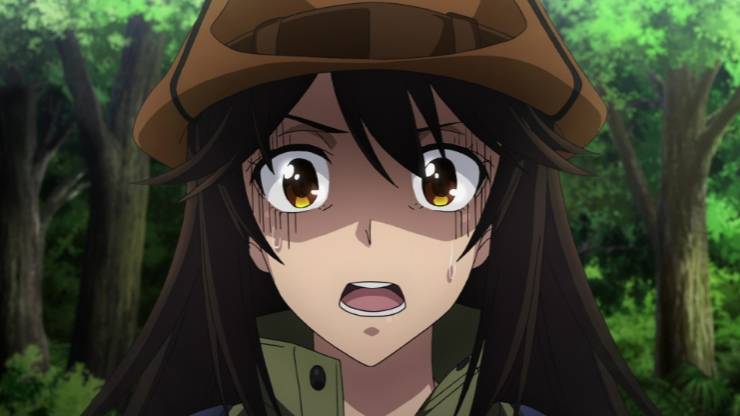 This anime is an adaptation of a Japanese manga series written and illustrated by Yasutaka Fujimi and illustrated by Redice which then by Shu Hirose, this series began to be published online on Akita Shoten's Champion Cross web platform from 2014 to 2018. The anime itself consists of 1 OVA that aired in June 2019 and a movie that aired in January 2020. The tragedy starts when a plane they are traveling in has an accident during a school trip. Oribe Mutsumi and her classmates are stranded on a seemingly deserted island. Mutsumi finds other survivors, and uses her wilderness knowledge to help them. She hopes they will be rescued in about three days, which is unlikely to last long. However she doesn't take into account the fact that the island was inhabited by gigantic killer insects. Knowledge about butterflies, wasps, and many more is probably the only thing that will help her classmates survive the deadly island.
1. Deadman Wonderland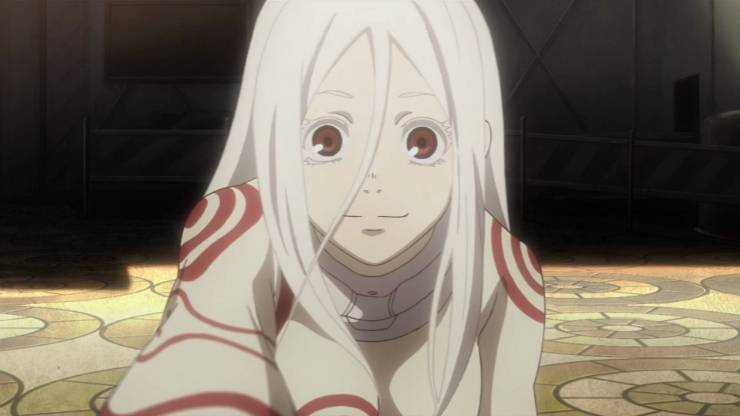 Deadman Wonderland is a Japanese manga series written by Jinsei Kataoka and illustrated by Kazuma Kondou, who also wrote and illustrated the manga Eureka Seven, and was published in Shonen Ace since 2008. Then an anime adaptation aired between April and July 2011, pulling content from the first 21 chapters of the manga. It all starts with a massive anomaly causing a great earthquake that devastated Japan's mainland and destroyed most of Tokyo, submerging three-quarters of the city into the Pacific Ocean. Ten years later, the story turns to Ganta Igarashi, a seemingly ordinary student at the Nagano Prefecture's Middle School. As a fugitive, a survivor of a great earthquake, Ganta has no memory of the tragedy and has lived a normal life. This all changes when a stranger covered in blood and red armor floats through his classroom window. In the end, the stranger kills all of his classmates and only leaves Ganta alone.
That is it from today's post on Top 10 Best Survival Anime To Watch List. If you do not agree with the points in the post and have some of your own opinions, share them with us in the comments section down below. Keep visiting Animesoulking for more information about Anime and Manga.
Also, Read:
Chandan is the writer of "Top 10 Best Survival Anime To Watch List". Also, Connect with me on youtube and Facebook.