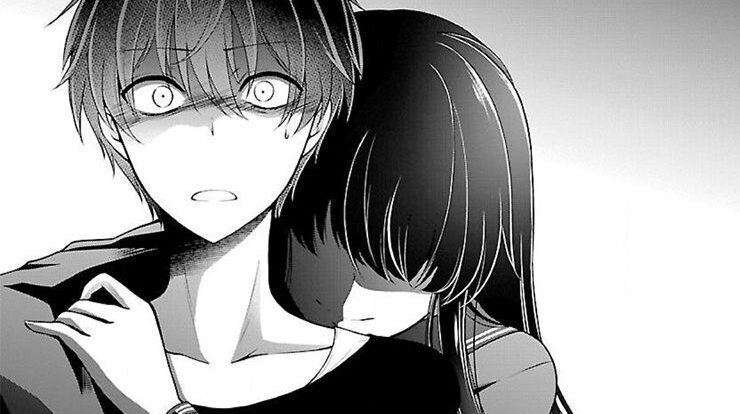 Top 10 Best Yandere Manga You Must Read – Hey guys!. In this post, I'll be discussing a list of Top 10 Best Yandere Manga You Must Read. These are yandere manga, romance manga with overly attached girlfriend. Well, let's go to the list.
10. Acute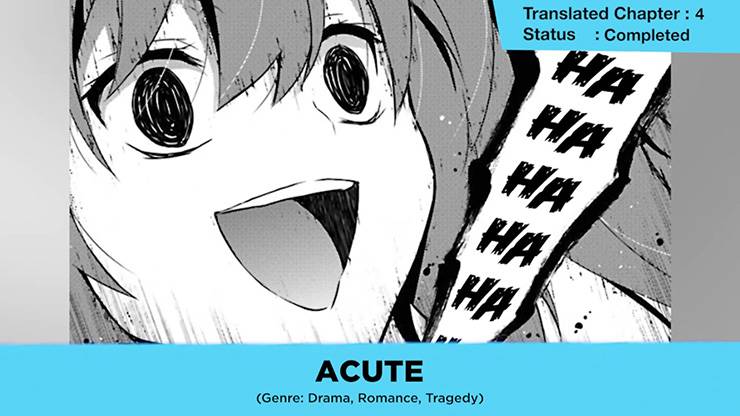 Manga adaptation of a popular Vocaloid song. A story about Miku, Luka, Kaito three childhood friends who is so close with each other. One day, both Miku and Luka develop feelings for Kaito. Both of them are afraid if one of them started going out with Kaito, one of them will get left behind.
So they make a promise where they both hide their feelings. But Miku accidentally saw both of them kissing with each other. Miku who was feeling betrayed becomes crazy and everything is starting to go wrong.
9. Kareshi ni Donhiki Saretai Minamoto-san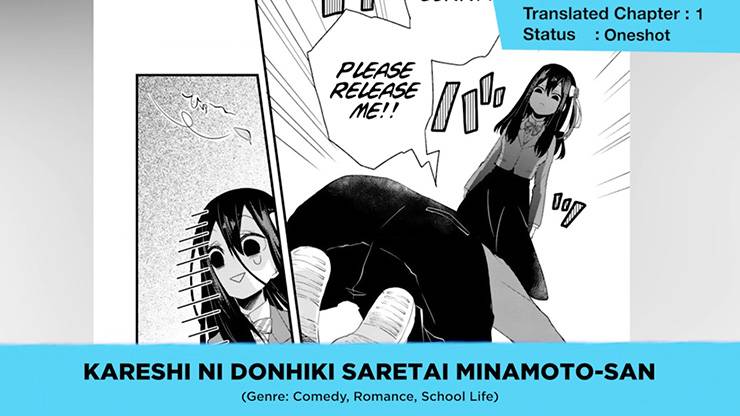 Riri-chan is a yandere girl who gets dumped by too many boyfriends. because nobody can't stand her heavy love. One day she met with a boy who's said that he's gonna treasure her. She doesn't trust him and tries to test him. To her surprise, he can match her heavy love, in fact, his love is much heavier than her.
8. A Story About Wanting To Commit Suicide, But It's Scary So I Find A Yandere Girl To Kill Me, But It Doesn't Work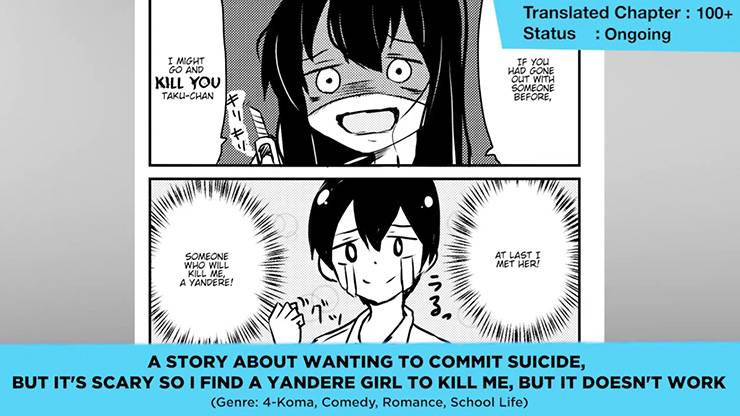 Contrary to the title, it's not dark at all… After the main character gets the yandere girlfriend, she doesn't try to kill him. He tries to get killed by her, but he forgot why yandere tries to kill her boyfriend in the first place. He didn't try to make her jealous so she has any reason to kill him. It's just a lighthearted romcom yandere romance.
7. Usotsuki Mii-kun to Kowareta Maa-chan: Totteoki no Uso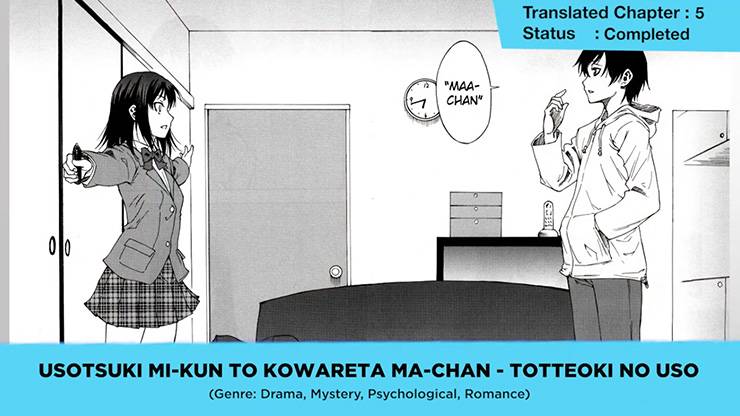 This one is a mystery manga where kidnapping and series of murders are happening in the city. The mystery surrounds "Mii-kun" and "Maa-chan", the victims of kidnapping in the past when they're a child. They're finally reunites and now are living together. There are some twist here and there.
6. Pulseless Girlfriend
One day Kino Makoto accidentally drop a flowerpot from three floors into a girls head. He thought she was dead, but it turns out she's not…? The girl seems to be an immortal and can't die… But it didn't stop Makoto from worrying about her. Because the girl is being worried by him, the girl soon fall for him. And her love for Makoto seems to be heavy…
5. Hachigatsu Kokonoka Boku Wa Kimi Ni Kuwareru.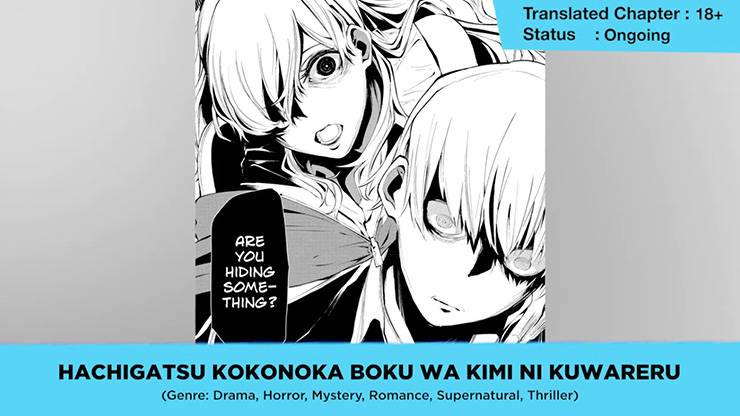 Sakurai is a boy who has some really good luck… I mean bad luck… Where an urban legend monster who's disguised as beautiful girls are attracted and go after him. Among all stood out a monster girl named Miyako, who swears to protect him from the other monsters and keep him all to herself.
4. Namae no Nai Kaibutsu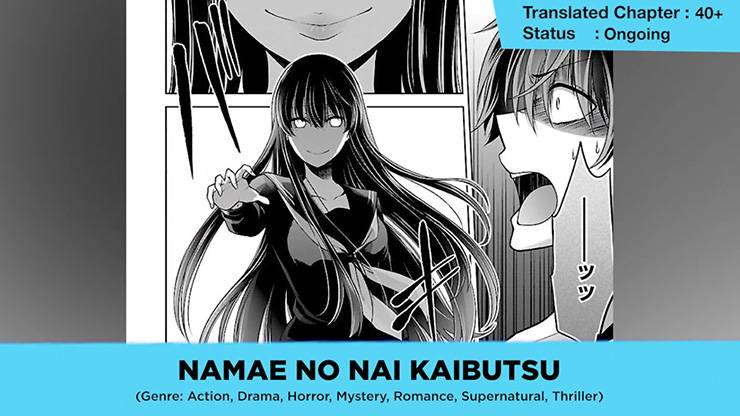 One day, Rei finds himself being preyed by this monster spider girl. Whenever she "attacks" him, he's unable to move, and his body is being controlled by her. I mean… if it was me, she doesn't need to control my body, I will gladly welcome her with open arms ( ͡° ͜ʖ ͡°) There's also a serial murder surrounding the story… Does it connect to the spider monster waifu? Read it yourself to find out…
3. Haru To Natsu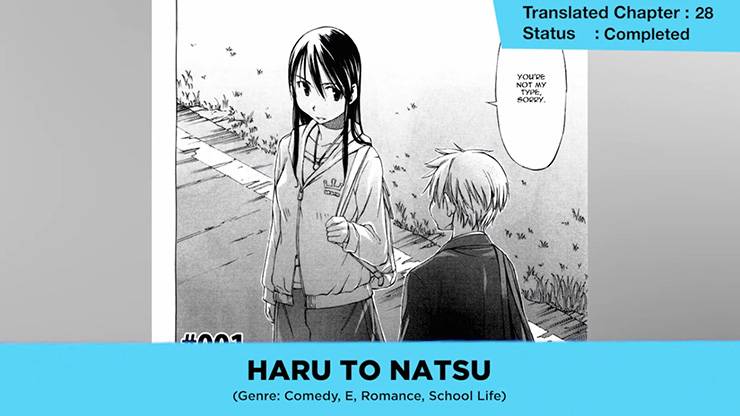 Makoto helps out a girl at the school festival and he falls for her. He soon confess to her… only to get rejected… After that the girl suddenly invites him to her house? Later he finds out, that the girl whom he helps and confess are two separate person.
Yup, they're twins. Soon he's trapped between the triangle of the twins… The twin sister who are polar opposite of each other, Natsumi, a crude and blunt girl who loves to tease, and Haruna a sweet and innocent girl at first sight, but turns out to be a yandere…
2. Love Fighter Shuravan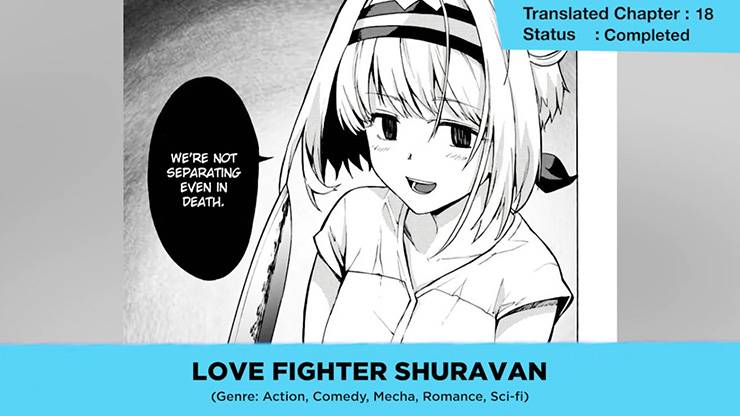 This one is an action super hero manga… The reason it got into a yandere list is because… The Hero one day saves a girl and the girl suddenly confess to him. They began dating but soon he finds many shocking truth about the girl. She's a yandere… and to top it off… she's also the daughter of the boss of the antagonist whom he supposed to fight!
1. At That Time, The Battle Began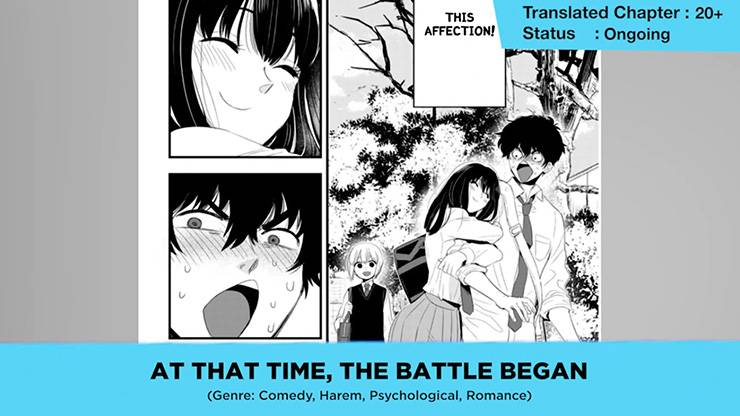 What is better than a yandere girl? 2 yandere girls who are fighting over you of course! Hiromu, the lucky guy who caught in a love triangle between 2 yanderes. The 2 yanderes will do whatever it takes to win over Hiromu… and there's even another girl that joins the battle! It was just an absolute chaos… I wish I were him!!!
That is it from today's post on Top 10 Best Yandere Manga You Must Read. If you do not agree with the points in the post and have some of your own opinions, share them with us in the comments section down below. Keep visiting Animesoulking for more information about Anime and Manga.
Also, Read:
Chandan is the writer of "Top 10 Best Yandere Manga You Must Read". Also, Connect with me on youtube and Facebook.