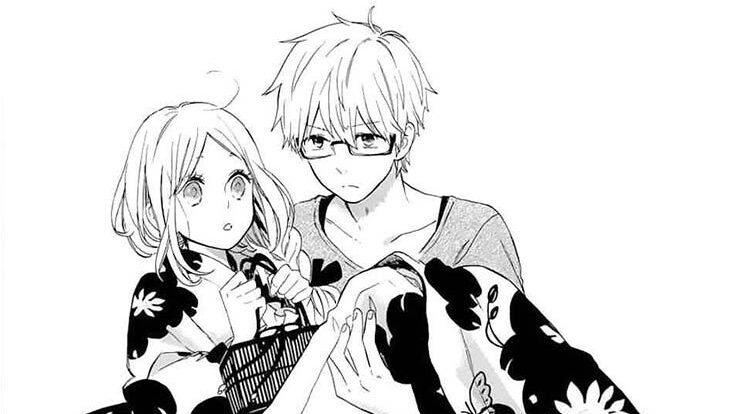 10 Romance Manga Where Popular Girl Falls in Love With Unpopular Guy – Hey guys!. In this post, I'll be discussing a list of 10 Romance Manga Where Popular Girl Falls in Love With Unpopular Guy. These are best romance manga where popular girl falls in love with unpopular boy. So, let's get started! ​​ ​​​ ​​​ ​
10. I Love You, Miki!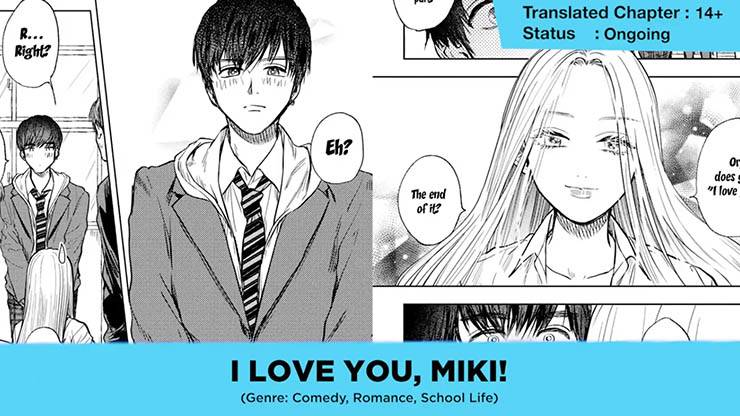 Kousaka is a timid, quiet boy who's happy enough to go unnoticed by his classmates. But one moment of kindness and concern by a bright and outgoing gyaru named Miki starts to change his life. He started to improve his appearance and gather his courage to ask Miki out! I'm so proud of you my boy!
9. Suki x Suki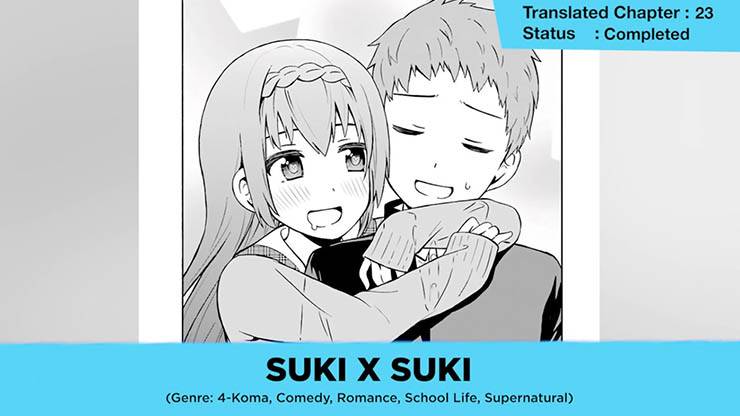 Touka has a crush on her classmate, Ryoutarou. However she never acts like it, instead she's being cold towards him. Typical tsundere, but she's so rude! But one day, she realizes that she has turned into invisible! Now, with no witnesses, she can show her love and affection towards Ryoutarou.
Unfortunately… Ryoutarou is the only one that can see her, but she doesn't know about it! Poor guy has to act like he can't see her, because he knows she will die of embarrassment if she knows he can see her.
8. The Unattainable Flower's Twisted Bloom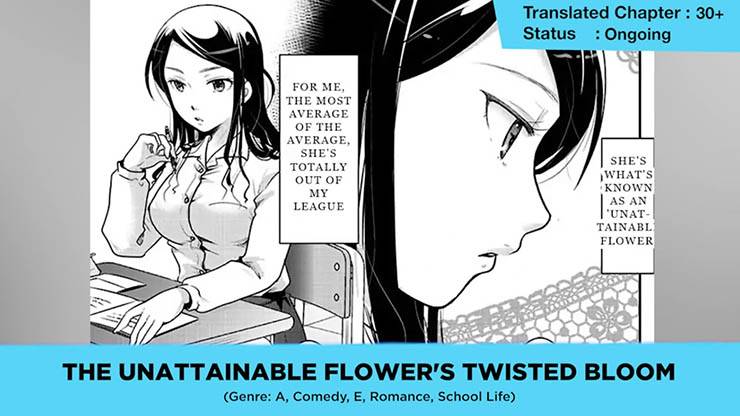 Minezaki Kyuka is the perfect student, beautiful, clever and with lots of friends, and known as unattainable flower. Sawada is just an ordinary boy who can only watch her from afar. However, their fate intertwined, after he found her secret, that nobody knows about!
This one is a bit umm… better read it for yourself to find out! I can't elaborate further, because this is a family-friendly blog after all!
7. Yumizuka Iroha's No Good Without Her Procedure!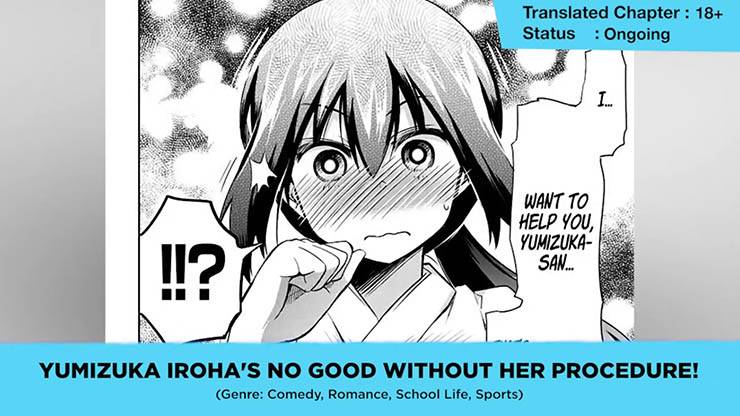 Yumizuka Iroha is a bow princess. A girl who at first glance, seems too perfect. However a boy named Tsuruoka one day noticed that Yumizuka is not the perfect girl that everyone thinks is. She hides the fact that she always on the brink of losing her cool, if things doesn't go to her way. And Tsuruoka has to look out for her!
6. Saotome Girl, Hitakakusu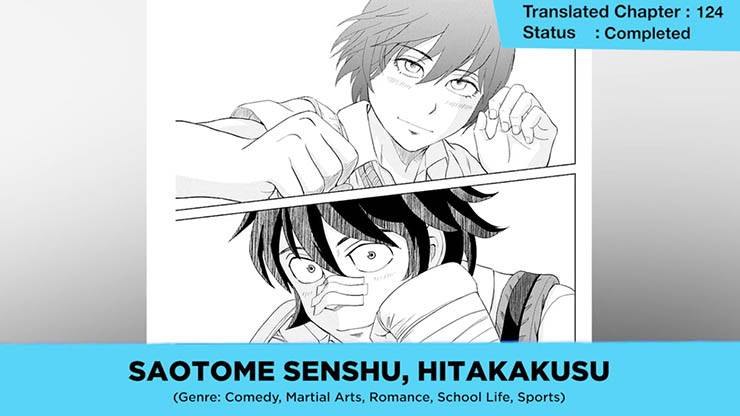 Satoru Tsukishima has just been confessed to by fellow high school boxing club Female Featherweight Champion Yae Saotome. Overjoyed at first, Satoru is not able to accept her feelings as he believes that she should be focusing on boxing instead.
But when their coach finds out, Satoru is assigned as Yae's trainer so the two can secretly date and spend more time together. This is a start of a cute romantic comedy, between two dorky sports couple.
5. Hibi Chouchou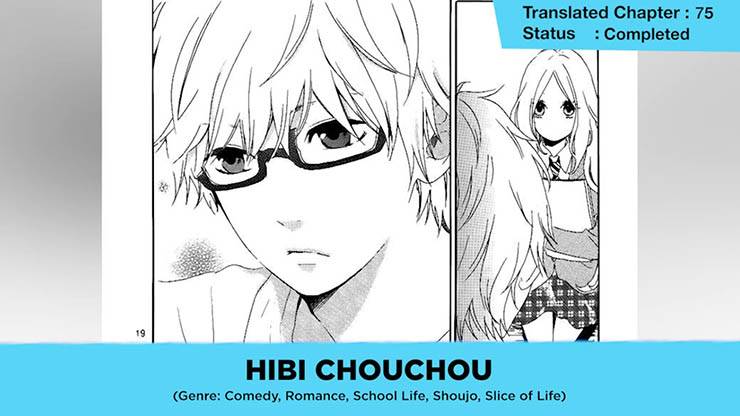 Shibazeki Suiren is a stunningly beautiful girl. When she enters high school, most of her classmates are amazed by her beauty. But after noticing her quiet manners, she receives the nickname, a beautiful flower but impossible to reach.
However, after a fellow freshman called Kawasumi saves her from a persistent suitor, then she finds herself mesmerized by him. Now she will do anything to get closer to him. What a lucky guy!
4. Witchcraft Works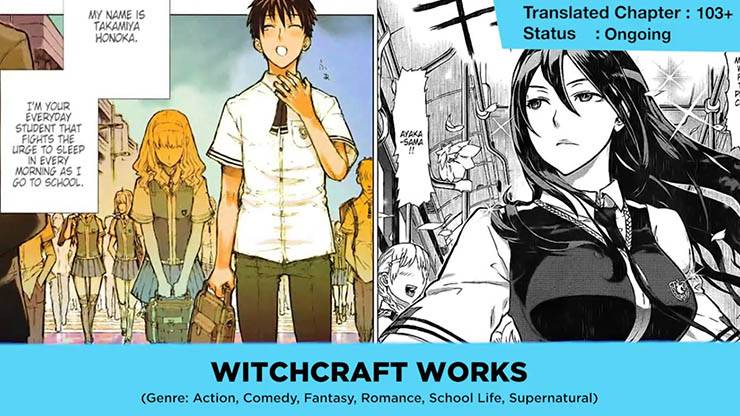 Takamiya Honoka, is a regular student whose only problem seems to be that he sits next to Kagari Ayaka, the school's number one beauty. When a falling part of the school's building is about to send him to the afterlife, it was her that came to his rescue, dressed as a witch.
She continues to protect him using her fire-based magic until the attempt on his life ends. She tells him it is her mission to protect him from harm.
3. Boku No Kokoro No Yabai Yatsu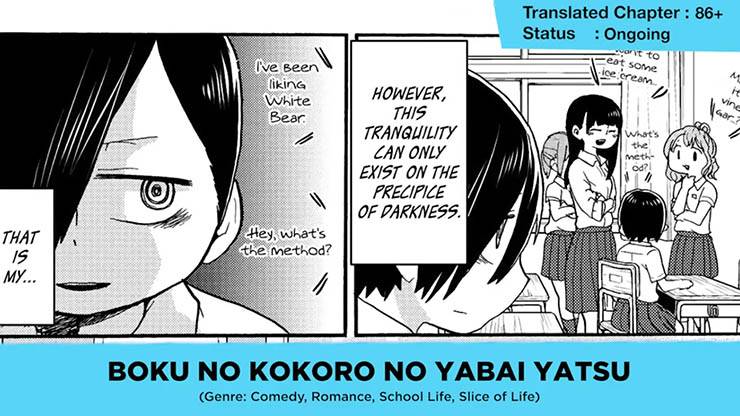 The manga centers on Kyotaro, a person at the very bottom caste of this school. He hides a murderous impulse that lurks at the very bottom of his soul, especially towards Yamada, the school's number one beauty.
I know that sounds really edgy, But Ichikawa will have a really best character development, and it's really a cute romcom, since the couple has a great dynamic. Definitely one of my favorite ongoing rom-com manga right now.
2. Iris Zero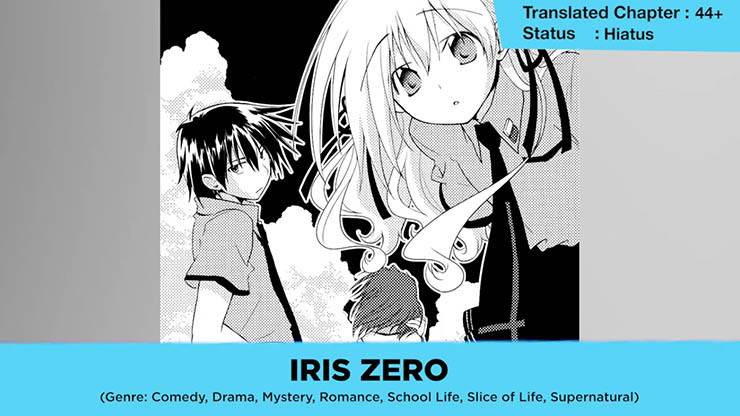 In a world where every boy and girl has a special power called Iris, Toru is the only one who's not having any kind of special power. Because of this, he was ridiculed from a young age, and he distance himself from other people. But his peaceful high school life changes when he receives a certain confession from the school's most popular girl, Koyuki.
From that moment, his life changed, he helps other people's problem where they struggle with the iris power, and show his worth, even without iris, he has an amazing analytical skill. Aww man.. this used to be my favorite, sadly it always on hiatus.
1. Horimiya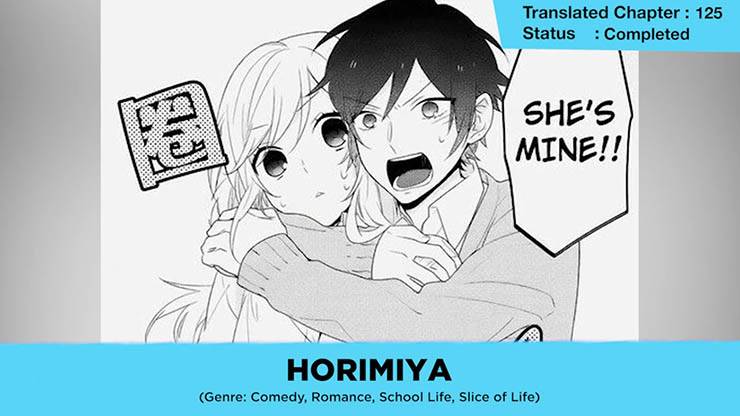 Do I have to explain this? Most people probably already know about this. The only thing I can say is… you definitely have to binge read this! since it's already completed!
I wonder what would happen if a popular girl falls for me, I can only imagine because it will never happen in real life ha.. ha.. ha.. :')
That is it from today's post on 10 Romance Manga Where Popular Girl Falls in Love With Unpopular Guy. If you do not agree with the points in the post and have some of your own opinions, share them with us in the comments section down below. Keep visiting Animesoulking for more information about Anime and Manga.
Also, Read:
Chandan is the writer of "10 Romance Manga Where Popular Girl Falls in Love With Unpopular Guy". Also, Connect with me on YouTube and Facebook.