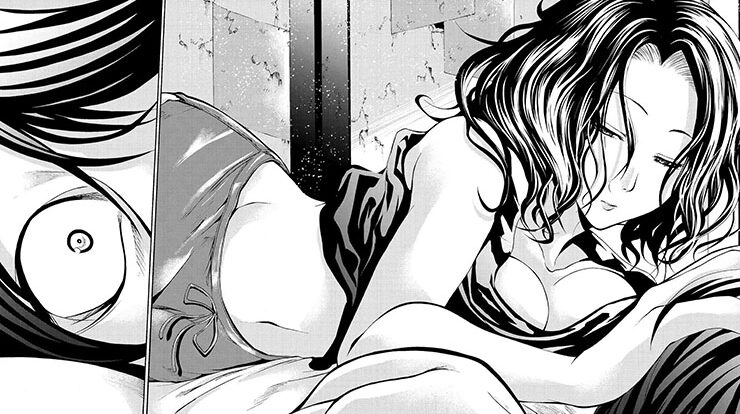 Top 45 Best Ecchi Manga Of All Time – Hey guys!. In this post, I'll be discussing a list of Top 45 Best Ecchi Manga Of All Time. Ecchi manga is a genre that focuses on playful, light-hearted, and often sexual themes. Derived from the Japanese word for indecent or naughty, ecchi manga typically features provocative and titillating content while maintaining a comedic or lighthearted tone.
Ecchi manga often includes elements of fan service, which refers to the inclusion of sexually suggestive scenes or images designed to appeal to the readers' desires. This can manifest in various ways, such as revealing or suggestive clothing, humorous situations with sexual undertones, or occasional risqué humor.
The stories in ecchi manga can range from romantic comedies to action-packed adventures, fantasy, or slice-of-life scenarios. The primary goal of the genre is to provide readers with entertainment, laughter, and a degree of sexual allure, often through the interactions between characters and the comedic or ecchi situations they find themselves in. Let us jump right into it.
45. Mayo Chiki!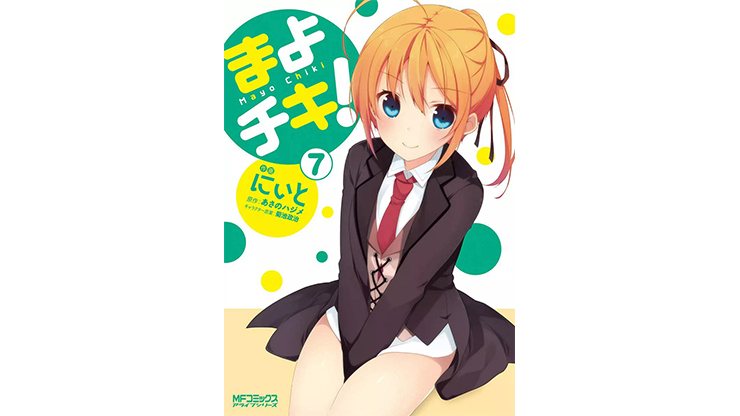 Kinjiro Sakamachi is a high school student plagued by gynophobia, an overwhelming fear of women. Whenever he finds himself in close proximity to the opposite sex, his condition triggers nosebleeds. One day, while in the school bathroom, Kinjiro discovers that Subaru Konoe, a popular and attractive student known for being cool and composed, is actually a girl disguised as a boy.
This unexpected revelation turns Kinjiro's world upside down. To make matters more complicated, Kanade Suzutsuki, the daughter of the school principal, learns about Subaru's secret and decides to use it to her advantage. Kanade, who has a sadistic streak, begins to torment Kinjiro and makes it her mission to cure his gynophobia.
She manipulates Kinjiro into various situations that force him to confront his fears and interact with girls. While her methods may seem cruel, there are hints that Kanade might have genuine intentions to help Kinjiro overcome his phobia. As the story progresses, Kinjiro finds himself caught in a series of comedic and sometimes embarrassing situations involving Subaru, Kanade, and other female characters.
Along the way, he starts to develop feelings for Subaru, creating a romantic subplot within the story. Mayo Chiki! explores themes of friendship, personal growth, and facing one's fears. It combines humor, romance, and light-hearted ecchi elements to create an entertaining and often absurd storyline.
44. Boku Girl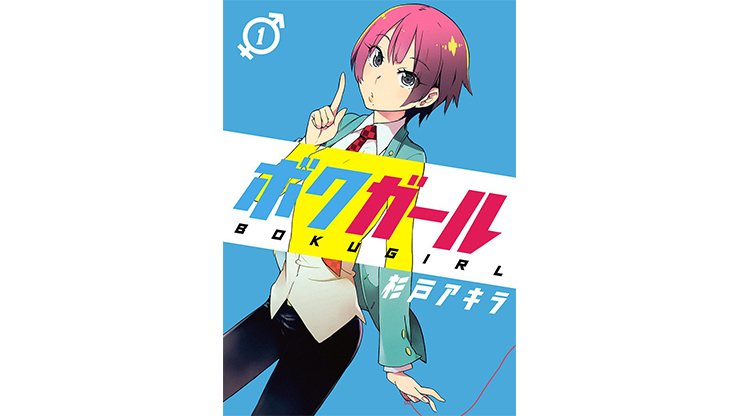 Boku Girl is an ecchi manga series that tells the story of Suzushiro Mizuki, a high school student who constantly gets mistaken for a girl due to his appearance. He struggles with the constant attention and romantic advances from other boys, including the girl he has a crush on. One day, the mischievous god Loki takes an interest in Mizuki and decides to play a trick on him.
As a result, Mizuki wakes up one day to find that he has transformed into a girl, complete with budding breasts and a missing male anatomy. This unexpected change turns Mizuki's life upside down as he navigates the challenges and experiences of living as a girl. Throughout the series, Mizuki grapples with his new identity, relationships, and the feelings of those around him.
The manga explores themes of gender identity, self-discovery, and romance, while incorporating comedic and ecchi elements. As the story progresses, Mizuki encounters various situations and characters that test his resolve and force him to confront his own feelings and desires. The manga delves into the complexities of Mizuki's transformed existence and his journey towards self-acceptance.
43. Love Hina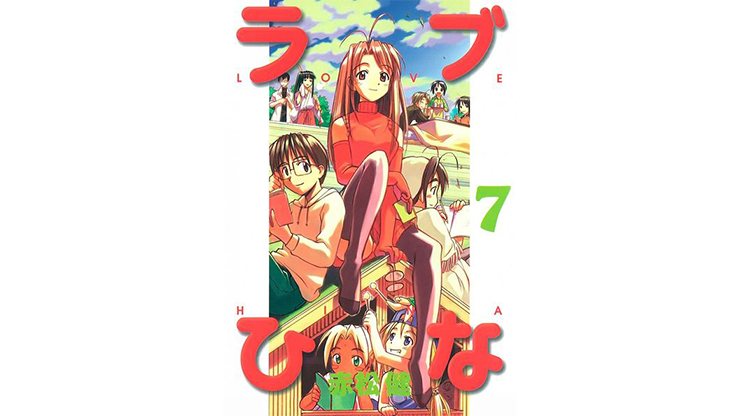 Love Hina is an ecchi manga series that tells the story of Urashima Keitarou, a young man who has failed the Tokyo University entrance exams twice. After being kicked out of his parents' house, he goes to live at his grandmother's inn, which he hopes will serve as a place to stay while he prepares for his next attempt at the entrance exams.
However, upon arriving at the inn, Keitarou discovers that it has been transformed into an all-girls dormitory. Despite his initial misfortune of accidentally stumbling upon and embarrassing the girls, Keitarou learns that he has been appointed as the dorm's new live-in manager through a letter from his grandmother.
This unexpected turn of events sets the stage for comedic and romantic situations as Keitarou navigates his new role and interacts with the various female residents of the dorm. The manga explores Keitarou's relationships with the girls, particularly his interactions with Narusegawa Naru, a hot-tempered and determined high school student who becomes a central love interest.
As Keitarou strives to fulfill his promise to attend Tokyo University and reunite with his childhood sweetheart, the story follows his comedic and sometimes awkward journey towards love and self-discovery. Love Hina gained popularity for its humor, romantic tension, and endearing characters.
42. Fire Force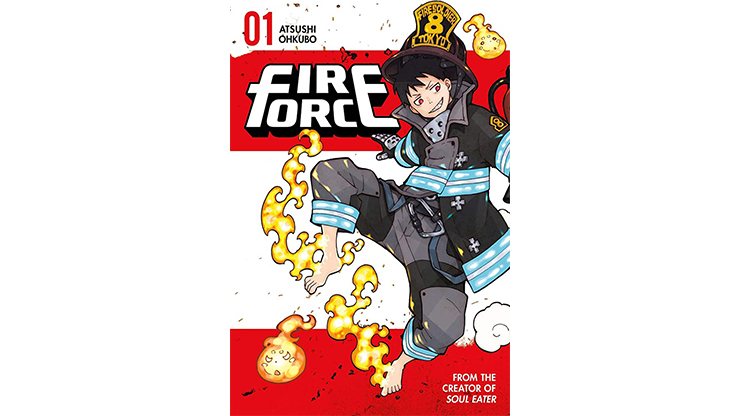 Fire Force is a manga series that revolves around the life of Shinra Kusakabe, a young man haunted by a tragic event from his childhood. Shinra possesses the unique ability to control and manipulate fire, making him a third-generation pyrokinetic. However, his powers also make him a target for scrutiny and suspicion. In this world, humanity is plagued by a phenomenon known as Infernals.
These are first-generation pyrokinetics who succumb to spontaneous combustion, transforming into demonic creatures. The Infernals wreak havoc on the streets of Tokyo, causing destruction and chaos. Determined to protect the city and put an end to the Infernals, Shinra joins Special Fire Force Company 8, a group of fire brigades dedicated to combating these fiery threats.
As a member of Company 8, Shinra learns to harness his powers and works alongside his fellow brigadiers, each with their own unique abilities and backgrounds. However, Shinra soon discovers that there is more to the Infernals than meets the eye. As he delves deeper into the mystery, he uncovers a dark conspiracy that threatens not only Tokyo but the entire world.
Alongside his comrades, Shinra must confront powerful adversaries, uncover the truth about the Infernals, and confront his own past trauma. Fire Force combines intense action, supernatural elements, and intricate world-building to create a thrilling and dynamic story. The series explores themes of heroism, teamwork, and the consequences of power.
41. GE: Good Ending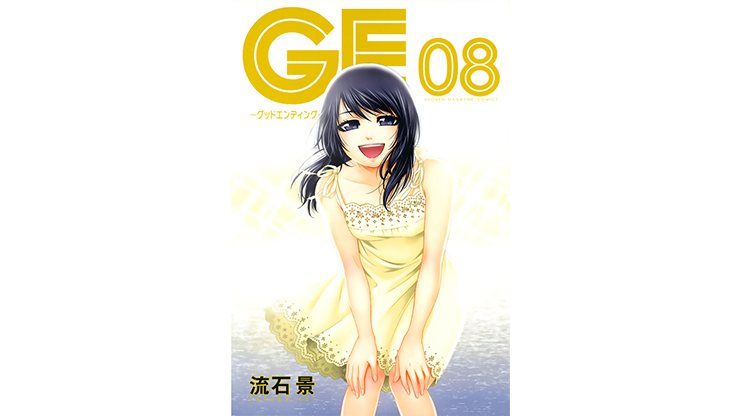 GE: Good Ending is an ecchi manga series that tells the story of Seiji Utsumi, a socially awkward and unathletic high school student who harbors a deep infatuation for Iketani, a cheerful and attractive girl in the school's tennis club. However, Seiji lacks the confidence to approach her and is content with admiring her from a distance, drawing inspiration from his success in dating sim games.
Everything changes when Yuki, a beautiful new student, discovers Seiji's feelings for Iketani. Intrigued by the situation, Yuki decides to lend her assistance to Seiji's romantic endeavors. She encourages him to join the tennis club, believing it to be a way to bring him closer to Iketani and increase his chances of success. Yuki takes on the role of Seiji's coach, guiding him on how to win the heart of his beloved.
As Seiji receives guidance from Yuki, he begins to question her true intentions and the authenticity of her assistance. Despite his reservations, Seiji becomes determined to pursue his love interest and achieve the Good Ending he desires. GE: Good Ending explores the complexities of teenage romance and the challenges faced when pursuing one's desires.
It combines elements of ecchi humor with the emotional journey of its characters, delving into themes of self-discovery, personal growth, and the intricacies of relationships. Through Seiji's journey, the manga depicts the struggles of overcoming insecurities, navigating the complexities of love, and the pursuit of happiness.
40. The Café Terrace and Its Goddesses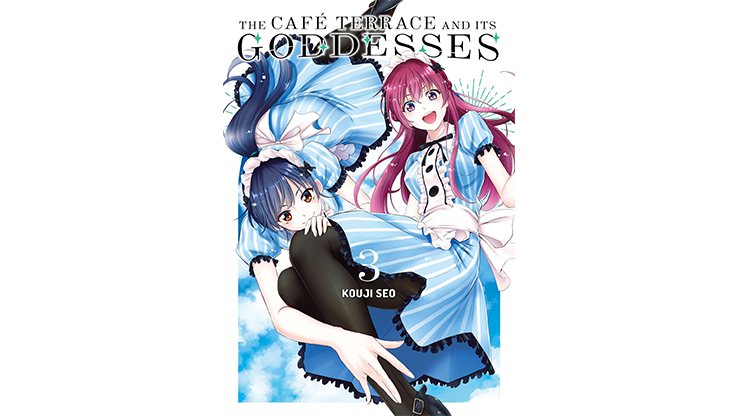 The Café Terrace and Its Goddesses is an ecchi manga series that tells the story of Hayato, a young man who inherits his grandmother's dilapidated café on the shore after her passing. Initially intending to sell the café, Hayato discovers that it is not just a business but also a home to five spirited young women who consider themselves part of his grandmother's family.
With the café in danger of closing down, Hayato is persuaded by the women's determination to keep it open to give it a chance. Despite his doubts and reservations, he decides to take on the challenge of running the café and working alongside the lively and unpredictable women. As Hayato immerses himself in the world of the café, he faces numerous obstacles and trials.
From dealing with the café's financial struggles to managing the unique personalities and quirks of the five women, Hayato finds himself in a chaotic and comedic environment. Throughout the manga, readers witness the humorous interactions, romantic tensions, and everyday mishaps that arise within the café.
The story explores themes of friendship, family, and personal growth as Hayato navigates the challenges of running a café and building relationships with the spirited women who call it home. Amidst the comedic moments and ecchi situations, the manga also touches upon the dreams, aspirations, and personal struggles of its characters.
39. City Hunter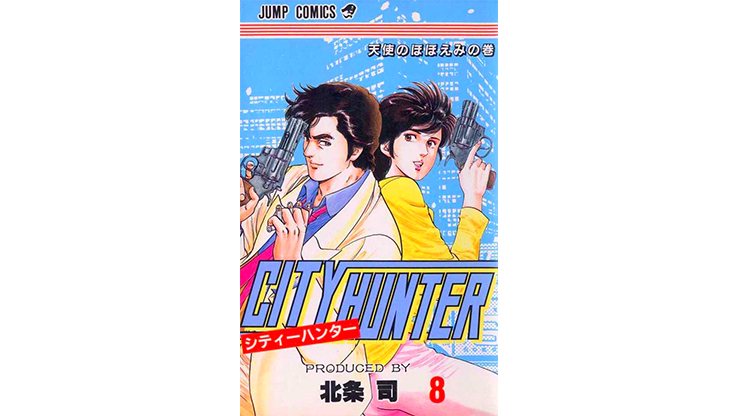 The story revolves around the charismatic protagonist Ryo Saeba, known as the sweeper of Tokyo. Ryo works as a jack-of-all-trades problem solver, taking on various jobs such as bodyguarding, assassinating targets, and helping those in need. With his exceptional skills and sharp instincts, Ryo tackles any challenge thrown his way.
While Ryo is highly skilled and efficient in his work, he has a notable weakness: his insatiable attraction to women. His uncontrollable hormones often lead him to act foolishly and lose focus, especially when he is in the presence of beautiful women. However, Ryo is not alone in his adventures. He is accompanied by his capable and no-nonsense partner, Kaori Makimura.
Kaori serves as Ryo's moral compass and keeps him in line when his romantic tendencies get the better of him. With her strong will and martial arts prowess, she ensures that Ryo remains focused on the tasks at hand and doesn't stray too far off course. Together, Ryo and Kaori navigate the dangerous streets of Tokyo, encountering a wide range of clients, criminals, and mysterious cases.
The manga combines thrilling action sequences with comedic moments, often driven by Ryo's comedic interactions and his humorous attempts to charm the ladies. Throughout the series, Ryo's past and personal connections are revealed, adding depth to his character and motivations. The manga also explores the dynamic between Ryo and Kaori, showcasing their evolving relationship.
38. High School DxD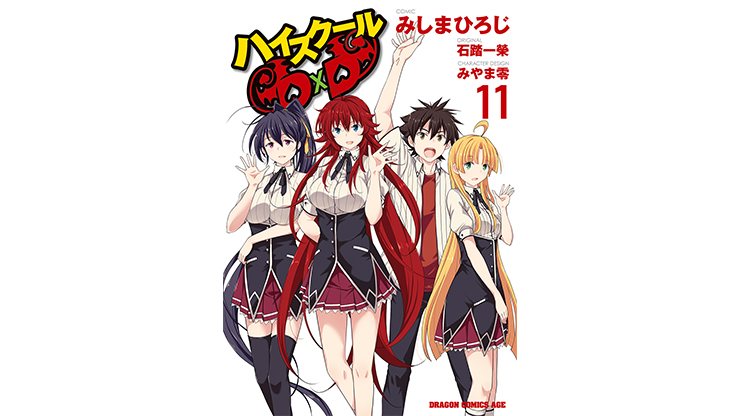 High School DxD is an ecchi manga series that tells the story of Issei Hyoudou, a perverted high school student who dreams of having a harem and living a lecherous life. His life takes an unexpected turn when he is killed by a fallen angel on his first date. However, he is revived by Rias Gremory, a beautiful demon girl and the president of the Occult Research Club at Kuou Academy.
As part of his revival, Issei becomes a servant to Rias and gets involved in the supernatural world of angels, demons, and other mythical creatures. He learns about the existence of various factions, including the devils from the demon world, fallen angels, and the Church's exorcists. Issei's new life is filled with battles, supernatural powers, and encounters with beautiful and powerful girls.
Throughout the series, Issei strives to become stronger and protect those dear to him. He forms a bond with Rias and her group of demon servants known as the Gremory Peerage, who are engaged in various power struggles and conflicts within the supernatural world. Issei's perverted nature often leads to comedic and risqué situations, as the series incorporates elements of ecchi and fan service.
High School DxD explores themes of friendship, romance, and supernatural action while incorporating humor and erotic elements. The series has gained popularity for its blend of supernatural battles, harem elements, and a charismatic protagonist who strives to protect his loved ones in a world filled with danger and intrigue.
37. Precarious Woman Executive Miss Black General
The story revolves around Miss Black General, the leader of the secret organization RX, which is determined to take over the world. However, Miss Black General finds herself in a peculiar predicament—she has a massive crush on Brave Man, a superhero who is constantly foiling her plans.
Despite her villainous aspirations, Miss Black General often misinterprets Brave Man's heroic actions as acts of affection towards her. This leads to a comical dynamic between the two characters as they navigate their conflicting feelings. Miss Black General's attempts at world domination are often hindered by her infatuation with Brave Man, creating a humorous and unconventional love story.
The series explores themes of love, ambition, and the blurred lines between heroism and villainy. It presents a unique twist on the superhero and supervillain dynamic, showcasing the inner struggles and comedic misadventures of Miss Black General as she tries to conquer both the world and her own romantic feelings.
Through its humor and light-hearted approach, Precarious Woman Executive Miss Black General offers an entertaining and refreshing take on the superhero genre, focusing on the complexities of human emotions and the unconventional dynamics that can arise between adversaries.
36. Dance in the Vampire Bund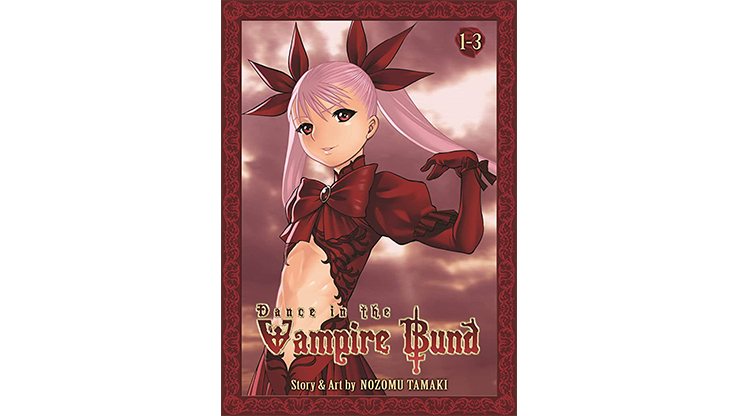 Dance in the Vampire Bund is a manga series that tells the story of Mina Tepes, the Princess of the ancient vampire covenant, who seeks to bring about change for vampires and reveal their existence to the world. After centuries of hiding, Mina Tepes uses her family's wealth to pay off Japan's national debt, gaining the authority to establish a special district off the coast of Japan as a safe haven for vampires.
As she prepares to make a landmark press conference announcing the existence of vampires to the world, various terrorist groups and rival factions conspire to assassinate her and prevent her from realizing her vision. The manga explores themes of power, politics, and the coexistence of vampires and humans in a modern society.
It delves into Mina Tepes' struggles as a young vampire leader and her determination to change the perception of vampires while facing numerous obstacles and threats to her reign. Dance in the Vampire Bund combines elements of action, supernatural, and political intrigue, offering an intense and sometimes ecchi portrayal of vampires and their world.
It provides a unique twist on the vampire genre, with a focus on Mina Tepes' ambitions and the challenges she faces in bringing about a new era for vampires.
35. Please Go Home, Miss Akutsu!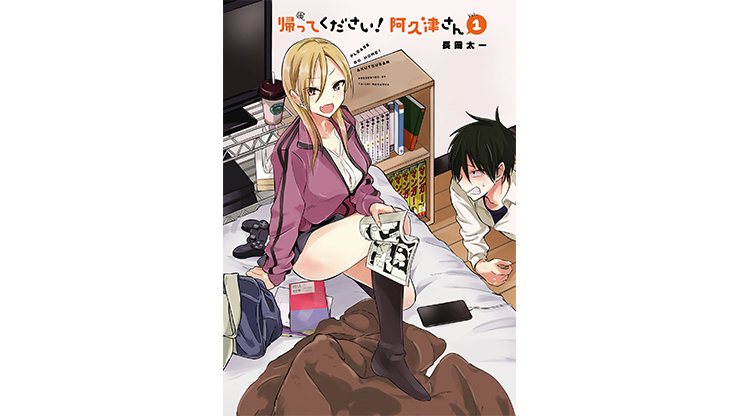 The story revolves around Ooyama, a timid high school student who lives on his own, and Riko Akutsu, a delinquent girl from his class who takes it upon herself to invade his apartment and make it her hangout spot. Despite Ooyama's initial resistance, Riko continues to visit his apartment daily, using his room as her own personal space.
She lounges in his bed, reads his manga, and consumes his snacks and drinks without permission. Ooyama's attempts to get her to leave prove unsuccessful, and he finds himself constantly dealing with her unpredictable and mischievous behavior. However, as time goes on, their relationship begins to change. Ooyama becomes more accustomed to Riko's presence and starts to develop feelings for her.
The dynamic between them evolves from annoyance and frustration to a more comfortable and intimate connection. The story explores the evolving relationship between Ooyama and Riko, delving into their interactions and the changes they undergo as they spend more time together.
Please Go Home, Miss Akutsu! combines elements of romance, comedy, and slice-of-life, providing a lighthearted and sometimes ecchi portrayal of a unique relationship between two high school students. It explores themes of friendship, personal growth, and the complications of navigating teenage emotions.
34. Fate/kaleid liner Prisma☆Illya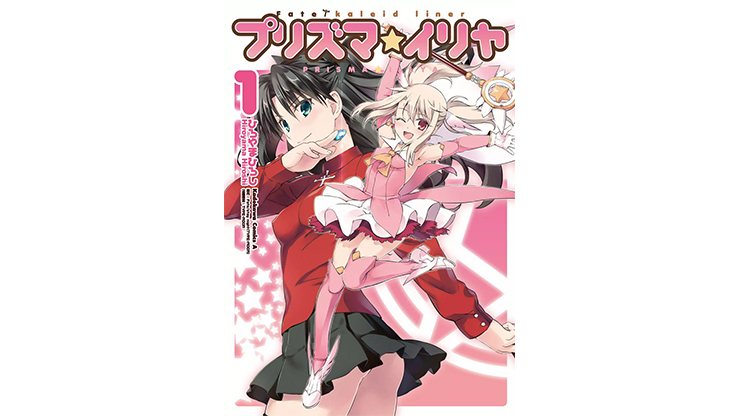 The story follows Illyasviel von Einzbern, a young girl who is a fan of magical girl cartoons. One night, she encounters an enchanted wand named Ruby, who chooses her as its new master. With Ruby's powers, Illyasviel transforms into Prisma Illya, a magical girl with various abilities. However, the wand's former owner, Rin Toosaka, is not pleased with this turn of events.
Rin, a talented student of magic from the Clock Tower of London, had been tasked with collecting magical cards scattered across Fuyuki City to prevent a potential catastrophe. Now, Illyasviel must take up the responsibility of collecting these magical cards while concealing her new identity as Prisma Illya.
As Illyasviel navigates her daily life as a student and magical girl, she faces challenges, encounters other magical girls, and battles against various adversaries to gather the magical cards. The series combines elements of the Fate/stay night franchise, including familiar characters and concepts, with the magical girl genre.
Fate/kaleid liner Prisma☆Illya explores Illyasviel's journey as she embraces her role as a magical girl, balances her normal life with her new responsibilities, and faces the trials and tribulations that come with her newfound powers. The story blends action, comedy, and fantasy elements, providing a unique take on the Fate/stay night universe.
33. Highschool of the Dead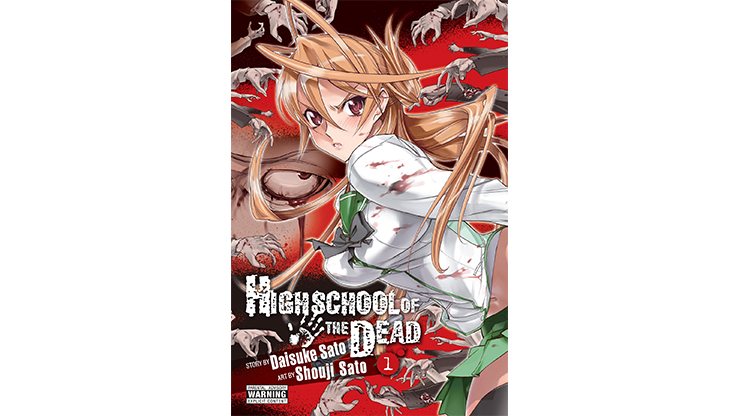 The story is set in Fujimi Academy, where a sudden outbreak of zombies plunges society into chaos. The main protagonist, Takashi Komuro, along with his friends Rei Miyamoto and Hisashi Igou, find themselves trapped in the school as the undead creatures overrun the city. As the group fights for their survival, they encounter other individuals who join their ranks.
This includes Saeko Busujima, the president of the kendo club, Saya Takagi, a highly intelligent and resourceful student, Shizuka Marikawa, the school nurse known for her ample curves, and Kouta Hirano, an otaku with a strong obsession with firearms. Together, they must rely on their skills and teamwork to navigate the post-apocalyptic world filled with flesh-eating zombies.
The series combines elements of horror, action, and ecchi themes, featuring intense and graphic zombie battles, as well as fan service moments. The story not only focuses on the characters' struggle for survival but also explores their personal relationships, emotions, and the psychological impact of living in a world overrun by the undead.
Highschool of the Dead delivers a thrilling and often intense narrative, filled with action-packed sequences and tense moments as the characters fight for their lives and search for safety in a world consumed by the zombie apocalypse.
32. We Never Learn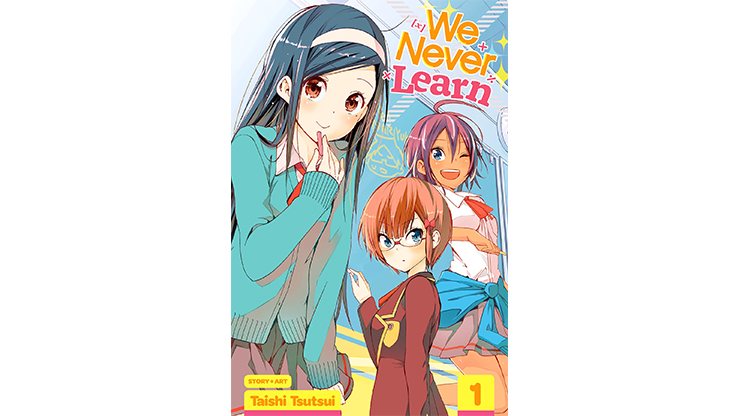 The story follows Nariyuki Yuiga, a hardworking high school student from a financially struggling family. Determined to secure a college scholarship, Nariyuki receives a proposition from his principal: he must tutor two of the school's brightest students to ensure their acceptance into their desired universities.
The two girls Nariyuki is tasked with tutoring are Rizu Ogata and Fumino Furuhashi. Rizu excels in science but struggles with liberal arts, while Fumino is highly skilled in literature but finds math challenging. Despite their intelligence, the girls have specific areas where they need improvement to achieve their dreams. Nariyuki takes on the challenge, hoping to help them succeed.
As Nariyuki spends time with Rizu and Fumino, he discovers their unique personalities, struggles, and dreams. Along the way, he develops strong bonds with both girls, forming a close friendship. As they navigate through academic challenges and personal growth, Nariyuki finds himself drawn closer to Rizu and Fumino, sparking a romantic tension between them.
We Never Learn combines elements of romance, comedy, and academia, exploring the journey of these characters as they strive to overcome their weaknesses and pursue their dreams. The series showcases the determination, perseverance, and evolving relationships of Nariyuki, Rizu, and Fumino, making for an engaging and heartwarming story.
31. Kodomo no Jikan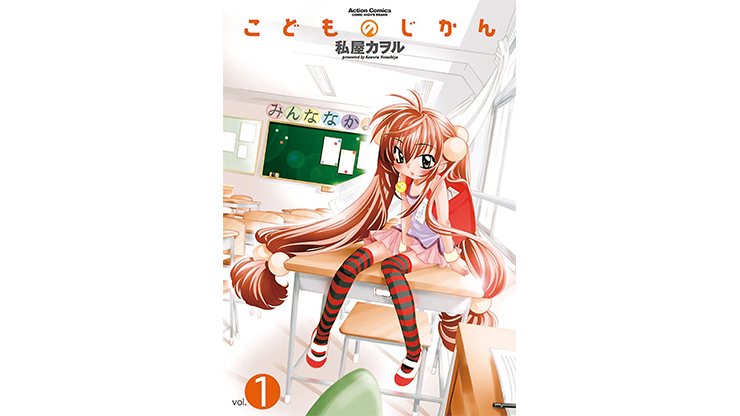 Kodomo no Jikan, also known as A Child's Time, is an ecchi manga series that tells the story of Daisuke Aoki, a 23-year-old elementary school teacher who begins his teaching career at Futatsubashi Elementary School. He is assigned to be the homeroom teacher of Class 3-1, where he encounters a unique and complex situation.
One of his students, Rin Kokonoe, becomes infatuated with Aoki and develops romantic feelings for him. Despite her young age, Rin openly proclaims herself as Aoki's girlfriend and actively pursues him. This creates a challenging and sensitive dynamic between them, as Aoki must navigate the boundaries and ethical implications of his position as a teacher while dealing with Rin's persistent advances.
The manga delves into the intricate relationships between Aoki, Rin, and other characters, including their friends, families, and classmates. It explores themes of childhood innocence, emotional complexity, and the challenges faced by both children and adults in navigating their feelings and relationships.
It's important to note that Kodomo no Jikan has been controversial due to its depiction of sensitive and mature themes involving minors, including elements of ecchi content. The manga has been met with both criticism and praise for its exploration of taboo subjects, and its content may not be suitable for all readers.
30. Cage of Eden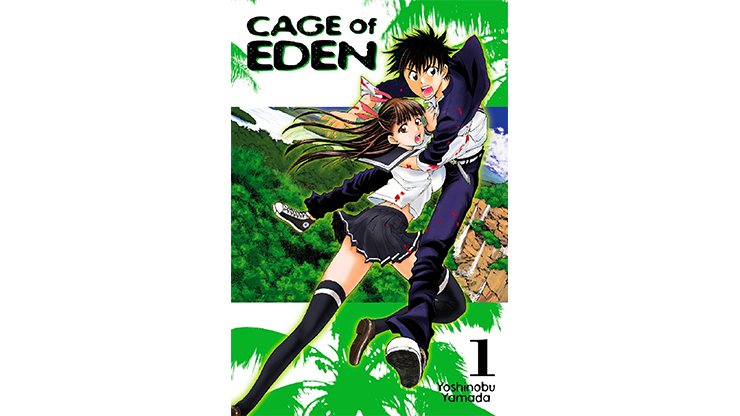 Cage of Eden is an ecchi manga series that tells the story of Akira Sengoku, a high school student who finds himself stranded on the island after a plane crash during a school trip. Alongside his classmates and other survivors, Akira must navigate the dangers of this unknown environment and uncover the island's secrets.
As they explore the island, Akira and his companions encounter various extinct and prehistoric animal species that should not exist. The island is filled with danger, including aggressive predators and other mysterious phenomena. To survive, the group must work together, utilizing their individual skills and knowledge, while also dealing with internal conflicts and personal struggles.
Cage of Eden combines elements of survival, mystery, and adventure, as the characters search for a way to escape the island and uncover the truth behind its existence. Throughout their journey, they encounter new threats, form alliances, and uncover clues that lead them deeper into the island's enigmatic history.
While the manga contains elements of ecchi content, it is primarily focused on survival and exploration. The story delves into the psychological and physical challenges faced by the characters as they strive to survive in a harsh and unforgiving environment, while also confronting the mysteries and dangers lurking within the island.
29. Monster Musume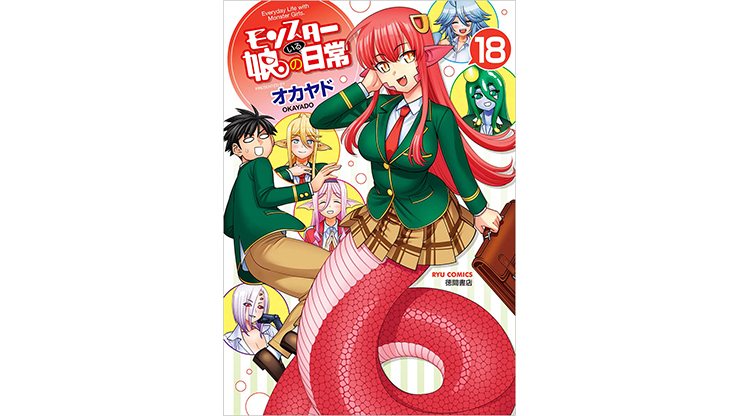 Monster Musume is an ecchi manga that takes place in a world where mythical and fantastical creatures coexist with humans. The story revolves around Kimihito Kurusu, a young man who becomes a host for several monster girls as part of the government's Interspecies Cultural Exchange Accord.
Kimihito's life takes a dramatic turn when he becomes involved in the program and is assigned the task of hosting a lamia named Miia. As the first monster girl to live with him, Miia's presence creates a series of comedic and risqué situations. While Miia develops romantic feelings for Kimihito, their interspecies relationship poses challenges due to the strict regulations.
As the story progresses, Kimihito's household expands to include other monster girls, each with their own unique characteristics and personalities. These include a centaur girl named Centorea and a harpy named Papi, among others. Kimihito must navigate the complexities of living with these alluring and eccentric monster girls while adhering to the rules and regulations set by the government.
Monster Musume blends comedy, romance, and fan service, often featuring humorous and provocative interactions between Kimihito and the monster girls. The manga explores themes of interspecies relationships, cultural differences, and the challenges of coexistence in a world where fantastical beings are a reality.
28. Chio-chan no Tsuugakuro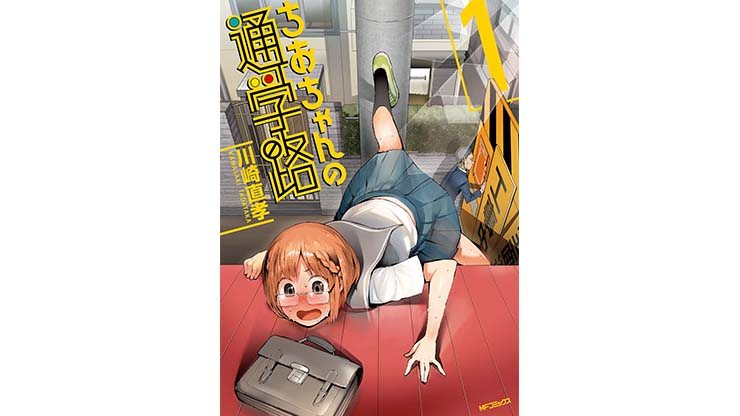 Chio-chan no Tsuugakuro follows the daily misadventures of Chio Miyamo as she tries to make it to school on time. The story takes relatable situations like running late and transforms them into comedic and exaggerated scenarios. Chio Miyamo is a high school student who encounters various obstacles and challenges during her daily commute to school.
From encountering construction sites and biker gangs to facing unexpected bathroom emergencies, Chio's journey is filled with unexpected hurdles that she must overcome to reach her destination. Despite the challenges she faces, Chio approaches each situation with a unique and often hilarious perspective.
She employs creative strategies, cunning tactics, and even her vivid imagination to navigate through the obstacles in her path. Along the way, Chio interacts with eccentric characters who further add to the comedic and unpredictable nature of her adventures.
Chio-chan no Tsuugakuro captures the humor in the everyday struggles and frustrations many people experience when trying to make it to school or work on time. The manga combines situational comedy, physical humor, and witty dialogue to create entertaining and light-hearted comedic moments.
27. Don't Toy With Me, Miss Nagatoro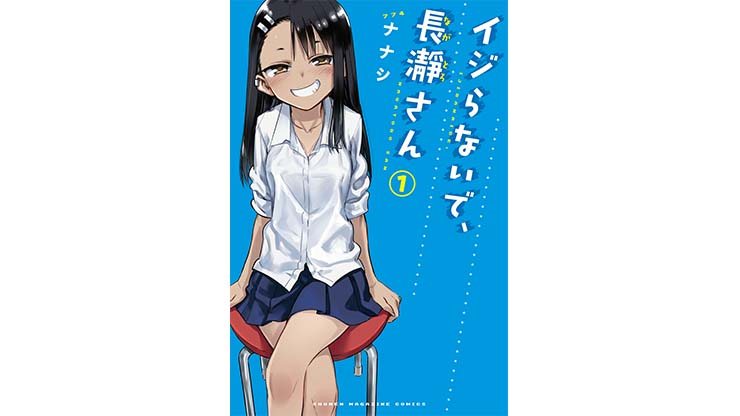 Don't Toy With Me, Miss Nagatoro is an ecchi manga series that revolves around the interactions between the titular character, Hayase Nagatoro, and her senpai. Nagatoro is a high school girl who takes great pleasure in teasing and bullying Senpai. Along with her group of friends, she discovers Senpai's drawings and decides to use them as a means to mock and torment him.
Nagatoro constantly seeks opportunities to exploit Senpai's vulnerabilities, pushing him out of his comfort zone and making him uncomfortable. She derives amusement from his reactions and discomfort. Despite the initial cruel dynamic, as time goes on, Senpai begins to develop mixed feelings toward Nagatoro.
While he may feel intimidated by her teasing and find himself aroused and fearful in her presence, he also finds himself drawn to her company. Nagatoro's relentless teasing eventually evolves into an unusual friendship, with Senpai reluctantly accepting her presence in his life.
Throughout the series, Nagatoro's interactions with Senpai fluctuate between playful teasing, moments of genuine connection, and occasional instances of support. As their relationship develops, the manga explores themes of self-discovery, personal growth, and the complexities of human relationships, particularly those formed through unconventional means.
26. Fuufu Ijou, Koibito Miman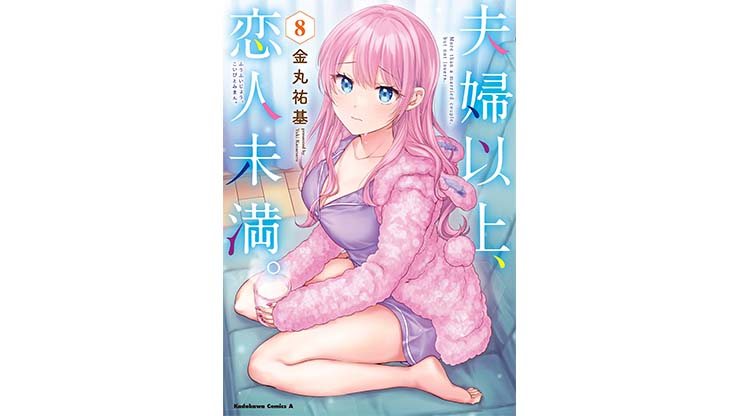 The story is set in a society where high school students are paired up for marriage training, an initiative aimed at preparing them for their future married lives. The main character, Jirou Yakuin, is a third-year high school student who is assigned to Akari Watanabe as his partner. Akari is a gyaru, a fashionable and outgoing girl who seems to be the complete opposite of Jirou.
Despite their differences, they agree to act as a perfect couple in order to gain the opportunity to switch partners with their respective crushes. As Jirou and Akari navigate their pretend relationship, they face various challenges and comedic situations that arise from their contrasting personalities and goals.
While Jirou initially sees the arrangement as a means to pursue his crush, he gradually starts to develop feelings for Akari. Similarly, Akari begins to see Jirou in a new light as they spend more time together. The manga explores themes of personal growth, friendship, and the complexities of romantic relationships.
Jirou and Akari's interactions gradually go beyond the scope of their initial arrangement, leading them to question the nature of their feelings and the future of their relationship. Fuufu Ijou, Koibito Miman blends romantic comedy elements with character development and explores the dynamics between two individuals who are brought together by circumstance.
25. Trinity Seven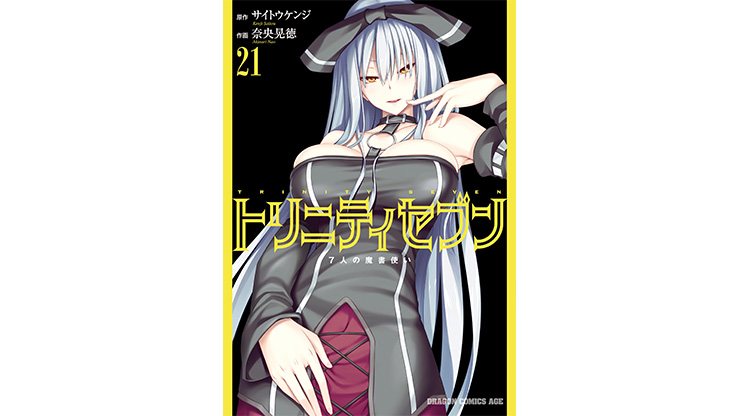 Trinity Seven is an ecchi manga series that tells the story of Arata Kasuga, whose life takes a dramatic turn when his cousin, Hijiri, mysteriously disappears during a phenomenon known as the Breakdown Phenomenon. Determined to bring her back, Arata enrolls at Royal Biblia Academy, a school for magicians.
At the academy, Arata discovers that he possesses a rare magical ability known as Archive, which allows him to learn any magic instantly. He becomes involved with a group of powerful female mages called the Trinity Seven. Each member of the Trinity Seven specializes in a different magical art and has her own unique personality and quirks.
As Arata learns more about the world of magic and the secrets behind the Breakdown Phenomenon, he forms close relationships with the members of the Trinity Seven. Together, they face various challenges, unravel mysteries, and engage in comedic and romantic situations. The series blends elements of romantic comedy, action, and fantasy.
While the story primarily focuses on Arata's quest to save Hijiri, it also explores the bonds he forms with the Trinity Seven members, delving into their backstories and individual character development. Trinity Seven features ecchi elements, which include occasional fan service and suggestive content.
24. Negima! Magister Negi Magi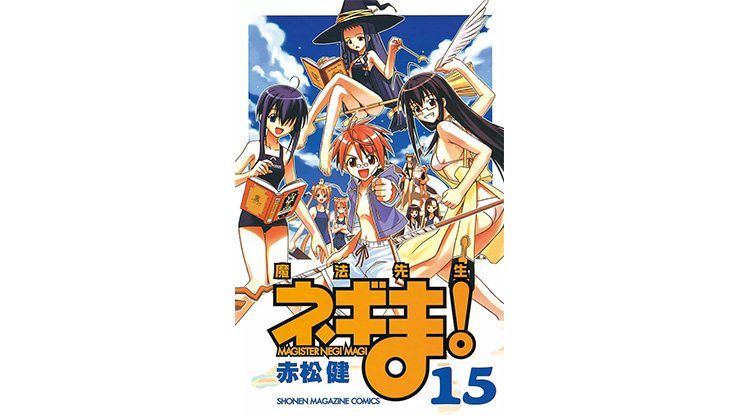 Negima! Magister Negi Magi is an ecchi manga series that tells the story of Negi Springfield, a ten-year-old wizard-in-training who is assigned the task of becoming an English teacher at Mahora Academy, an all-girls high school. Negi's goal is to become a master mage, and teaching at the school is a part of his training.
However, he faces several challenges as he tries to keep his magical abilities hidden from his students. With a class of thirty-one girls, Negi must navigate the complexities of teaching while dealing with the unique personalities and dynamics of his students. As the story progresses, Negi forms bonds with his students, who each have their own backgrounds, goals, and problems.
Some students initially struggle to take him seriously due to his young age, while others develop crushes on him. Among his students is Asuna Kagurazaka, who becomes a central character in the series. Asuna, initially resistant to Negi's presence, gradually develops a complex relationship with him.
Throughout the manga, Negi faces various challenges, including battles against powerful enemies, uncovering the mysteries of the magical world, and dealing with his own personal growth. The series combines elements of comedy, action, romance, and fantasy. Negima! Magister Negi Magi features ecchi elements, including occasional fan service and suggestive content.
23. Mx0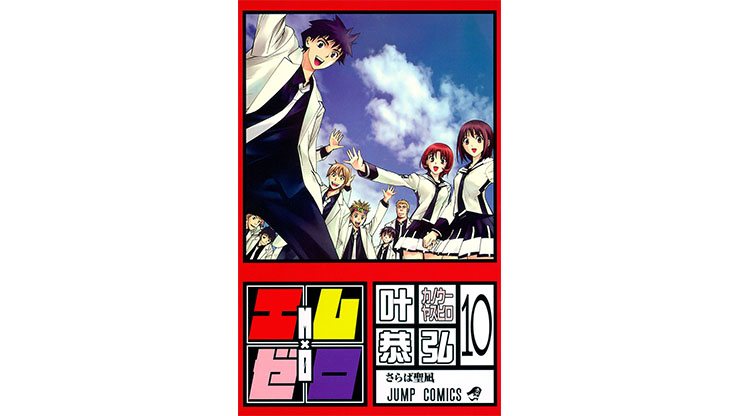 The story follows Taiga Kuzumi, a determined student who aspires to enroll in the prestigious Seinagi Private High School. However, despite his excellent performance on the written test, Taiga is inexplicably rejected by the school. Furthermore, he has no recollection of his interview except for the laughter of a girl he found captivating.
Driven by his desire to meet the mysterious girl once more, Taiga visits the school's gates, only to witness a bizarre sight: a teacher floating in mid-air. It turns out that Seinagi Private High School is a hidden institution where students are taught the art of spellworking and practice magic.
To maintain the secrecy of the school's magical nature, the staff decides to have Taiga join as a first-year student, despite his inability to use magic. Taiga becomes an outsider in a school full of talented young magicians, facing numerous challenges and obstacles as he tries to navigate this unfamiliar world.
Throughout the series, Taiga's determination, resourcefulness, and quick thinking become his greatest assets as he uses his non-magical skills to overcome magical challenges. He forms alliances with other students and gradually gains their respect, all while searching for ways to prove himself and uncover the truth behind his unique circumstances.
22. Darwin's Game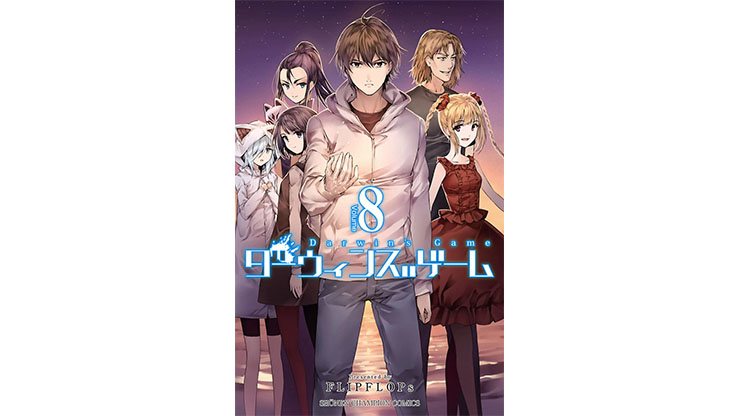 The story revolves around Sudou Kaname, an ordinary high school student who receives an invitation to play a mobile app game called Darwin's Game. Intrigued, he decides to give it a try, expecting it to be just another ordinary game. However, he quickly discovers that Darwin's Game is far more dangerous and real than he ever imagined.
After accepting the invitation, Sudou realizes that Darwin's Game is not a simple game but a deadly survival game. Players are pitted against each other in a life-or-death battle where they must fight using unique and supernatural abilities granted by the game. The consequences of losing are severe, as players can face physical harm or even death in the real world.
As Sudou delves deeper into the game, he becomes embroiled in its complex and mysterious nature. He encounters other players with their own abilities and motivations, forming alliances and rivalries along the way. Sudou's survival instincts are put to the test as he navigates the treacherous world of Darwin's Game, strategizing and fighting to stay alive.
Throughout the series, Sudou and his allies uncover the secrets behind Darwin's Game, its origin, and the dark forces that control it. They face numerous challenges and confront powerful adversaries, all while trying to find a way to escape the deadly game and protect their lives. Darwin's Game combines elements of action, suspense, and psychological thriller, creating a tense and thrilling narrative.
21. No Game No Life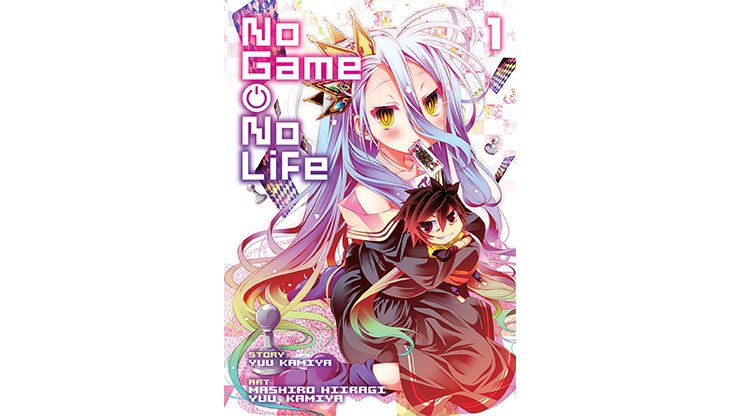 No Game No Life is an ecchi manga series that follows the adventures of Sora and Shiro, two hikikomori NEET siblings who are also skilled gamers. In this world, there exists an urban legend that those who excel in gaming will receive a special invitation to a different realm. True to the legend, Sora and Shiro receive the invitation and effortlessly conquer the game presented to them.
As a result, they are transported to a parallel world where everything, from conflicts to the boundaries of nations, is determined through various games and competitions. This new world operates under a set of rules where disputes are settled by playing games rather than resorting to violence. Thriving on challenges, Sora and Shiro eagerly embark on a journey to overcome the obstacles they encounter.
They aim to restore humanity's reputation, as it is considered inferior to the other races in this realm. Along the way, they become involved in high-stakes competitions and strategize to influence the selection of the next king. No Game No Life blends elements of fantasy, adventure, and gaming, exploring the dynamics of a world where games are the ultimate means of conflict resolution.
The series showcases the intelligence, wit, and gaming prowess of the protagonists as they navigate through various games and outsmart their opponents. The manga delves into themes of strategy, competition, and the power of teamwork, all while featuring ecchi elements that add a touch of fan service to the story.
20. Sun-Ken Rock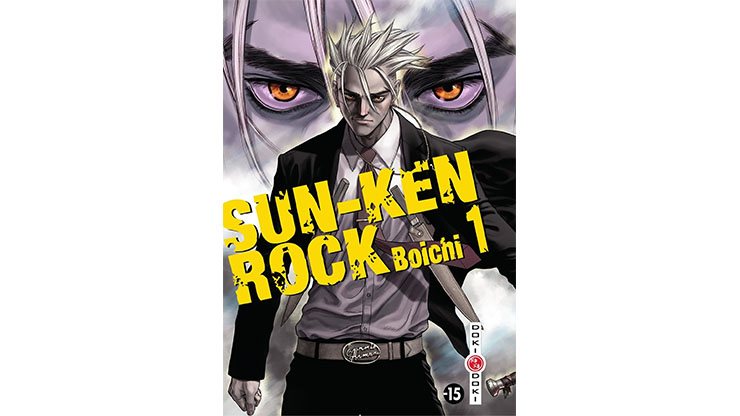 Sun-Ken Rock is an ecchi manga series that tells the story of Ken, a young man who experienced the loss of his family during his childhood. As a teenager, he musters the courage to confess his love to Yumin, the girl he has admired from afar.
However, his confession takes an unexpected turn when Yumin reveals that she is actually Korean and decides to return to her homeland to pursue a career as a police officer. Devastated by the loss of Yumin, Ken embarks on a journey to find her in Korea. However, his quest takes an unforeseen turn when he unintentionally becomes the leader of a ruthless Korean gang.
Now thrust into the dangerous world of the criminal underworld, Ken must navigate treacherous alliances, violent confrontations, and power struggles in order to survive and protect those he cares about. Despite his newfound role as a gang leader, Ken's ultimate goal remains simple: to reunite with Yumin and have a date with her.
However, achieving this proves to be a challenging task as he is caught up in the chaos and brutality of the criminal world. Sun-Ken Rock explores themes of love, loyalty, and the pursuit of power. The manga showcases Ken's determination to rise through the ranks of the criminal hierarchy while simultaneously yearning for a romantic connection with Yumin, creating a thrilling and emotionally charged narrative.
19. To Love Ru
To Love Ru is an ecchi manga series that tells the story of Rito Yuuki, an ordinary high school student whose life takes a sudden turn when an alien princess named Lala Satalin Deviluke unexpectedly appears in his bathtub. In an unexpected twist of fate, Rito finds himself engaged to Lala, who happens to be one of the most important women in the universe.
However, this newfound status brings him unwanted attention and jealousy from Lala's numerous suitors, who are determined to eliminate him. To complicate matters further, Lala decides to enroll at Rito's school, leading to a series of comedic and chaotic situations. Rito must navigate through his daily life, which is filled with attempts on his life and Lala's eccentric inventions.
Amidst the chaos, Rito harbors feelings for Haruna, his true love, and he struggles to confess his feelings to her while dealing with the constant interruptions and mishaps. To Love Ru combines elements of romantic comedy, ecchi humor, and science fiction.
The manga showcases Rito's efforts to survive the dangerous situations he finds himself in, while also trying to pursue his love interest. The story explores themes of love, friendship, and self-discovery, often using comedic and fan service moments to engage readers.
18. Mushoku Tensei: Jobless Reincarnation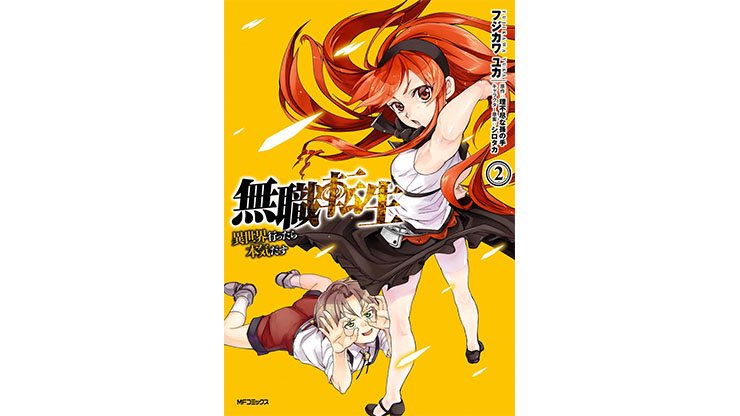 The story centers around a thirty-four-year-old unemployed otaku who, feeling unsatisfied with his life, decides it's time for a fresh start. However, his plans take an unexpected turn when he is tragically killed after being hit by a truck. To his astonishment, he is reincarnated in a new world filled with magic and swords.
In this new life, he is born as an infant named Rudeus Grayrat, but he retains the memories of his past life. Determined to make the most of this opportunity, Rudeus embarks on a journey of self-discovery and redemption. As Rudeus grows from infancy to adulthood in this wondrous yet dangerous world, he faces various challenges and trials.
He utilizes his knowledge from his previous life to learn magic and combat skills, constantly striving to improve himself. Along the way, he forms meaningful relationships with friends and mentors who guide him on his path. Mushoku Tensei explores themes of personal growth, redemption, and second chances.
It delves into the struggles and triumphs of Rudeus as he overcomes his past failures and strives to become a better person. The manga captures the beauty and dangers of the new world, showcasing epic battles and emotional moments. It offers a captivating and immersive story filled with adventure, magic, and self-discovery.
17. Arifureta: From Commonplace to World's Strongest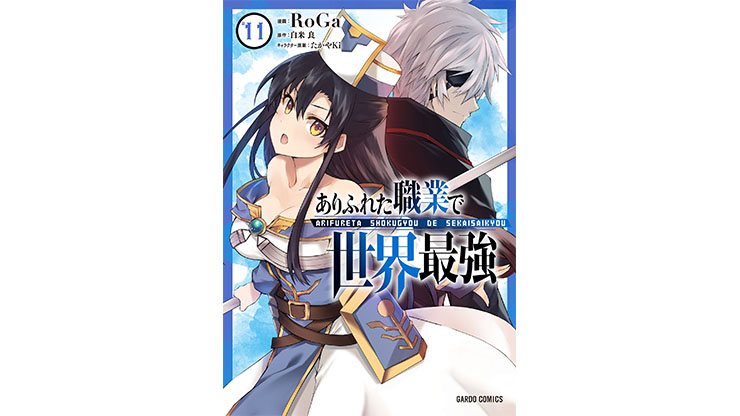 The story follows the main character Hajime Nagumo, who, along with his classmates, is transported to a fantasy world. However, unlike his classmates who receive powerful abilities, Hajime is given the weakest class, Synergist. Hajime's lack of combat abilities makes him an outcast among his peers, and he often faces discrimination and ridicule.
During a dungeon quest, he is betrayed and left for dead by one of his classmates. Stranded and left alone, Hajime is determined to survive and gain power in order to return home. To overcome his weaknesses, Hajime starts exploring the depths of the dungeon, where he encounters numerous monsters and challenges.
Through his determination and resourcefulness, he manages to obtain a rare and powerful artifact, a weapon known as The Great Orcus Labyrinth, which grants him immense strength. Using his newfound power, Hajime sets out on a journey to find his classmates, seek revenge against those who betrayed him, and ultimately find a way back to his own world.
Along the way, he meets various allies and faces formidable enemies, gradually becoming stronger and evolving into a fearsome warrior. Arifureta: From Commonplace to World's Strongest manga explores themes of personal growth, resilience, and the pursuit of strength against all odds.
16. Hammer Session!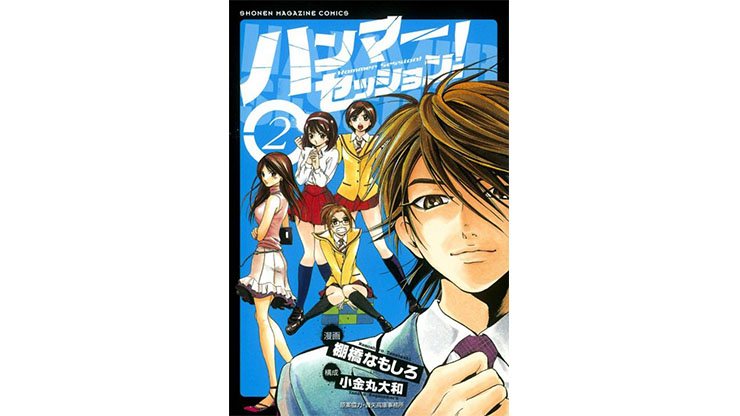 Hammer Session! is an ecchi manga series that follows the story of two escaped prisoners, Imamura Shouhei and Yazawa Yuu. Imamura is a feared gangster who has hospitalized ten opposing bosses, while Yazawa is a skilled con artist with a massive fortune accumulated through cheating.
By chance, Yazawa, now using the alias Hachisuka Gorou, becomes the new teacher at a nearby junior high school as part of a deal known as Hammer Session with the headmaster. Despite his criminal background, Yazawa takes on the role of a teacher and uses his unique skills to educate and guide the students.
Under his unorthodox methods, he aims to help the troubled students in the school overcome their personal issues and improve their lives. Throughout the manga, Hammer Session! explores the challenges and transformations that both Yazawa and the students undergo. As Yazawa adopts his new identity as a teacher, he must balance his criminal past with his desire to genuinely help the students.
The story incorporates elements of comedy, action, and drama as Yazawa employs his street smarts and unconventional teaching techniques to engage with the students and solve their problems. While the manga contains ecchi elements, it is important to note that the primary focus of Hammer Session! lies in the interactions between Yazawa and his students.
15. Gantz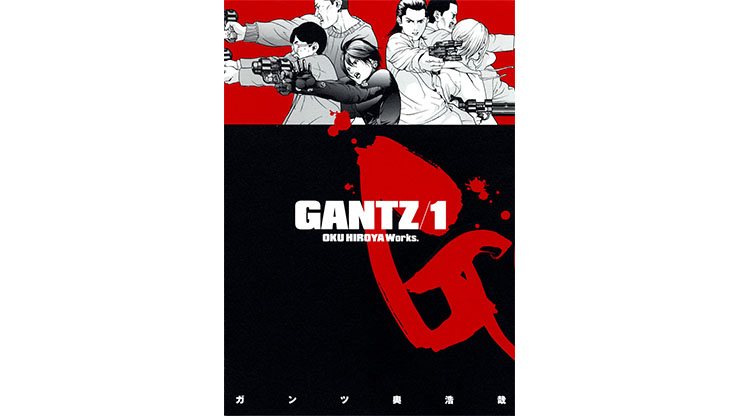 Gantz is a manga series that follows the story of Kei, a cynical and self-centered high school student who has little regard for others. One day, Kei's elementary school friend, Kato, asks him to help save a drunken man who has fallen onto the subway tracks. Surprisingly, Kei agrees and they both rush to the man's aid.
However, their act of kindness takes a horrifying turn when they are both decapitated by an oncoming train. To their astonishment, Kei and Kato awaken in a strange room along with other people. In the center of the room is a mysterious black sphere known as Gantz. Soon, they discover that they have become participants in a deadly game orchestrated by Gantz.
They are tasked with battling against powerful and dangerous aliens. In these battles, death is not uncommon, and the rewards for survival are minimal. As Kei and the others navigate this nightmarish game, they face unimaginable horrors and are forced to confront their own mortality.
The stakes are high, and the survivors must find a way to stay alive while uncovering the secrets behind Gantz and its true purpose. Gantz delves into themes of survival, morality, and the complexities of human nature. It explores the psychological and emotional struggles of its characters as they face gruesome battles and confront their own fears and weaknesses.
14. Bakemonogatari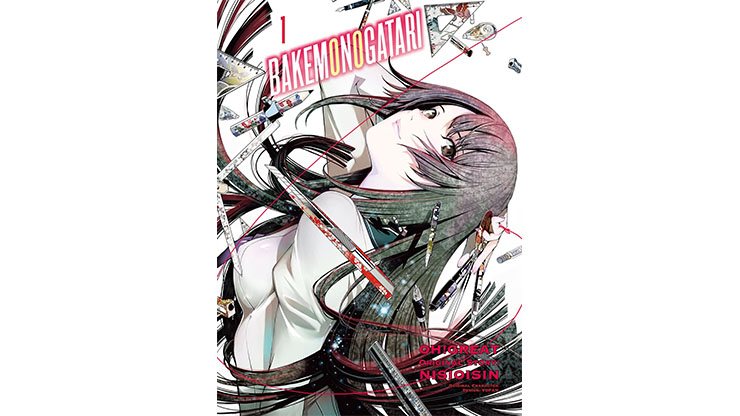 Bakemonogatari is a manga series that follows the story of Koyomi Araragi, a high school student who becomes entangled in the world of oddities after a fateful encounter with a vampire named Kiss-Shot Acerola-Orion Heart-Under-Blade. This encounter transforms Araragi into a vampire himself and sets him on a path filled with supernatural phenomena.
One day, Araragi catches his classmate, Hitagi Senjougahara, as she falls down the stairs at school. However, he soon discovers that Senjougahara's weight has been stolen by a legendary crab. Despite Senjougahara's initially hostile demeanor, Araragi offers his assistance in finding a solution to her abnormal problem.
In their quest for a solution, Araragi and Senjougahara seek the help of Meme Oshino, a mysterious wanderer who has knowledge and experience dealing with oddities. Oshino had previously saved Araragi from his own vampirism, and now he becomes an invaluable ally in navigating the supernatural world and helping others afflicted by these otherworldly creatures.
Throughout the series, Araragi encounters various individuals with their own unique afflictions and monstrous aspects. Each encounter delves deep into the characters' inner struggles and the hidden darkness within them. As Araragi interacts with these individuals, he discovers the depths of the monsters that reside within everyone's hearts.
13. Boarding School Juliet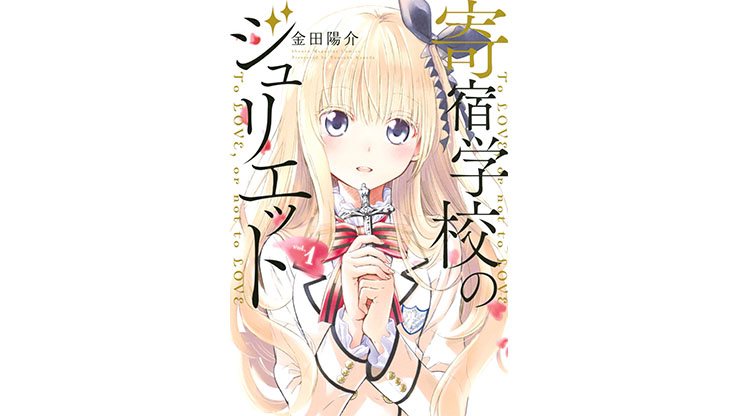 Boarding School Juliet is a manga series set in Dahlia Academy, an exclusive school that brings together students from two rival nations: Touwa to the east and the Principality of West. The ongoing conflict between these nations has deep historical roots, and tensions continue to simmer.
The story follows Romio Inuzuka, the leader of the Black Doggies from Touwa, who unexpectedly falls in love with Juliet Persia, the leader of the White Cats from the Principality of West. Determined to change the world and bridge the divide between their nations, Romio confesses his feelings to Juliet, and she reciprocates.
However, the star-crossed lovers face a significant obstacle: they must keep their relationship a secret from their respective factions to prevent further escalation of the conflict. As Romio and Juliet navigate the complexities of their forbidden love, they must constantly be on guard to avoid discovery.
Amidst the backdrop of rivalry and secrecy, Romio and Juliet strive to make a positive impact on the world and bring about understanding and unity between their nations. Their journey is filled with challenges, humorous situations, and moments of tender romance as they work together to change the perceptions and prejudices of those around them.
12. Heaven's Lost Property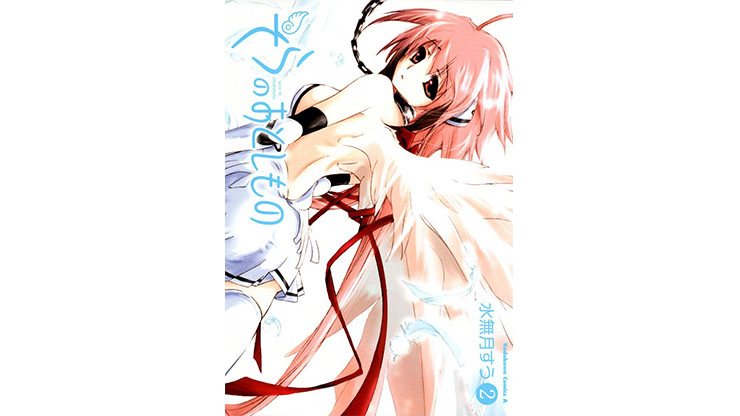 Heaven's Lost Property is an ecchi manga series that follows the story of Tomoki, a young boy who has recurring dreams of a girl he loves disappearing into the sky. While Tomoki dismisses these dreams as mere fantasies, his classmate Sugata believes they are connected to a floating continent rumored to exist.
Convinced that the floating continent will pass over their town, Sugata sends Tomoki to investigate. Little did Tomoki expect that at that moment, a scantily-clad angel named Ikaros would descend from the sky. Ikaros introduces herself as a pet-class Angeloid and promises to fulfill Tomoki's every wish.
With Ikaros by his side, Tomoki gains the ability to manipulate panties and engage in various perverted activities. However, as the story unfolds, it becomes clear that Ikaros's true intentions may not be as pure as they initially seem. Tomoki must uncover the truth behind Ikaros's presence and unravel the mysteries surrounding the angelic beings known as Angeloids.
Heaven's Lost Property combines elements of comedy, romance, and fan service to create a provocative and humorous narrative. Throughout the series, Tomoki and Ikaros navigate their complicated relationship while encountering other Angeloids and engaging in various comedic and ecchi situations.
11. Dusk Maiden of Amnesia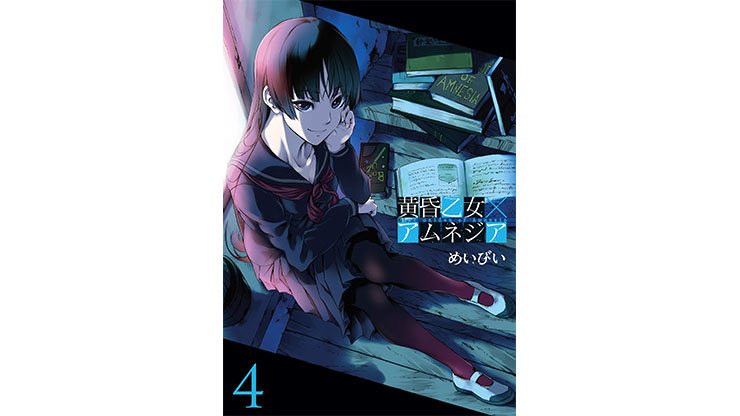 Dusk Maiden of Amnesia is a manga series that revolves around a young woman who was tragically left to die alone in the abandoned building of Seikyou Academy. Strangely, there is one person who can see her in her ghostly form: Niiya Teiichi, a freshman student. Together, they embark on a journey to uncover the truth behind her death and the circumstances that led to it.
As they delve deeper into the mysteries surrounding her past, they encounter paranormal phenomena and disturbing secrets that haunt the academy. The story explores themes of tragedy, loss, and the lingering presence of the supernatural. Niiya and the ghostly woman, whose name is revealed to be Yuuko Kanoe, form a unique bond as they work together to unravel the enigma surrounding her demise.
Along the way, they encounter other individuals connected to the academy's history and uncover dark secrets that have been buried for years. As Niiya and Yuuko uncover the truth, they confront their own fears and grapple with their own emotions. Their relationship evolves, blurring the lines between the living and the dead, as they confront the past and strive to find peace and closure.
Dusk Maiden of Amnesia combines elements of mystery, romance, and supernatural elements to create a captivating narrative that explores the themes of death, regret, and the power of human connection. It delves into the complexities of memory, the nature of existence, and the impact of unresolved mysteries on the present.
10. Binbougami ga!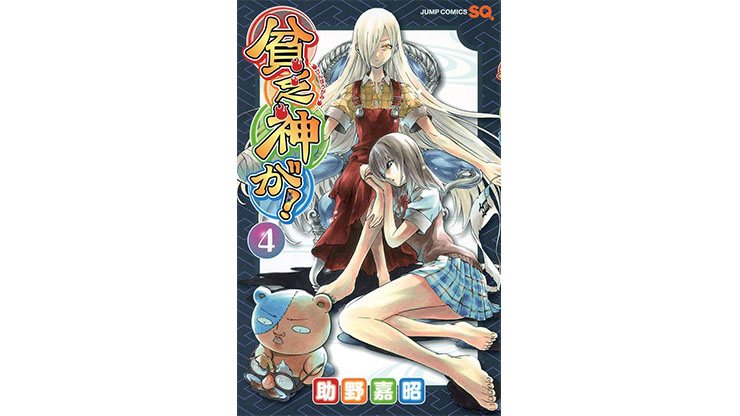 Binbougami ga! is a manga series that follows the story of Ichiko Sakura, a girl who unknowingly possesses an excessive amount of good fortune. Little does she know that her extraordinary beauty, intelligence, athletic abilities, and wealth come at the expense of draining the good fortune from those around her. This imbalance catches the attention of Momiji, the goddess of misfortune.
Momiji is determined to restore balance and take back the fortune Ichiko has been hoarding. However, Ichiko is fiercely selfish and content with her perfect life, refusing to let go of her good luck. As the two clash, Momiji resorts to using various bad luck devices and schemes to try and correct the situation.
With Momiji becoming an unwelcome house guest, Ichiko finds herself dealing with a parade of supernatural characters and chaotic situations. She must navigate this new reality, all while striving to maintain her fabulous lifestyle and keep her good fortune intact.
Throughout the series, Ichiko and Momiji's rivalry gradually evolves into an unexpected bond as they face various challenges and learn valuable life lessons. The manga explores themes of selflessness, personal growth, and the consequences of one's actions. It also delves into the concept of luck and how it can impact individuals and those around them.
9. Spirit Circle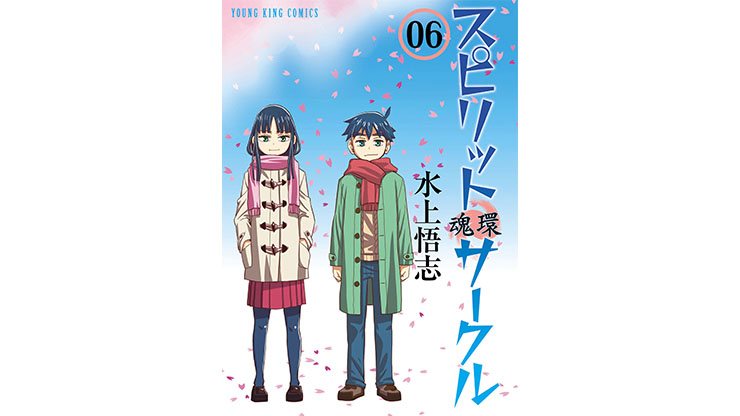 Spirit Circle is a manga series that revolves around Fuuta Okeya, a 14-year-old boy who possesses the ability to see spirits. Despite this unique ability and his seemingly normal life, Fuuta is drawn to a new transfer student named Kouko Ishigami, finding her attractive. However, Kouko shows little interest in him, and instead, it is a ghost that follows her that appears to be fond of Fuuta.
As Fuuta attempts to win Kouko's affection, she unexpectedly discovers the birthmark beneath the bandages on his cheek. This revelation triggers a drastic change in her attitude towards him. Kouko claims that the birthmark is a curse she engraved on his face during one of their past lives together, labeling Fuuta as her enemy.
Determined to understand the truth behind Kouko's animosity and the nature of their connection, Fuuta delves into their intertwined past lives. Through a series of time-traveling experiences, Fuuta uncovers a rich tapestry of their shared history, exploring the lives they lived in different eras and the profound impact they had on each other.
As the story progresses, Fuuta unravels the mystery surrounding Kouko and the enigmatic ghostly presence that accompanies her. Along the way, he encounters other individuals connected to their past lives and uncovers the deeper meanings behind their actions. Spirit Circle explores themes of reincarnation, fate, and the enduring bonds that transcend time and space.
8. Fairy Tail
Fairy Tail is a manga series that follows the adventures of Lucy Heartfilia, a seventeen-year-old mage with the ability to summon celestial spirits. Lucy dreams of joining a renowned and often rowdy guild called Fairy Tail, known for its reckless and unconventional members. She is drawn to the excitement and camaraderie that comes with being a part of this guild.
One day, while in town, Lucy encounters Natsu Dragneel, a boy who suffers from seasickness but is revealed to be none other than the fire-eating mage known as Salamander from Fairy Tail. Intrigued by Natsu's connection to the guild, Lucy seizes the opportunity to finally fulfill her dream and joins Fairy Tail.
Together with Natsu and his companions, including the talking and flying cat named Happy, the ice wizard Gray, and the powerful and beautiful Erza, Lucy embarks on various quests and missions. Their adventures take them to different lands, where they encounter dangerous enemies, unravel mysteries, and face powerful foes.
Despite their often destructive antics, the members of Fairy Tail are driven by their desire for fame, profit, and protecting those they hold dear. Along the way, they form unbreakable bonds of friendship, support each other in battles, and learn valuable life lessons. The series explores themes of friendship, loyalty, and the strength that comes from standing together in the face of adversity.
7. My Dress-Up Darling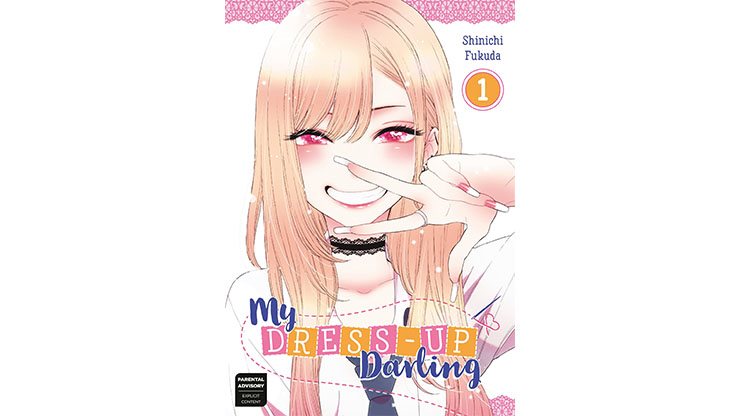 The story revolves around Wakana Gojou, a reserved high school freshman who is engrossed in his family's traditional doll-making business. Due to painful childhood memories of being ridiculed for his interests, Wakana finds it difficult to connect with his classmates and isolates himself.
While Wakana struggles with perfecting the faces of his dolls, he possesses exceptional sewing skills and is particularly adept at creating intricate clothing. This talent catches the attention of his beautiful and bold classmate, Marin Kitagawa. Marin shares her own hobby with Wakana: cosplaying as characters from erotic video games.
However, Marin lacks the sewing skills necessary to create her own costumes, leading her to seek Wakana's expertise. Reluctantly at first, Wakana becomes involved in Marin's cosplay-related activities, and a unique friendship begins to blossom between them. Despite their contrasting personalities, they find solace and acceptance in each other's company as they navigate the intricate world of cosplay.
My Dress-Up Darling explores the growth and development of Wakana and Marin's friendship as they learn from and support each other. Through their shared passion for cosplay, they learn to appreciate their own talents and overcome their personal insecurities.
6. Rosario + Vampire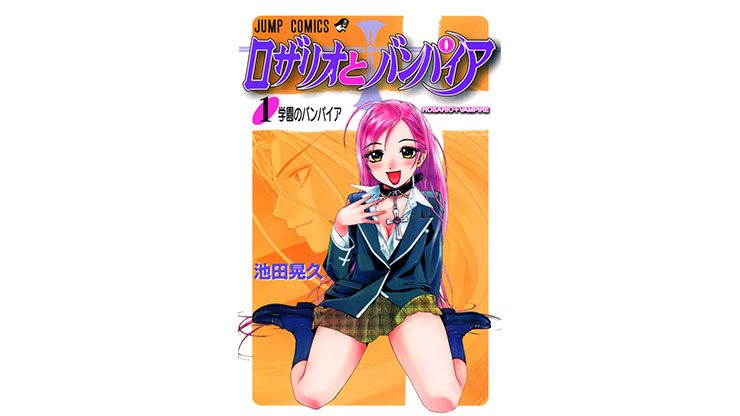 Rosario + Vampire is an ecchi manga series that tells the story of Tsukune Aono, a fifteen-year-old boy who, due to his less-than-impressive academic performance, ends up enrolling in a unique school called Youkai Academy. Youkai Academy is no ordinary school, as it caters to monsters who coexist with humans by assuming their human forms.
Tsukune, being the only human student in the school, tries to blend in and avoid drawing attention from the bloodthirsty creatures around him. However, Tsukune's efforts to maintain an average and uneventful school life are disrupted when he catches the interest of various alluring and supernatural girls.
This includes Moka, a vampire with a dual personality, a voluptuous succubus named Kurumu, and a young witch named Yukari. As Tsukune becomes acquainted with these beauties, his once mundane life takes a thrilling and extraordinary turn. He finds himself embarking on adventures, dealing with romantic entanglements, and facing dangerous situations involving monsters and supernatural powers.
Throughout the series, Rosario + Vampire blends ecchi humor, romantic tensions, and action-packed moments as Tsukune navigates the complexities of his relationships with the different supernatural girls, all while trying to protect his own humanity and survive the challenges of Youkai Academy.
5. Shokugeki no Souma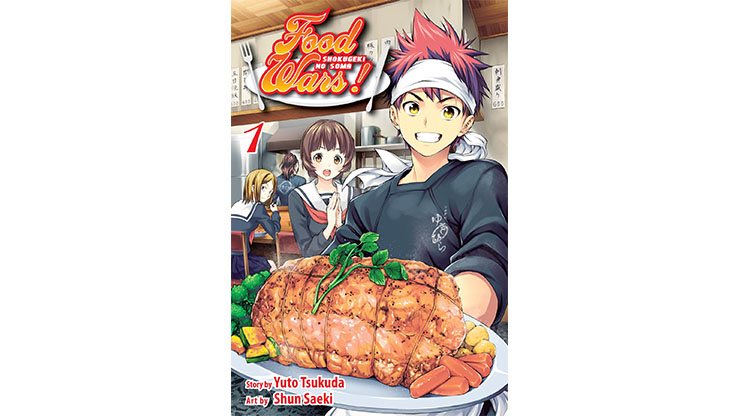 Shokugeki no Souma is an ecchi manga series that tells the story of Souma Yukihira, a talented young chef who dreams of surpassing his father's culinary skills. Souma's father runs a humble family restaurant in a less reputable part of town.
One day, Souma's life takes an unexpected turn when his father enrolls him in Totsuki Culinary Academy, a prestigious culinary school known for its rigorous training and incredibly low graduation rate of only 10 percent. Souma faces the daunting challenge of proving his worth and surviving in an environment where culinary talent is pushed to its limits.
At Totsuki Academy, Souma encounters a diverse cast of talented and competitive students, including Erina Nakiri, a beautiful and influential heiress who has a domineering presence in the school. Souma must not only prove his skills through intense cooking battles known as food wars but also win over Erina's recognition and acceptance.
The manga showcases Soma's growth as a chef as he faces various culinary challenges and engages in intense and exhilarating cooking duels with his fellow students. Beyond the cooking battles, Shokugeki no Souma also delves into the relationships and friendships that develop among the characters, the pursuit of personal culinary dreams, and the bonds forged through shared passions for food.
4. Dandadan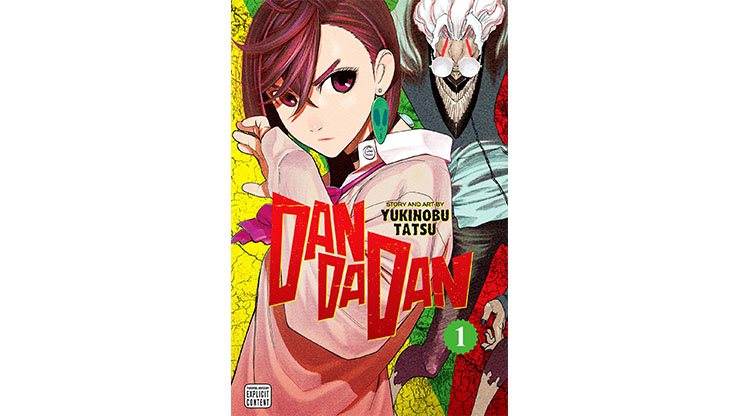 The story centers around Momo Ayase, who is feeling down after facing rejection. In the midst of her emotional state, she comes across a boy being bullied and instinctively steps in to rescue him. The boy, who is obsessed with the occult, tries to strike up a conversation with Ayase, believing they share similar interests.
However, Ayase dismisses his claims and declares her belief in ghosts instead, sparking a debate between them over which is real. To settle their argument, they agree to visit separate locations associated with the occult and the supernatural. When they reach their respective destinations, they both discover that their beliefs were correct.
They find themselves immersed in a world where the occult and ghosts exist side by side. This revelation sets the stage for their joint adventure as they try to navigate and resolve the surreal and supernatural occurrences surrounding them. As Ayase and the boy encounter various supernatural phenomena, they embark on a quest to restore normalcy to their lives.
The manga blends comedy and adventure as they face challenges, meet eccentric characters, and work together to unravel the mysteries of their newfound supernatural world. It explores themes of friendship, acceptance, and the unexpected connections that can be formed in unusual circumstances.
3. History's Strongest Disciple Kenichi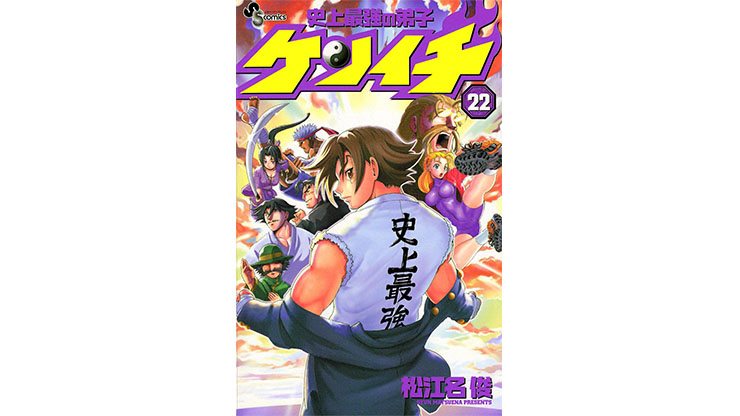 History's Strongest Disciple Kenichi is an ecchi manga series that tells the story of Kenichi Shirahama, a 15-year-old boy who is tired of being weak and bullied. In his quest to become stronger, he joins his school's karate club but becomes the target of his seniors' aggression. However, Kenichi's life takes a turn when he encounters Miu Furinji, a beautiful transfer student and skilled martial artist.
Miu introduces him to Ryozanpaku dojo, where he meets six eccentric and highly skilled masters of various martial arts. Recognizing Kenichi's potential, they decide to take him in as their disciple. The manga follows Kenichi's journey as he undergoes intense training at Ryozanpaku dojo, learning different martial arts styles from each of the masters.
As he progresses, Kenichi faces various challenges, battles formidable opponents, and strives to become the strongest disciple. While History's Strongest Disciple Kenichi does contain ecchi elements, such as fan service and comedic situations, it primarily focuses on action-packed martial arts battles and Kenichi's growth as a fighter.
The series explores themes of determination, perseverance, and the pursuit of personal strength to protect those important to oneself. Throughout the story, Kenichi encounters other martial artists, both allies and adversaries, and engages in thrilling battles that showcase different fighting styles and techniques.
2. Grand Blue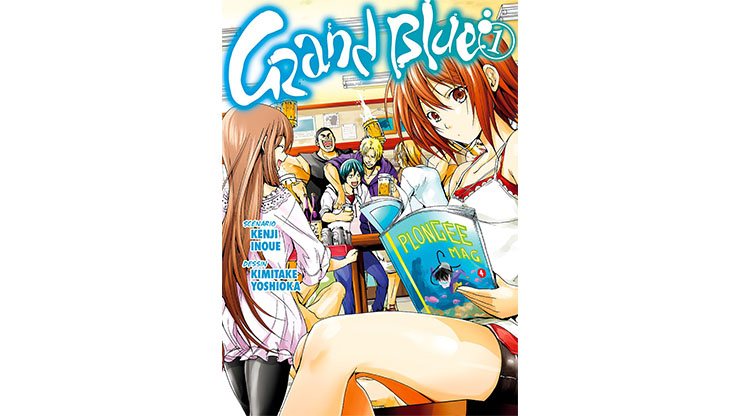 Grand Blue is an ecchi manga series that tells the story of Iori Kitahara, a freshman at Izu University, who has high expectations for his college life. However, his plans take an unexpected turn when he encounters a group of rowdy upperclassmen at his uncle's scuba diving shop, Grand Blue.
Iori is initially coerced into participating in their heavy drinking and partying lifestyle, which forms a significant part of the story's comedic and ecchi elements. Despite his reservations, he eventually embraces the chaotic and alcohol-fueled antics of his newfound friends. The series often showcases humorous situations, embarrassing moments, and interactions between the characters.
While the focus of Grand Blue is primarily on comedy and ecchi moments, the story also explores the bonds of friendship and the growth of its characters. As Iori navigates through his college life, he forms relationships with his cousin and other members of the diving club. The series delves into their personal struggles, aspirations, and the challenges they face as they strive to find their own paths in life.
It's important to note that Grand Blue is known for its exaggerated and satirical portrayal of college life, often presenting outlandish scenarios and adult-oriented humor. The manga incorporates elements of diving culture, showcasing breathtaking underwater scenes and providing insights into the world of scuba diving.
1. Great Teacher Onizuka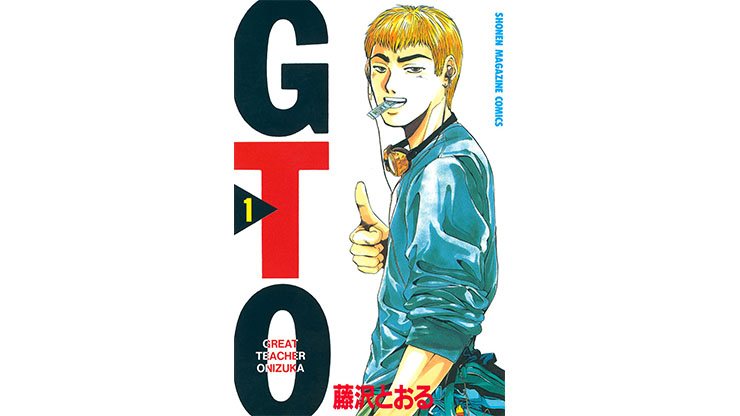 Great Teacher Onizuka is an ecchi manga series that tells the story of Eikichi Onizuka, a former motorcycle gang leader who becomes a teacher. While the manga does contain ecchi elements, it primarily focuses on comedy and the personal growth of its characters.
In the story, Onizuka decides to become a teacher not necessarily out of a deep passion for education or spreading the joy of learning, but rather as a means to achieve personal goals and overcome his own shortcomings. Onizuka's main motivation is to be surrounded by beautiful young girls, whom he believes will be attracted to him as a teacher.
However, as the series progresses, his motivations evolve, and he begins to genuinely care about his students. Onizuka's unconventional and unorthodox teaching methods are derived from his own life experiences and lessons. He uses his street smarts, charisma, and unique approach to connect with his delinquent students, understanding their struggles and helping them overcome their personal issues.
Through his actions, Onizuka aims to inspire his students and teach them valuable life lessons that go beyond the traditional curriculum. While his students may initially be resistant to Onizuka's teaching style and view him as an annoyance, they gradually come to appreciate his genuine care and concern for their well-being.
Conclusion
In conclusion, ecchi manga is a genre that caters to readers who enjoy playful, light-hearted, and sexually suggestive content. It emphasizes the teasing and alluring aspects of sexuality while maintaining a comedic or lighthearted tone. It provides a form of escapism, allowing readers to indulge in fantasies and enjoy the playful and flirtatious interactions between characters.
Ecchi manga offers a unique and enjoyable reading experience for those seeking a mix of comedy, romance, and light-hearted titillation. It caters to a specific audience looking for entertainment that combines humor, sexuality, and a touch of fantasy, making it a distinct and popular genre within the world of manga.
That is it from today's post on Top 45 Best Ecchi Manga Of All Time. If you do not agree with the points in the post and have some of your own opinions, share them with us in the comments section down below. Keep visiting Animesoulking for more information about Anime and Manga.
Also, Read:
Chandan is the writer of "Top 45 Best Ecchi Manga Of All Time". Also, Connect with me on YouTube and Facebook.