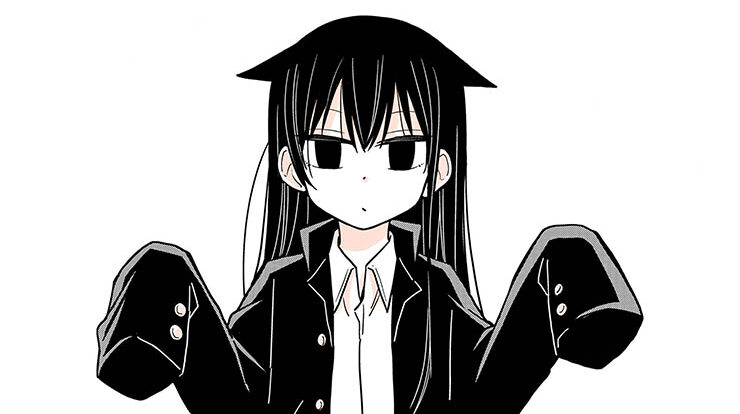 Top 10 Gender Bender Manga Where a Guy Turns Into a Girl – Hey guys!. In this post, I'll be discussing a list of Top 10 Gender Bender Manga Where a Guy Turns Into a Girl. These are gender swap manga where guy changes into girl. A lot of people really like gender bender huh.. Well… let's go to the list
10. Disgusting Otaku, Become an Idol!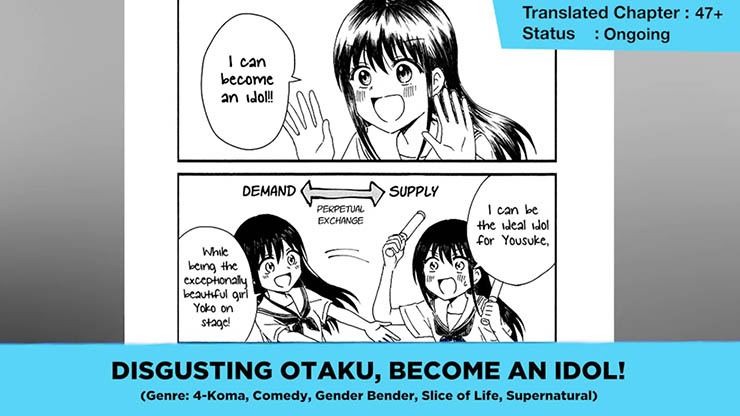 That's a harsh title, what's wrong with being an otaku huh?? As the title implies, a wota Aisaka Yousuke wakes up one morning and he becomes a beautiful girl and somehow his name also changed to Aisaka Yoko.. Now with this body and his idol knowledge he/she will attempt to become the number one idol.
9. A Choice Of Boyfriend And Girlfriend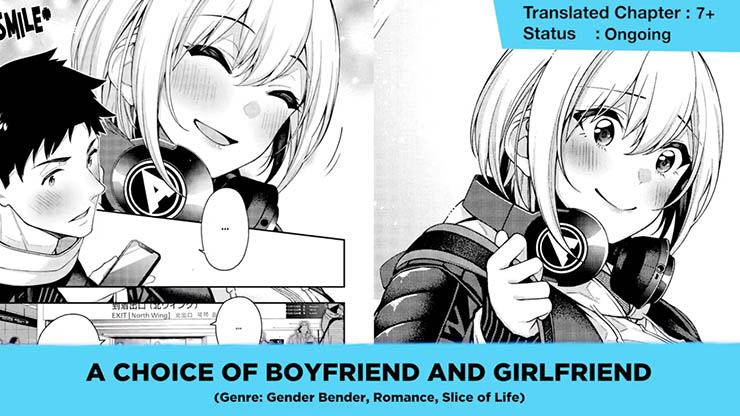 After being separated for 7 years between Hokkaido and Tokyo, a young man waits at the airport to reunite with his best friend. There he meets with mysterious beauty who's overly familiar with him. And it turns out she is the best friend??
8. A Lazy Guy Woke Up as a Girl One Morning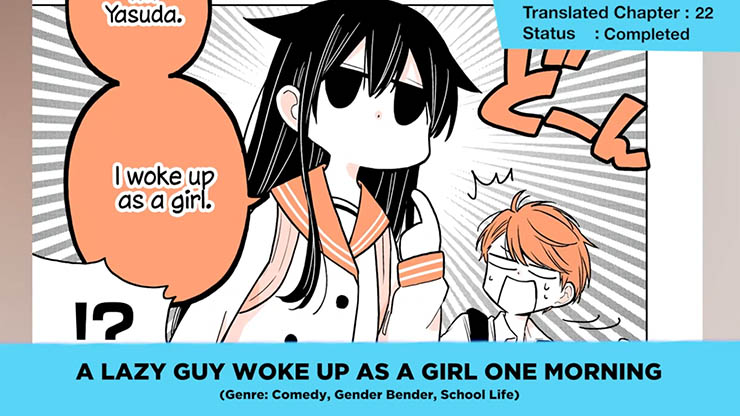 Shuuichi Hayasaka has been living a simple life until one day his roommate Masamune Yasuda wakes up as a girl. Although Hayasaka feels inconvenient about now sharing a room with Yasuda as a girl, Yasuda is fine being a girl as long as he can sleep most of the time.
The story revolves around how the surrounding freak out about Yasuda gender change, but he/she himself/herself doesn't really care about it.
7. I Am Worried That My Childhood Friend Is Too Cute!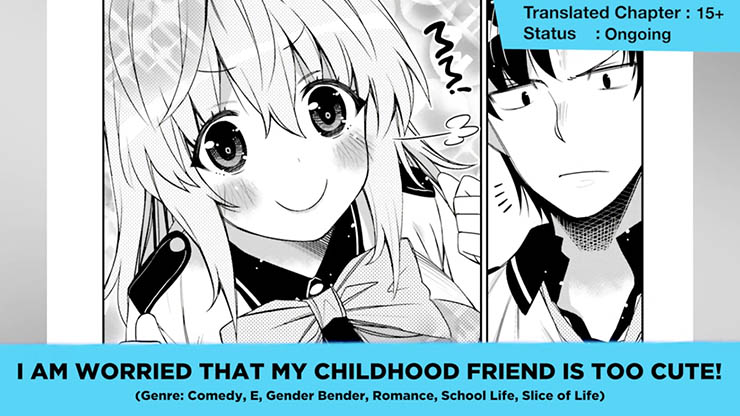 Amano returned to the city where he lived as a child for the first time in 10 years When he goes to his new school, he's reunited with his childhood friend, Yukio Sawatari, a guy. But suddenly Yukio gender changed in the middle of the class and turn into a cute girl.
Somehow the class treated it as a normal occurrence even though Amano himself is really surprised about it. Just like the title said, Amano really worried seeing how cute his friend is right now, even I would be worried if I'm in his position.
6. A Boy who Loves Genderswap got Genderswapped so He acts out His Ideal Genderswap Girl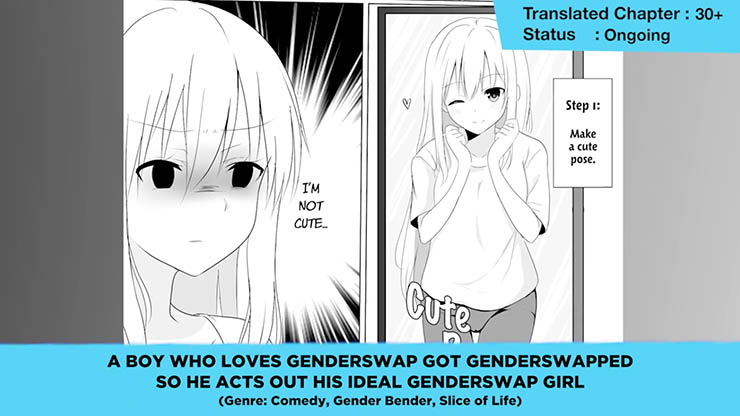 The title already explain the story, let me read it to prolong the article, A boy who loves gender swap got gender swapped, so he acts out his ideal genderswap girl. He/she even tease his friend given the fact that he become a cute girl.
5. Osananajimi wa Onnanoko ni Naare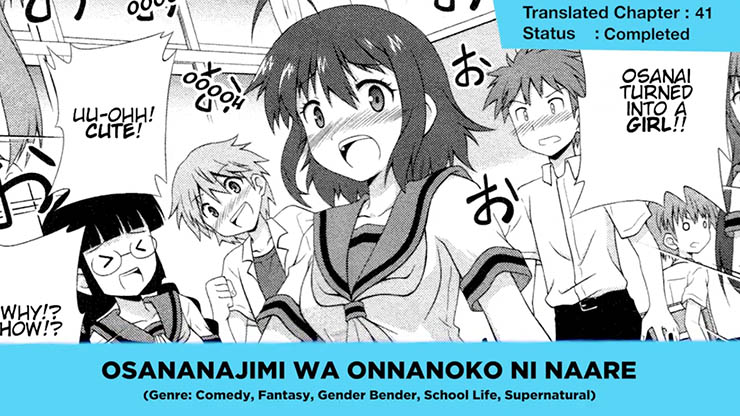 One day, a high school student, Shuichi, saves a magical fairy Sylphy from drowning in a pond. When Sylphy offers to grant one wish out of gratitude, Shuichi instantly asks for a "adorable childhood girlfriend." Sylphy then turns Shuichi's childhood male friend, Iori, into a girl…!
The story revolves around how Iori resist the magic and change back into a boy, but Sylphy always finds a way to change him into a girl again.
4. Magical Trans!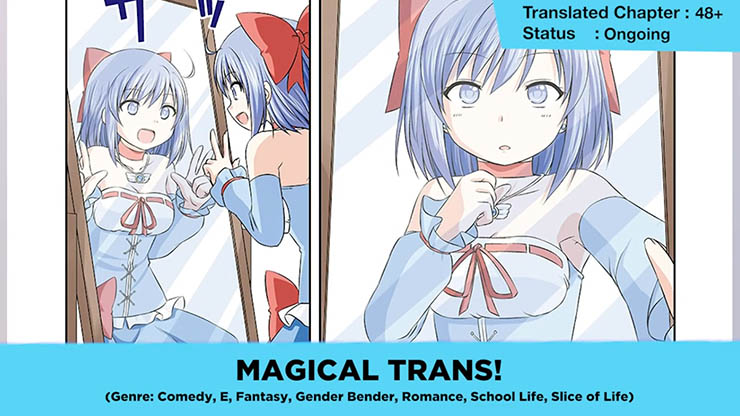 That's a catchy title not gonna lie. Minami spots a poster recruiting new members for the Magical Girl Club. Thinking it was a cosplay club he decides to join… But It's not a cosplay club, it literally what it meant, a club to become a magical girl. And he surprisingly ok with it and actually enjoying it.
3. Onii-Chan Is Done For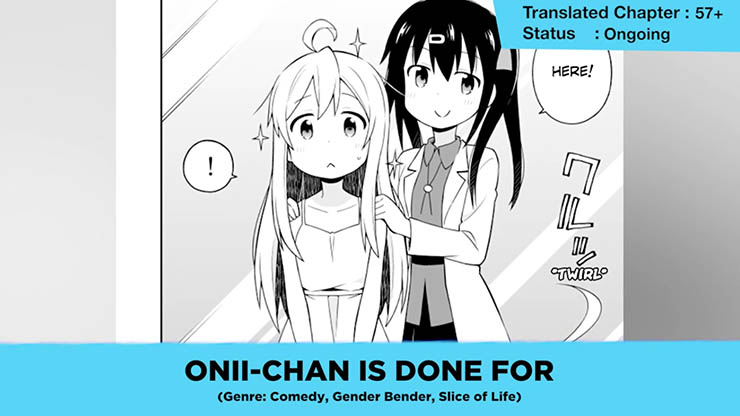 Mahiro Oyama was just a normal E-game loving dude… until he woke up one morning as a woman! Turns out his mad-scientist little sister, Mihari, tried out one of her new experiments on him because she can't stand her brother being a hikikomori. Poor Onii-chan become a guinea pig of his sister.
2. Kanojo ni Naru Hi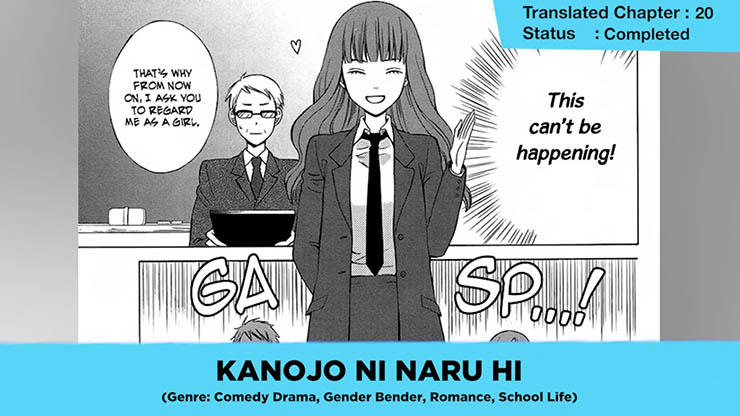 A story about Miyoshi who is always competing and losing against his childhood friend, Mamiya. One day, Mamiya collapses from illness and is hospitalized for some weeks. When he returns to school, his gender changed into a girl, and has decided to try living his life as a girl.
Miyoshi himself becomes really confused by his friend gender change. I like the romance in this one, even though I ask myself why I like it.
1. Boku Girl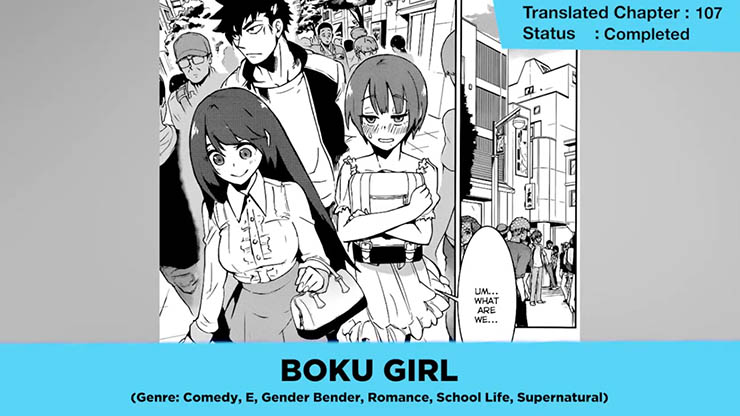 Mizuki, a feminine looking boy, gets confessed to by a boy in front of a magical mirror. He caught the attention of the Trickster God Loki while glancing into the Mirror. Loki determines out of boredom to mess with Mizuki and turns him into a real Girl. Mizuki life becomes really messy after this and a lot of trouble is coming his/her way.
That is it from today's post on Top 10 Gender Bender Manga Where a Guy Turns Into a Girl. If you do not agree with the points in the post and have some of your own opinions, share them with us in the comments section down below. Keep visiting Animesoulking for more information about Anime and Manga.
Also, Read:
Chandan is the writer of "Top 10 Gender Bender Manga Where a Guy Turns Into a Girl". Also, Connect with me on YouTube and Facebook.