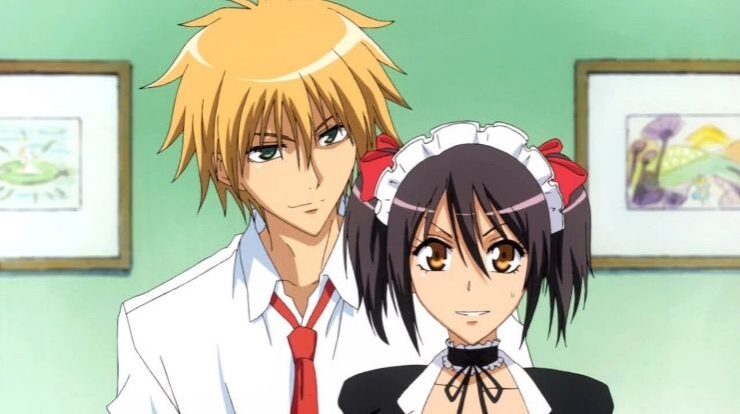 Top 10 Best Romantic Comedy Anime – Hey guys!. In this post, I'll be discussing a list of Top 10 Best Romantic Comedy Anime. Who is in this world has never fallen in love? Almost everyone will feel it. Especially, in the anime world, romance has become a common thing. When discussing romance, it can't be separated from the word "romance", a genre that seems to be a must watch anime. Then, it will be great if the romantic genre combines with the comedy. It is inevitable that the comedy elements in romantic anime can be much more entertaining for the audience. Today, I'll give you the list of the best romantic comedy anime. So, let's get started.
10. Ore Monogatari!! (2015)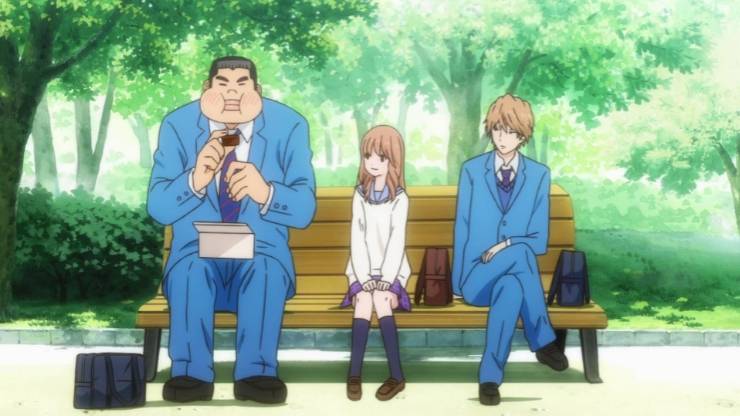 This anime is an adaptation of the Japanese romantic comedy manga series written by Kazune Kawahara and illustrated by Aruko. The story focuses on a young man named Takeo Gouda, he is one of the students with tall body and has muscles. Behind his physique that scares women, Takeo actually has a good heart. He's famous among male students for his bravery and politeness. Because of his physique, he lacks of luck when dealing with the girls, because every girl he likes will end up liking other boy, who is more attractive and handsome that is his best friend named Makoto Sunakawa. But his life changed When he met Rinko Yamato, a girl with a slender body that was different from other girls, she began to fall in love with Takeo and from here the unique love story between Takeo and Rinko began.
9. I Can't Understand What My Husband is Saying (2014)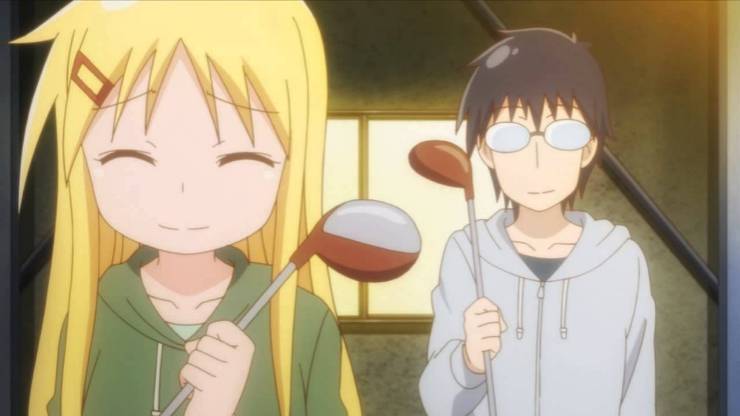 This anime is an adaptation of a Japanese 4-panel manga by Coolkyousinnjya, which was later released online and published in print by Ichijinsha. This anime is a short anime that tells the life of a newly married couple with all the existing conflicts and romance. The story of this anime tells about a woman named Kaoru, an office woman who works hard. And her husband named Hajime, he is a heavy otaku and also very obsessed with manga and anime, he works as a blogger. It is the daily life of a unique couple with unique personalities and people around them, faced with confusing and sometimes silly behavior.
8. ReLIFE (2016)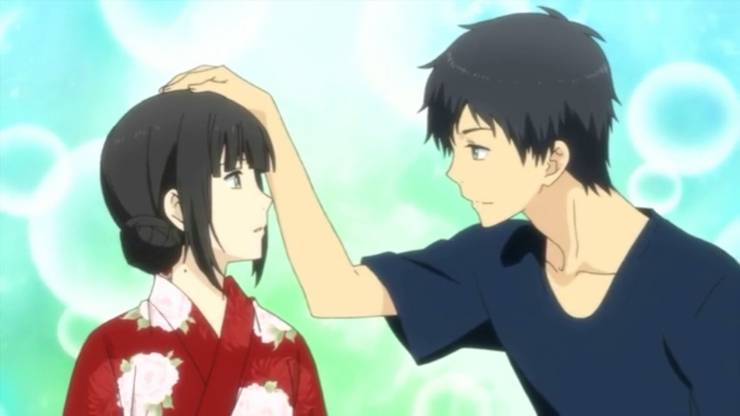 Re-Life is an anime adapted from a manga made by Yayoiso and started to be published in 2013. Fired from his office and feeling frustrated with his current life, Arata Kaizaki is a 27-year-old man who always changes jobs from one company to another, right after he quit his first company. But his meeting with Ryo Yoake changes his fate, Yoake introduces himself as an agent of a company called the ReLife Research Institute, where he offers him a drug that can turn him back to the age of 17. Starting from here Arata became a new high school student who was 17 years old and became the subject of an experiment for 1 year.
7. My Little Monster (2012)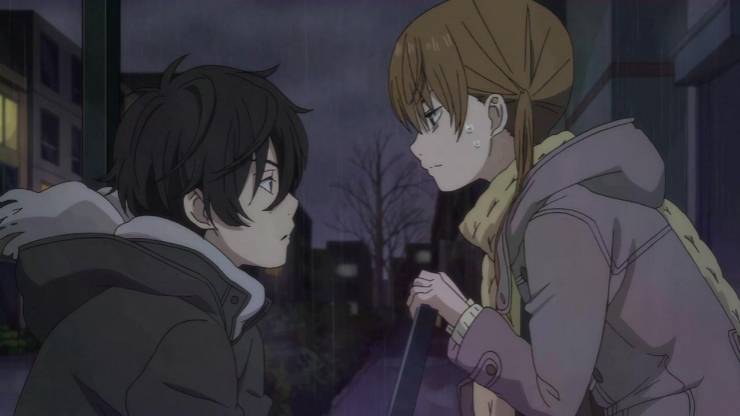 This anime is an adaptation of a Japanese manga, written and illustrated by Robico. My Little Monster itself focuses on the romantic comedy relationship between Shizuku Mizutani, a girl who has absolutely no interest in anything except studying for the bright future and a boy named Haru Yoshida, who actually sits next to Shizuku, but he rarely goes to class. It all started when Shizuku delivered the class prints and she met Haru. Starting from here, their friendship begins to develop and they started to have feelings for each other with the limitations that each character has.
6. Love, Chunibyo, & Other Delusions! (2012)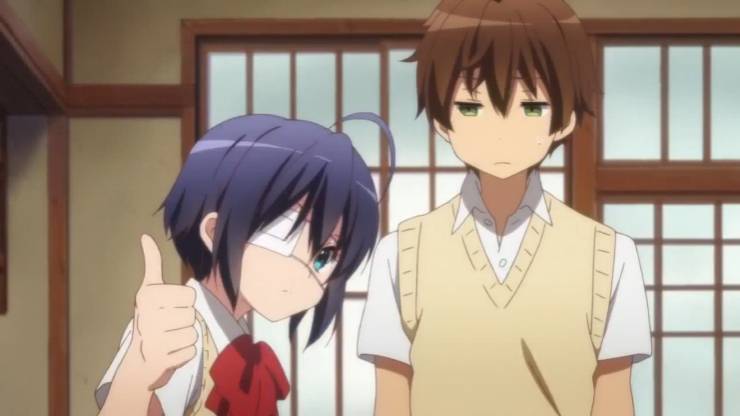 Adapted from the Japanese light novel series written by Torako and illustrated by Nozomi Osaka. The story centers on a young man named Yuuta Togashi, a person who had delusional disease in middle school, who was known as Chunibyo. He believed that he had supernatural powers and always claimed himself as the Dark Flame Master. When entering high school, Yuuta tried to get rid of his bad habits when he was in middle school. But not as expected, his meeting with a girl named Rikka Takanashi made his past memories come out again. This is the incurable love story of the Chunibyou couple.
5. Maid Sama! (2010)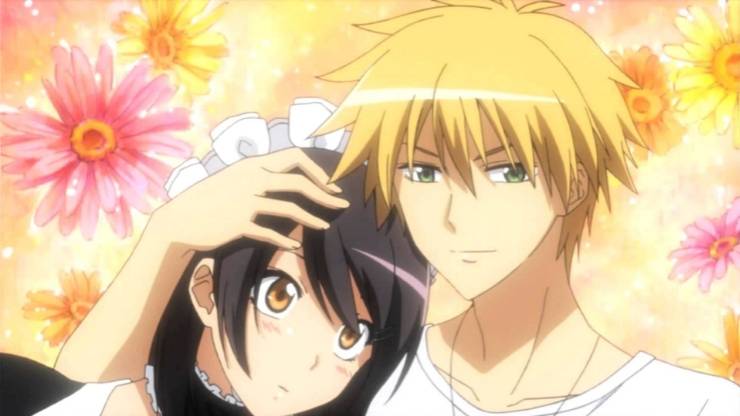 This anime is an adaptation of the Shojo manga by Hiro Fujiwara and began serializing in the monthly shojo manga magazine of Hakusensha. The anime tells about a girl named Misaki Ayuzawa, who is a student council president. Becoming the first female student council president is not easy, especially since this school has just switched from an all-boys school to a mixed school. Her nickname is the 'Demon President' because of her strict discipline. She would not hesitate to use the martial arts technique "Aikido" to defend girls. Behind a character who is always disciplined, Misaki turns out to have a secret that no one wants to know. But her meeting with Takumi Usui changed her life and she finally made a pact with Takumi so that her secret wouldn't be exposed. From here on, the relationship between Misaki and Takumi began.
4. Lovely Complex (2007)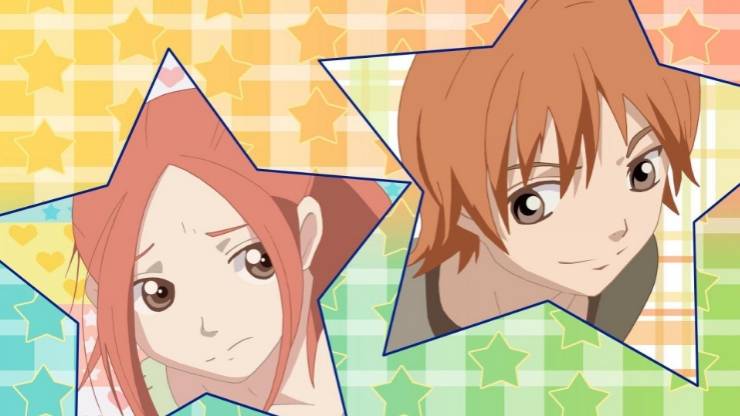 This anime is adapted from the manga by Aya Nakahara and has 24 anime episodes. This is the story of Risa Koizumi and Atsushi Ootani, where they both struggle to find their ideal partner in high school. Koizumi is a girl with a height of 172 cm and Ootani is a boy with a height of 156 cm. Apart from their unrequited love, they are also known as a comedy duo because of their personalities and the stark difference in their height. Apart from their existence who always argue about ridiculous things, they basically have unexpected similarities and start their taste in music and fashion. This is the love that develops between a tall woman and a short man, which is always garnished with debate.
3. Kamisama Kiss (2012)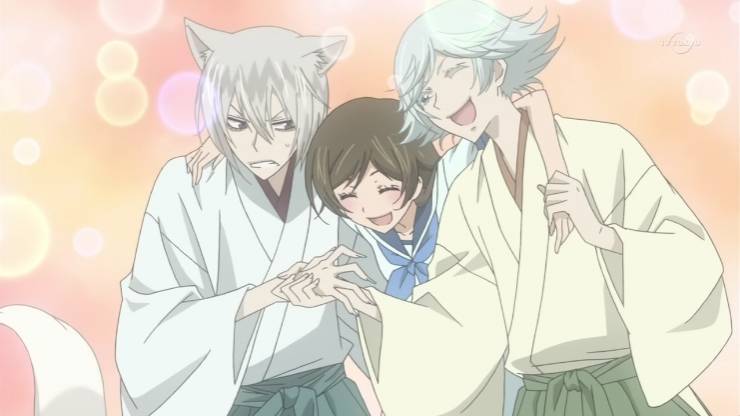 Kamisama Kiss is an anime adapted from a Japanese manga series written and illustrated by Julietta Suzuki. The story tells us about an ordinary human girl named Nanami Momozono who dreams of living a normal school life like other high schoolgirls. Behind her dream Nanami had to accept the harsh reality of being kicked out of her apartment because of debt collectors and living a homeless life. Despite the bitter life she faced, Nanami still always maintains a kind and sincere heart. One time her life changed when she met a man named Mikage. Her meeting with Mikage also led to Nanami's meeting with Tomoe which began and started a romantic relationship that grew along with the story.
2. Bokura wa Minna Kawaisou (2014)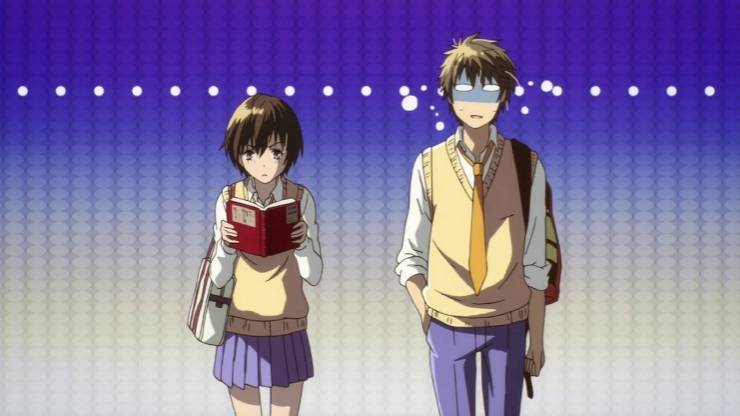 This anime is an adaptation of the manga series by Ruri Miyahara and has been published in the manga magazine Seinen Gahosha Young King OURs since 2010. The story begins when Kazunari Usa wanted to live alone and enjoyed his high school life. This anime tells about the life of a highschool youth named Usa in a Kawai boarding house that provides food for its residents, with a variety of residents characters that are quite unique and eccentric. For example, the perverted and masochistic roommate, an office women who is addicted to alcohol. Apart from the residents who made him feel uncomfortable, there was one woman who made Usa fall in love, namely Ritsu Kawai, a woman who is the grand-daughter of the Kawai boarding house's owner. She is the senior of Usa at school. This is a romantic comedy story in a boarding house with its residents.
1. Sakurasou no Pet na Kanojo (2013)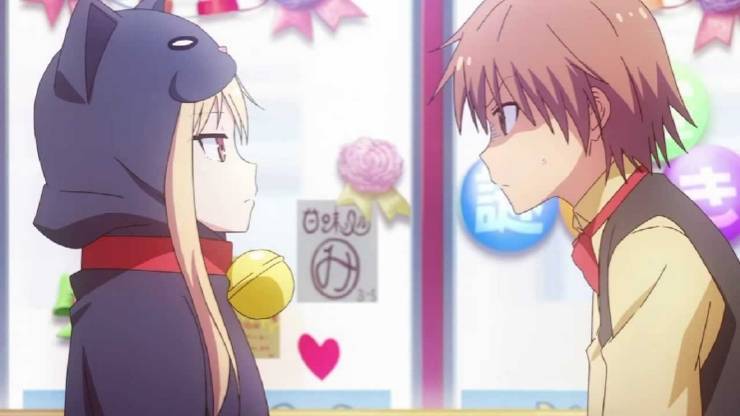 This anime is an adaptation of the Japanese light novel series created by Hajime Kamoshida, and illustrated by Keji Mizoguchi. The same thing as the previous list, this anime also focuses on the dormitory life of Sakura. It is a dormitory from a high school affiliated with Suimei Art University or commonly abbreviated as Suiko. This hostel is known for the inhabitants who are strange students and always makes problem. There's a young man named Sorata Kanda who moved to Sakura's dormitory. When Sorata got used to life in the dormitory, then came a girl named Mashiro Shiina, a famous painter. But behind her talent, Mashiiro can't take care of herself and becomes a spoiled woman. This is a romantic comedy in which Sorata as Mashiro's nanny.
That is it from today's post on Top 10 Best Romantic Comedy Anime. If you do not agree with the points in the post and have some of your own opinions, share them with us in the comments section down below. Keep visiting Animesoulking for more information about Anime and Manga.
Also, Read:
Chandan is the writer of "Top 10 Best Romantic Comedy Anime". Also, Connect with me on youtube and Facebook.