Top 8 Moe Anime With Horrible Atmosphere – Hey guys!. In this post, I'll be discussing a list of Top 8 Moe Anime With Horrible Atmosphere. The anime with Moe girls will usually contain beautiful and cute young girls. There, the character Moe usually tells a story about intense romance. But it is different from the list we've picked up for you. Apart from the character Moe, in some of these anime, they must face with a terrible and tense atmosphere, which is in contrast with the depiction of the character that is very Moe and cute. This time, I will give you the list of Moe anime with horrible atmosphere. So, let's get started.
8. Magia Record: Mahou Shoujo Madoka ☆ Magica Gaiden
The anime that airs in winter 2020 is an anime with the theme Psychological and Thriller as the main elements in the story. In this anime, you will be shown various cute moe girls such as Yachiyo Nanami and Iroha Tamaki. By adopting the concept of "Mahou Shoujo" or magical girl, this anime will give a terrible impression. Starting from a Mahou Shoujo girl named Iroha Tamaki who heard some rumors that the mahou shoujo could be freed when she went to Kamihama city, Iroha herself forgot what she asked for when signing a contract with Kyubey. Kyubey is a familiar figure who can grant any wish to a girl. When remembering what was requested, Iroha had unconsciously lost her sister and her memories.
7. Mahou Shoujo Site
This anime, which aired in Spring 2018, is an anime with the Horror and Psychological genre as the main genre. This anime began when a junior high school student named Aya Asagiri became a victim of bullying, either at school or at home. This makes Aya depressed and sometimes thinks she wants to end her life by committing suicide. The story progresses and one day Aya finds a mysterious website that gives her a magic item that can move someone to another place. Aya's initial intention to use the magic item was just to protect herself, but unexpectedly, the power of the item led her to a path that was darker than her present life. In this anime, a bullying scene will be shown that is so explicit, even though it is full of violence, but it is still at the safe stage that has not led to the gore scene yet. This anime will present an abnormal situation and you will be brought into a situation that is more strange and makes no more sense.
6. Corpse Party: Tortured Souls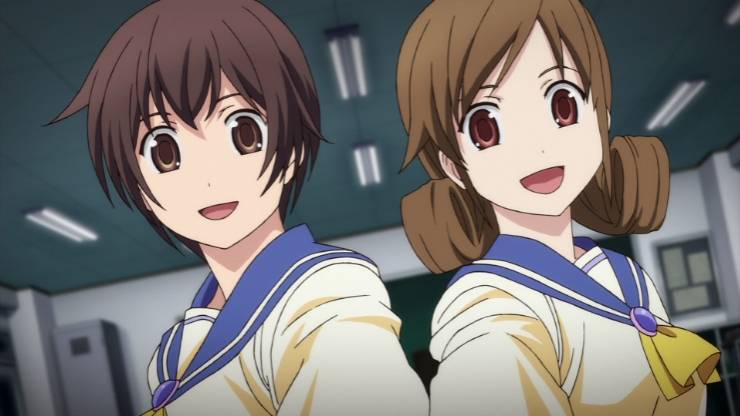 This anime aired in 2013 which consists of 4 episodes and will take you into a scene filled with blood and murder. If someone like a sadistic anime, this anime is very mandatory to watch. The story sets in an ordinary high school, to be precise in the classroom. One of their friends was moving from the school, so they made a kind of farewell party for their friend. At night like the other normal nights, they got together and prepared a farewell party for their friends, but at that night they unconsciously played a game obtained from the internet called 'Sachiko Game'. This is an internet legend, where anyone who plays this with friends, they will always be friends even if the distance separates them. Unconsciously, when they played this game, they were doing a ritual that eventually brought them to the "Heavenly Host Academy", the dark history of the past began to be revealed one by one.
5. Mahou Shoujo Madoka Magica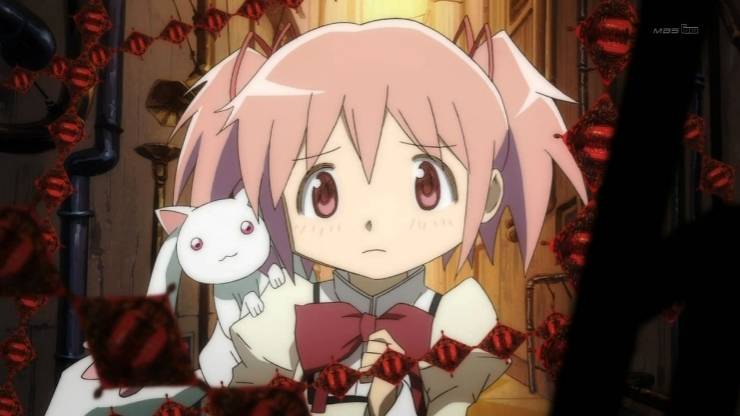 This anime aired in 2011 which had cute facial characters. But if you expect a cute atmosphere, you absolutely wrong. This anime, Mahou Shoujo Madoka Magica, will present the Thriller and Psychology genres with adorable Shoujo Ai girls. This anime has a variety of slightly complicated topics that are introduced such as parallel worlds and thermodynamics which are entered into the storyline simultaneously. Not only featuring fights between magical girls, it also presents a very emotional and interesting story. The story revolves around two girls named Madoka Kaname and Sayaka Miki. They are ordinary school girls with an ordinary early life. But their lives all change when they meet Kyubey, a kind of cat-shaped which is familiar. This anime tells the story about hope, despair and also friendship between girls.
4. Mahou Shoujo Ikusei Keikaku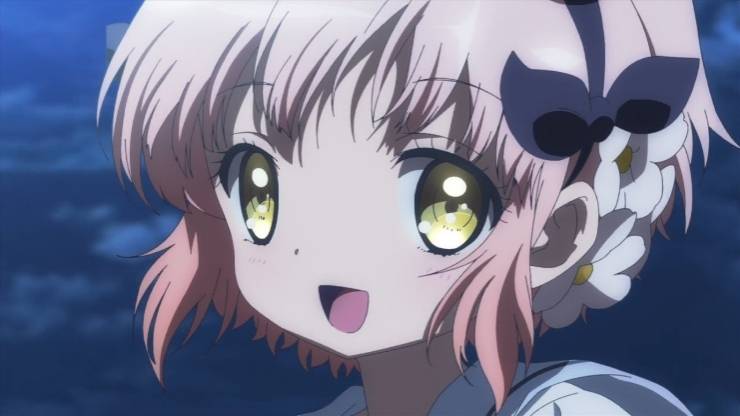 This anime aired in Fall 2016 with the theme of a witch girl. The anime itself carries the main theme "Survival". Mahou Shoujo Ikusei Keikaku will present several magical girls who are trying to survive by collecting items that have been ordered. These items are obtained from helping the community. And for the magical girls who got the least amount of items, they would receive punishment, that is, their status as magicians would be erased and their lives would be erased from the world. On the other hand, this anime manages to clearly show the differences in each character, so that they look like unique individuals with their respective perspectives. It all started with a popular social game at that time called "Magical Girl Raising Project", this allowed them to become real magicians, but this game turned out to be a nightmare and a painful reality for those who played it.
3. Higurashi no Naku Koro ni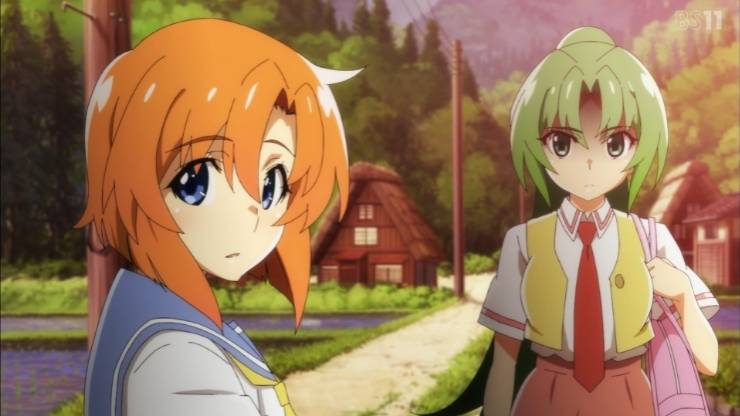 This anime is an adaptation of a novel written by 07 Expansion, which started in 2006. Beside being known for anime filled with Loli, this anime also features lots of gore scenes full of blood and loli girls who are psychopathic. Behind the story about the Higurashi no Naku Koro ni which is full of loli and blood, there are some hidden mysteries. From the Arc type that is presented, we will collect various information in the form of puzzle pieces to connect one story to another. The story sets in a village called Hinamizawa in 1983. Keiichi Maebara is a young man and transfer student who recently moved to the village. It all started when it was summer and he participated in the annual festival which is always held by Hanamizawa village. But strange things began to appear and Keiichi began to realize that there was something strange in this village. Every festival that was held in this village, there must be residents who died or something was missing.
2. Gakkou Gurashi!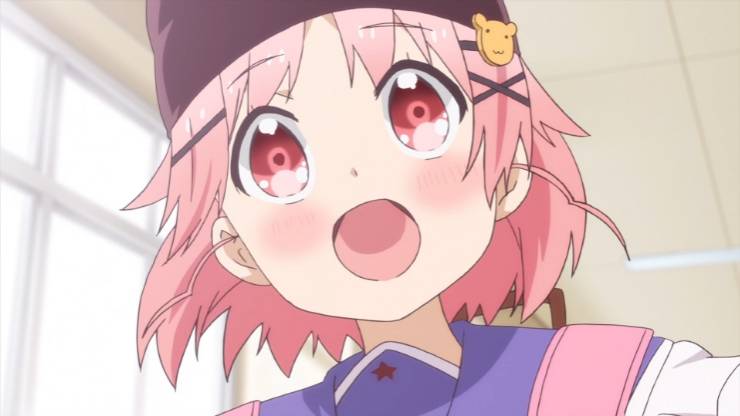 The anime that aired in Summer 2015 contains a very interesting loli moe girl. Even though it contains beautiful characters, this Gakkou Gurashi anime has a post-apocalyptic theme as the main theme. Maybe for those who are new in watching anime, many people will misunderstand the plot that will develop. But as the story progresses, we will be shown various kinds of irregularities, like the broken windows and others. In this anime, you will be shown a storyline going back and forth. The story begins with a girl named Yuki Takeya who really loves her school Megurigaoka High School, Together with her club friends, Yuki lives at school in peace and full of jokes. However, it was all an illusion that was presented to the girl's life. This anime follows girls who are forced to adapt to the post-apocalyptic world.
1. Made in Abyss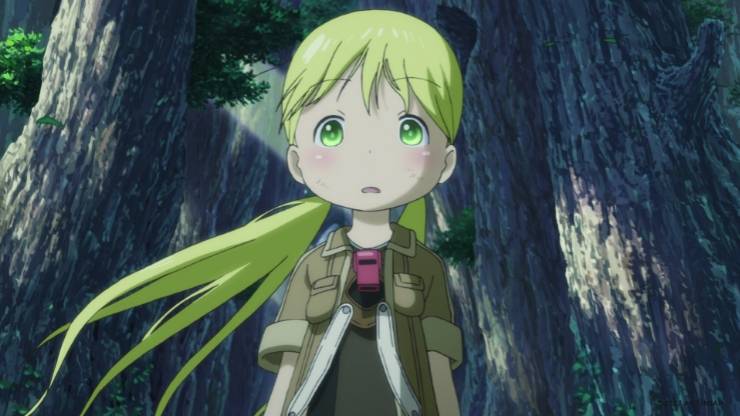 The anime that aired in Summer 2017 is one of the interesting anime series with visuals and a fictional world that mix with each other to make this anime unique. We will be shown the deepest place in the world, known as the Abyss, where there are many secrets that have not been revealed and also various discoveries of items from the past that can be found in the depths of the Abyss. All stories begin in a ravine that stretches out into the depths of the earth filled with mysterious creatures. Because of the existence of this Abyss, many people have the courage to explore the Abyss which are known as divers. Among all the divers that exist, there is White Whistles, known as legends by those who are still alive on the surface.
That is it from today's post on Top 8 Moe Anime With Horrible Atmosphere. If you do not agree with the points in the post and have some of your own opinions, share them with us in the comments section down below. Keep visiting Animesoulking for more information about Anime and Manga.
Also, Read:
Chandan is the writer of "Top 8 Moe Anime With Horrible Atmosphere". Also, Connect with me on youtube and Facebook.