Top 30 Most Famous Black Anime Characters – Hey guys!. In this post, I'll be discussing a list of Top 30 Most Famous Black Anime Characters. As the positive changes are being seen made in the present world. One of them is the common sense of treating all the races equally. Now there have been many black people being casted in the Hollywood movies and in the same manner, more and more black anime characters are being added into the anime series. Some of the most famous black anime characters of all times are given in the list below.
30. Carole Stanley From Carole & Tuesday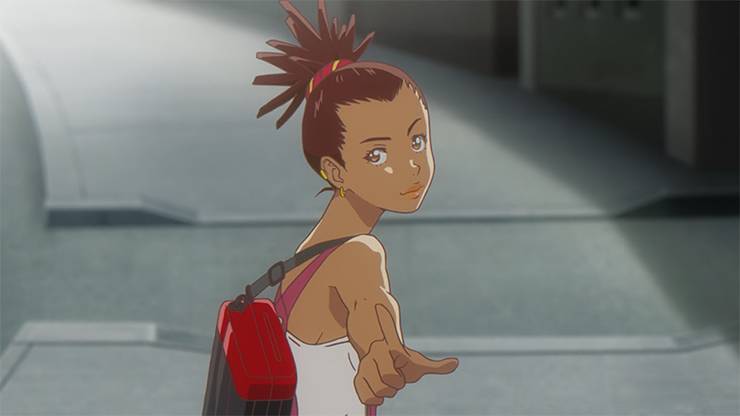 Carole Stanley is the girl in the Alba city with the passion of music and with plans to adapt it as a profession too. An orphan who is trying to survive with low rent in an old ware house. She does unusual jobs to make a life and to continue her passion. The most important in her personality having a reality check on her talent and checking what she lacks to become a real artist. Her brown pony tail suits her personality a lot. She's a nice girl with good temperament and doesn't have many friends except Tuesday that is most important person in her life.
29. Killer Bee From Naruto Shippuden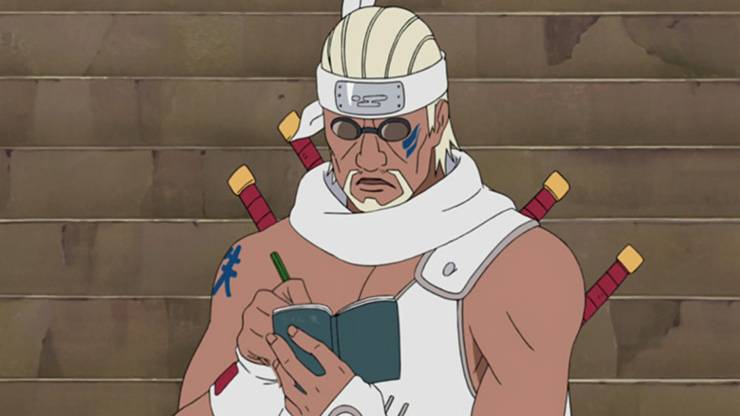 Killer Bee, A famous character for his arrogant nature. He is proud of his power and of himself. If we call him ignorant it won't be wrong. He is always hyper active and ready to go. He ignores people around him and his life revolves around talking to himself and singing to himself different rhymes. He demands forceful respect from others. An interesting talent which annoys people around him is that he writes rhymes and raps in a serious situation, in between a serious fight. He doesn't mind if he's getting attacked, what's matter is that he completes his rap. He is not a man who has plans for life or strategies to cope with a situation. He solves things with chaos and in madness and that's what make him matchless.
28. Afro Samurai From Afro Samurai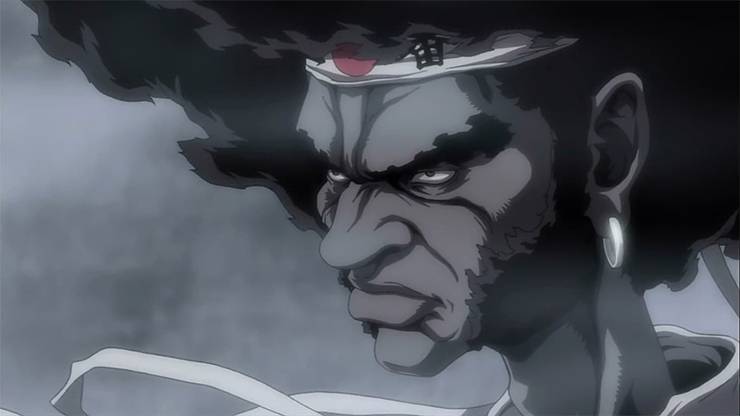 Afro samurai, the main character of Afro samurai series who is in search for "Justice" and wants to kill him. His father was killed by Justice when he was a child. Number One band is the most important thing in his life which he wanted to snatch from Justice and replace it with his current Number two headband. Practicing his skills, he uses his right hand to handle sword and the other hand to protect himself. He has introvert personality and have no one really close to him. Most of the time his mind is preoccupied with the reminiscences of the past. His past stolen smile from him and has turned him into a silent, Cold and feelingless killer.
27. Canary From Hunter x Hunter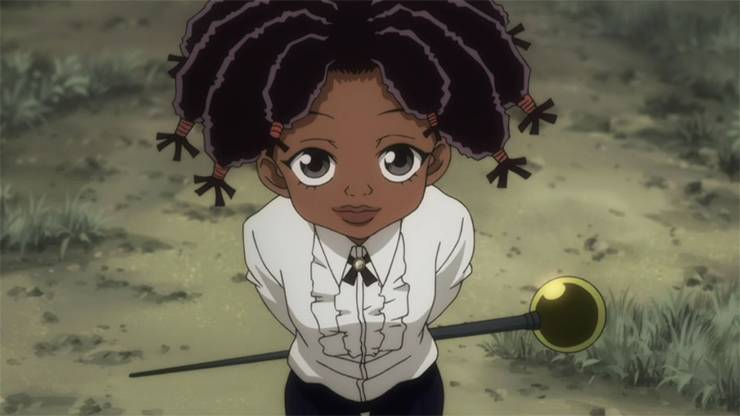 A young girl with glistering light green eyes with dark eyebrows and her dark red hair tied to give her an appealing look. Canary seems to be very devoted to Zoldyck family. A usual servant suit is always on her. Apparently looking very merciless and fighting any danger with coldness, she also has some emotions in her eyes. Although she tries to suppress her inner feelings a lot her eyes sometimes fail to act and show her inner concern. Her skills include to be an expert fighter to protect Zoldyck Family.
26. April From Darker than Black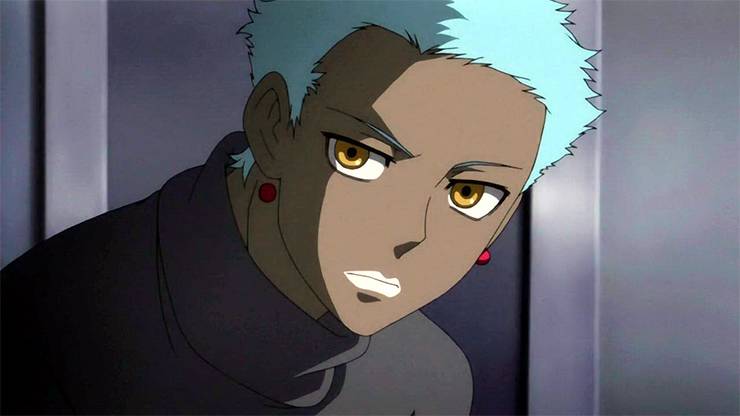 April in darker than black is a support for November 11 and creates hurricane that shields. Playing a minor role in the series, unfortunately she didn't get the attention she deserved. Her sky-blue hair really suits her abilities and powers. Besides creating hurricane, her other ability is to drink unlimited alcohol. Her love for alcohol is undeniable and luckily it is also her job which she enjoys very much.
25. Jet From Avatar: The Last Airbender
Who don't know jet from the last air bender? Evidencing his parent's death at an early age made him courageous enough to become a young leader of "Freedom fighters". An ultimate hate for every person of the Fire nation was obvious in his personality. His scale of love and hate had a unique measuring rule. He cared and loved for all who hate Fire nation and hated any single man who. Had even a slight connection with the assassin of his parents. For his friends the charismatic aspect of his personality was apparent.
24. Mr. Popo From Dragon Ball Z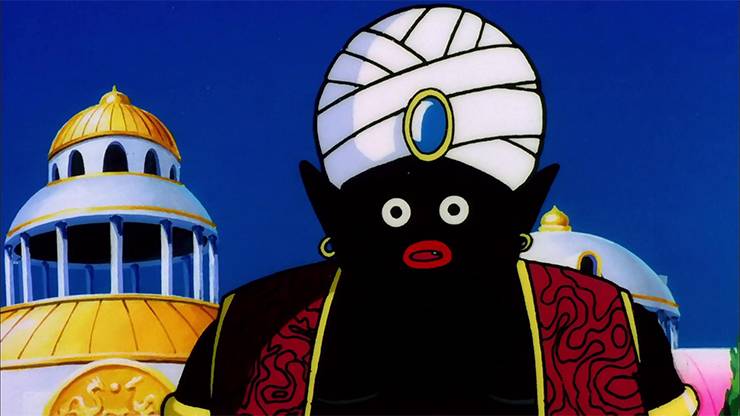 Mr Popo is the only black man in the whole series of the Dragon Ball Z and his Character is merely of a servant. He apparently was the most potent person and he worked for the guardians of the earth. His power was to travel anytime and anywhere in the world using his carpet which he called his magic carpet. His appearance was of dark short heighted person with creepy eyes and pointy ears and the interesting feature was no presence of nose and teeth.
23. Edward From Cowboy Bebop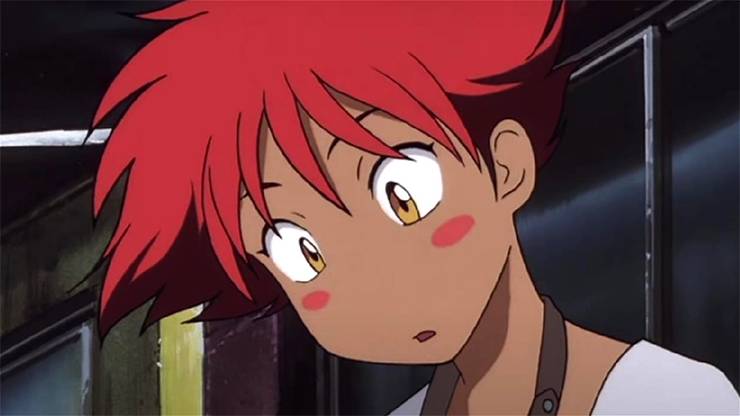 Edward is the main leading character of the Cowboy Bebop series. She is commonly known as "Radical Edward" and her skills are mainly of hacking. She possesses some really eccentric and weird qualities such has strange body and walking style that make her appearance and personality unique. She has some characteristics of animalistic behavior and most of the time she has no shoes. Edward takes not time to shift her on four legs while walking. She considered herself free spirit and sings poem to herself. Ignoring the other person in a conversation she makes herself center of attention and calls herself as a third person.
22. Darui From Naruto Shippuden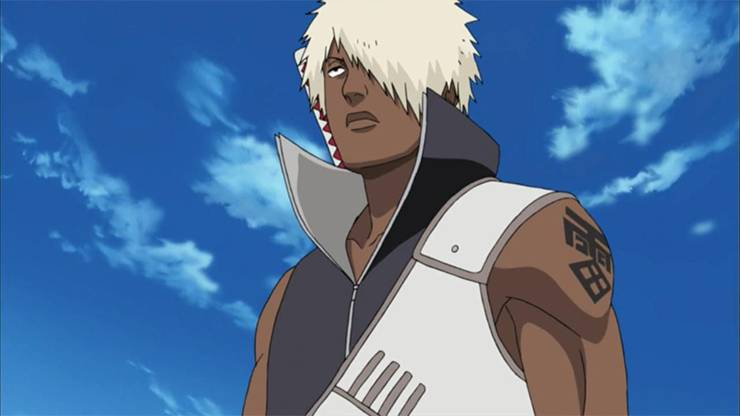 Darui is one of the usual black characters with dark complexion and fairly heighted. Darui is highly skilled and capable shinobi and he later turn out to be a successor of Fifth Raikage. His left eye is always covered with a part of his light-colored abundant hair. A lazy style of talking and uninteresting expression is always a part of his personality. Being a swordman his foldable sword is always at the back of him. And the most important trait of him is his unbeatable stamina.
21. Claudia LaSalle From Macross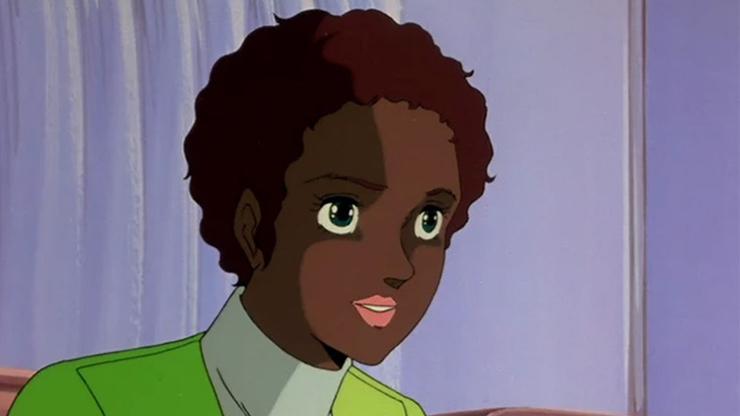 An elegant black female bridge officer from the series Macross is no one but Claudia Lasalle. Her first appearance was in the first episode of the first season of this science fiction series. Her loyalty and affection to a close friend officer "Misa Hayase" is priceless. Her red short hair suits a lot with her dark complexion and slim figure.
20. Nils Yajima From Gundam Build Fighters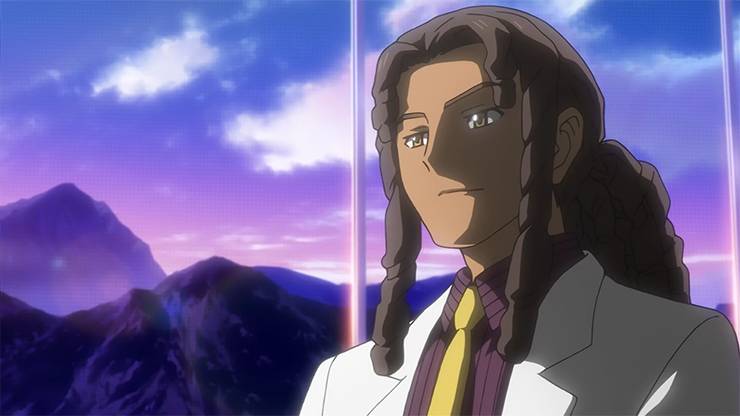 He is a supporting character from the anime Gundam Build Fighters . He appeared as a pre teen in the beginning of the anime, barely a 13 year old boy with dark skin and curly long hair. The boy looks very polite and down to earth and is actually a science freak. He is seen wearing a white lab coat along with a red tie.
19. Nessa From Pokemon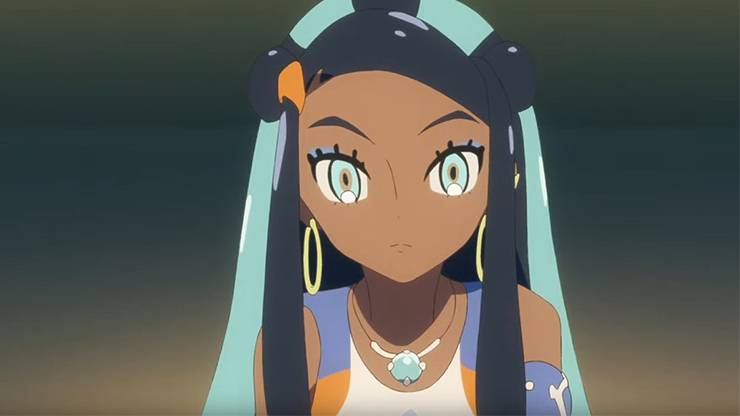 Nessa is a dark skin anime character from the series Pokemon. She is tall and very slim, and usually wears a two piece revealing dress. Her skin is comparatively darker than other characters. She has a very pretty face with glistering blue eyes and hair that are half blue and half black dyed.
18. Kilik Rung From Soul Eater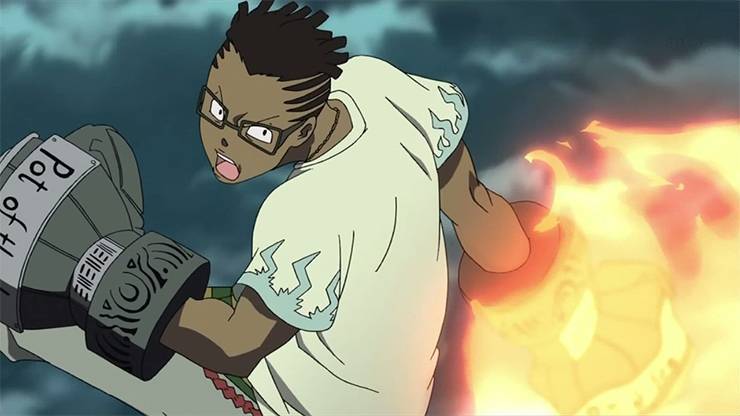 Kilik is a very cool looking character from the anime Soul Eater and is often seen wearing white shirt with baggy jeans and a black frame, hiding his almost square shaped eyes. He normally wears mean or sarcastic expressions on his face. He is African by ethnicity and is only 13 years old. He is hot blooded and always ready to fight. He won't think twice before helping his friends.
17. Coffee From Cowboy Bebop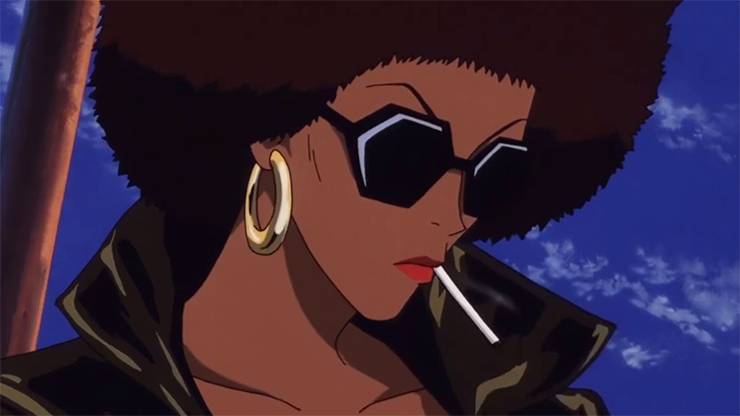 Coffee or written as Kofi, is a very stylish character from the anime Cowboy Bebop She is a slim woman with a complete afro hairstyle and really dark skin. She is an extremely tall woman, around 180cm and is often seen with a cigarette pressed in her lips. She wears a bright red lipstick that goes very well with her dark skin. Her sense of dress is very sexy and is often seen wearing a skin tight dress that reveals her upper body. She wears big gold hoops rings in her ears that give the sense of African ethnicity.
16. Katara From Avatar: The Last Airbender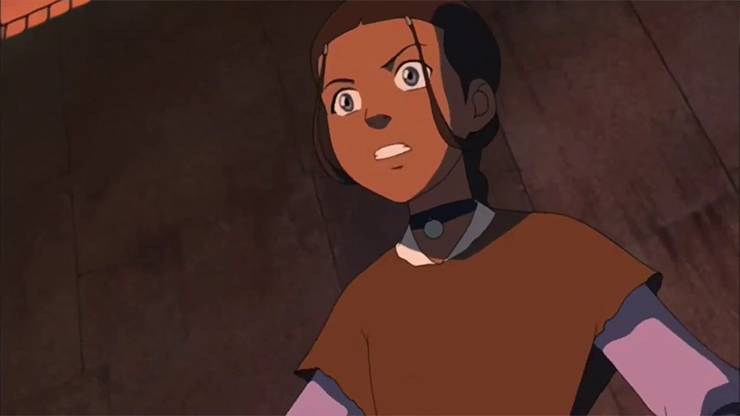 She is one of my favourite anime characters with her great sense of humour and her passion for being a water bender. Katara is a young, beautiful dark skinned girl who is the only water bender of her tribe and inspired to learn the perfect water bending technique. She, along with her brother accompany the main character Ang and learn a lot of things during their journey. Katara has dark hair which she often keeps tied in a braid. She wears a light blue-grayish traditional dress.
15. Princess Allura From Voltron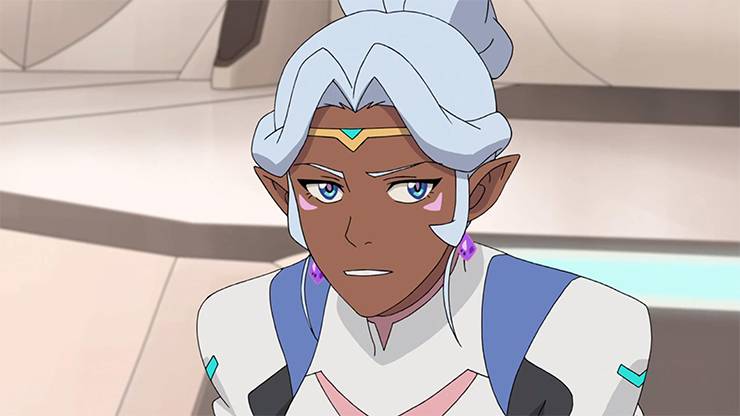 As you can tell from the name, Alura is the princess of Arus. This blonde hair skinny girl is also a member of the Voltron force. She has taken the responsibility of being a pilot of Blue Lion and that's why she is seen wearing a metallic blue suit.
14. Umiko Ahagon From New Game!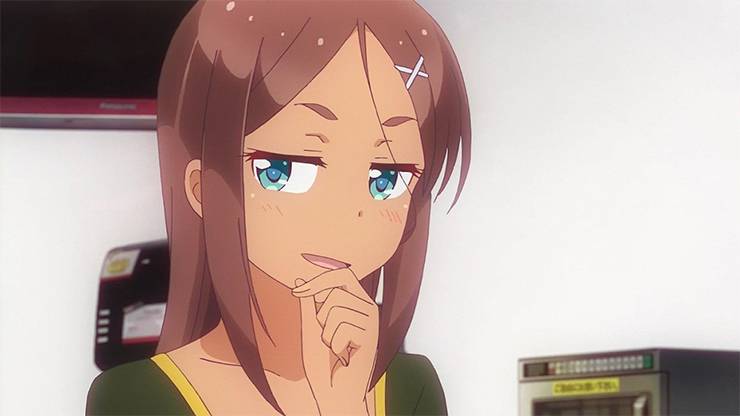 A very pretty dark skinned girl from the anime New Game. Umiko is a 25 years old petite girl of height almost 162cm and has straight purple hair with big shiny blue eyes. She works in the Eagle Jumper as the chief of the programming team and is very passionate about her work. Unlike her soft looks, her personality is really strict and she sometimes ends up scolding her workers when she feels like they aren't working properly. However she does have a kind side and often feels scared of people's opinion about her. She is really passionate about the military and has a good knowledge of it. Her outfits are stylish and she wears skinny jeans with cute tops.
13. Brock From Pokemon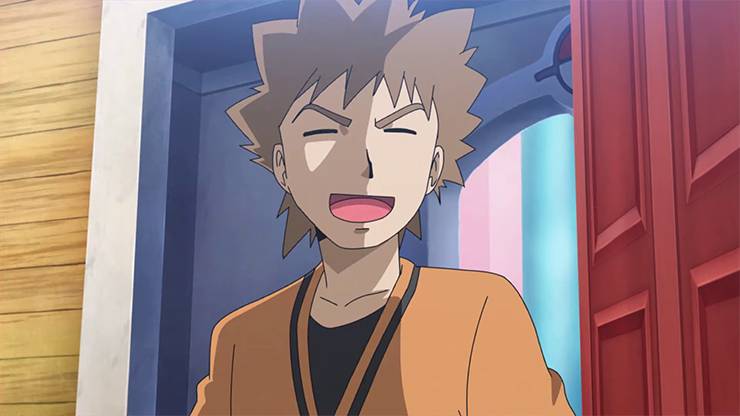 We all are familiar with our one of the most memorable childhood cartoons, Pokemon. Brock has been Ash's partner since the beginning. Brock is a dark skinned tall boy who was formerly a pokemon trainer before he decided to start his journey with the main character Ash to become a pokemon breeder and later the pokemon doctor. Another noticeable thing about this boy besides his dark skin, is his eyes that appeared to be closed all the time. He is seen wearing straight dark grey pants and an orange shirt along with a green waist jacket. Personality wise he is really smart and tries to solve every problem logically.
12. Choi Mochimazzi From Tamako Market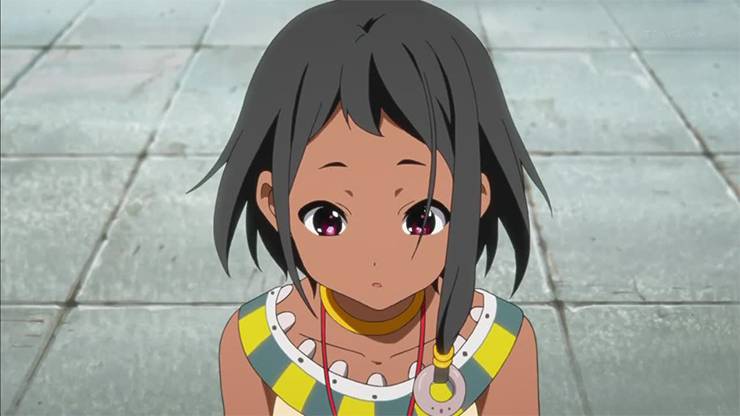 Just as cute as her name is, Choi is a cute young girl with a round face, big wandering eyes, dark brown skin and a very stylish hair cut. Although she is 15, she looks like a child. She appeared later in the anime and her personality is very shy and polite. She would try to be very polite and would easily feel embarrassed whenever she makes small mistakes. She is seen wearing a traditional dress that is a knee length long white dress along with neck jewellery. She doesn't wear any shoes and stays barefooted and wears a beautiful gold anklet.
11. Casca From Berserk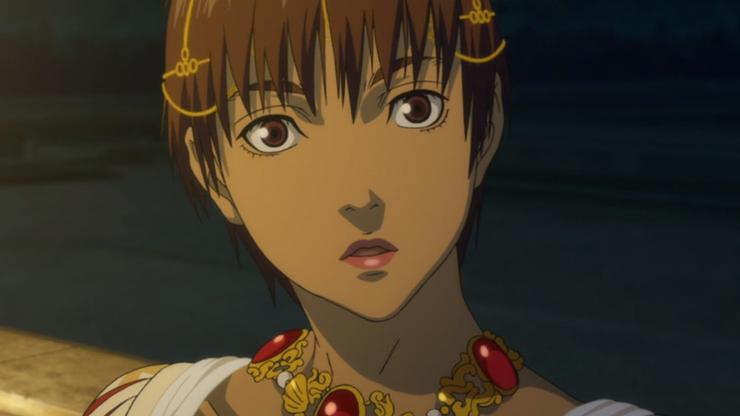 Just as her appearance shows, she was a peasant in her village before she joined the Band of the Falcon. Upon joining it, she proved herself to be a really determined and hard working leader who not only respects her people but also loves them dearly. Because of her behaviour, she is known as 'Big Sis'. In appearance, she has dark skin, thick eyebrows and hairs that are pointing in random directions. She can be seen wearing a thick brown dress.
10. Miyuki Ayukawa From Basquash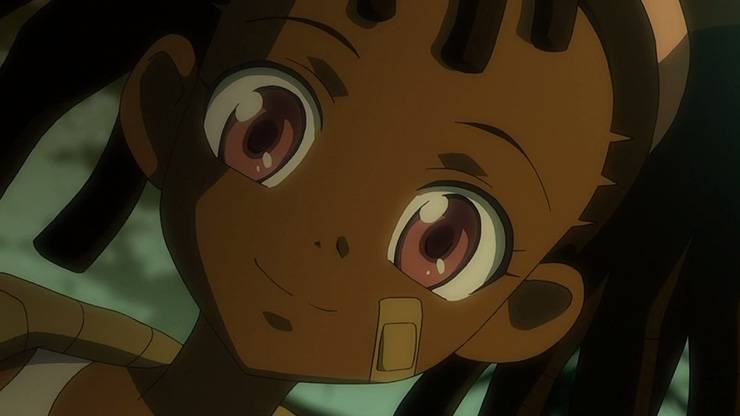 She is not the main character but a prominent supporting character from the anime Basquash. She is a young girl with dark skin and dark hair, often tied in twin tails with a light pink ribbon tied around them. Just like her ribbons, her eyes are also pink and they glow a lot. The girl wears a lot of colours in her outfit and is seen wearing a white tank top along with a very colourful pink and purple jacket, a green pants and colourful boots with dark green, silver and black colour in prominence. She also wears purple glasses. She used to live with Dans until she moved away with her grandfather who is a skilled mechanic.
9. A (Fourth Raikage) From Naruto Shippuden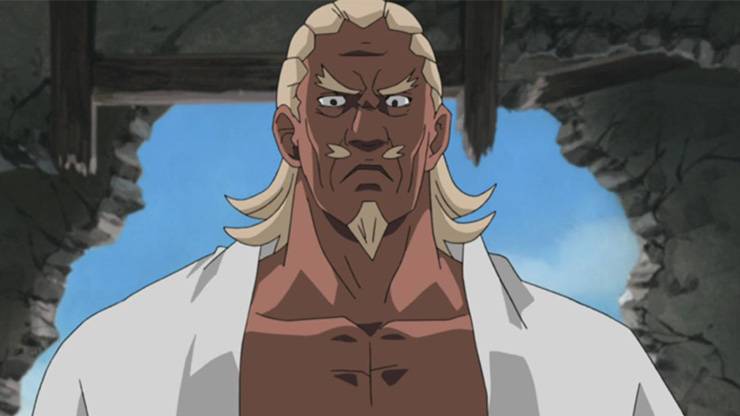 He is the fourth raikage and the only son of the previous raikage aka the third raikage. As he was the only son and had no other blood siblings, he needed a tag-partner. So he went in search of someone who would be compatible with his power. He finally found someone suitable and named his tag partner as B and both went on many missions together. Appearance wise, A has a noticeable dark skin with blonde-white beard and hair that is pushed back by the marked head band. He has a strange sense of dressing and wears a black shirt torn at the sleeves.
8. Jet Black From Cowboy Bebop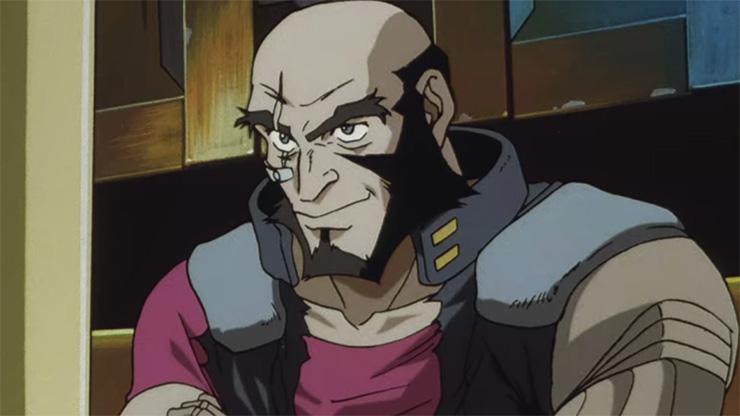 He is a 36 years old man from the anime Cowboy Bebop and is known as the Black Dog for his stubbornness. Just like a dog never lets go of his prey, similarly Jet chases the criminals and never lets them run away . He is a really tall guy, about 188cm tall and a former cop. He lost one of his arms in the mid 2060's. Initially he started his career from being a spy and chasing the criminals. After getting heart broken by a woman, Jet engulfed himself with heavy work and chased after a mafia. Appearance wise he is seen with a cigarette in his mouth and a scar on one of his eyes. He also has a thick beard.
7. Andrew Gilbert Mills From Sword Art Online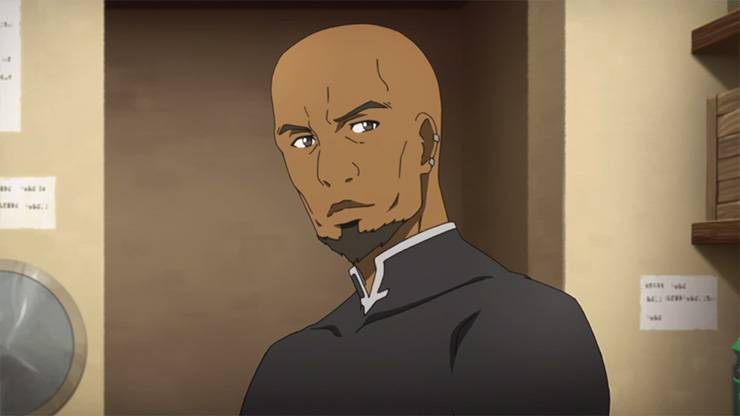 He is an old character from the famous anime Sword Art Online and is usually known by the name Agil. He was one of the players who got trapped in Sword Art Online and was a merchant who owned a shop in Algada. Just as he looks, he is very kind and helpful. He doesn't think twice before helping people, no matter at what cost. He also helped the main character Kirito by giving him a place to stay. In the outfit, he is often seen wearing dress pants and a white button down shirt with an apron tied around his waist.
6. Kaname Tosen From Bleach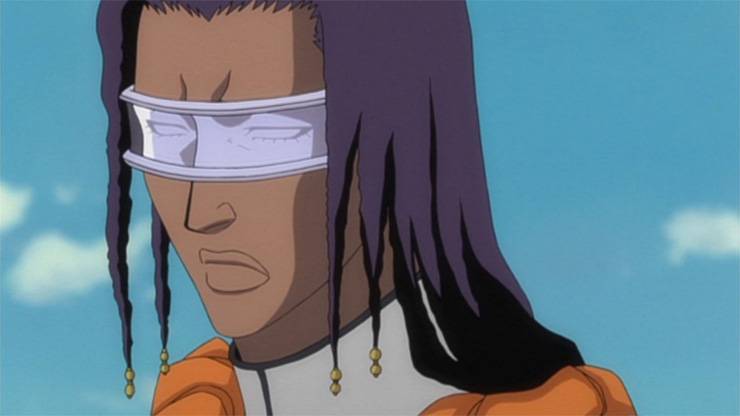 Initially he was the captain of the 9th division of the a soul department but later he became a betrayer and left the department. This action of his made him lose his friends. Appearance wise he is black in race with hair tied in braids. One of the special things about him is that he is blind by birth. In the outfit he wears a black shinigami dress with a purple belt at the waist where he usually tugs his sword. On top of that, he wears a white long coat and he prefers wearing boots instead of the regular sandals. Inspired by a special woman in his life, he later became determined to be less violent and prefer less bloodshed than before.
5. James Ironside From Blood+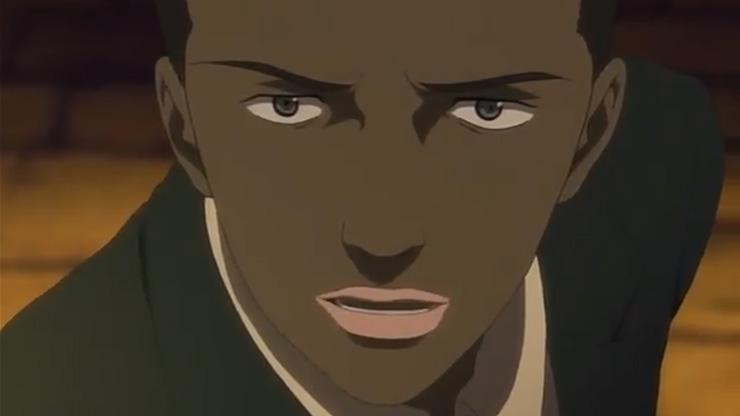 He is a typical black character from the anime Blood + with thick lips and buzz cut hairstyle. Growing up in a poor family and losing his mother at a very young age, James went through some tough times and joined the army later where he also fell prey to racism. Despite being in his 70's, James looks like a young adult in his 20's. One of the reasons for his physical fitness is the training he undergoes due to being in the military. He is often seen dressed in black dress pants, white shirt with a black die and a uniform blazer on top. He has a very calm and polite personality.
4. Prince Soma From Black Butler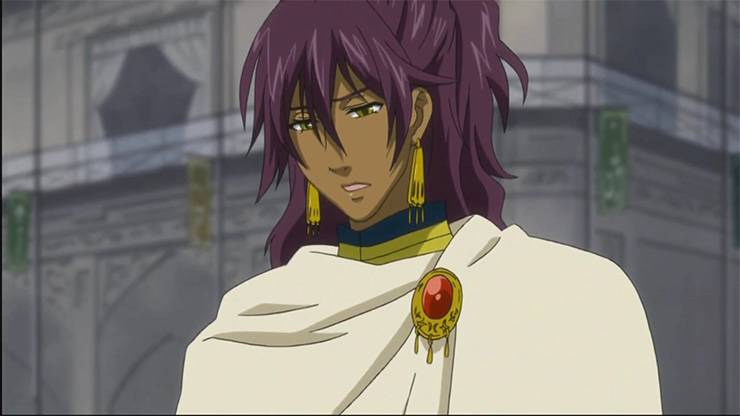 Prince Soma is a very unique character that appeared in the latter season of Kuroshitsuji and is actually a prince from India, who came to England to look for his childhood maid. Prince Soma has a very spoiled personality and is a bit childish. He has pretty purple hair with messy bangs on his V shaped face and the rest of the hair is tied in a ponytail. The dark skinned prince wears accessories like gold earrings and necklace along with some bangles. His outfit is a bit traditional with a blue gown and a red jacket. The outfit is completed with a white shawl with a brooch on it.
3. Kaz Kaan From Neo Yokio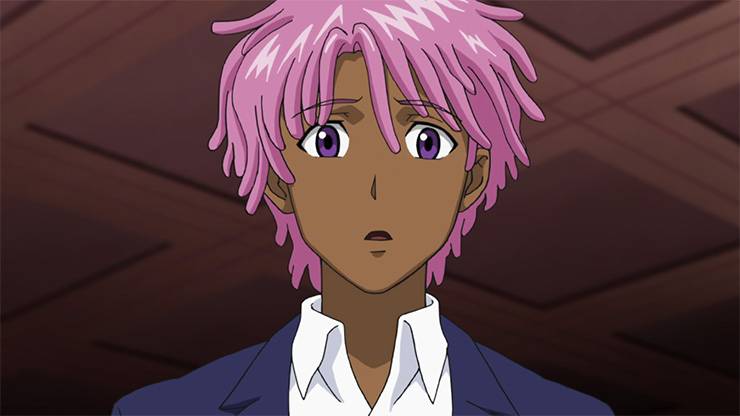 A very odd yet handsome looking guy from the anime Neo Yokio. Kaz has pink hair that goes very well in contrast to his dark skin. He is a demon slayer and looks a bit different from his relatives because of his dark skin. In an outfit, he prefers wearing formal clothes, usually a dark blue blazer with yellow buttons. He is half human and half demon and an American by nationality. His outfit reflects his elegant yet outspoken personality. He is a gentleman but possesses a very strong mind and doesn't hesitate to state his opinion, even if it costs hurting someone's feelings.
2. Michiko Malandro From Michiko to Hatchin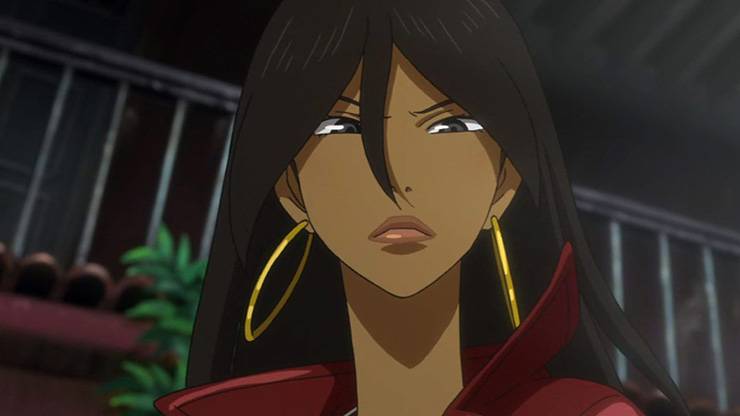 Michiko is undoubtedly a very sexy character from the anime Hatchin series. She is a 27 years old Afro-Latina Brazilian with long brown hair and brown eyes. Her skinny, long body and her dark skin let out a very badass vibe. When I say the word badass, I mean the true rebel! She escaped from the so-called 'In-escapeable' jail not once but for the fourth time! She even helped a girl named Hana to run away from her abusive foster parents and both girls go on a journey to find Hana's dad. This 27 years old daring lady has a great sense of style as well and is often seen wearing sexy short clothes. People who like over the edge looks and personality will definitely fall in love with her at first sight.
1. Villetta Nu From Code Geass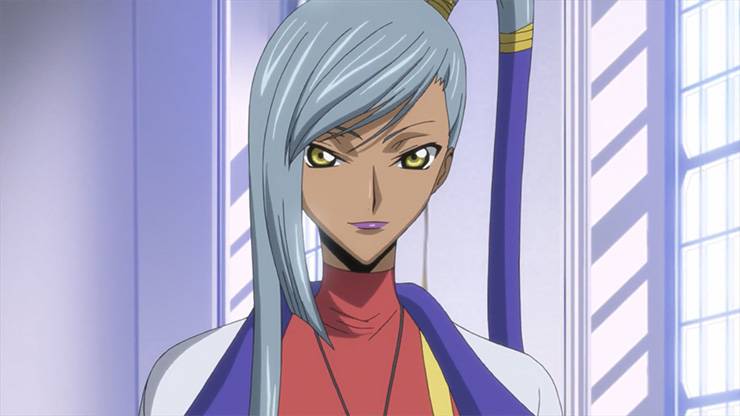 She is a 26 years old female with a small V shaped face and big yellow eyes. This tall, young lady has a very noticeable glistering dark skin and blue hair. She is a very daring woman and very loyal to the emperor. However she doesn't have a very kind nature towards the people from the area she has conquered along with her other members. She lost her memory and her personality became much more humble than before. She is often seen wearing a short black pencil skirt along with long boots and a purple long coat. She either wears her hair down with her fringe on one side or they are tied in a ponytail.
That is it from today's post on Top 30 Most Famous Black Anime Characters. If you do not agree with the points in the post and have some of your own opinions, share them with us in the comments section down below. Keep visiting Animesoulking for more information about Anime and Manga.
Also, Read:
Chandan is the writer of "Top 30 Most Famous Black Anime Characters". Also, Connect with me on Dailykage and YouTube.