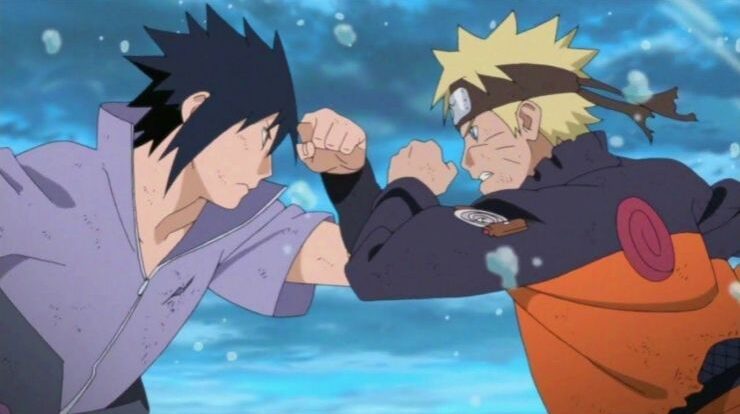 Naruto vs Sasuke All Forms Ranking – Hey guys!. In this post, I'll be discussing a list of Naruto vs Sasuke All Forms Ranking. We will be ranking all the forms of Naruto and Sasuke from part one right up to their adult forms. The ranking of Naruto vs Sasuke is done in ascending order. So, let's get started.
31. Naruto (Beginning of Series)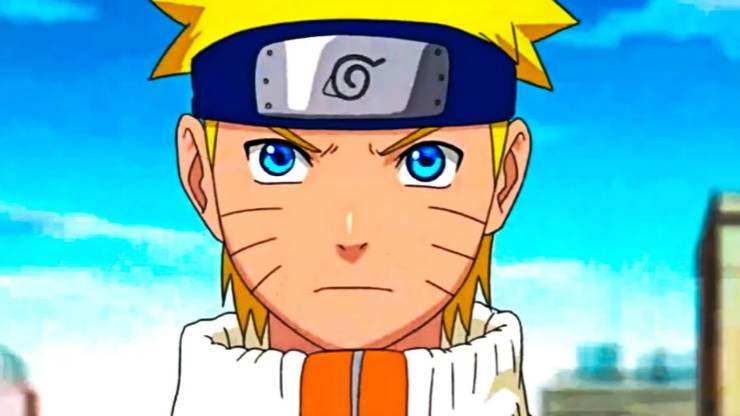 When the series first began Naruto was quite weak and it is fair considering he only mastered his signature technique "Shadow Clones" sometime later.
30. Sasuke (Beginning of Series)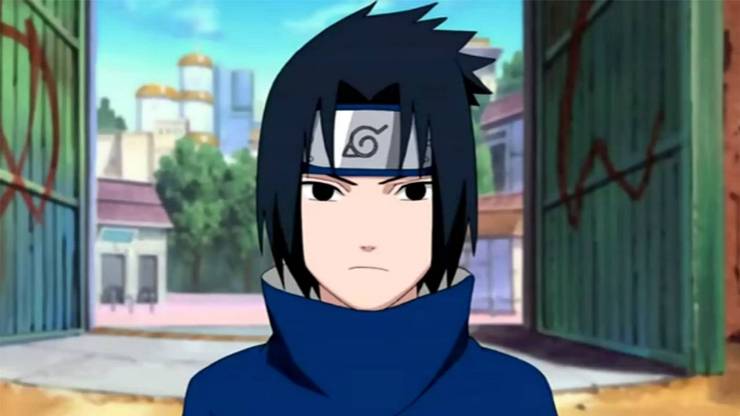 Unlike Naruto, Sasuke was one of the best/strongest in his class, easily master in the basic techniques. Whenever there was a contest between them, he would easily handle Naruto.
29. Naruto (Kyuubi Chakra)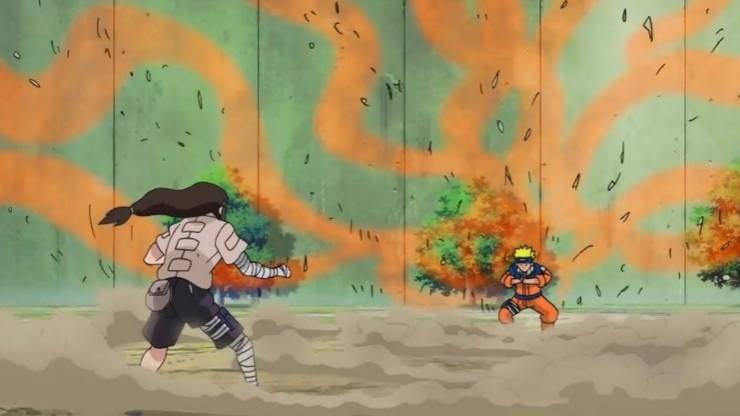 Naruto was able to draw out some of the 9 Tails chakra during the exams which will allow him to defeat Neji Hyuga. Without it he initially stood no chance and although he now could make use of the Multi Shadow Clone Jutsu, they were of no use against Neji. In this mode there's no physical change on his body. All he does is draw out Kurama's Chakra to become more powerful.
28. Sasuke (2-Tomoe Sharingan/Chidori Mastery)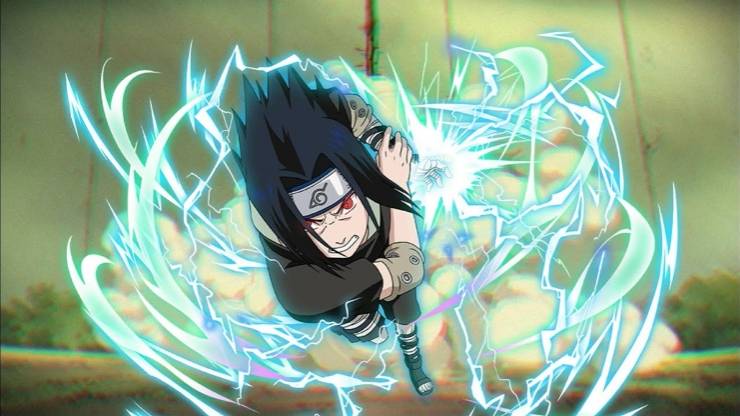 Sometime after the Chunin Exams, Naruto and Sasuke have become much stronger and at the roof top, they battle it out. The fight was quite intense with Kakashi having to stop them in the end just before their Rasengan/Chidori clash. The end result might not have favoured Sasuke even with 2-Tomoe Sharingan.
27. Naruto (Post Rasengan Mastery)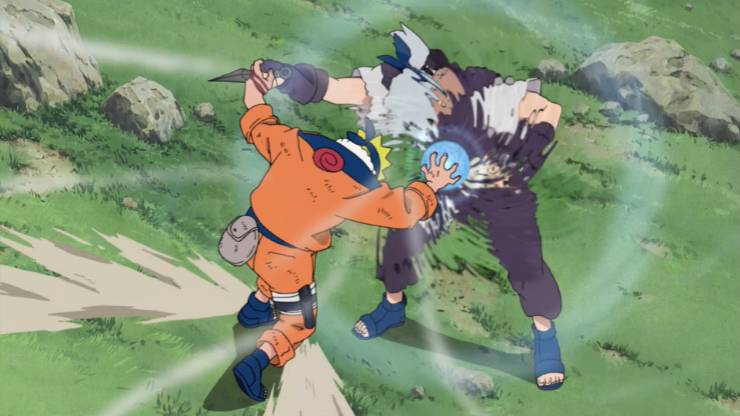 After weeks of intense training Naruto mastered the Rasengan and became much stronger. With the Rasengan, he was able to inflict severe damage on Kabuto and later had a battle with Sasuke at the roof top. Just before the clash of the Rasengan/Chidori, Kakashi intercepted but we saw the end result of each attack.
26. Sasuke (2-Tomoe Sharingan/Cursed Seal Level 1)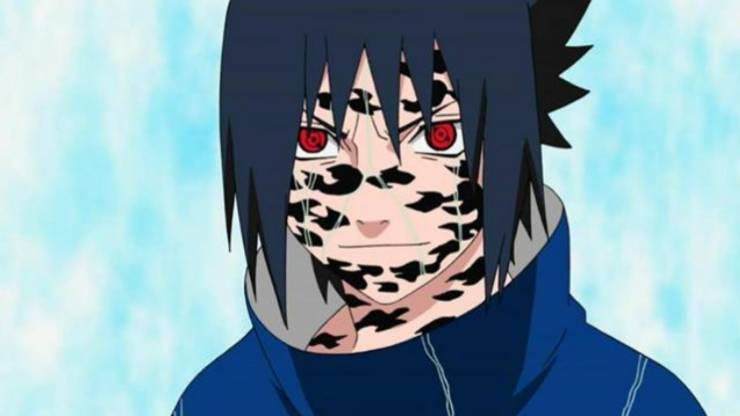 Sasuke is able to stack the curse mark alongside his Sharingan giving him the necessary physical power alongside the precogintion provided by the 2-Tomoe Sharingan. This form will allow him to easily handle Base Naruto in their first real fight at the valley of the end.
25. Naruto (Kyuubi Influence/No Tail Yet)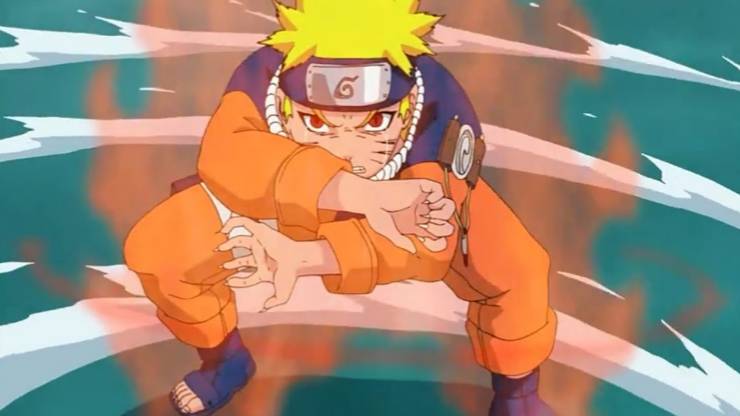 In this form, we start seeing a physical change in Naruto's features, his eyes and teeth look like that of the Kyuubi and his whiskers become thicker. He now uses more Kyuubi Chakra than he did back at the Chunin Exams against Neji. In this form we could see him instantly healing his lung after it got punctured by Sasuke's Chidori. He will then follow up and dominate forcing Sasuke to awaken the 3-Tomoe Sharingan.
24. Sasuke (3-Tomoe Sharingan)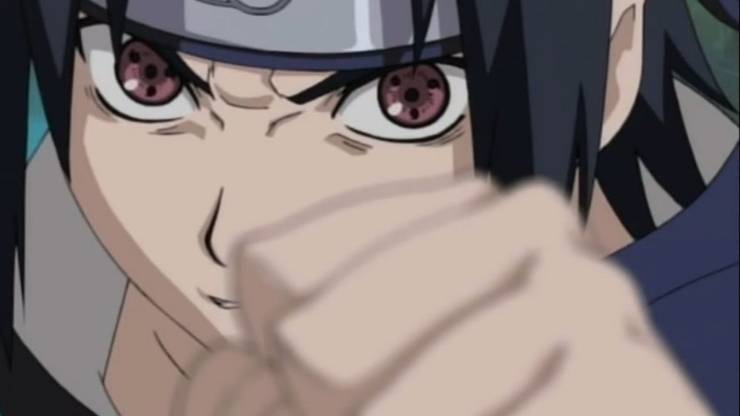 When backed into a corner, Sasuke's Sharingan evolved and became complete "3-Tomoe". He will now be able to easily see Kyuubi influenced Naruto's movements and finesse him with ease forcing the latter to evolve as well.
23. Naruto (Kyuubi Influence/One Tail)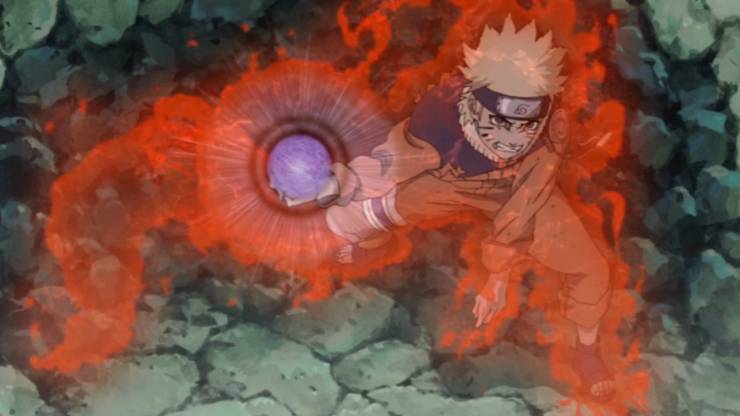 Sasuke forced Naruto to evolve into this mode which will allow him to turn the tables again. Sasuke with 3-Tomoe Sharingan could still fairly follow Naruto's movements but the incredible speed, strength and unpredictability of Naruto in this mode was too much for just 3-Tomoe to handle. Sasuke needed a similar boost in his physicals which will allow him to evolve even further.
22. Sasuke (3-Tomoe Sharingan/Curse Mark Level 2)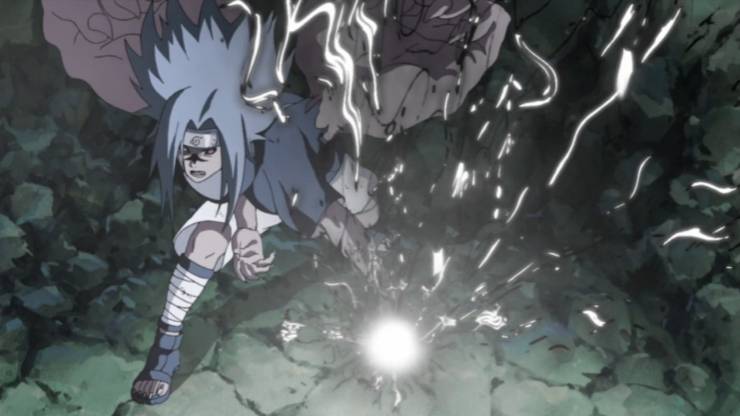 This mode allowed Sasuke to balance the difference in power between him and Naruto's own mode "1 Tails". After a long battle, they will launch towards each other for the Rasengan, Chidori clash and after the huge explosion, Sasuke will end up being the last man standing. This at least shows that his form has the edge over Naruto's. This is the farthest both could go in part one.
21. Naruto (Beginning of Shippuden)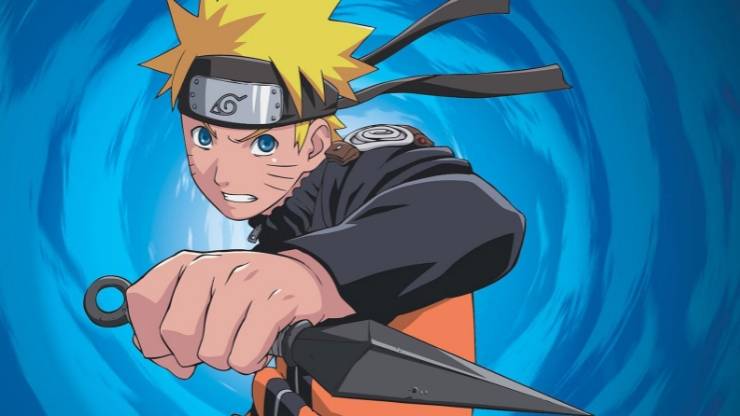 Naruto had improved after the timeskip performing much better in the bell test against Kakashi. His improvement however should have been much better. As a matter of fact Sasuke was overwhelmingly much stronger than him at the beginning of part two.
20. Sasuke (Beginning of Shippuden)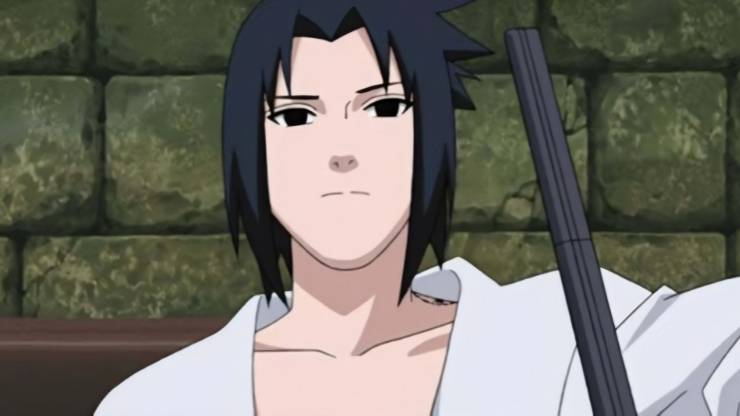 Unlike Naruto, Sasuke had greatly improved over the timeskip, became so much more powerful having completely mastery over the Sharingan and Lightning. We could see how he easily finessed Team 7 (Yamato, Naruto, Sakura, Sai) all by himself. Naruto himself realized he was outclassed.
19. Naruto (Post-Rasenshuriken Training)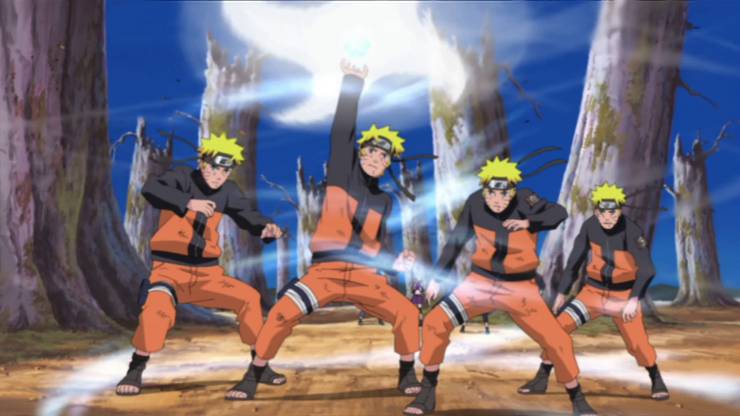 Seeing how strong Sasuke had become, Naruto had to get stronger too. After intense training with Kakashi, Naruto will create a new technique from the Rasengan "Rasenshuriken" a devastating technique that was initially dangerous even to himself. Naruto had become much stronger able to defeat Kakuzu by outsmarting him and landing a Rasenshuriken to the back.
18. Hebi Sasuke (Cursed Mark Level 2)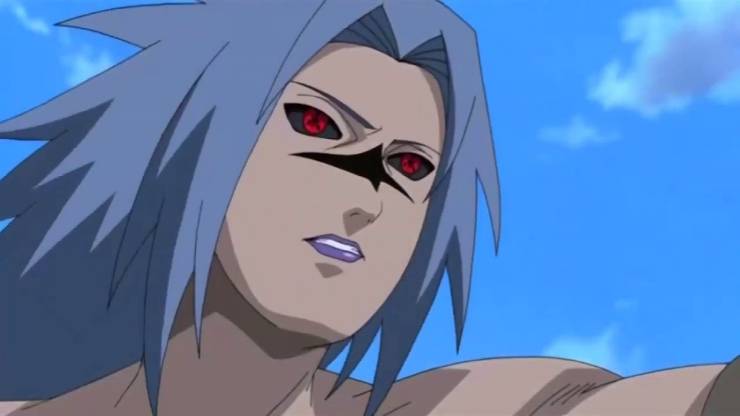 In this mode Sasuke is still much ahead of Naruto even after the latter created his new technique. Sasuke was so strong in this mode. Initially he easily handled a bed-ridden Orochimaru with it. He will then acquire some of Orochimaru's powers which will allow him to go toe-to-toe with Deidara forcing him to commit suicide. He will also later do really well against Itachi.
17. Naruto (4 Tailed Kyuubi Mode)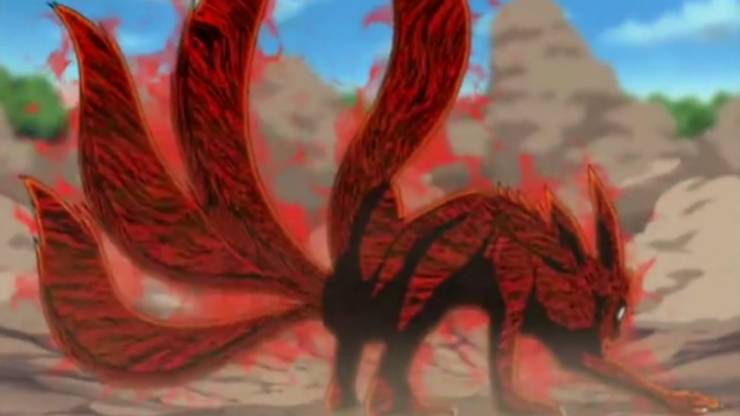 In this mode Naruto is able to use up to 4 Tails. He loses control and is able to use the Tailed Beast Bomb. Naruto initially transformed into this during his training against Jiraiya who didn't have it easy subduing him. Orochimaru also didn't have it easy, being unable to defeat this form. None of his attacks could work. This forms Bijuudama was powerful enough to completely wipe out Orochimaru's Tripple Rashomon Gates. Orochimaru wasn't at full power of course.
16. Sasuke (Mangekyo Sharingan)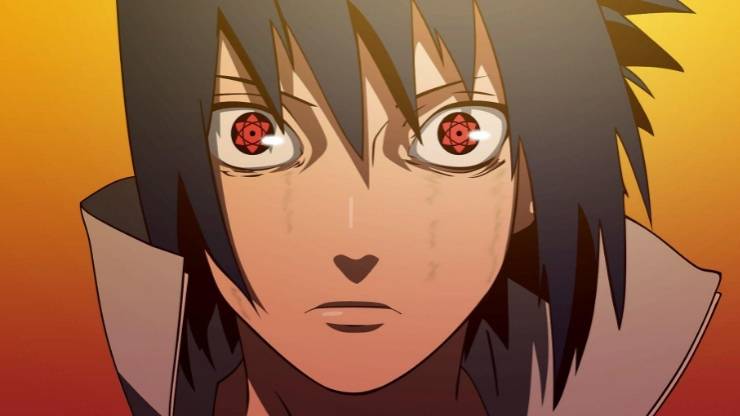 Sasuke eventually awakened the Mangekyo Sharingan, becoming much more powerful and having access to Susanoo, Susanoo Arrow and Amaterasu. He was strong enough to defeat Danzo who could use Izanagi numerous times and was very powerful himself.
15. Naruto (Sage Mode)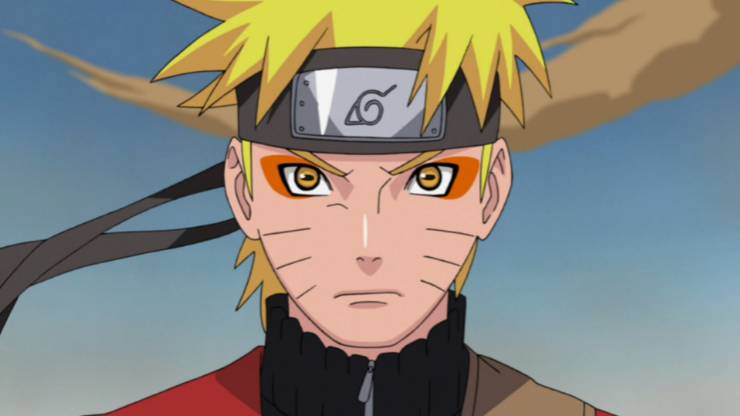 Naruto mastered Sage Mode and became so much more powerful than he's ever being. Due to the incredible boost provided by Sage Mode, he was able to battle Pain and take down 5 Pain Bodies. Tendo was the only Pain that was too much for Sage Mode alone. Sage Mode however became much stronger in the war, with a clone being able to enter Sage Mode and defeat the 3rd Raikage. Naruto could enter Sage Mode faster and with clones could use multiple Giant Rasengans and Rasenshurikens simultaneously.
14. Naruto (6 Tailed Kyuubi Mode)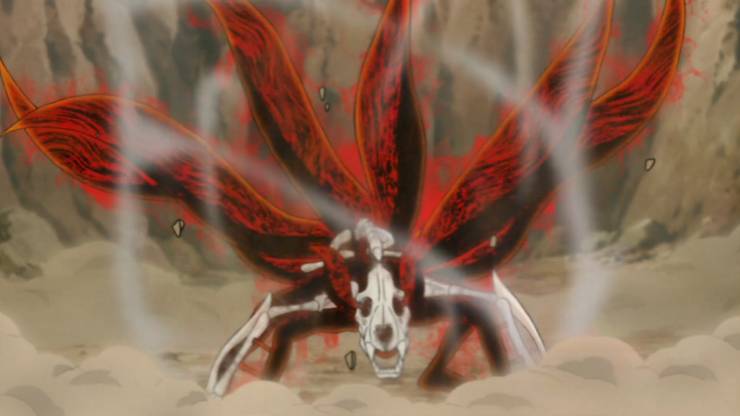 This form proved to be much more powerful than Sage Mode in the battle against Pain. Unlike Sage Mode Naruto who seemed to stand no chance against Tendo Pain, 6 Tails actually rough handled Pain, overcoming all of the latter's attacks including Shinra Tensei. Tendo had no way of actually dealing with this version of Naruto. This ended up forcing a powerful Chibaku Tensei from Nagato, his most powerful jutsu to handle 6 Tails Naruto. For me not even War Arc Sage Mode can do what 6 Tails did.
13. Sasuke (Eternal Mangekyo Sharingan/Initial)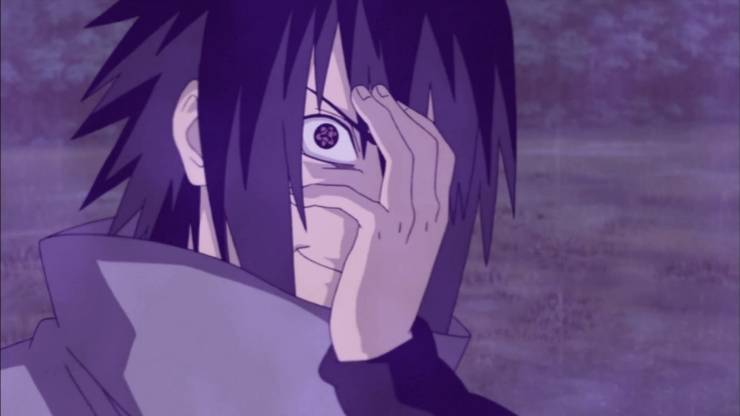 After implanting Itachi's eyes Sasuke awakened Eternal Mangekyo Sharingan. He became much stronger than when he just had the Mangekyo Sharingan; more powerful attacks, Susanoo and no more blindness. However, he wasn't used to the form yet as we saw in the battle against Kabuto. He really didn't do much in the battle with Edo Itachi outperforming him throughout.
12. Naruto (Kyuubi Chakra Mode)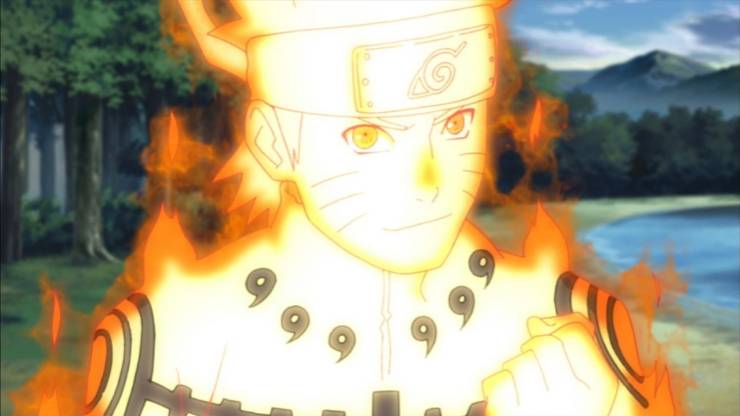 After gaining control over the Nine Tails Chakra, Naruto attained this mode. It is overall more powerful than Sage Mode. In this mode Naruto could make 13 very powerful clones spreading them to the different battlefields. We saw how one of the clones literally took on Kage Level opponents like the Third Raikage, Mu etc. Naruto can create multiple Giant Rasengans and Rasenshurikens in this mode with ease. He became possibly the fastest character at that point in time surpassing even the 4th Raikage. Every physical stat of his went to another level.
11. Sasuke (Eternal Mangekyo Sharingan/Mastered)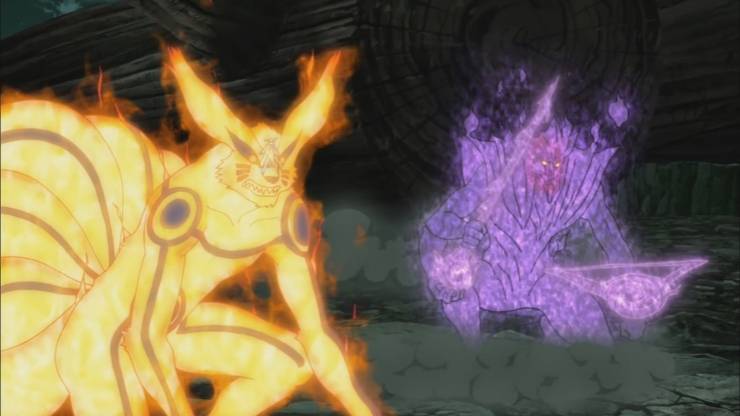 Sasuke eventually mastered Eternal Mangekyo Sharingan deep into the war in the battle against Ten Tails Jinchuriki Obito. His Eternal Mangekyo Sharingan had become much stronger and he could use the full body Susanoo. He should now have close the gap with KCM Naruto and should be even stronger. He could now fight alongside the immensely powerful Bijuu Mode Naruto but was still in awe of how strong Naruto was.
10. Sasuke (Eternal Mangekyo Sharingan/Cursed Mark)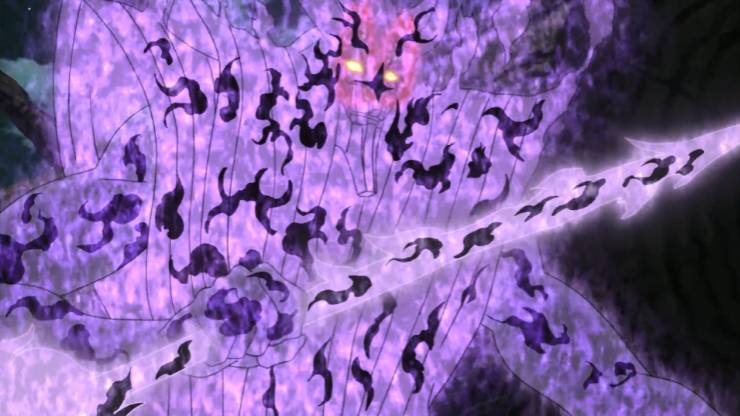 By using Jugo's curse mark on his Susanoo, Sasuke became even stronger and now could use senjutsu techniques, the only thing that could work against Juubi Obito. He could battle alongside Bijuu Sage Mode Naruto and they even fused their modes at one point to finally take down Obito with help from the entire shinobi alliance.
9. Naruto (Bijuu Mode)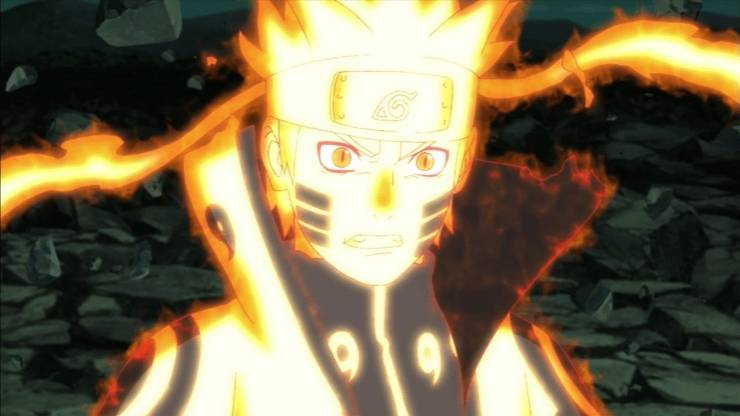 Naruto in this mode had complete control over the Nine Tails. He was so fast and strong capable of defeating 5 Tailed Beasts without too many problems and stalemating their combined Tailed Beast Bomb with his own which wasn't even fully charged. He will share chakra to the entire shinobi alliance making each one of them much more powerful including Sasuke.
8. Naruto (Bijuu Sage Mode)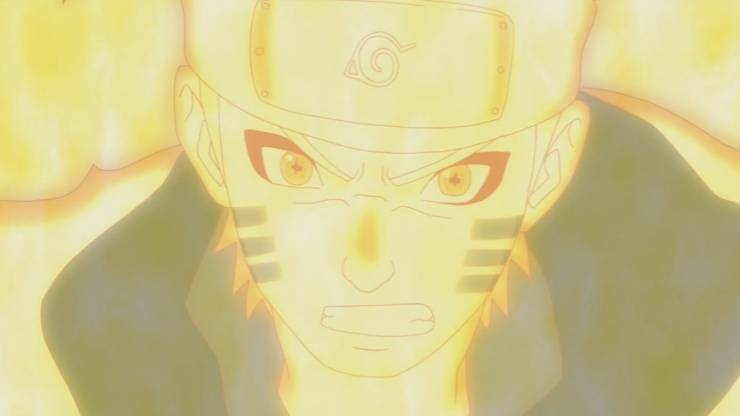 By stacking Sage Mode on top of Bijuu Mode Naruto becomes even more powerful and his attacks were now effective against Juubi Obito. He could infuse sage energy to all his attacks including his Tailed Beast Bomb and he could now track Obito's movements due to better sensory perceptions, speed and reactions. As already stated, along with Sasuke and help from the shinobi alliance, they were able to extract the Bijuu from Obito.
7. Sasuke (Eternal Mangekyo Sharingan/Rinnegan)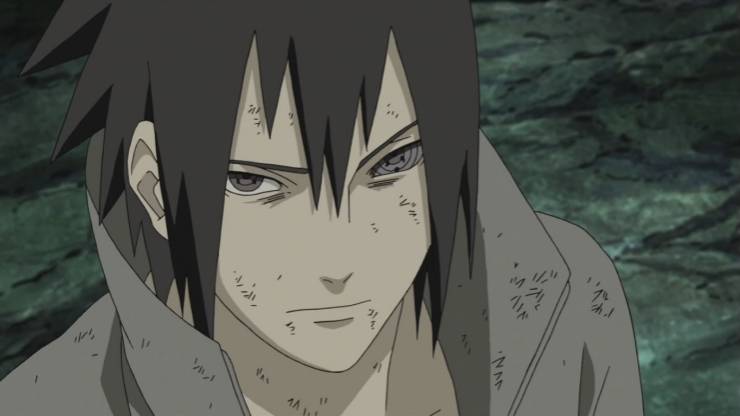 Sasuke rose to a completely different level after obtaining Six Paths Chakra from Hagoromo and awakening the Rinnegan. He could see Limbo and his attack was strong enough to cut Juubi Madara in half. He together with Naruto forced Madara to run away and retrieve his other Rinnegan. Sasuke could finally use Perfect Susanoo enhanced by Rikudo Chakra.
6. Naruto (Six Paths Sage Mode)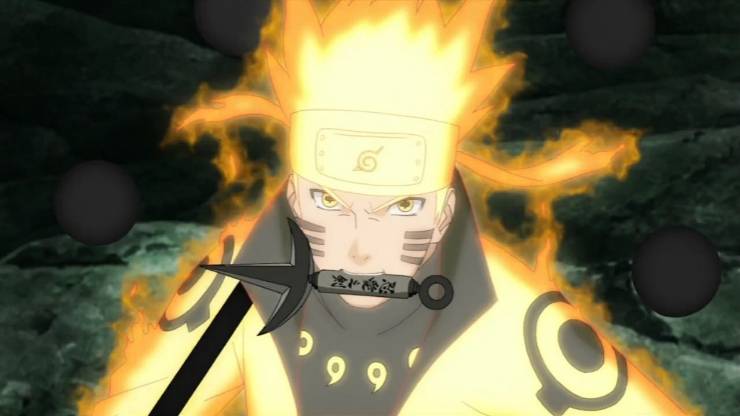 Naruto also obtained chakra from Hagoromo and awakened Six Paths Sage Mode which allowed him to utilize Six Paths Senjutsu. He was on a whole other level compared to Bijuu Sage Mode. Initially he easily handled Juubi Madara forcing the latter to absorb the Shinju Tree. He had 9 Truth Seeking Orbs, could sense Limbo and use all kinds of devastating attacks; some capable of greatly damaging Kaguya. Sasuke even with the Rinnegan had no way of defeating him.
5. Sasuke (The Last: Naruto the Movie)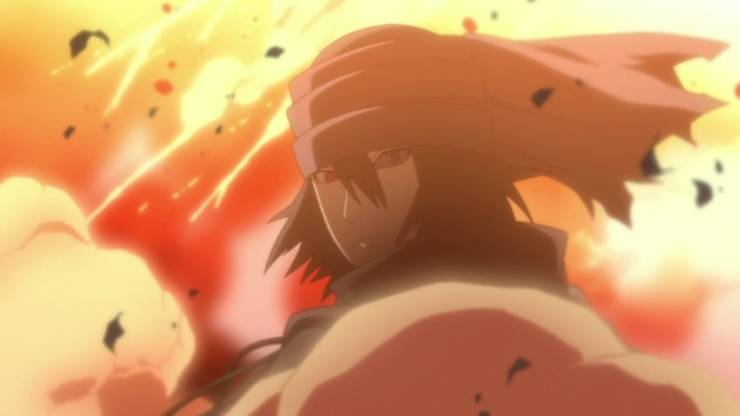 Two years after the war, Sasuke now had better mastery over his Rinnegan and with immense training he was much stronger physically and faster with more powerful techniques. He had just one epic moment but it was worth it. Using Chidori he was able to easily destroy an entire half of meteor. He was also quite fast such that only Kakashi knew he was the one who took care of the meteorite.
4. Naruto (The Last: Naruto the Movie)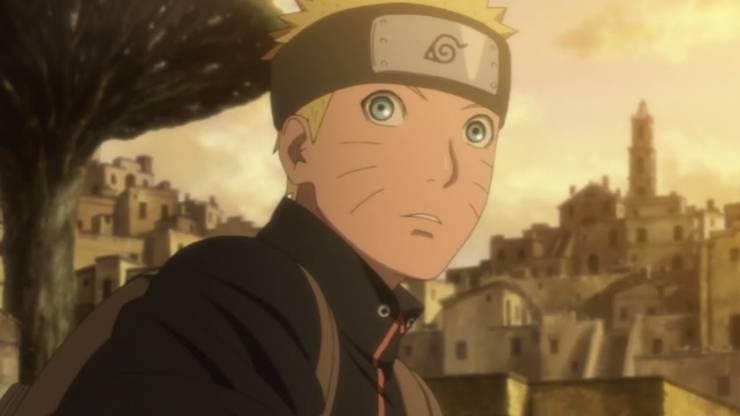 Naruto also had intense training for two years after the war and his feats proved this. In base he was durable enough to survive an explosion of his own chakra done by Toneri. He was so strong enough to battle against Tenseigan Toneri and survive his moon splitting attack. Let's not forget that he now had Full Kurama in his possession and not half as in the war. He eventually defeated Toneri by reverting to base, focusing Rikudo Chakra on his palm, blocking Toneri's attack with ease and punching him with a devastating punch strong enough to revert Toneri back to his base form.
3. Sasuke Tailed Beast Susanoo/Naruto Asura Mode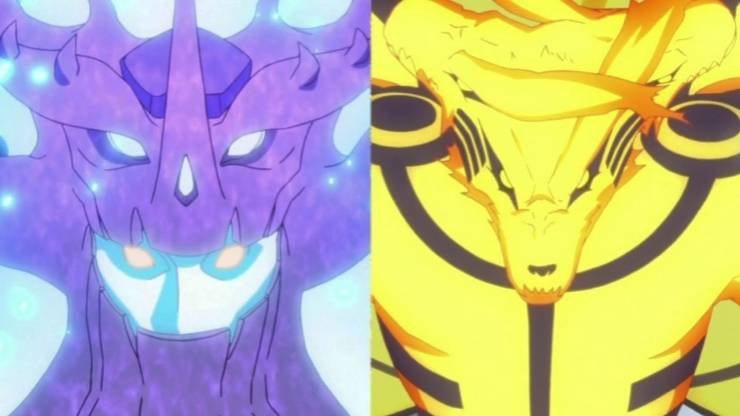 In an attempt to defeat Naruto, Sasuke extracted the Tailed Beast Chakra from the Tailed Beasts he had captured and used his Susanoo as the vessel. He become powerful enough to overwhelm Six Paths Sage Mode before Naruto responded with a powerup of his own, using one of his clones to gather nature energy which closed the gap and their attacks stalemated proving that the 2 Modes should be more or less around the same level. They became so many times more powerful than the usual Rinnegan/SPSM.
2. Adult Sasuke Rinnegan/Adult Naruto SPSM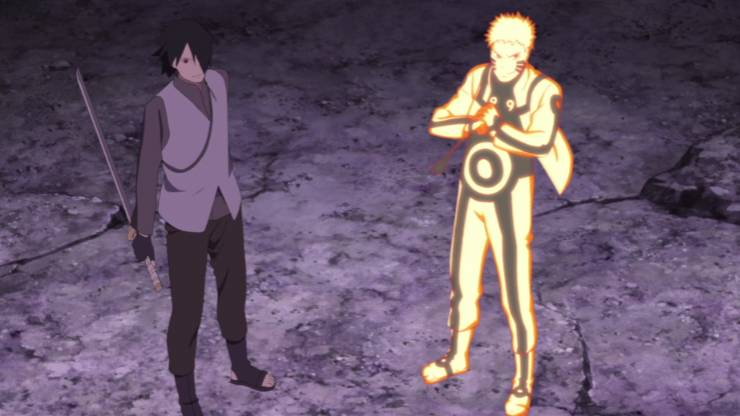 It's been 16 years and we are now in Boruto. These two have become much stronger and unlike the war, they seem to be more or less around the same level as adults. There could be many arguments but we know that Sasuke should now have complete mastery over the Rinnegan and Naruto gained the other half of Kurama but from the point where he became Hokage, he hasn't been training which probably dulled his battle senses allowing Sasuke to close the gap. We can see how they fought equally against Momoshiki in their modes.
1. Naruto (Baryon Mode)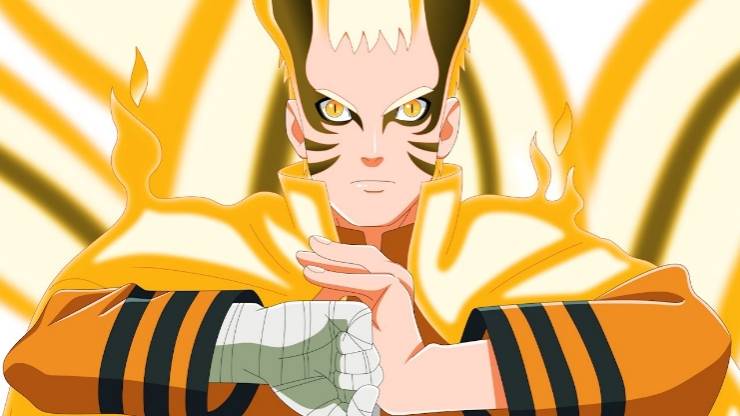 Naruto's strongest transformation yet 'Baryon Mode', far surpassing even his Six Paths Sage Mode. Baryon Mode cements naruto's status as the strongest shinobi in history. Naruto is stronger than ever. He's moving at speeds that sasuke can barely track with its sharingan and is actually beating Isshiki Otsutsuki in a fist fight who was previously able to single-handedly defeat Naruto and Sasuke. Baryon Mode has demonstrated Naruto and Kurama's true strength. Their raw power is even greater than that of an otsutsuki.
That is it from today's post on Naruto vs Sasuke All Forms Ranking. If you do not agree with the points in the post and have some of your own opinions, share them with us in the comments section down below. Keep visiting Animesoulking for more information about Anime and Manga.
Also, Read:
Chandan is the writer of "Naruto vs Sasuke All Forms Ranking". Also, Connect with me on youtube and Facebook.