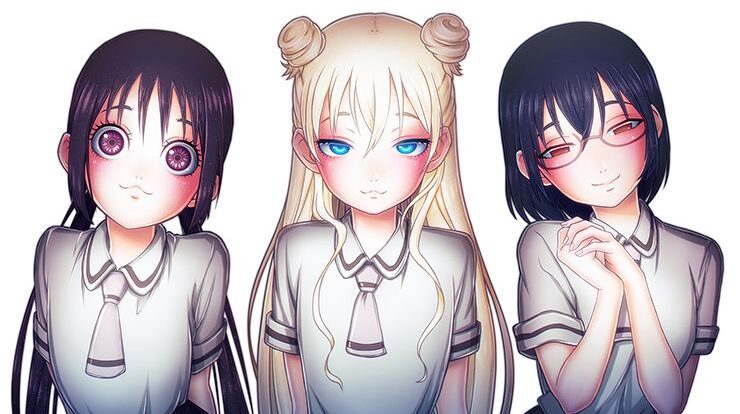 The Best Comedy Anime Ever Made – Hey guys!. In this post, I'll be discussing The Best Comedy Anime Ever Made. I went through 1500 anime, widdled them down to a couple of hundred, and then took those remaining anime and graded them based on their presentation, direction, animation quality, voice acting (both Japanese and English) and overall enjoyment.
Since the comedy genre is one of the largest out there, I've broken it down into four categories; best overall Comedy, best High School Comedy, best Workplace Comedy and finally best Gag Comedy. So, let's get started.
Best Comedy Anime
Comedy is a difficult genre to recommend because everyone has a different sense of humour, so what I find funny may not necessarily be true for you. For me, if a comedy anime is not able to make me laugh, then it's failed to do its job and thus won't be featured on this list. So let's start with the award for best overall Comedy anime which goes to…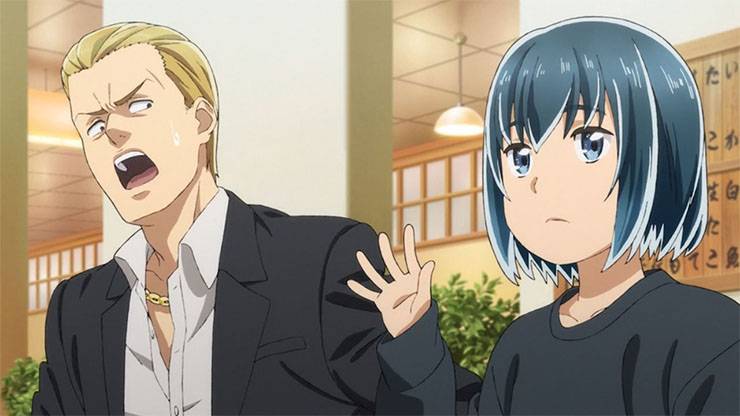 Hinamatsuri – Hardly surprising, given that it's one of my favourite anime of all-time; however that wasn't the sole reason I chose it! The story revolves around a member of the yakuza whose life is suddenly turned upside down when a psychokinetic girl drops on his head out of nowhere. Left with no other choice but to take care of her, the two begin a strange and chaotic new life together.
Hinamatsuri is the type of comedy where situations escalate very quickly; becoming increasingly more absurd the further things go. It frequently had me bursting out laughing in almost every episode, and that alone made it a strong contender. However, Hinamatsuri isn't all gags, as it also features some really tender and heart-warming scenes that you don't typically see from this genre.
It's these wholesome, more sombre moments that really sets Hinamatsuri apart from other comedy anime – as it not only helps to ground these characters but also makes you appreciate them in a way that you otherwise wouldn't.
What really sealed the deal for me was when I went back to re-watch it, as I ended up enjoying it far more on my second viewing than my first – so much so that it became one of my all-time favourites. If you haven't seen it, then I highly recommend giving it a watch.
Best High School Comedy Anime
Next up is High School Comedy, which maintains all of the laughs of a typical comedy anime with the only real difference being that it's set in a Japanese high school. With that in mind, the award for the best High School Comedy goes to…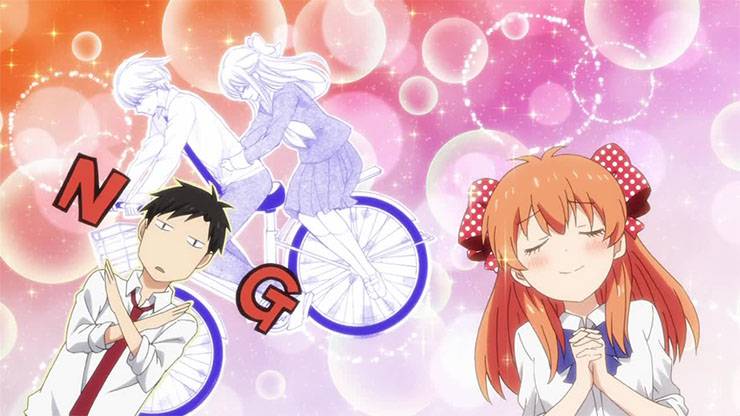 Monthly Girls' Nozaki-kun – While technically a rom com, it tends to lean more towards being a slice of life comedy instead; hence why it's here and not on another list that'll be out in a few weeks. The story centres on a high school girl who finally works up the courage to ask out the boy she's in love with.
However her feelings aren't conveyed properly and before she knows it she's helping him draw his manga as an assistant. Through the time they spend together, they encounter other schoolmates who assist them and serve as inspiration for his manga's story.
Monthly Girls' Nozaki-kun is an anime I routinely come back to every few years, as it's consistently entertaining no matter how many times I've re-watched it. Out of every anime on this list, it's probably made me laugh out loud the least but that doesn't mean that it isn't immensely enjoyable.
The characters are all delightfully quirky and I found myself falling in love with them almost immediately. The fact that there isn't a single character I dislike in this show speaks volumes to the quality of its character writing. As time has gone on, my appreciation for this anime has only grown and I really hope it gets a second season at some point in the future because it seriously deserves one.
Best Workplace Comedy Anime
Next up is Workplace Comedy, which shares a lot in common with High School Comedy except it's set in a working environment, instead of a school, with a predominately adult-cast (or at the very least more adult characters). With that said; the award for the best Workplace Comedy goes to…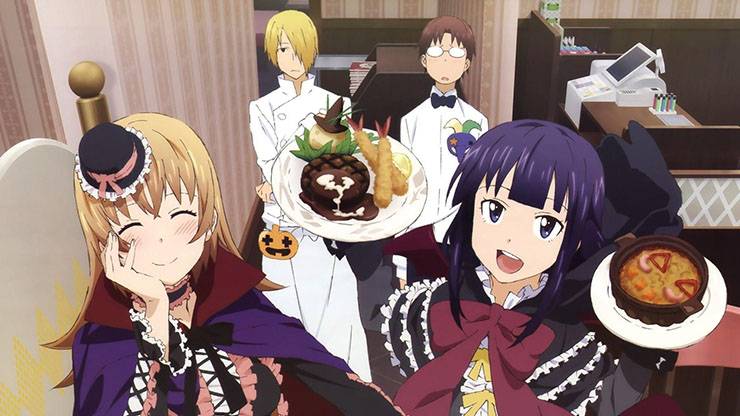 Working!! – It's almost like this anime was made specifically to win this award, huh? The story follows a high school boy, and self-professed lover of all things small and cute, who finds himself coerced into working at the Wagnaria family restaurant. Though the pay is reasonable and the clientele polite, he often finds himself at his wits' end when dealing with the restaurant's quirky staff.
From the indifferent and street-tough manager, to the katana-carrying floor chief and a red-headed server who violently assaults any man who gets too close, just how long can he survive before the combined stress does him in? The reason why Working works so well as a comedy (no pun intended), is because of the ludicrousness of its characters and the situations they're put in.
This is by no means a typical eatery because if any of the things that transpire in this show happened in real life, there would be serious consequences. It's this chaotic energy that makes Working so hilarious but what's especially compelling is the fact that the show's characters are not one dimensional.
Throughout the anime's three seasons, we get to see these characters grow, overcome hardships and even develop romantic relationships. It's one of few anime that actually has a proper ending, and a satisfying one at that! Honestly there's just so much to like about this show that I cannot praise it highly enough. If you've somehow missed out on this series, then I'd seriously recommend giving it a shot!
Best Gag Comedy Anime
Finally we have Gag Comedy which, as the name implies, focusses on singular gags or sketches. These anime are typically episodic – meaning you can watch any episode and enjoy it regardless of if you've seen any prior ones. With that in mind, the award for the best Gag Comedy goes to…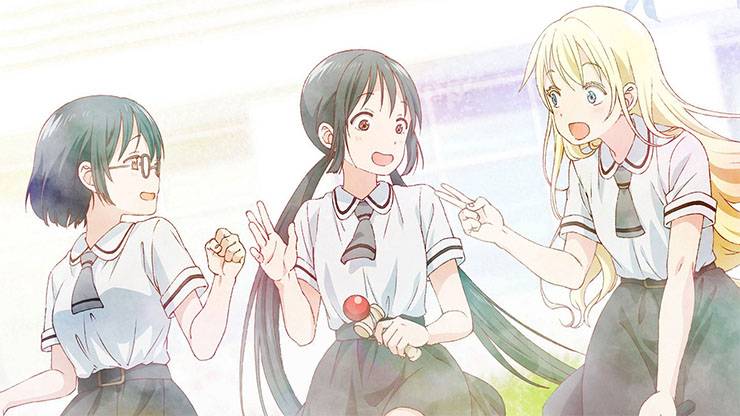 Asobi Asobase – Out of every anime on this list, this is the one that made me burst out laughing the most. Almost every episode had me in stitches and there were numerous instances where I had to stop an episode mid-way through in order to catch my breath.
The story is centred around three school girls; a blonde-haired beauty and supposed foreign transfer student who can't speak a word of English, a seemingly quiet and shy girl who becomes scarily intense when she becomes serious, and a cheerful energetic girl who often gets the three of them into trouble. Together they form the 'Pastimers Club' where they are free to carry out their daily hijinks.
Whether it's failing to learn English, trying desperately to become popular, or getting caught by teachers at the wrong time, school life is never dull for these three. I think what really sells this anime for me is the wide range of facial expressions that each of these characters are capable of.
The combination of the characters facial expressions and rapid fire gags means that you rarely have time to catch your breath, as you'll be constantly laughing as it jumps from one gag to the next. If you're in need of a good laugh, I can't think of a better anime to watch.
That is it from today's post on The Best Comedy Anime Ever Made. If you do not agree with the points in the post and have some of your own opinions, share them with us in the comments section down below. Keep visiting Animesoulking for more information about Anime and Manga.
Also, Read:
Chandan is the writer of "The Best Comedy Anime Ever Made". Also, Connect with me on YouTube and Facebook.