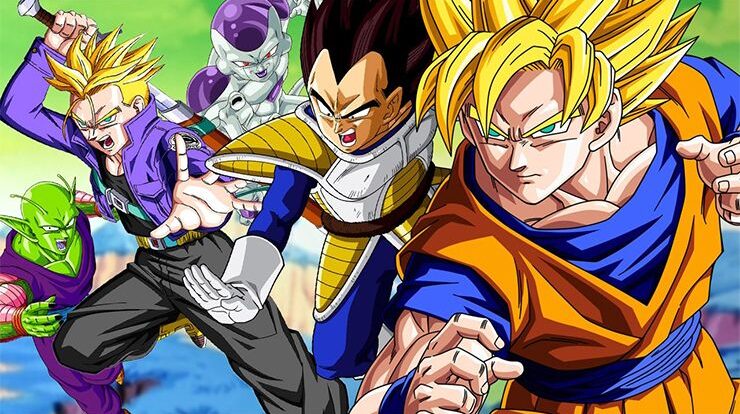 Top 60 Best Anime Of All Time – Hey guys!. In this post, I'll be discussing a list of Top 60 Best Anime Of All Time. Japanese animations is one of the most likeable form of animation that is being watched all over the world. It is not only because of its unique style of art but also because of the amazing plots.
The anime lover aka Otakus, would go crazy for their favorite anime and would try different cosplays, Japanese food and even make trips to Japan! And we don't blame them because anime are truly addictive and will take the audience to the world of fantasy. Here is the list of amazing 60 best anime of all time. So, let's get started.
60. Mononoke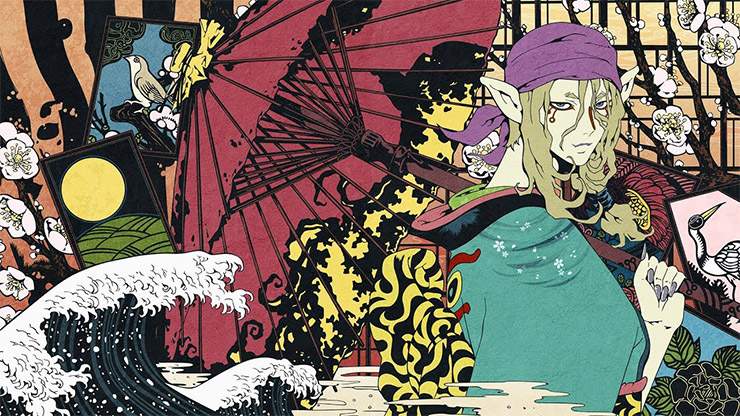 It is an anime with strange plot and having a touch of horror story in it. It is not a complete story but divided into each episode where medicine encounter and tend to destroy Mononoke. Mononoke are strange supernatural species that install negative emotions in humans and bound them to negativity. The Medicine Seller always go with in the same manner, using his comprehension of the supernatural to fend off the Mononoke until he can learn the Katachi, Makoto and Kotowari.
59. Free!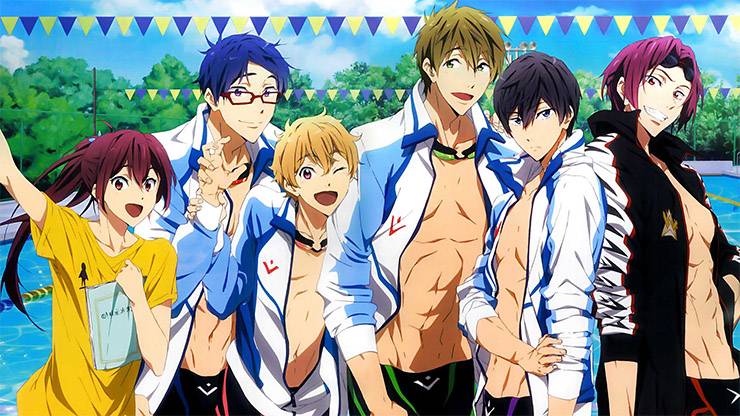 Free! is a typical anime series with a little uniqueness that the protagonist character is a gifted swimmer. Haruka Nanase has a passion for swimming and won race with his three friends who got separated from him after elementary school. They meet again in high school and try to form their swimming club. The three members are their but they need another member to complete their club. Rei Ryuugazaki joined their club upon Nagsia's recruitment. Will the band be able to sharpen their skills and prove them at the tournament against Rin.
58. Cowboy Bebop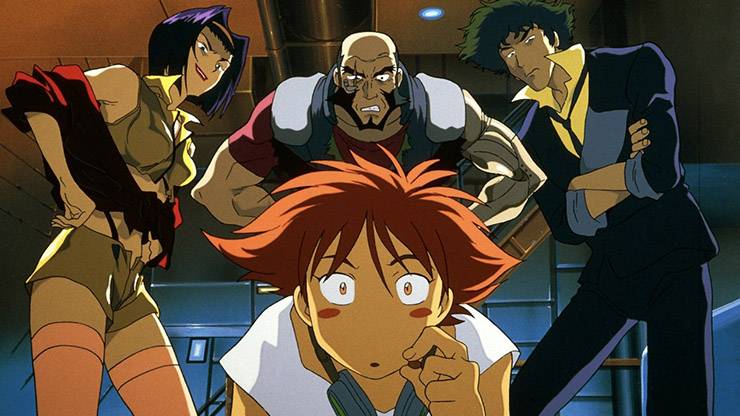 Another anime series with the plot of science fiction plot whose story revolves around bounty hunter, protagonist. They aim to chase criminals and bring them alive to the inner solar system police with expectation to get reward in return. The story starts when after an accident the earth become inhabitable and all specie adjusted to the other planets like moon. With the increasing ration of crime ISSP give them the mission to hut criminals.
57. Satsuriku no Tenshi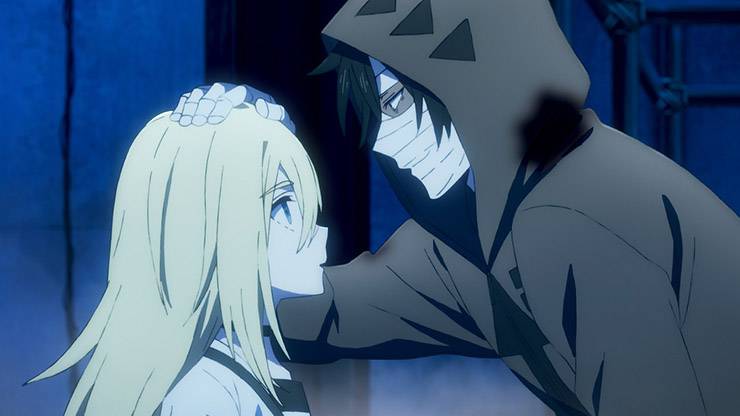 The anime focuses on the protagonist Ray Gardener who is fed up of her life so much that his eyes don't want to see the world anymore. To die is her only wish. A sudden transformation takes place in his life when she found herself on the hospital floor with all the memory lost. She knew nothing but he name. She had stepped into a game of serial killing. The great plot involves the story of Zack and Ray who are trapped in the basement floor and have to clear the game. To do so, they need to cross all the floors and compete with the floor owners.
Its sound and graphic are just wow! This game story line is really attractive and a must watch indeed.
56. Naruto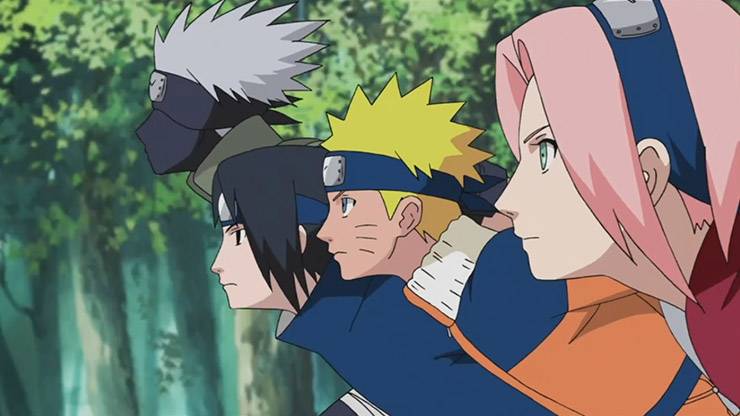 A wonderful anime with superb graphics and storyline discusses the struggles of Naruto Uzumaki who aims at becoming a renowned ninja fighter and wants recognition among his fellows. His is determined to become Hokage- the leader and the most strongest ninja of the whole village. His pursuit to be recognized as a strong Ninja is a long journey and he needs to work on his ninja skills and become a firm personality.
The storyline is great and a must watch as it signalizes the strong bonding between Naruto and his team.
55. Violet Evergarden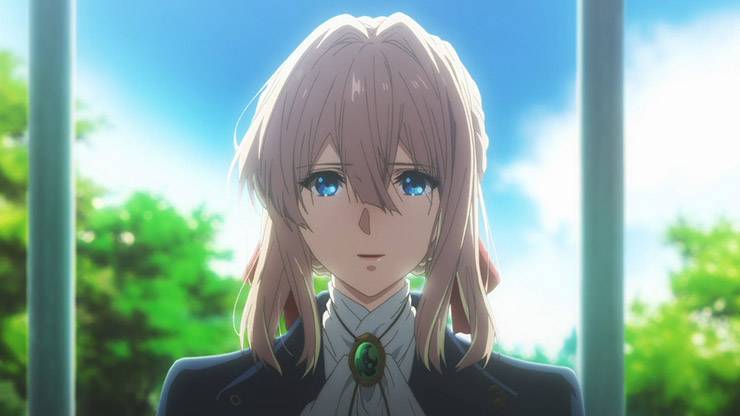 The anime Violet Evergarden upon the story of a young beautiful girl named Violet. A great plot describing story of an ex-soldier who just pondered over the words said by a major to her throughout her life. Previously' she was named "the weapon" for her services in the war. She later joined CH postal services and aimed at giving people's thoughts and imaginations a color of text. She began to comprehend emotions and feelings that prevailed over people's mind and soothe them with her masterpieces.
Give it a go! You will surely not regret watching it. The sound and character development is great.
54. Psycho-Pass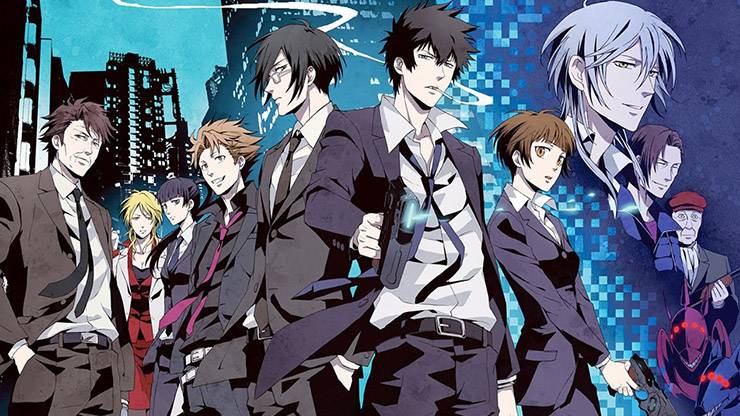 Thisanime is worth watching if you are into a psychological and inquisitive plot. The story starts with Akane Tsunemori, anew inspector who is determined to make his city a peaceful place to live. The inspectors are able to conduct a psychological test called "Tress Pass" to check the will and inclination of people to commit crimes and illegal acts. Akane is motivated to eliminate all the criminals even before they commit the crime.
The anime has a great plot and strong character building.
53. Fruits Basket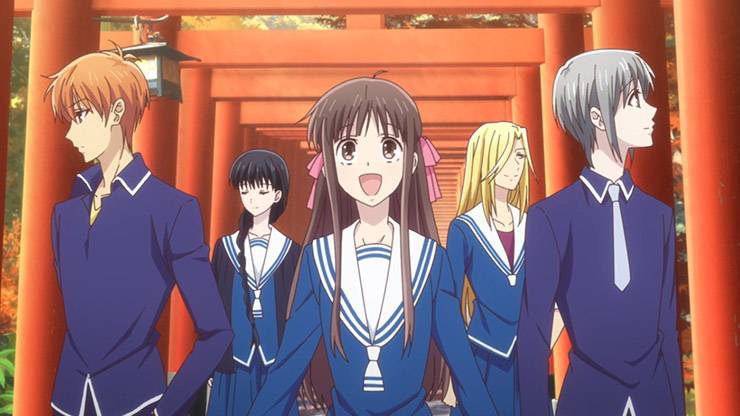 Fruits Basket is a Japanese anime series. The story begins with the death of Tohru Honda's mother and the young girl decided to love with his grandfather which he couldn't continue for a long time as the house was going to be renovated. Finding no place to seek refuge, she helplessly set up a tent and started living in it. One day, when she returned she found the tent buried under the landslide. The circumstances were undoubtedly against her.
The story turned when she moved into her classmate Sohma's house and discovered a strange curse on Sohma. He would be transformed into one of the animals of Chinese zodiac. When she accidentally hugged Sohma, he transformed into a cat. The remaining plot is all about her laborious efforts to abolish the curse on Sohma.
52. My Hero Academia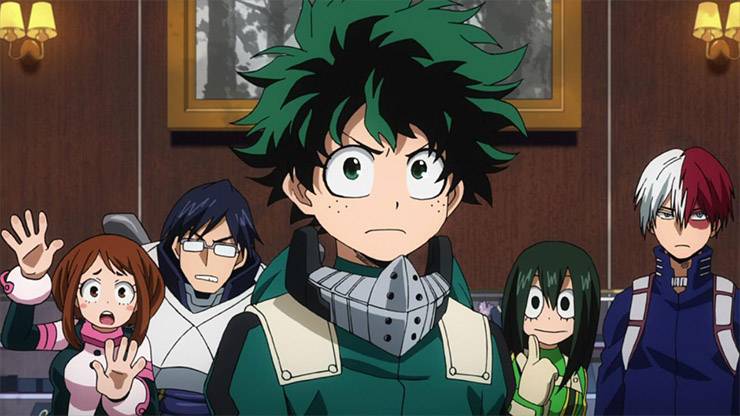 This orthodox, yet unique superhero anime has a great plot. All people in world are born with some extraordinary abilities and powers called quirks. Everyone has its own quirk just like a finger print. People with great skills are titled hero and they ought to fight against the villains. Pro-heroes were the people with greatly polished quirks.
Izuku is motivated to be entitled as hero. In the world with 80% population born with quirks, he found himself quite unluckily as he was born entirely normal. The anime has energetic background music and focusses on his journey of becoming a hero.
51. Barakamon
Seishu Handa was send to remotest island by his father to meditate over his behavior when he actually punched an old man for criticizing his calligraphy which he was very proud of. On the distant island he made string relationships with his neighbors and embarked on a journey of self- knowing. Without any kind of conveniences and supplies, will he be able to focus on his art skills?
It is a must watch for you people as it has well developed plot and characters with great art and sound.
50. Grand Blue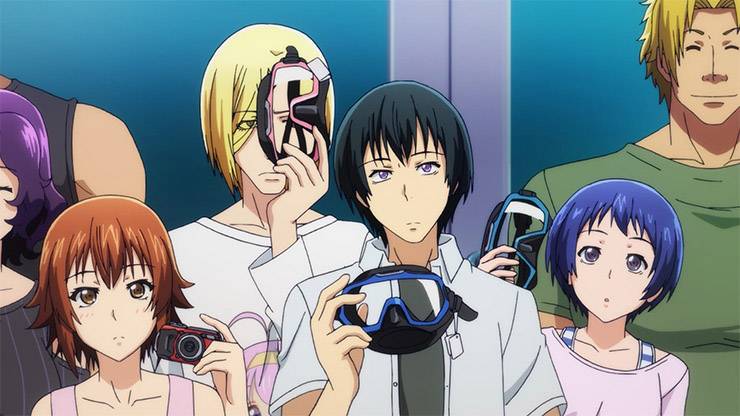 Iori Kitahara is very excited for his new period of high school life which is soon going to reveal its charm to him and he has high hopes in it as it will bring unforgettable changes to his life. His uncle owned a shop there named "grand blue" and he got a room above it. As the plot unfolds, new revelations about his diving experience are made which are quite amusing to watch.
49. One Piece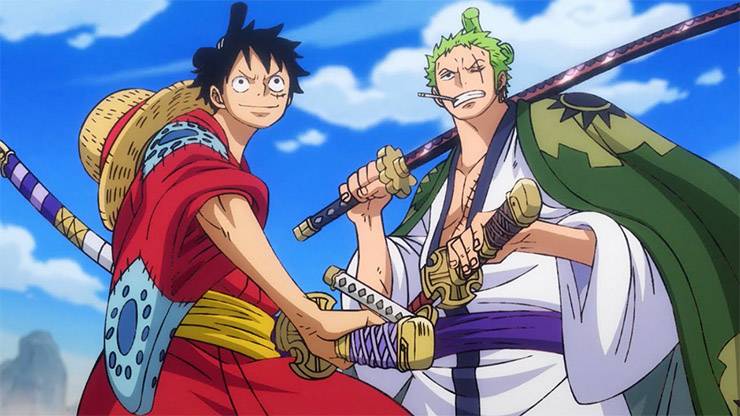 One Piece is the anime with one of the most inquisitive and intriguing plot. The story of a firm and resilient pirate and his hidden treasure. Just before he was going to be slaughtered, he unfolded the secret of his hidden treasure on an island near the end of Grand line. The sea notorious for its hazardous effects.
The plot progresses with the quest of Luffy for becoming the next pirate.
The anime has very linear, and strong plot but a little weak in animations. Give it a watch if you are a curious person.
48. Dragon Ball Z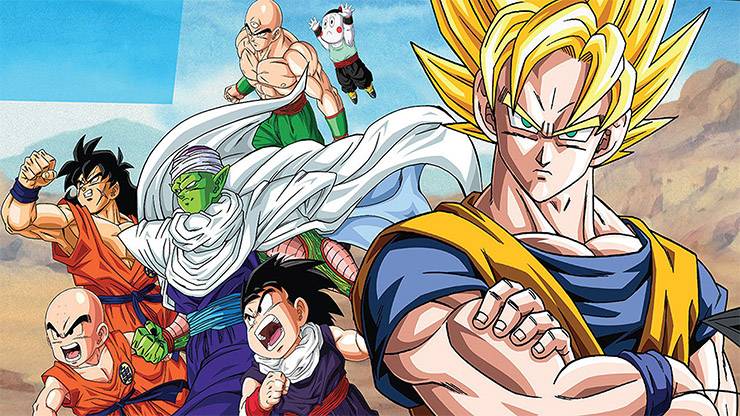 Dragon Ball Z is full of fantasy and action with its plot based upon the superheroes and their ultimate powers. The world is on the verge of chaos as fighters and monsters have invaded it. It is the extension of the series dragon ball but intensifies the invasion and the counter attack of savers of world with their foes.
Goku was handed over the entire responsibility of delivering the mankind and their planet from destruction.
I am sure you will enjoy the series because of its action plot and amazing character development.
47. One Punch Man
Saitama had queer yet extraordinary power, that was his punch. Yeah! It may sound strange but he was capable of killing anyone with just one punch.
This fantasy, super heroic plot with a touch of comedy discusses Saitama and his arduous efforts in becoming a super hero. He started getting bored of his powers and wanted something thrilling in his life. He found no other person who was capable enough to fight with him.
His life becomes a little interesting when Genos became his disciple.
Give it a go. I guarantee you that it is going to be really fun.
46. Diabolik Lovers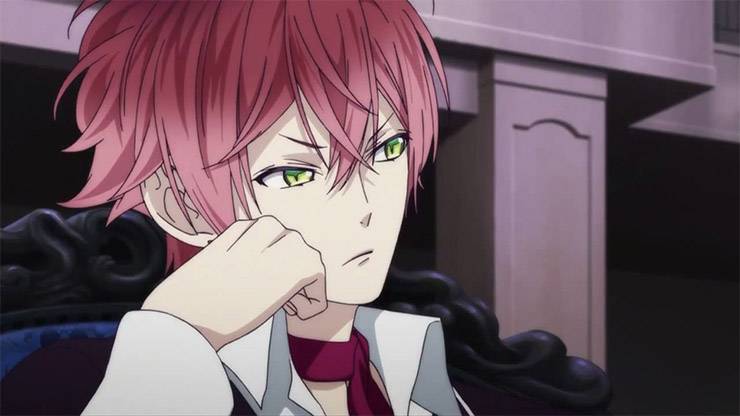 Just imagine how you will feel when you are left all alone in a house full of vampires. Off course your answer is: appalled. Same is the case with Yui Komori who was sent to a new town by her father. In her new house she met five vampire brothers from three mothers. Every man was more barbarous than the last one and was continuously making the young girl feel terrified and uncomfortable. Her blood was their lust and they wanted to satisfy it at any cost. Will she be able to save herself from the vampires?
45. Attack on Titan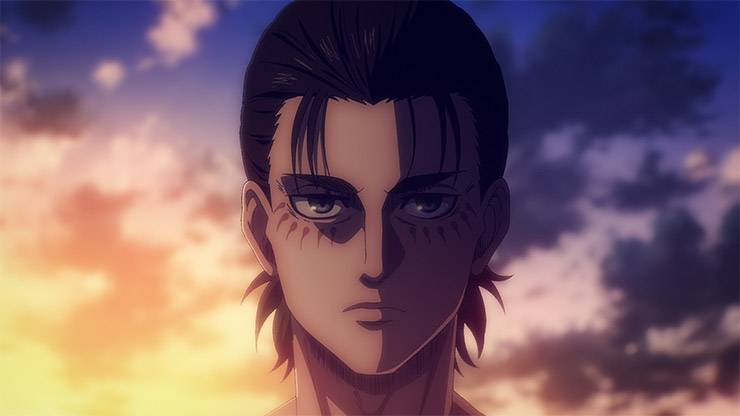 The great fantasy story based on the fire of taking revenge from the monstrous creatures and exterminating every single titan. This was the main goal of Eren as her mother was eaten alive in front of his eyes by titans.
The world was at the verge of chaos. Everything was at stake when titans attacked the planet. The strange thing about them is that they don't do so to fill their appetite but just for amusement and fun.
The plot and character development is amazing. You will love it if you are into fantasy genera. It is a must watch for the people who love fantasy genre.
44. Fullmetal Alchemist: Brotherhood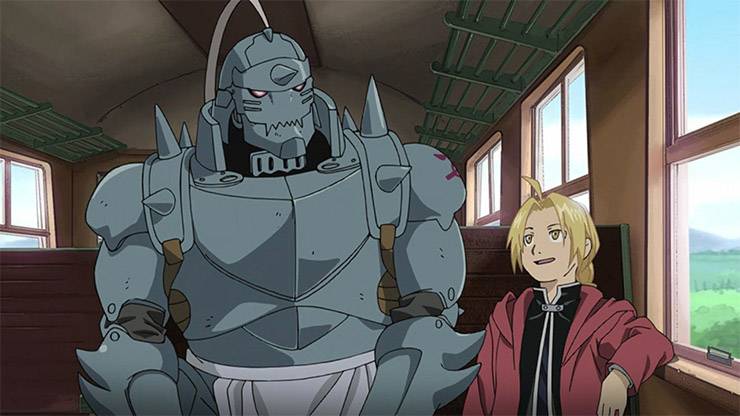 This anime series is centered upon the story of two alchemist brothers. A tragic incident took place as they tried to disobey a law of Alchemy. Resultantly, their physical forms got mangled. One lost his soul and the other gained mastery in metals.
A very strong plot and great graphics and sound is a must watch for anime lovers of all genera.
Seeing two brothers trying to compensate for their past mistakes and trying to regain their lost form is remarkably amazing and off course captivating.
43. Kimi no Na wa.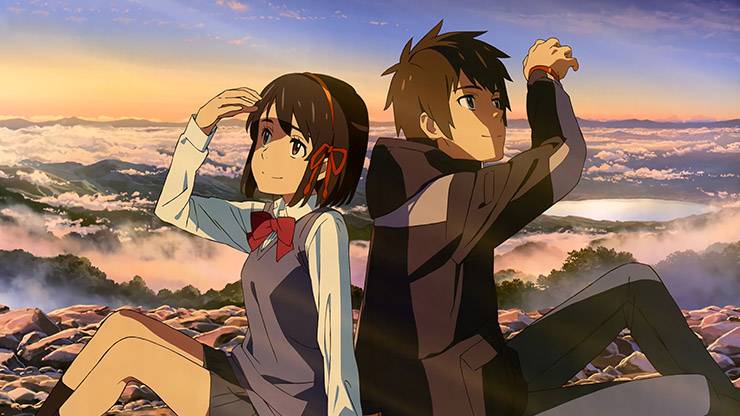 This Japanese drama and fantasy anime with a touch of romance revolves around an ordinary girl, living a busy simple life in a village and an extraordinary boy living a remarkable life in Tokyo.
As the story progressed, an unusual turn took place. Their bodies got swapped with each other. The girl woke up in Tokyo living the boy's life and the boy experiencing the tragedies of the girl's life.
The plot is really interesting and reveals certain inquisitive facts about their lives. It is a strong recommendation for all of you. Please give it a chance. I am sure you will be in deep love with every character by the end.
42. Peach Girl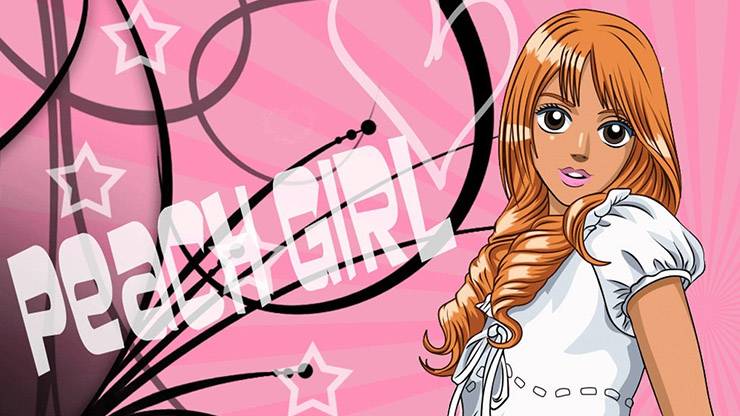 Peach Girl is the story of a pretty but somehow wild looking girl who aimed for very simple things in her life. Her friends, family and a boyfriend was all she wanted. She had feelings for one of his classmates. She was extremely heartbroken when she got to know about her snake friend who was jealous of her and spreading false rumors about her. Will she be able to defend herself In front of him?
I guarantee you that you are going to recommend it to your friends after watching it. The animation is a bit weak but the plot itself is strong enough to compensate for it.
41. Brothers Conflict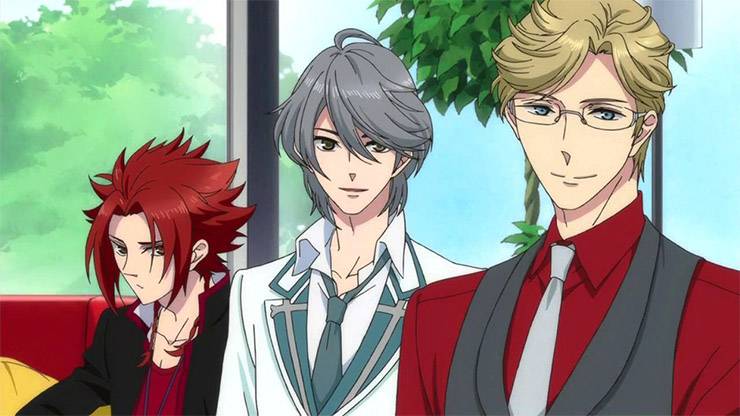 If you are a teenage girl and fantasize about reverse Harem, this anime is one for you! A high school student named Emma who grew up without a mother and stayed alone most of the time because of her father's busy schedule finds out that she now has to live with her 13 brothers! All of them are super handsome and possessive about her. Emma moves in the new house as soon as her father gets married to the single mom of 13 brothers. The story takes an interesting turn when the boys don't agree to accept Emma as a sister but as a lover. The anime only has 12 episodes and in order to find out who she ends up with, the audience will have to move to the Manga
40. Akame ga Kill!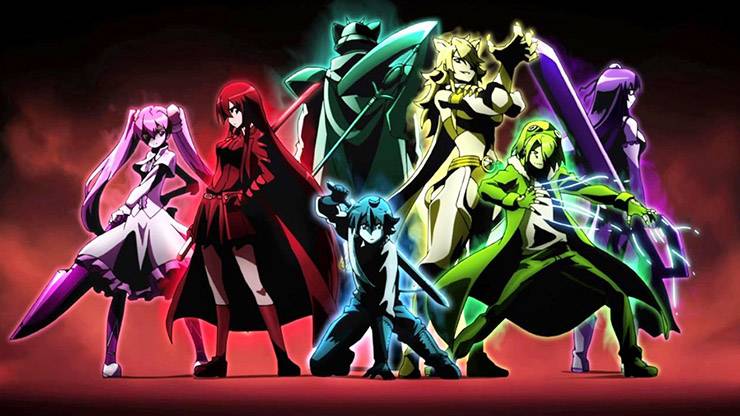 A supernatural story with science fiction plot is indeed very interesting to watch. The Revolutionary Army's hidden assassination branch, Night Raid, was formed to destroy Prime Minister Honest, whose selfishness and hunger for power has led him to exploit the young emperor's inexperience. The remainder of the country is left to wallow in poverty, turmoil, and disaster without a strong and compassionate leader. Despite the fact that the Night Raid members are all skilled murderers, they recognize that killing lives is not something to be proud of, and that they will almost certainly face retaliation as they relentlessly destroy anybody who stands in the way of the revolution.
39. Akagami no Shirayuki-hime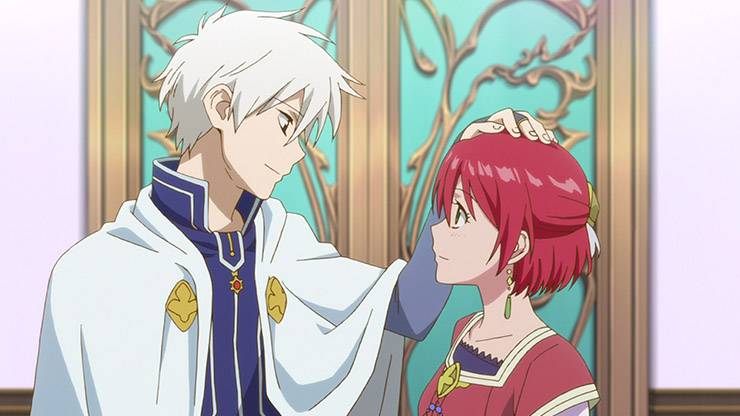 The story is based upon the struggles of the protagonist character Shirayuki for her freedom. She worked as a drug seller at a herbal shop and her life took a sudden turn when a prince wanted het to be his concubine which she denied at once as she loved her freedom
To escape for his life she cut her beautiful red hair short, the reason for which she was called Snow White and hid herself in a forest where she was saved by another prince. She later developed a personal relationship with the one who tried to rescue.
This really interesting plot involves the game of chase and kill and you will enjoy the plot.
38. K-On!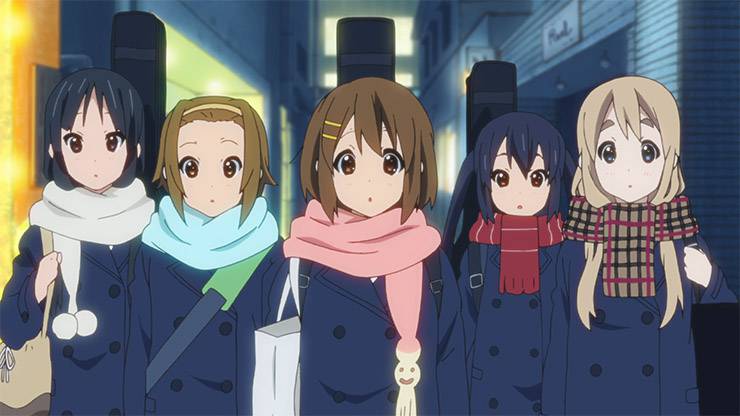 A must watch anime series for all the realistic anime lovers especially high school students like you and me.
The plot begins with Hirasawa Yui, a young girl who has just stepped into high school. Unintentionally she ended up signing a posture for the "magic light club". The club was recruiting musicians and band members. The problem was that the protagonist has never ever played a guitar in her life. The story unfolds with some great enchanting facts about her journey in becoming a pro guitarist and performing at clubs.
37. The Future Diary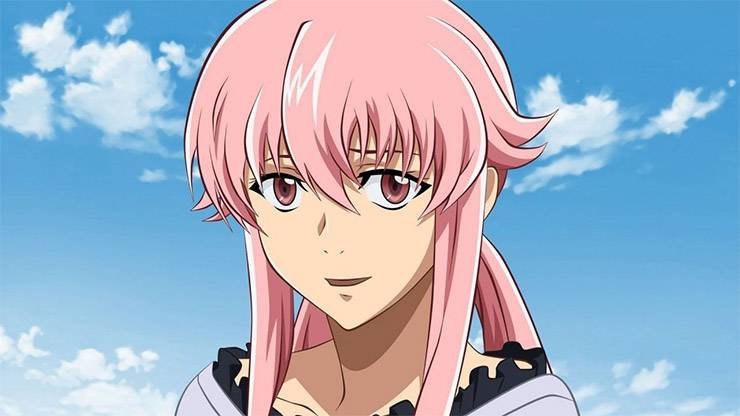 The Future Diary like the previous one is also a reality based story with a little involvement of fantasy and amazing character development ass well as progress.
The story is based upon the desires of a boy named Yukiteru Amano who aims at becoming the descendant of God by using the power of his diary. The diary wasn't ordinary. It was mort worthwhile than a fortune teller ad it contained all the happenings of the future.
Will the boy succeed in achieving his goal and how will tackle the challenges that hinder his way?
You will surely watch and will be able to answer the questions.
36. Fairy Tail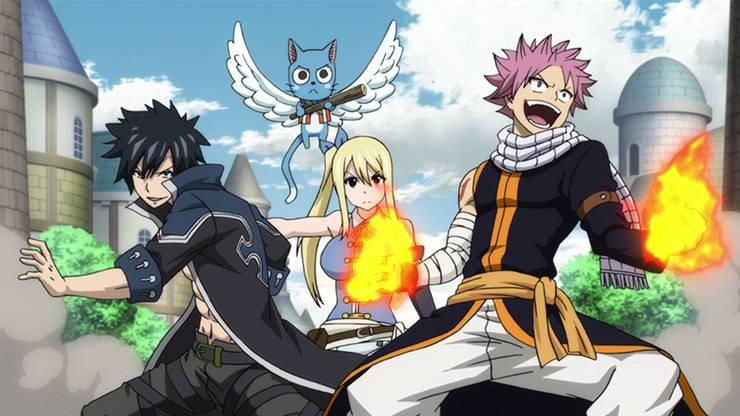 Fairy Tail is centered upon the story of a young girl and her quest to find heavenly gate keys. In a world, where magic is a very ordinary thing common among most of the people, the protagonist character aimed at becoming the member of the guild. Guild was ill famous and doomed as their members were not hesitant at all in massacring a town or even a city just for the completion of their mission.
The fantasy aspect and graphics of the anime will captivate you surely.
35. The Tatami Galaxy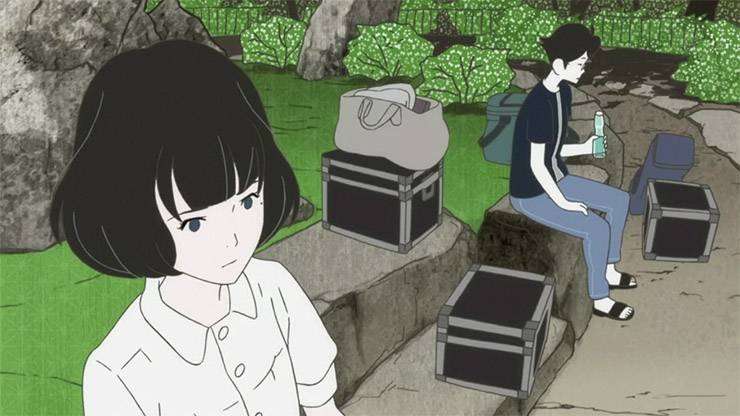 The Tatami Galaxy is the perfect anime series for those who love science fiction genre. The story focuses on the struggles of protagonist to use parallel universes as a plot device to bring uniqueness in his life. The protagonist joins a club as a first year student but leaves it when not get fascinated. He meets Ozu, another student, whose encouragement sets him on a task of ambiguous morality. He developed his love interest in Akashi, a second-year engineering student. He makes promises of love and romance. |In short, the story revolves around fantastic and artistic Yojouhan Shinwa Taikei stories, his misadventures on a journey to make friends, find love, and experience the rose-colored campus life he always dreamed of.
34. Ookami Shoujo to Kuro Ouji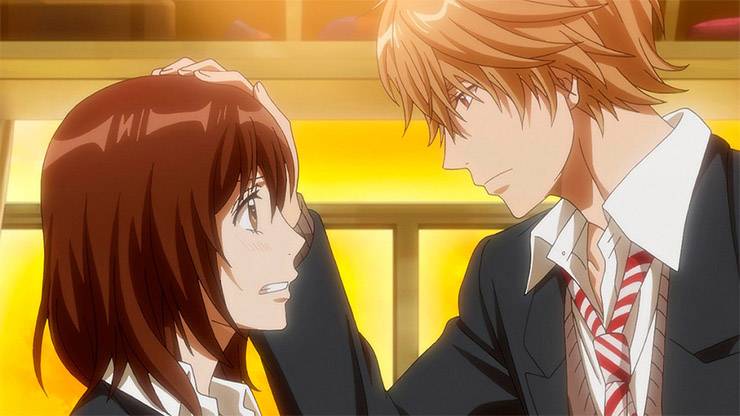 The story is centered around a young 16 year old girl, trapped in her own blunders and her efforts to save herself from humiliation and embarrassment.
She lied about her love affair to her high school friends and unthinkingly she showed a photograph of a person stranger to her as her boyfriend. The stranger however, was known to her friends as the renowned man "Kyouya Sata" who appeared to be very gentle and kind
The girl tried her best to conceal her lies and unwillingly became his "dog". In return, he acted as his fake boyfriend but her generous side was proven fake very soon to the girl because he ill treated her. The girl fell for him. Will the boy ever change his behavior towards her fake girlfriend?
33. Black Butler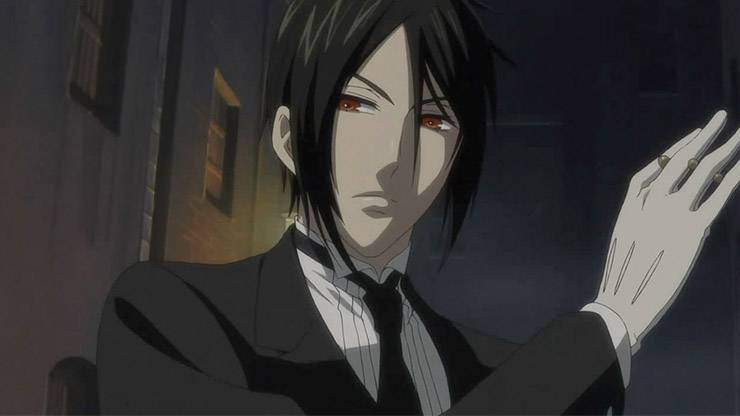 Another anime plot revolving around the adventures and hardships suffered for seeking revenge from foes. The story is centered upon Ciel Phantom hive who can cross any barrier and can reach any extreme stage just to seek revenge for his past sufferings. He sells his soul to a demon who fulfils his responsibility and arrive on every call from his master Ciel. He serves for his majesty and his secret was completely hidden.
The story, graphics and sound are all great! You will love watching the anime series.
32. Ao Haru Ride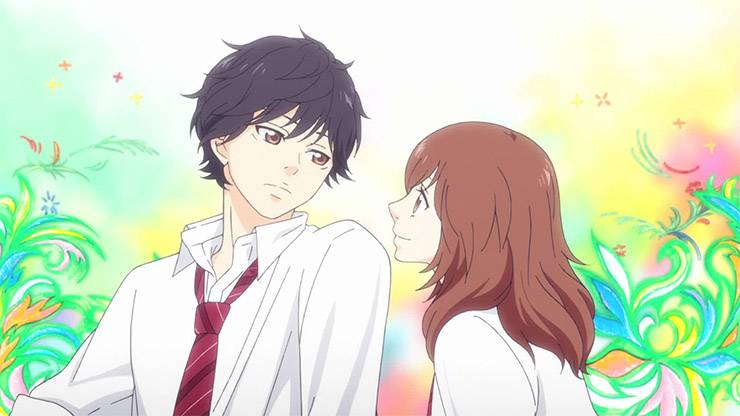 A unique and very interesting anime series displays a little touch of love and fortune. Futaba Yoshioka was a young middle school girl and very much popular with the boys of her school. Her only love interest was his school mate Kou Tanaka with whom she developed understanding during a rainy day.
In middle school she avoided attention and opted for a rom boyish look. Her life was utterly transformed when she again fell for the new version of his previous love interest.
Let's how the story develops further. Hope you love this Japanese anime.
31. 91 Days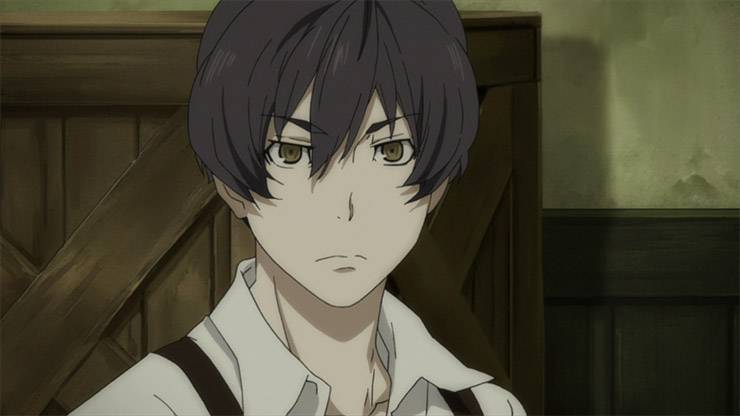 Another anime plot based upon the revenge of Angelo Lagussa who lost his father, mother and his brother. In short, everyone who was close to him. Burning in the fire of revenge he left his identity and his town to seek revenge from his foes
After sometime, he returned and befriended his enemy's son. He sharpened his skills and used them to put out his fire of revenge.
A very inquisitive plot with great unfolding of storyline hits differently and is a must watch.
30. Pandora Hearts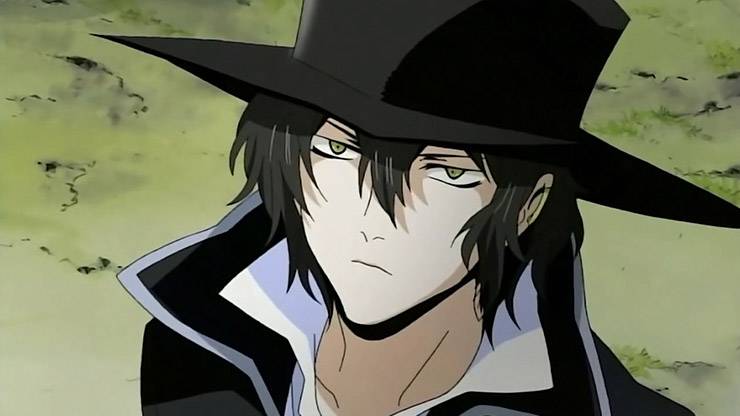 The main character Oz Vessalius has just turned 15 and is only heir of Four Dukedoms. His life is relaxed, the only hole is his father's absence. His life takes a big turn at his birthday when he has to un-reveal the mysteries of Alice. Alice is a chain that can save him from prison he has been casted as he turned fifteen.
29. Death Note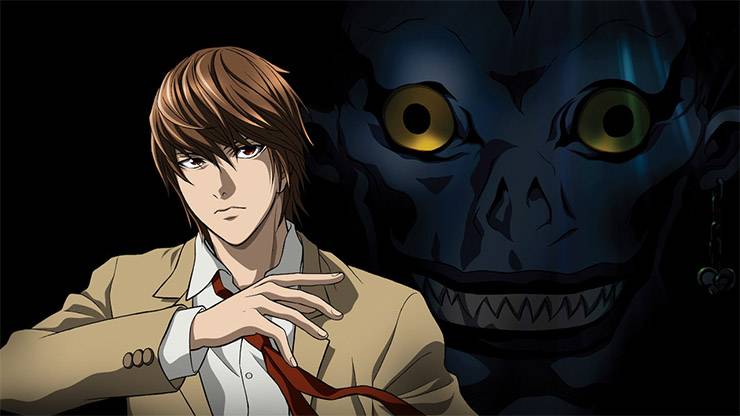 If you are interested in violent and action-full anime Death Note is a perfect choice for you.
The human world is polluted by brutal killings, petty burglaries, and meaningless cruelty. The world of the death gods, on the other hand, is a mundane, unchangeable gambling den. Light Yagami, a brilliant 17-year-old Japanese student, and Ryuk, the cruel god of death, share one belief: their worlds are rotten. Ryuk releases his "Death Note" into the human world for his own entertainment. Light comes upon it and laughs at the first of its rules: the human whose name is recorded in this letter will perish. Light, however, succumbs to the temptation and tries writing a felon's name, which uncomfortably reenacts his first murder.
28. My Little Monster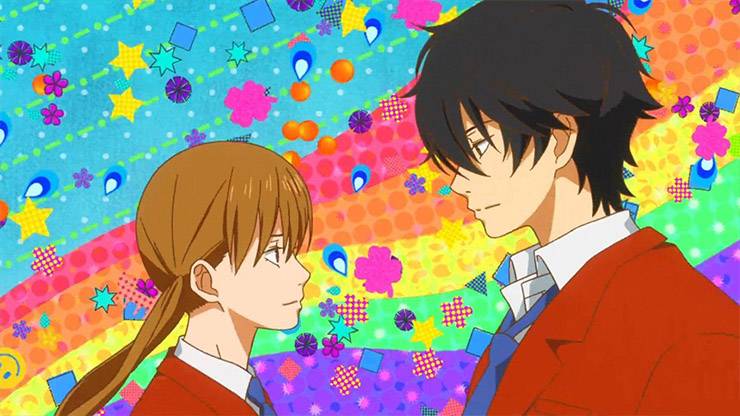 A wonderful masterpiece in anime world is none other than My Little Monster. A storyline based upon understanding, friendship with an outburst of emotions. Shizuku Mizutani is a high school student, very focused on her goals and struggles to achieve them. Nobody was able enough to distract her and divert her attention. Not even her friends as she had none.
Her journey took a turn when she developed an attraction for a boy at his school notorious for his violent behavior. She befriended him and gradually developed feelings for him. Falling for him will she be ever able to confess her love?
The story itself is strong enough to compromise for the sound and graphics. Give it a go! You will love the progress.
27. Tokyo Ghoul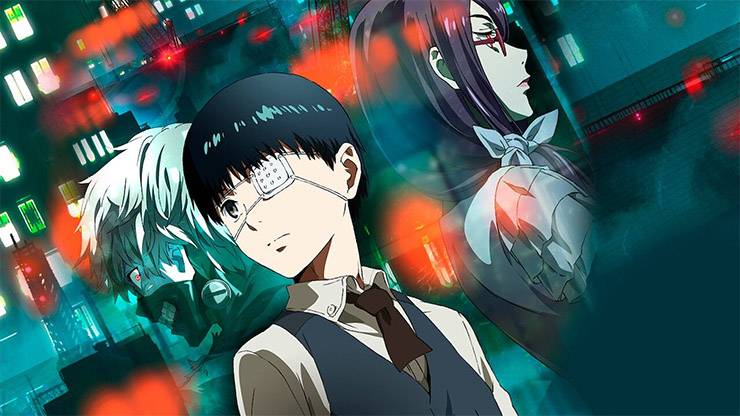 The story takes an innocent start where a teenage boy named Kaneki Ken has a crush on a girl who comes to read her book in the cafe. He asked her out and fortunately she says yes! And right after that, Kaneki's life changed into hell. His crush Rize is In fact a ghoul who tries to eat him at the end of their date. Fortunately Rize is killed by an accident while Kaneki gets severely injured so the doctor transplants Rize's organ into Kaneki in order to save him, making him a special ghoul. The anime is about Kaneki's new life as a ghoul, adaptation to different kinds of food, fighting the urge of eating human meat and protecting his people.
26. Toradora!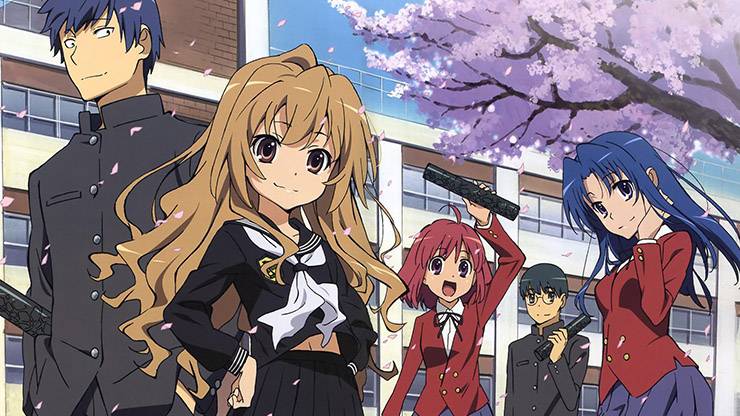 Toradora! is an anime with an orthodox yet appealing plot. Ryuuji Takasu, a boy fond of housework, is notorious at his school just because of his looks and his sweeter side was covered. His classmate with entirely opposite behavior is Taiga Aisaka. The story becomes interesting when they get to know about each other's crush. The boy's crush was the girl's best friend and vice versa.
Will they help each other or instead fall for each other? If this question seem interesting to you then this anime is for you.
25. Black Clover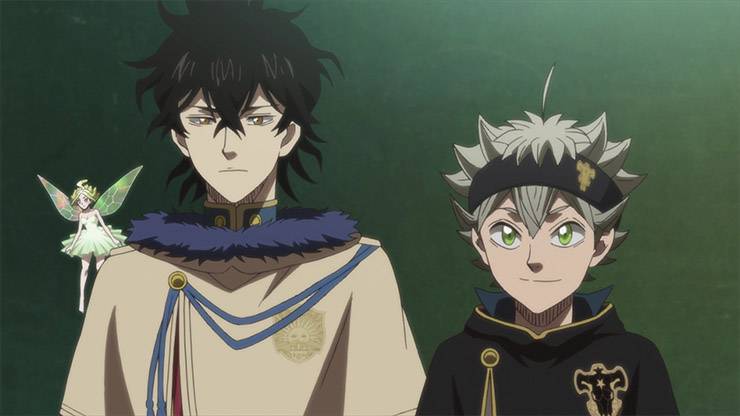 In a magic world, two children Asta and Yuno were left alone at a church. They grew up together with a single motto and that was to defeat the "wizard King". Despite the same goal, they weren't blessed with the same powers and abilities. Yuno was very blessed while Asta had nothing. All magical powers were bestowed upon Yuno and he was gifted with a magical spell book. This time, Asta didn't remain empty handed. He received spells that can oppose Yuno's spells. Both the competitive with common dream are trying their best to achieve it and are not going to abandon it at any rate.
It is a heartily recommendation to all of you.
24. Hunter x Hunter
Hunter x Hunter is a detailed anime series with six seasons and many episodes. The story sets in a world where hunters to all kinds of dangerous task like seizing animals and digging out treasures. The story creates a spark when twelve years old Gon Freecss have major goal in his life to become the best hunter and to find his father who left him a long time ago. On his journey to become the hunter he makes three best friends who have different passion. He and his friends, the lively doctor-in-training Leorio, vengeful Kurapika, and rebellious ex-assassin Killua takes a deadly exam to attain their goals which have high chance of their death.
23. Inu x Boku SS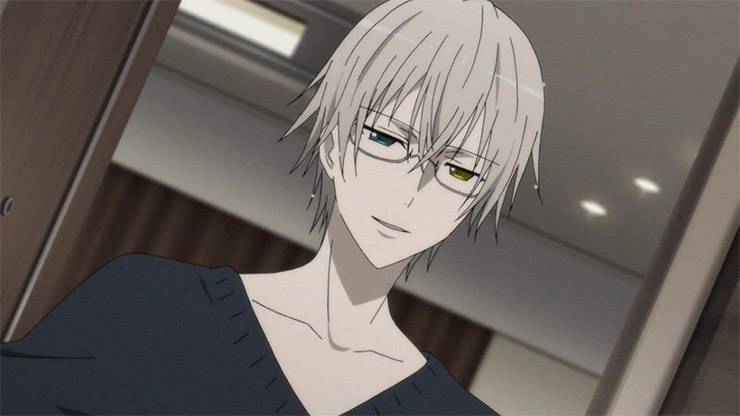 Fans of supernatural anime, here is your favorite thing. This anime contains a very good looking guy with a gentle personality named Miketsukami Soshi who is actually like a bodyguard of a 15 year old rich girl named Ririchiyo. The young lady has demonic ancestors and she herself possesses special powers. Her fiance Kagero is also a very funny character in the anime and although he was engaged to Ririchiyo but he never actually took any interest in her and all the letters he wrote for her fiancé were actually written by his SS Miketsukami and Ririchiyo ends up falling in love with Miketsukami.
22. Orange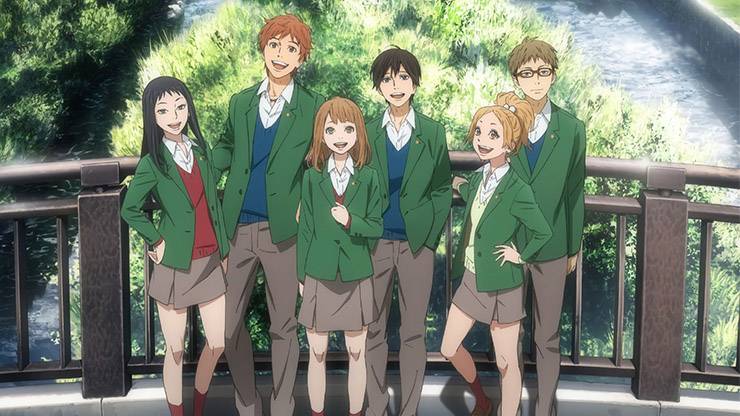 If you are looking for a good show that will make you cry with the cruel emotions, this anime has to be put at the top of the list. Orange is a really good anime about the awareness of suicide. How you can save someone's life by being a little alert. The story revolves around a bunch of high school students who start getting letters by their future self. Their classmate Kakeru who stays depressed but has a hard time expressing his feelings. In order to avoid the mishap to happen, the future self-guides their younger self to take care of him and they end up saving him!
21. Super Lovers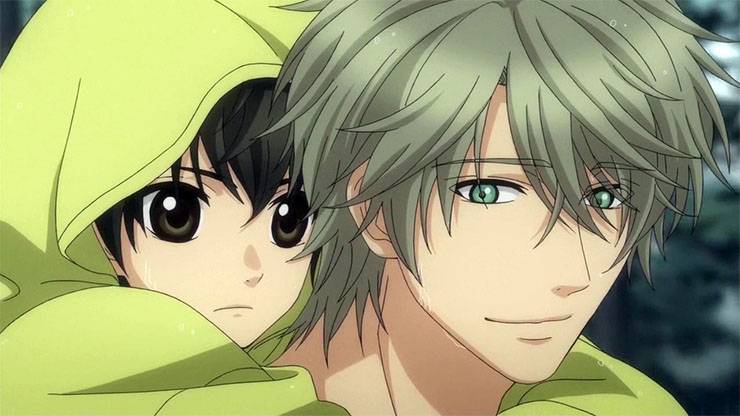 An anime about a couple with the age difference. Haru goes to spend his summer with his mother and finds out that his mother has adopted a kid named Ren. Although he looked like a normal child, but he was really cold and lacked manners so Haru was given the task of taming him. Fortunately he is successful and Ren stops being rude to him but instead he develops a special kind of feelings for him.
20. Kimi ni Todoke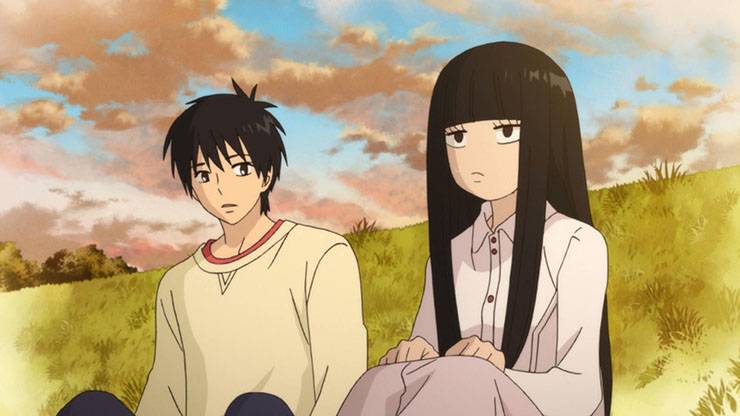 The most interesting love story of a sweet young girl who is high school student and do nothing but to help others. Despite of her gentle nature she's always misjudged because of her appearance. "Friends" is a thing unknown to her. Her life changes when a boy, the popular boy Kazehaya, begins talking with her. Little flowers of love blossom in her heart for him and people started making her friend. The real obstacle and mystery start in the story when they fall in love and hurdles are waiting to destroy it.
19. Guilty Crown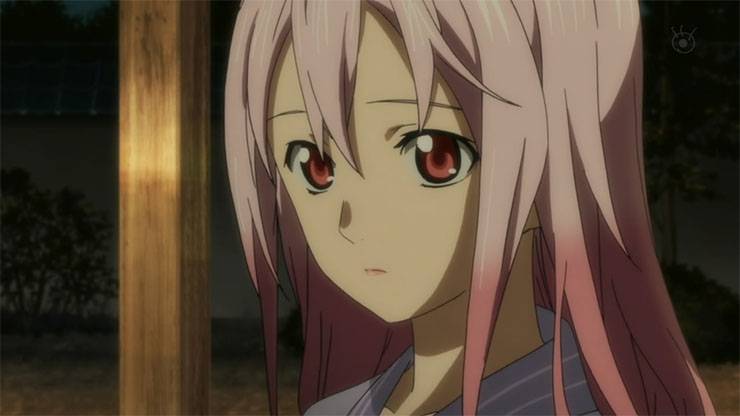 The plot and setting of the anime is of many years later. An interesting effect of virus spread in year 2029 in Japan. The virus plunges the country into a chaos which was called as "Lost Christmas". An independent martial force take control of county by martial law at the cost of its freedom. Shu Ouma, a 17-year-old high school student meets a famous singer and get to know that the despite of wonderful singing, the singer is trying with a group, Funeral Parlor, which is trying to free Japan from forces. Shu Ouma starts to take part in the group and help with it.
18. Aku no Hana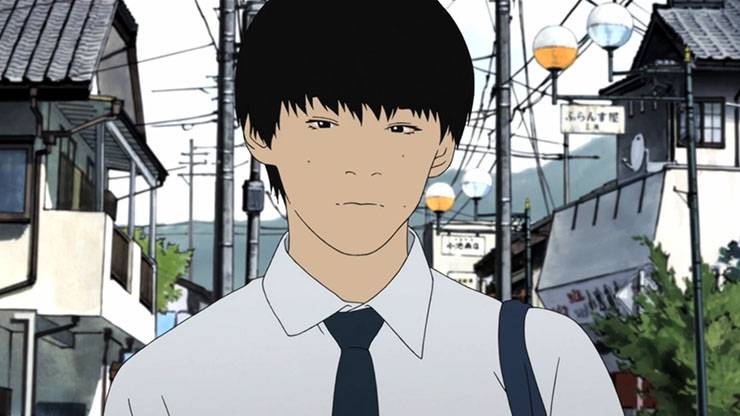 Aku no Hana is the sweetest example of one-sided love. The story starts when a young high school boy who is the biggest fan of books specially Baudelaire's Les Fleurs du Mal. Kasuga Takao, one day, forgets his Baudelaire's Les Fleurs du Mal in the class and when he go to pick it he see there the uniform of the Saeki Nanako. Saeki Nanako is his muse and crush whom he admires from a distance. Instinctively he steals her uniform and a weird girl of class saw her taking it away. The story takes a twist and create trouble for Kasuga Takao when on one side he is in the guilt of stealing uniform and on the other side the weird girl is using him for it.
17. Ouran High School Host Club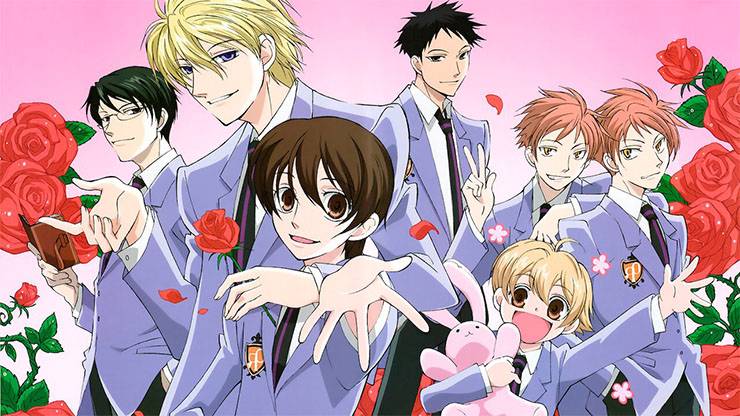 It's hard to think of funny anime series and not including this one. The anime OHHSC is rich with humor and love. A middle class girl Haruhi gets a scholarship into a very high profile school where only rich kids go to. She accidentally breaks a jar which costs a lot of money and in order to pay her debt, she works in the Ouran host club with the handsome guys and her life changes dramatically after that.
16. Kaichou wa Maid-sama!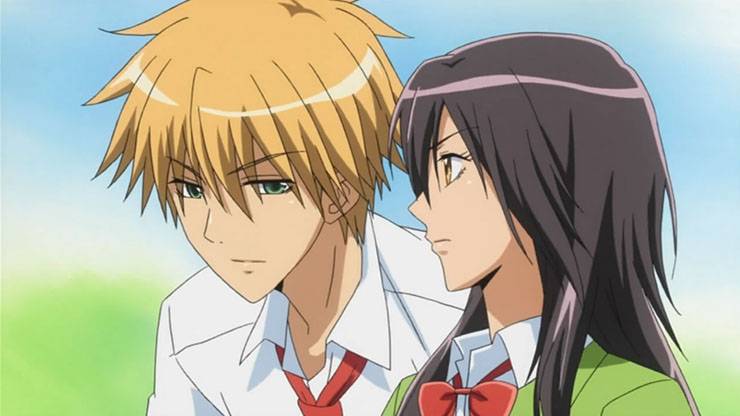 This is one of the most popular Shoujo anime and probably the first Shouju anime for a lot of people. Sekai High school was an all male school until recently when the school started admitting girls too. Misaki Ayuzawa, a very cold and extremely hard working Tsundere who is the president of the school and at the same time, secretly works in a cafe to help her family financially. Usui Takumi is a mysterious boy with a hidden past and takes little to no interest in anyone but Misaki. Will the boy fulfil his moral responsibility to conceal her identity?
Watch the series to get to know.
The anime series is definitely worth watching if you like Tsundere cute love stories.
15. Bakemonogatari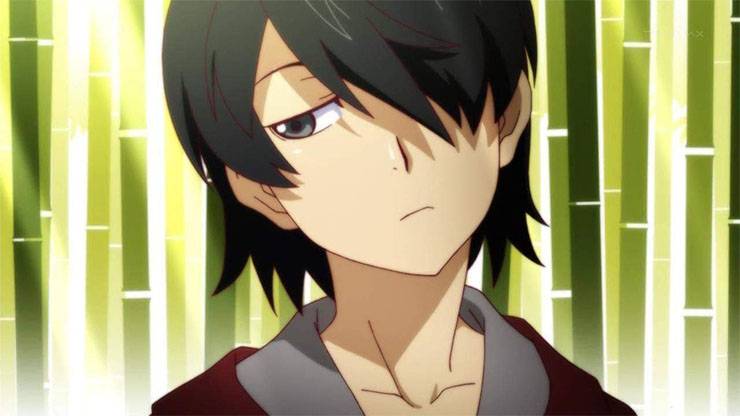 An interesting super natural plot of anime where the main character survives the vampire attack with the help of a strange man. Though he survived the attack but with several side effects such as superhuman healing abilities and improved vision. Koyomi Araragi tries to live a normal life after it. He once tries to lift a girl who was fallen from stairs and find her mysteriously weightless and decide to help her.
14. Yuri!!! on Ice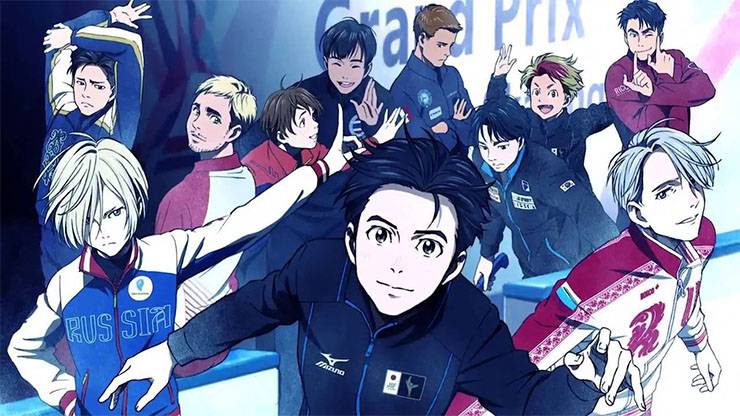 What will be your response after a disastrous defeat from something you are only good at. Yuuri decided to return back to his home and to try on something other after getting defeated at Grand prix finale. His habit of eating pork cutlets was also refraining him to pursue skating. But a big turnover came into the story when his ideal come to him and offer to become his tutor. The mystery is still there will Yurri become compatible to Yuri who is another rising champion.
13. Sailor Moon
The story is about a less than average student Usagi Tsukino who scores are declining day by day. But story takes a big turnover as main character saves the life of a cat and it turned out it was not an accident. The cat, Luna, tells her he was destined to become sailor man.
12. Berserk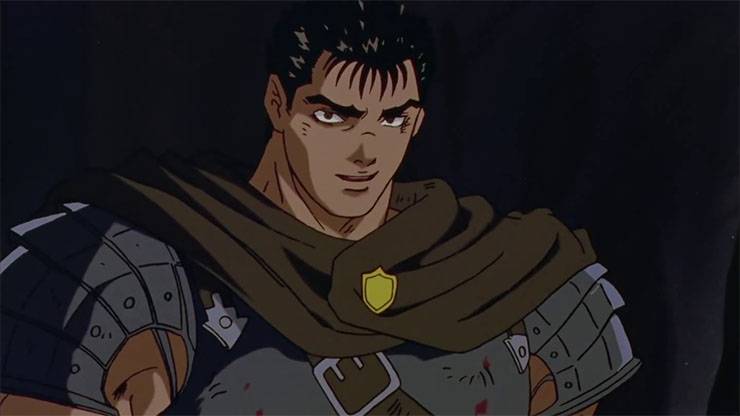 How about watching an anime where the person is continuously trying to refuse terrible fate? Guts is destined on a journey to defy such a dreadful fate, as waves of beasts relentlessly pursue him. Demons and monsters are continuously trying to kill him but in his way he also makes friends who go with him in his journey.
11. Fukigen na Mononokean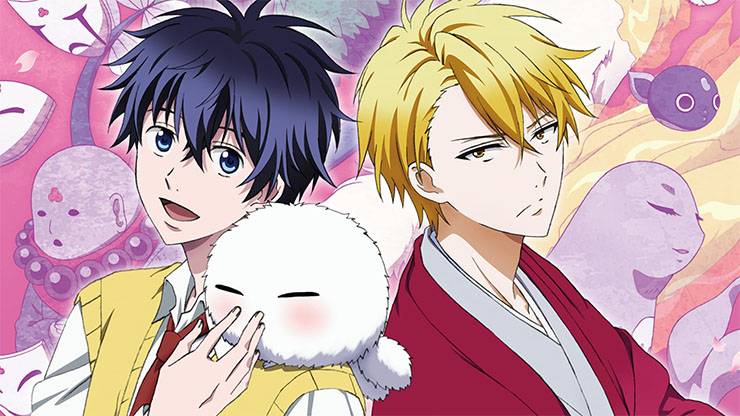 High school life is not a fun period for everyone. Fukigen na Mononokean pictures the life of a dejected and sorrowful boy in a poor condition due to the attachment of that peculiar creature. He was suffering from it ever since he entered high school and it made him ill. The turnover come in the story when Hanae Ashiya come across a advertisement of an exorcist who can take Youkai away and he is left with no choice but to seek help.
10. Hotarubi no Mori e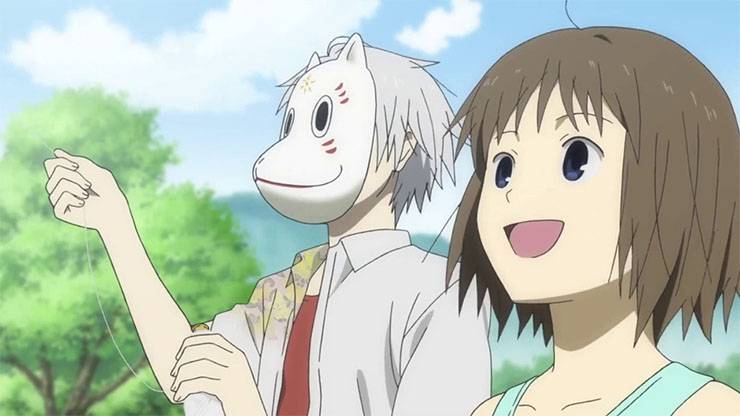 What's more interesting than watching the story of small girl who gets lost into woods. It is an anime movie with a very heart touching storyline. A little girl named Hotaru visits her grandparents in a village every summer holiday. There is a forbidden village near where she made a friend named Gin. A young man who always wears a mask and doesn't let Hotaru touch him. As the years pass by, Hotaru grows up into a teenage girl but Gin doesn't age at all. Both start developing feelings but as soon as a human touches Gin, he will disappear
9. Noragami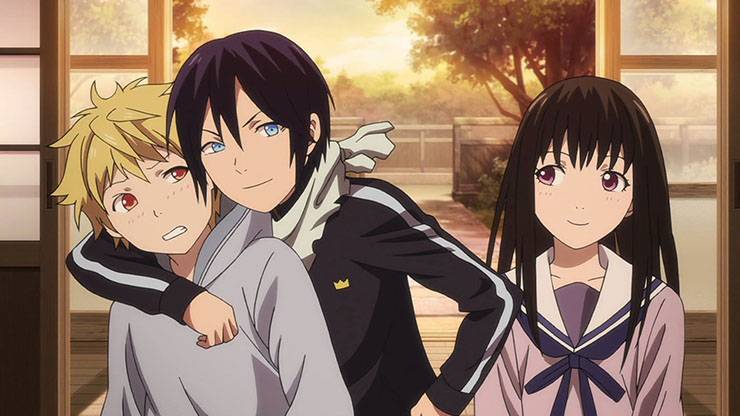 One cannot call himself anime lover if he hasn't watched Noragmi. The story revolves about self-proclaimed god who got nothing but the. Fantasy of having countless worshippers. He doesn't have his own shrine and his only partner also leave him. His luck changes a bit when a young girl saves him from an accident and got hit for him. And as a result, her soul become divided to two different worlds. One is normal world of human and the other of demon and spirits. She asks the self-proclaim god to make her normal and so the real adventure in the story starts.
8. Mushi-Shi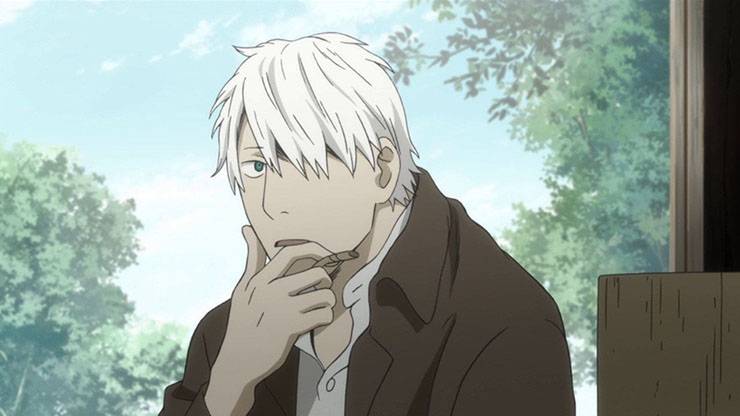 A weird kind of organisms appear in the world that can convert in any form or take any shape. Apparently, humans can't perceive what are Mushi creatures because they live taking form a lot of other species. Ginko who is the main character of the series has the special power to see and perceive them. He called himself Mushi master and travel from place to place to help people who are suffering due to this dangerous specie. He is man with appealing green eyes who not only can see Mushi but also entices them. A definition of real hero who is focused to save people from the attacks of Mushi.
7. Tactics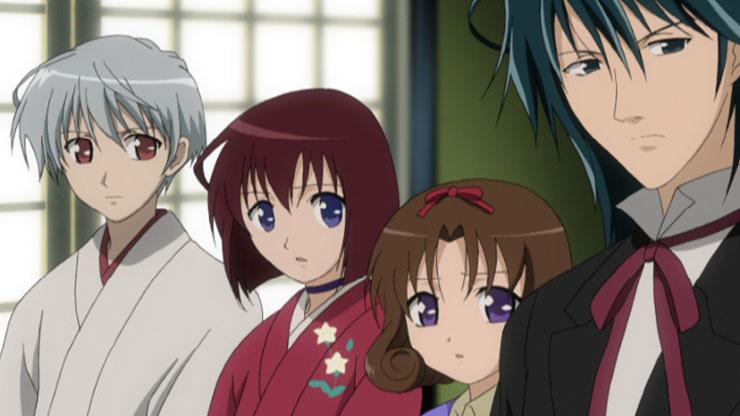 A story about a young boy who have supernatural powers to see demons. And his quality instead of making him famous among his human circle made him distant and ignores from them. But he makes friends with demons and they told him to get better powers he must find oni-eating Tengu and name him. He has to do it to become the human master. He after much effort finds a shrine where Tengu is sealed away. The next part is mystery for you which you have to unfold yourself.
6. Hell Girl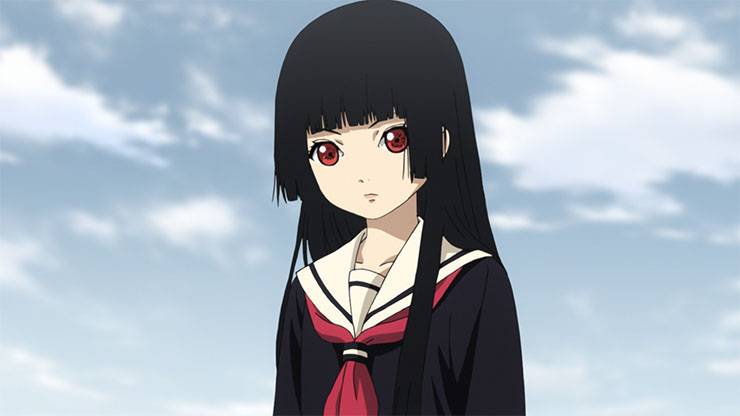 What's more interesting than a website who takes revenge for you. If anyone harmed you or you just have personal grudge against a person you just need to appear at that mysterious website midnight and name them. Hell girl takes revenge from those whether they deserve It or not and show them the proper way to the hell. The most talented revenge taker who works for strangers swiftly and aptly with the help of three straw dolls.
5. Nyan Koi!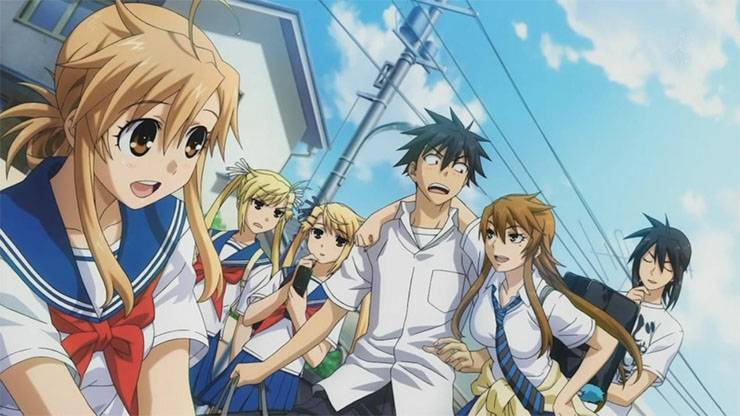 A story of second year high school student who is allergic to cat and to his doom surrounded by every cat love including his best friend and crush. One day while throwing a trashcan, Junpei Kousaka accidently breaks the cat deity statue. They cursed him with the ability to listen and understand cat language. He keeps it secret to prevent people from doing the same he accidently did. Either Junpei Kousaka will now do task assigned to him for the cats or he will be turned into a cat which is ultimately a death for him.
4. Kamisama Kiss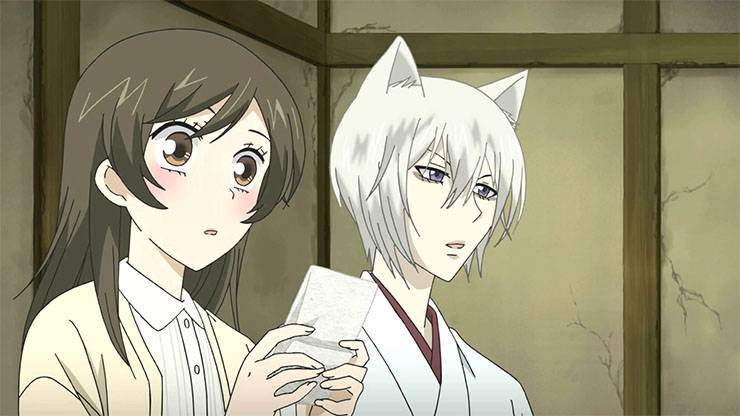 One of the best Shoujo anime. The story starts when a happy go lucky girl Nanami gets homeless and is looking for a place to stay. She finds a strange man who tells her the location of a shrine and kisses her on her forehead and goes away. Nanami goes to the shrine but feels like she was pranked but when she is about to return she witnesses the spirits! The shrine is protected by a handsome fox boy with white hair, wolf ears and a tail. The wolf demon named Tomoe refuses to admit Nanami as her new master but eventually they spend time together and fall in love!
3. Uchouten Kazoku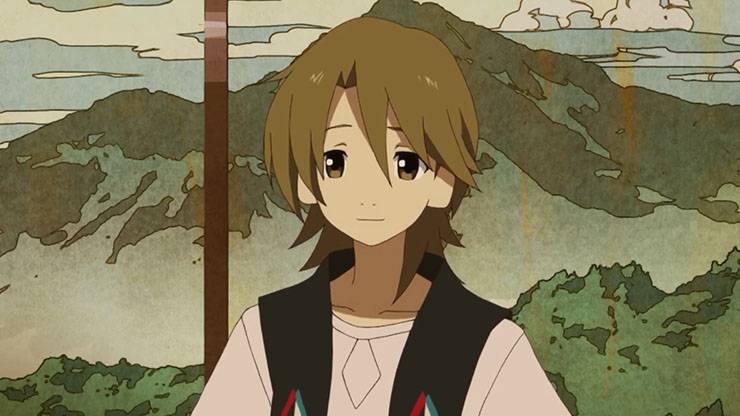 Kyoto has a weird life which is surrounded by Tanuki and Tengu for years alongside of human who have no guess of existence of these weird species. The story revolves around a Tanuki family whose third son, Yasaburou lives the life of a careless boy. The family has the power to convert them into anything they want. But their past mysteries are still following them and hindering the careless life they have. There are many challenges they have to cope while still have to maintain the life they are living. Their hardest task is to keep them save from a human social group, Friday fellows, who enjoy a meal of Tanuki hotpot at the end of the year
2. Beyond the Boundary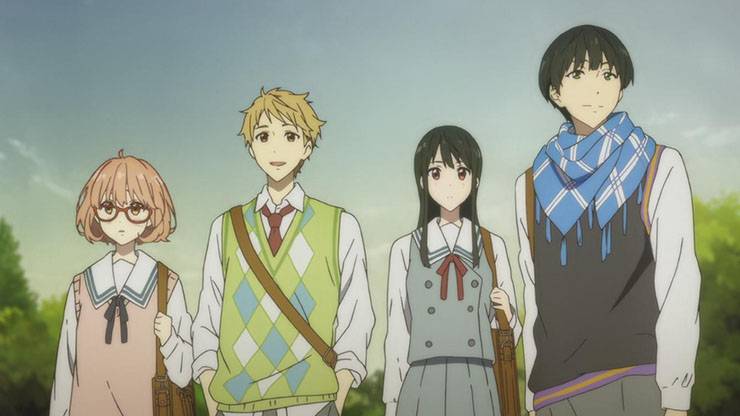 The story revolves around the planning of murder and strange friendship between two enemies. Akihito Kanbara is a special supernatural specie half Youmu and half human and is immortal. He accidently become friends with Mirai Kuriyama who is last survivor of her family and Spirit World Warrior. She has task of prevent humans from the Youmu who are supernatural species and manifestation of negative human emotions.
1. How to Keep a Mummy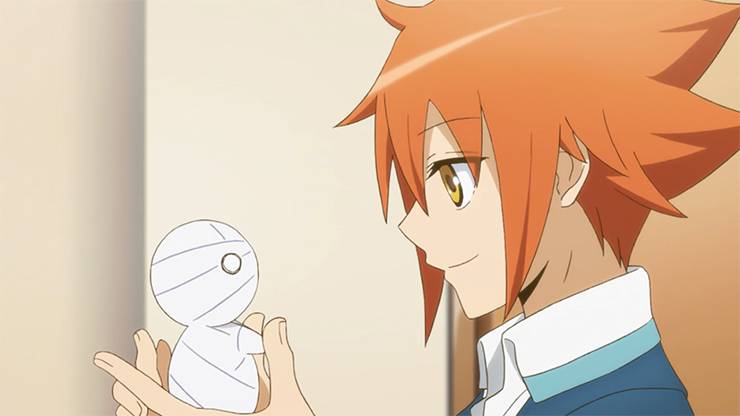 The story is about a high school boy, Sora Kashiwagi, who is receiving strange presents from his father. His father is on an expedition around the world and sends him strange things from everywhere around the world. He receive a package from his father who was in Egypt now and prepare himself for the worst but receives a very cute small sized mummy who is totally harmless and just wants care of Sora. The anime revolves about the fun life of Sora and his Present. Their bond get stronger day by day as they encounter daily task together.
That is it from today's post on Top 60 Best Anime Of All Time. If you do not agree with the points in the post and have some of your own opinions, share them with us in the comments section down below. Keep visiting Animesoulking for more information about Anime and Manga.
Also, Read:
Chandan is the writer of "Top 60 Best Anime Of All Time". Also, Connect with me on YouTube.