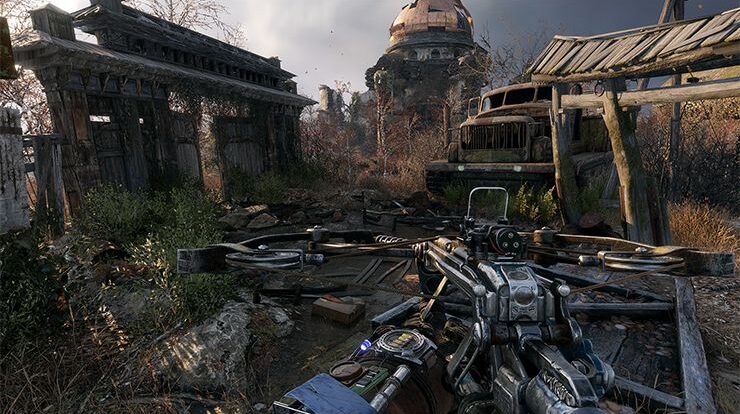 Top 15 Best First Person Shooter Games on PlayStation Plus Extra – Hey guys!. In this post, I'll be discussing a list of Top 15 Best First Person Shooter Games on PlayStation Plus Extra. Are you looking for the best first-person shooter games on PS Plus Extra? Look no further! We're going to show you the top FPS games that will take your gaming experience to a whole new level.
Get ready for an adrenaline rush as you explore these thrilling and action-packed game titles! See why millions of PS gamers can't get enough of these amazing games and why you should join them now! So, let's get started.
15. Far Cry 5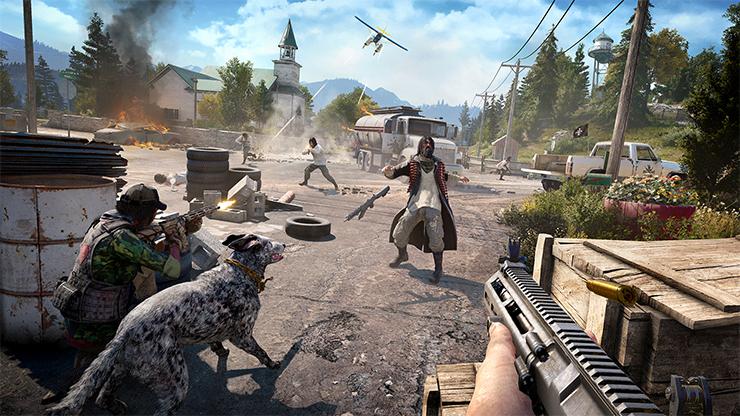 Given their open-world design the Far Cry titles are among the most enjoyable first-person shooters available. And Far Cry 5 is among the best particularly because two players may enjoy some campaign co-op fun. Even while your journey to Hope County isn't the finest Far Cry experience it's still a great entry in the series.
Everything you might want from a Far Cry game is present including raucous wildlife, larger-than-life but uncannily familiar enemies and an open-world sandbox. And most important, you may experience all that fun side by side with a friend.
14. Journey To The Savage Planet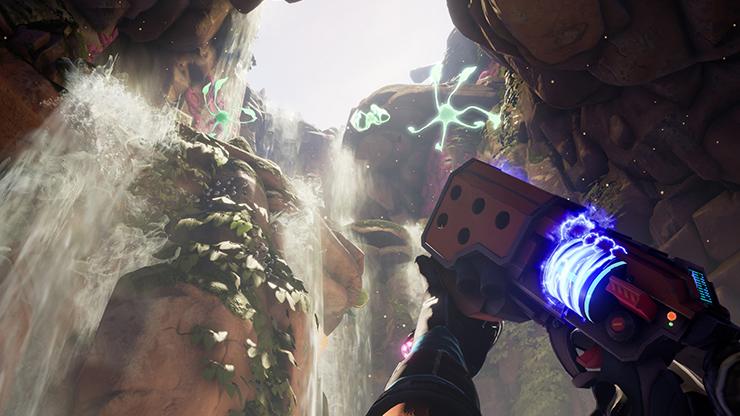 Journey to the Savage Planet is a brief yet pleasant sci-fi adventure game that drops players into a beautiful alien environment and just asks them to explore. This is not to claim that the campaign has no direction it simply means that it encourages exploration and freedom.
Players are urged to make direct contact with the weird plants and creatures that inhabit Planet ARY-26 to discover more about their potential hostile nature. As the gunplay is moderate, Journey to the Savage Planet is more of an adventure game than a first-person shooter. Despite that, the gameplay is just good enough not to distract from the whole experience.
13. Killzone Shadow Fall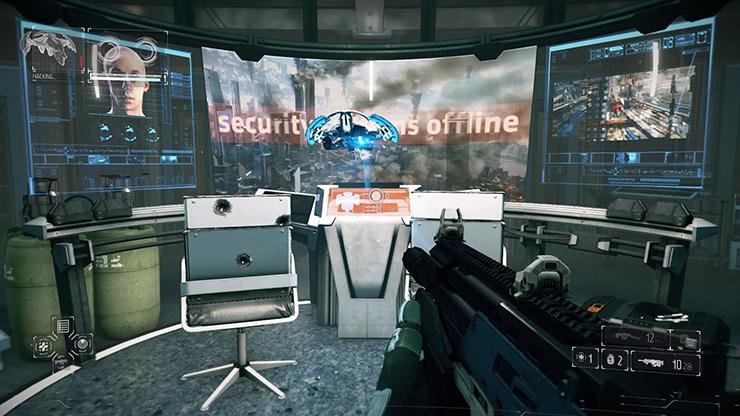 Shadow Fall is the fourth Console game in the series and it was released as a launch title for the PlayStation 4 and so includes some features that make use of the DualShock 4 controller.
Although the game is old it still a fantastic first-person sci-fi shooter and unlike a lot of other explosion-filled action games it really has a well-written story that deals with the false "Good and Bad" dichotomy we frequently see in wars.
Weapons have a real weight to them and some of the places you explore in the later parts of the game are breathtaking. Unfortunately, the outstanding competitive multiplayer mode was taken offline in 2022 making it a solely single-player experience.
12. Get Even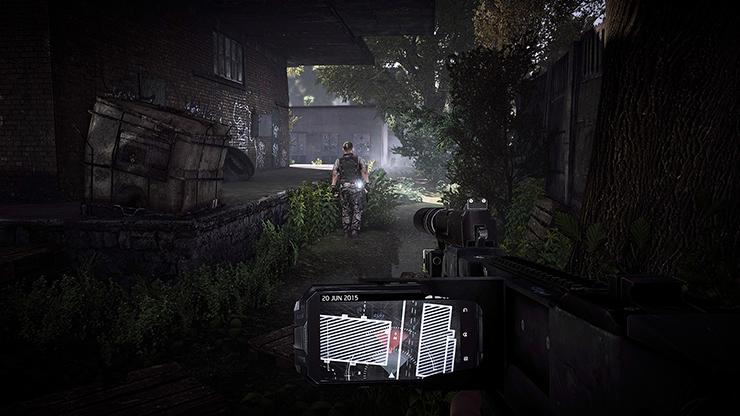 Get Even is a combination of mysterious supernatural thriller and first-person shooting that released in 2017 as a surprising hit owing to the developer's prior games being generally poor. Get Even, on the other hand astonished players with its innovative structure and gritty, fascinating tone.
It isn't the first game to use in-universe technology for a type of augmented reality but its technique extends far beyond lore expansion or world-building and instead is critical to the major plot. Of course, having enemies to blast to smithereens in between these moments is also fun, and Get Even has plenty of them.
11. Payday 2: Crimewave Edition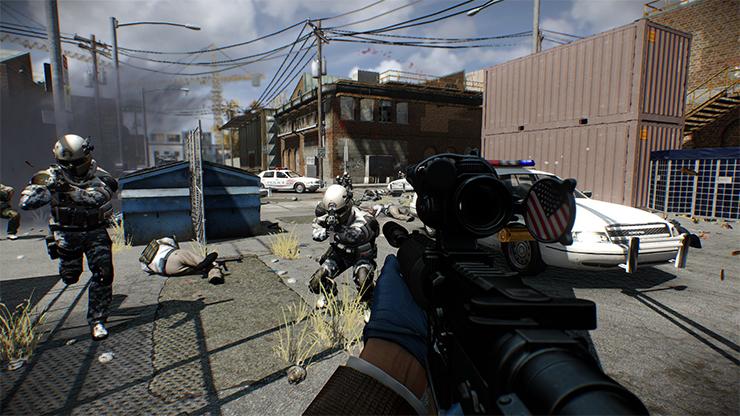 The 2013 first edition of Payday 2 obviously shows its age in some places. But the Crimewave Edition has a ton of enhancements and upgrades that the main game has really benefited from over the years.
For those who are new Payday 2 is a cooperative crime simulator in which up to four players work together to carry out a variety of thefts from simple smash-and-grab robberies of jewelry stores to complex bank vault assaults. The team is generally in charge of the strategy and it is quite satisfying to see how much thought and complexity can go into each caper.
For sure, certain missions favor particular strategies But the criminal underworld is your oyster and you can pull off a flawless stealth operation or a gunfight with all weapons blazing. Fans of Grand Theft Auto 5's heisting mechanics will surely like Payday 2. This first-person shooter includes everything a player might want in a bank robbery simulator.
10. Doom (2016)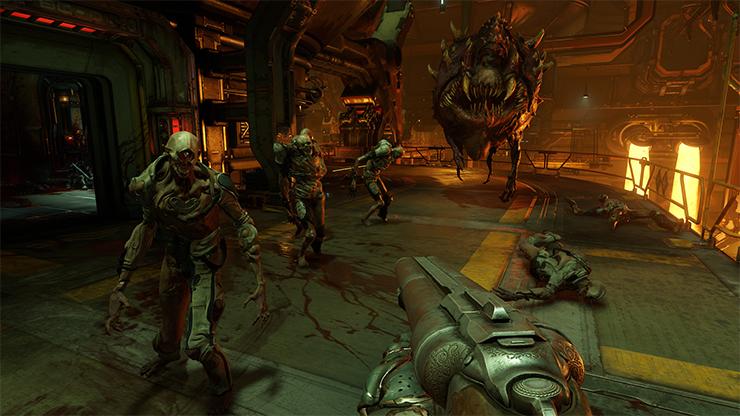 After a long break, Doom made a huge comeback in 2016. A masterwork of visceral violence, challenging, and incredibly rewarding. Doom uses the past to create an experience that seems timeless by modernizing the run and gun style of classic '90s shooters.
Doom is the gold standard when it comes to video games that offer pure unadulterated adrenaline and hardly any other title comes close to matching it. Doom's combat is extraordinarily fast-paced and incredibly satisfying. Those searching for high-octane demon-slaying fun should definitely play the 2016 edition of Doom.
9. Shadow Warrior 2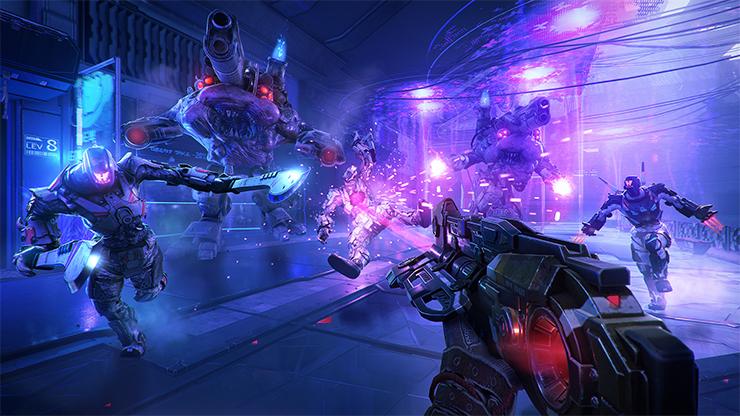 Shadow Warrior 2 is a run-and-gun shooter with enjoyable melee combat. While the gunplay is pretty typical for the genre the game shakes things up with a sophisticated loot system and a lot of side content to supplement the main plot.
While the plot is simple, it serves its purpose of leading players from one level to the next so they can slay hundreds of demons along the way. Shadow Warrior 2 is really enjoyable.
8. Wolfenstein: The New Order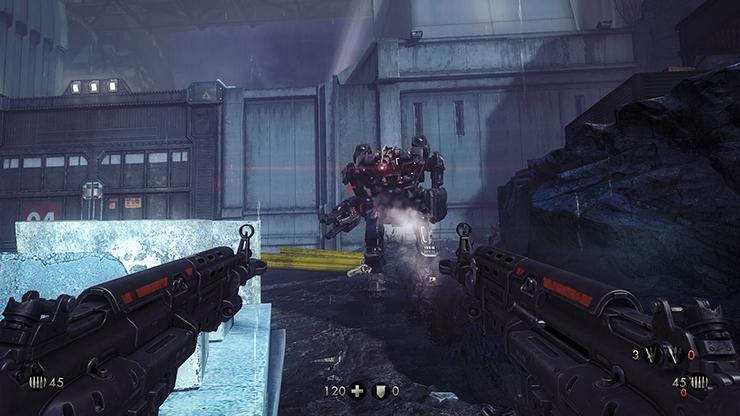 The early Wolfenstein games helped define the FPS genre and The New Order revitalizes the beloved series with a gripping narrative and precise gameplay. It combines the fast gunplay with a sprinkling of RPG tropes such as skill trees, branching narrative pathways and side missions.
The WWII alternate history story effectively weaves between the ultra-violence and bombast while still managing to connect into an emotional core with a gorgeously rendered cast of characters. With its great story and its unique level design the New Order is one of the best FPS Games available on PlayStation Plus Extra.
7. Metro Exodus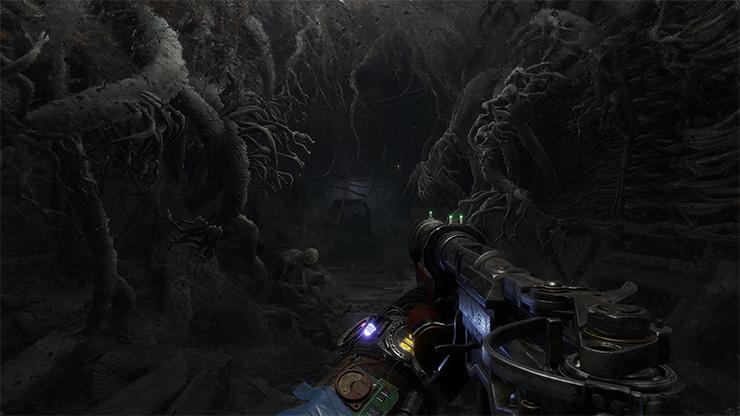 Metro Exodus is the most recent game in the 4A Games series. While the game has the slower-paced gunplay and menacing atmosphere of its predecessors Exodus changes things up by allowing players to move around during many campaign stages.
The map expands up in several places to emphasize exploration more and some sections take place over ground rather than in cramped underground tunnels. They often provide a pleasant change of pace and increase the impression of variation in the game. That means, Exodus does not ignore fans of the franchise's earlier ways of doing things.
There's no single element of Metro Exodus that is solely responsible for how successfully it sets up its atmosphere and that makes Metro Exodus so special and worth coming back to even after few years of its release.
6. Prey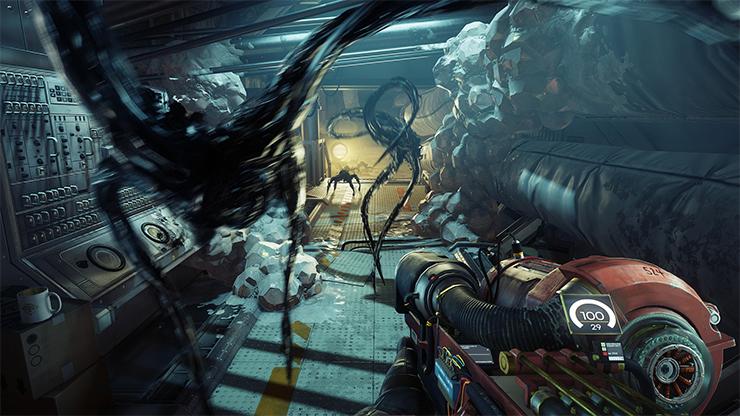 Set on a space station Prey puts players in the shoes of Morgan Yu as he explores the Talos 1 after it has been invaded by an alien threat. The game combines aspects of horror, stealth and Metroidvania gameplay it also allows the players to explore the game world however they like.
Despite that Prey is played in first person perspective the game urges you to stop and analyze your options before engaging in a shoot-out. This game has a really intriguing premise sharp and dynamic gameplay, a gorgeously atmospheric environment and some genuinely terrifying enemies. Prey's open world is beautifully designed and is one of the best in the FPS genre.
5. Fallout 4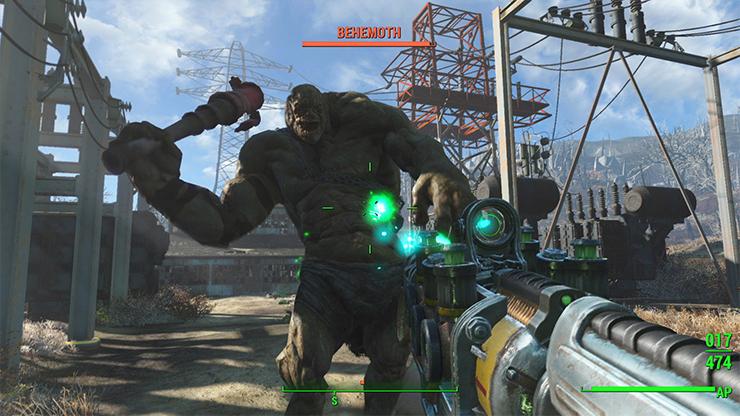 As the Lone Survivor of Vault 111 players must start searching for their son after being kidnapped from the vault by a strange group of mercenaries and scientists. It's a simple and noble goal, but when you consider an irradiated wasteland filled with dangerous monsters, raiders, and long-abandoned ruins hiding crucial supplies, it's clear that the journey will be difficult.
It's impossible to describe a nuclear-wrecked wasteland as "Wonderful" but the game's open-world is beautifully designed. This game offers improved first-person gameplay. Guns have more weight than in its previous entries and that makes the combat far more exciting.
4. Deathloop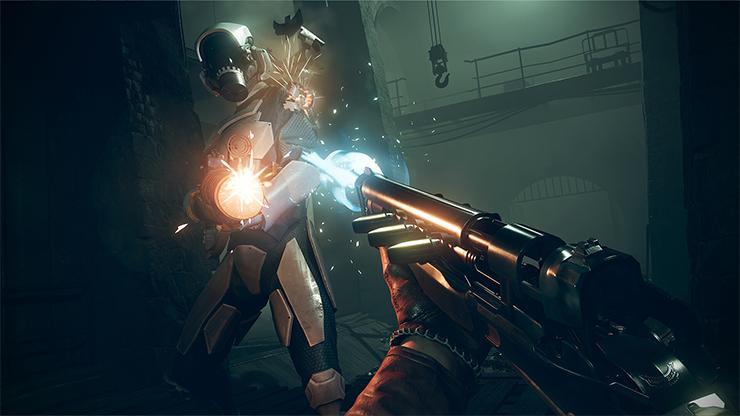 This time-looping adventure traps you in a death cycle until you discover everything about the island of Blackreef and the eight targets you must destroy to break the loop. Deathloop's gunplay is quick, varied, and satisfying combining weapons with unique powers.
Unlock new abilities by peeking in behind bad guys stabbing and shooting and decide which path to go next as you explore every corner of this labyrinthine puzzle box. But be careful, another assassin called Julianna is after you and can strike at any time.
3. Warhammer: Vermintide 2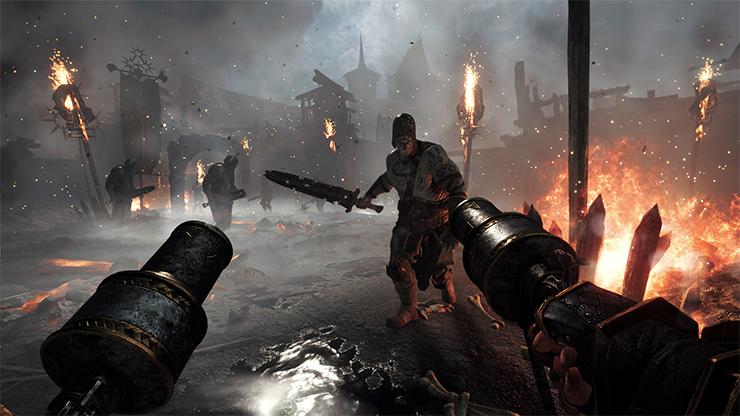 Vermintide 2 isn't just a first-person shooter as the multiplayer game merges melee and ranged weaponry and each of the five playable characters has access to a wide variety of both types. Vermintide 2 is a cooperative game in which teams of players must work together to fight waves after waves of enemies throughout the game's 13 missions.
The game is enhanced with a fantastic fighting system that feels quite meaty considering the variety of weapons at the player's hands. Vermintide 2 is one of the best Warhammer games providing a rewarding experience with highly engrossing gameplay.
2. Far Cry 4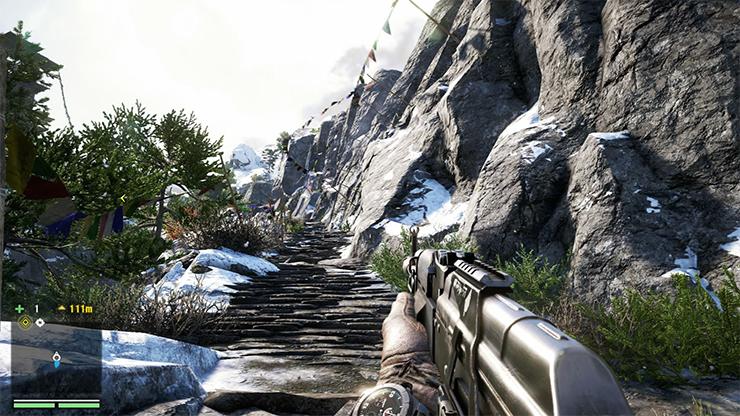 The sequel to far cry three shares its gameplay elements with some enhancement while its plot is totally different from its predecessors making it an excellent starting point for newcomers. The game's story seems more coherent as it transitions from tropical paradise to snow-covered Himalayan mountains with a more realistic battle between villain "Pagan Min" and protagonist "Ajay Ghale".
The game world is still loaded with traditional Far cry activities like outposts to liberate and radio towers to climb along with lots of vehicles to traverse both on the ground and through the air. Far Cry 4 is arguably better than Far Cry 3 and it's one of the greatest shooters on PS Plus.
1. Tom Clancy's Rainbow Six Siege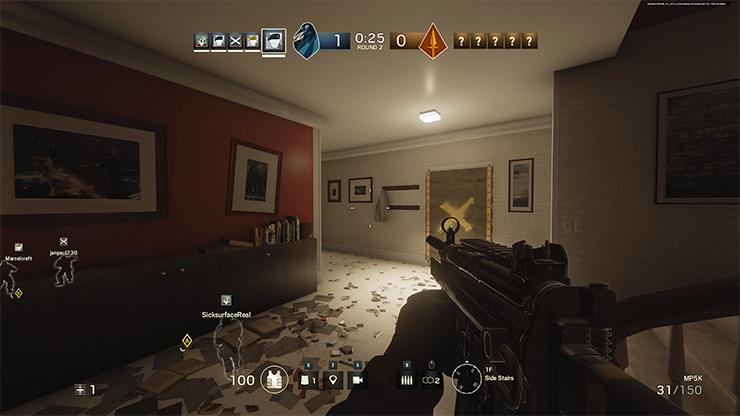 This fantastic FPS entry, is ideal for players seeking a little challenge while taking advantage of first-rate team dynamics. Depending on the type of role you wish to play from sniping and distraction, to breaching and trickery this game also contains a good amount of hero shooter elements.
There are various PVP options as well as PVE Modes that put teams against Ai enemy and even solo options to sharpen your skills. If you enjoy working with a team when playing FPS games Siege makes it easy to locate other dedicated players. Rainbow Six Siege has established itself as one of the most popular first-person shooters on the market.
Siege is all about teamwork, and matches may be very competitive. Beginners may feel overwhelmed throughout their first few matches and the game has a higher learning curve than the majority of popular shooters available, but it is well worthwhile.
That is it from today's post on Top 15 Best First Person Shooter Games on PlayStation Plus Extra. If you do not agree with the points in the post and have some of your own opinions, share them with us in the comments section down below. Keep visiting Animesoulking for more information about Anime and Manga.
Also, Read:
Chandan is the writer of "Top 15 Best First Person Shooter Games on PlayStation Plus Extra". Also, Connect with me on YouTube and Facebook.